The author in the studio, recreating Kim K-on-Paper.
I always tell people that one of the perks of being a musician is that "I get to play dress up for a living." As a guitarist for Sandwich, granted my fashion sense may not exactly make any headlines (nor would I want it to) but I always adhered to the notion that music and fashion went seemingly hand in hand.
You can say that my journey into discovering fashion began around the same time I was discovering my own musical tastes. I grew up in the 80s... In a time long before the interwebs… (I know! Gasp!) and music magazines were not as readily available as they are today. The first time I became aware of the fascinating world of fashion was via my brothers' album covers: Duran Duran, The Smiths, Grace Jones, Talking Heads, Madonna, Madness and Bob Dylan. Not only did these artists look different from one another, but the way they represented themselves visually was somehow tied in with they way they sounded.
ADVERTISEMENT - CONTINUE READING BELOW
I was the youngest of five brothers, all of whom liked different types of music and as a result, dressed different from one another. My eldest brother Carlos loved punk. And he looked like one too. His record collection consisted of The Sex Pistols, The Clash, The Jam but he also liked The Rolling Stones, The Kinks and The Who. With those six bands alone, you're pretty much all set in both areas. My brother Miguel on the other hand liked the New Wave bands heard on XB102. The Cure, Echo and the Bunnymen, U2 and New Order. He had Rayban Wayfarers and white Espadrilles. He called the music and the look "Chong." The term "Chong" was used to differentiate the punk rockers from the "Wavers." The story goes that back in the day when Djs would play singles from The Jam or The Buzzcocks, the waver kids would always approach the music booth and irritatingly ask, "Chong, chong, 'State of the Nation' naman."
CONTINUE READING BELOW
Recommended Videos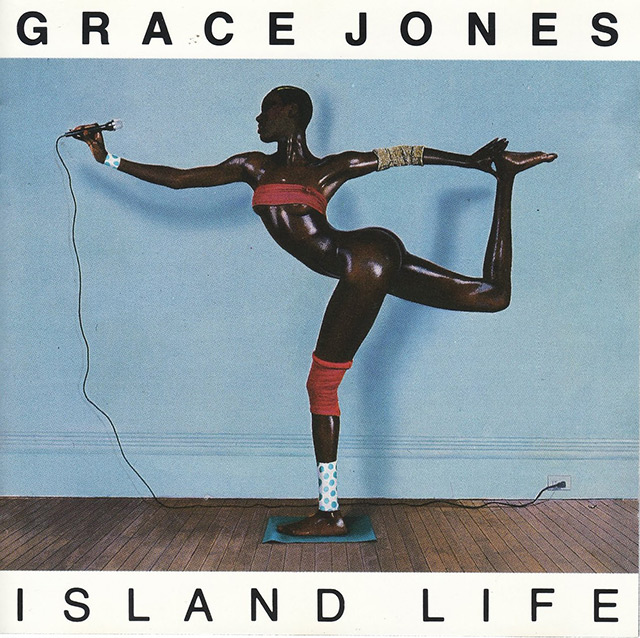 (1985) An album cover collaged in the pre-digital era by then art director Jean-Paul Goude - the legendary French photographer who shot Kim Kardashian for Paper.
I on the other was soaking in all the music my brothers would play on our tiny Sanyo sound system. Learning to love both the punks and the chongs! But my first foray into my own fashion look would be via the punk route. My mom would indulge her 10 year old's newfound obsession by buying me fake leather bracelets, a spiked choker, cut off jean jacket complete with safety pins and even allowed me to splash water color on my white shirts making them look like Jackson Pollock masterpieces. My dad on the other hand would cut my hair in a jagged spiky manner, complete with a tail. But this hairstyle would only see its full potential if used in tandem with Dippity-Do hair gel! I would also use his black cycling glove while pretending to be Billy Idol. Trying to perfect that menacing lip scowl. I had seen this from a Betamax tape our cousins from Boston sent us of a fledgling channel called MTV. A channel that showed nothing but this newfangled marketing tool called the music video. As luck would have it, Idol's "Dancing with Myself" was on that very tape. My brother Bubu would pitch in too. He would silkscreen band names and copy slogans we never really understood onto our white undershirts we wore at school; copying what we had seen The Clash were wearing in old issues of Rolling Stone magazine. But I wore these things at home; I mean where in the world would a 10 year old go? My brothers were already in high school and college, so I wasn't really privy to each of their secret worlds. So, it was my mom who showed me how to rock it in the real world. She would wear the exact same things to work while working in advertising. Way to go mom!
ADVERTISEMENT - CONTINUE READING BELOW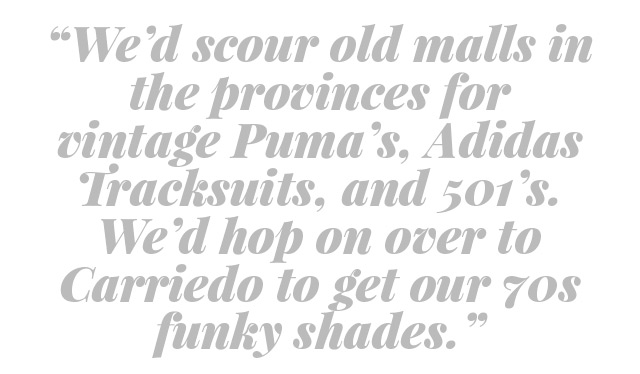 By the time I was in bands in the mid 90s, I had run the gamut of fashion styles as informed by the bands that I loved. Our bass player Myrene and I would go to Bangbang market and get ringer tees, cord pants, flannel polos, and obscure band shirts like The Pixies and The Lemonheads. Always keeping a lookout for brands like Umbro, Montagut, Ellesse, Penguin and the occasional mint condition Fred Perry's if we were lucky. We'd scour old malls in the provinces for vintage Puma's, Adidas Tracksuits, and 501's. We'd hop on over to Carriedo to get our 70s funky shades. By this time, there were also a few local shops selling cool funky clothes catering to the burgeoning rave scene. If you were hanging out at Blue Café and Penguin in Malate, Groove Nation's Consortiums or at ABGs then you'd most definitely be shopping at Bossanova, Warp, Grocery, and Havoc.
ADVERTISEMENT - CONTINUE READING BELOW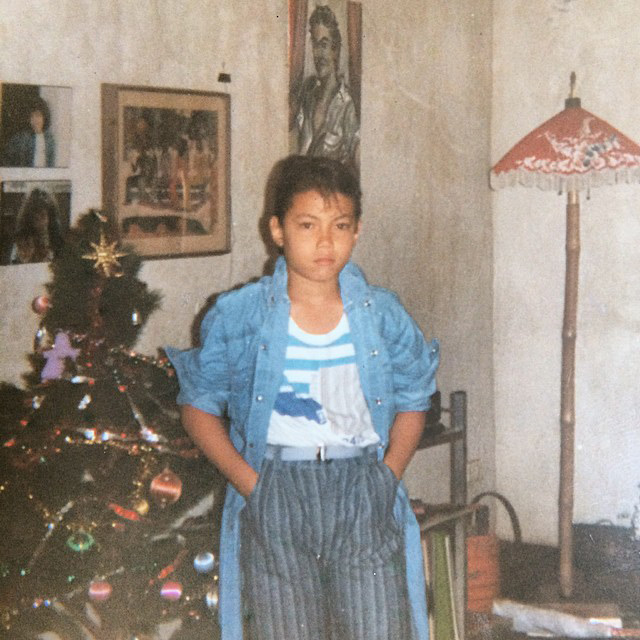 The author as a young punk.
Long before Raimund [Marasigan] and I decided to form Sandwich, it wasn't even music that we bonded over. Yes, we both shared our mutual love for The Beastie Boys, Beck, Sonic Youth and The Clash among others, but I remember our first real conversation was about Doc Martens! How we both saved up to get our Doc Martens' 8 eyelet boots. How we had to coerce friends to get them in Hong Kong (long before they were available locally) and how we both became aware of them from The Clash. Understanding that they were a symbol of rebellion, rather than conformity.
ADVERTISEMENT - CONTINUE READING BELOW
Today, I'm blessed that the kids in Sandwich all know what they want in terms of style. Out of the country shows are extra fun since we all love to go shopping together. And it's always a plus that someone whose style you trust will green light a prospected purchase. Even our little Viber group has the occasional "Ano porma natin tonight?" which will yield a lively conversation of answers and suggestions. Each member has influenced each other. Mong has his street wear and mad sneaker game, Maps with her leathers juxtaposed with team cozy, Raims with his Joe Strummer and creepers and Mike with his Café Racer motorcycle aesthetic. They all bring their own flair to the proceedings. But the best part is that we're able to make it work visually as a band. Never looking like members of The Village People in the process. Although, we might be able to rock that too! Hahaha!
ADVERTISEMENT - CONTINUE READING BELOW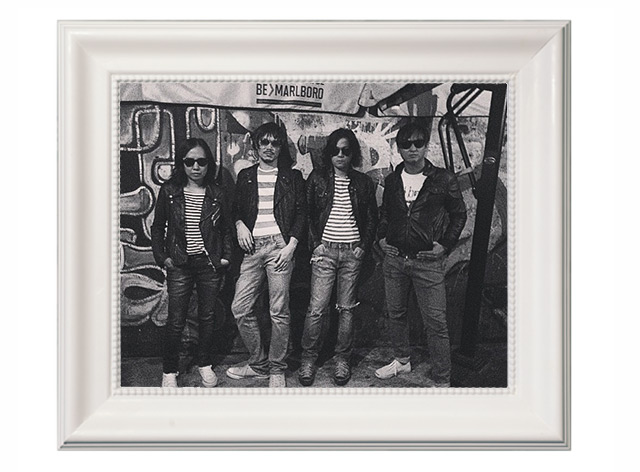 Sandwich dressed as The Ramones.
Left to right: Myrene Academia, Diego Castillo, Raimund Marasigan, Mong Alcaraz (not in photo: Mike Dizon)
It's funny, but what started out as me looking at LP covers had become my compass to discovering new music. If the band looks cool, I generally give it a listen. Granted, this isn't always going to be good, but by and large, the batting average is surprisingly high! Think about it. Which musical artist that you love sounds great but looks dodgy? I also realized that the seeds my brothers planted in me a long time ago via album covers are still growing today. My love of stripes for example is directly from Johnny Marr of the Smiths, denim jackets from Blur, pinstriped suits and Fred Perry's from Paul Weller and the awesome sweater/scarf combo from Jamie of The Kills [Kate Moss' husband - ed].
ADVERTISEMENT - CONTINUE READING BELOW
My fashion ideologies are exactly the same as my musical ones. To not follow trends, to be open to all sorts of styles and to try and push people's perceptions… But most important is to be true to oneself. They may be separate artistic movements, but for me at least, they have one goal in common: As an individual's sense of expression and one that should make a statement.
Diego Castillo is a DJ, vinyl collector and guitarist for the band Sandwich.
Follow him on Mixcloud and listen to his fashion-inspired mix for Style Bible below. Hands down, coolest track list ever:
Hey, Preview readers! Follow us on Facebook, Instagram, YouTube, Tiktok, and Twitter to stay up to speed on all things trendy and creative. We'll curate the most stylish feed for you!