Capping off Pride month, we seek to learn more about sexual orientation, gender identity and expression (SOGIE) with various members of the LGBTQIA community. Their stories are a glimpse of the diversity, beauty, and power of SOGIE and we hope that they empower you to find love, understanding, and acceptance for yourself and others.
For her first job in the film industry, she was a clapper—a person who holds that black and white clapperboard.
With her clapperboard in hand, she quietly stood on the edge of a cliff next to actor Pen Medina. At the drop of her clap, the actor started to cry, right on cue.
"I did my thing, I clapped," she fondly recalls. "It was just me and Pen Medina in a cliff somewhere in Zambales."
That was the exact moment she fell in love with "the magic of filmmaking."
Seven years later, she made her own full-length feature film, Baka Bukas (Maybe Tomorrow). The movie, says Samantha Lee, is loosely based on her own life.
It follows the story of two women in love, and everything else that happens in between.
The Philippines has a dearth of such films centering on women who love women; these gems are so rare, you can probably count them in one hand.
Baka Bukas bagged three awards during the 2016 Cinema One Originals film festival: Audience Choice, Best Sound, and Best Actress for Jasmine Curtis-Smith. It had a huge fan base within and outside the LGBT community.
Like all works of art, however, Baka Bukas didn't please everyone. It also received criticism, again from both within and outside the LGBT community.
At 30, Samantha is currently working on her next film, Billie and Emma. She describes it as a "lesbian Juno," referencing Ellen Page's 2007 coming-of-age movie.
"It's about this girl who goes to an all-girl Catholic high school, who gets knocked up by her boyfriend," Samantha explains. "And in the midst of her teen pregnancy, there's this new girl who moves into her school." The movie will be part of the 2018 QCinema film festival.
ADVERTISEMENT - CONTINUE READING BELOW
She's also working on a web series about a girl and a guy who "broke up and came out to each other." For now, the project can only come to life if Samantha gets enough funding.
IMAGE Patrick Diokno
Top, P1399 and trousers, P1999, both SFERA, SM Megamall. Robe, P1990, UNIQLO. Shoes, P4800, ADIDAS.
'End of the world'
Samantha has no siblings; she spent most of her childhood with adults and Legos.
"I'm a Scorpio," she says, "I'm very shy. I didn't like talking to other kids."
In 1991, Samantha developed a taste for neckties, "my dad bought me my own." In her smartphone, she keeps a photo of her 4-year-old self, sporting a necktie over a crisp white button-down shirt.
"I knew at a young age that I was attracted to girls, I just never did anything about it," she says, "I didn't want to let my parents down. At that time, I thought it was a sin, the end of the world to like girls." This mind-set, she says, came from TV, school, and society in general.
Her favorite childhood films were Spaceballs, a sci-fi comedy; and Ladybugs, a sports-comedy.
"As a kid, I didn't dream of becoming a filmmaker," Samantha admits, "I wanted to be a painter." But her mom discouraged her, telling her there's no money in painting.
ADVERTISEMENT - CONTINUE READING BELOW
It wasn't until her third year in the UP Film Institute—during an internship with filmmaker Jerrold Tarog (and that Pen Medina moment by the cliff)—that Samantha realized her love for film.
For her undergraduate thesis, she made Agos (Waves), a documentary about a female surfer from Camarines Sur. It received recognition locally and abroad.
It was also around that time when Samantha met her first girlfriend. "Things just happened," she says, "I didn't have to come out to friends." After her first break up, Samantha came out to her mom.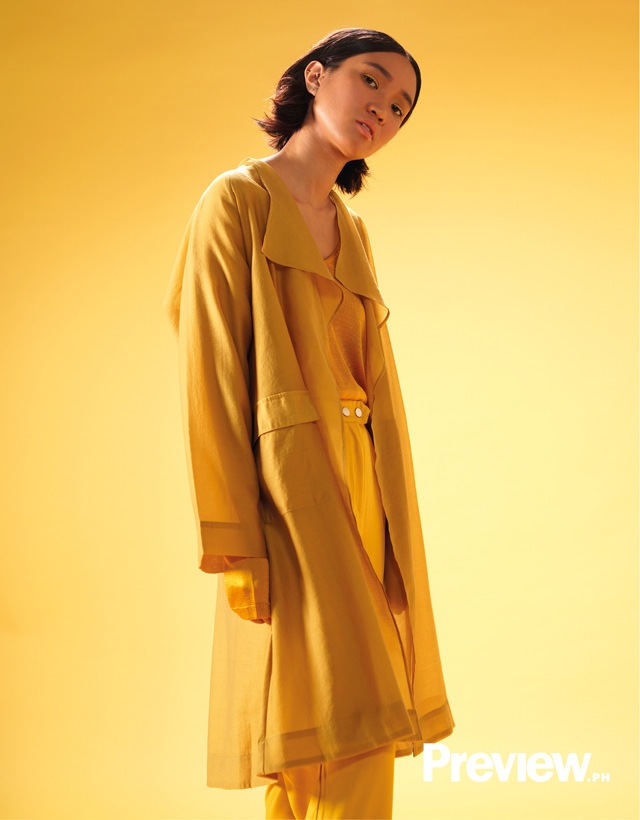 ADVERTISEMENT - CONTINUE READING BELOW
IMAGE Patrick Diokno
Storyteller
"I'm a strong believer that media, cinema in particular, is a reflection of society," says Samantha. "So if you're represented in the media in a positive way, it helps the larger community acknowledge your existence as an individual."
"If you can't even see positive representations of the LGBT community onscreen, how do you expect [SOGIE equality] laws to be passed?"
While growing up, Samantha says LGBTQ media representation in the Philippines was mostly limited to "hyper butch lesbians and parlorista gays, who were always the butt of the joke."
"This is why it took me a long time to come out, at 23, because I couldn't see myself as the lesbians I was seeing on TV. So in my mind, I must have been not gay," Samantha explains.
She also observed that LGBTQ characters are mostly killed off in films, "enforcing the fact that it's not okay to be LGBT."
ADVERTISEMENT - CONTINUE READING BELOW
"Given the chance to make something totally of my own, I would obviously veer towards LGBTQ+ subject matters," she says, "because that's the content we lack."
"It's not that I only want to make LGBTQ+ material, it's just my conscious decision that whenever I'm given the privilege to tell a story, I'll use my voice for subjects that aren't highlighted very well."
Having been in the film industry for seven years now, Samantha has overcome many challenges. "As an Asian queer female filmmaker, that's already three strikes against you," she says.
"The biggest challenge is just constantly having to prove people wrong. I feel that if I were a male director, I can make films and not have to prove to anyone that I deserved that chance."
Samantha enjoys sharing this particular anecdote: "While making Baka Bukas, we were on a van and I told the driver, 'Kuya, let's go na.' And the driver replied, 'Ma'am, we're still waiting for the director.'
ADVERTISEMENT - CONTINUE READING BELOW
"There's this expectation that to be a director, you have to be a middle-aged man who yells at everyone," she quips. Samantha is among the new generation of Filipino filmmakers who are defying this stereotype.
As a storyteller, Samantha admits that she also feels "pressured" to ensure that her films can capture as many voices.
"But of course, there are just some stories that I'm not at liberty to tell. If I can't tell those stories myself, I hope that by doing what I'm doing, it opens up more doors for other people to tell their own stories."
Photographed by Patrick Diokno
Art directed by Vince Uy
Styled by Loris Peña
Assisted by Ning Nuñez
Makeup by Don De Jesus
Hair by Mong Amado
Related Stories from Preview.ph
Hey, Preview readers! Follow us on Facebook, Instagram, YouTube, Tiktok, and Twitter to stay up to speed on all things trendy and creative. We'll curate the most stylish feed for you!