In this day and age, to last for 25 years in the business is really a great achievement. Knowing how to design and make clothes is one thing, but having the ability to stay strong and create a legacy is another. Randy Ortiz has proven that his love for fashion is his greatest strength. All it took was his unending desire to learn and look where it led him.
"When I started my business, I was working my ass off. I would pedal my clothes to my classmates back in college, call all of them to tell them that I'm selling Ready-to-Wear. I'll bring the clothes to their offices or put everything in the trunk of my car. At that time, I wasn't thinking of fashion as glamour. I was thinking of it as something that I loved to do and then I suddenly realized I was earning more than someone who has an eight to five job," he shares.
ADVERTISEMENT - CONTINUE READING BELOW
If that is not passion, we don't know what is. Read on to know more about his design journey and find out what makes his 25th Anniversary show extra special.
---
Tell us about your 25th Anniversary collection. What is the inspiration behind it?
CONTINUE READING BELOW
Recommended Videos
The title of the show is "Randy O Silver: Heaven on Earth." It's a very personal show where I'm paying homage to my parents who passed away more than 10 years ago. The reason why it's heaven on earth is because my mom passed away on December 1, the same date as the birth of my father. Their story is one of the greatest love stories ever told, so I wanted to share that love story through my clothes.
Have they always been supportive of your chosen career?
My father wanted me to become a lawyer but he never tried manipulating my world. He allowed me to be myself. You know, being gay and being accepted by your father is a very big thing for me. I have to give it to them because they accepted me and supported me all the way. They've always been proud of me.
ADVERTISEMENT - CONTINUE READING BELOW
I'm staging this show mainly because I just want to give back. I just want to honor my parents and thank them. This is really a show of gratitude for my family, most especially for my mom and dad.
What can we expect from your new collection?
I used a lot of references from the great fashion icons in the '50s and '40s such as Balenciaga and Dior. But what makes my collection different is that there's a Manila wear twist to it. When I say Manila wear, I'm putting a lot of Filipino sensibility to the design. I made use of organic fabric, a lot of silks, Piñas, and other indigenous fabrics and translated them to contemporary form.
What makes your show different from the past shows you've done?
I tried using a lot of organic fabrics from the beginning until the end of the collection. As part of the Fashion Design Council of the Philippines (FDCP), it is really our advocacy to promote Filipino designs to the global market.
ADVERTISEMENT - CONTINUE READING BELOW
The artisans—my embroiderers and beaders—are my best friends in this collection. Everything here is done by hand and you can see different techniques of embroidery such as Cadinete from Bulacan, Kalado from Laguna, and Suksok from Aklan.
What is it about embroidery that you like so much?
When I was starting in the industry, I was identified as the designer who loves patterns and prints. So I grew up with that consciousness. I translated those patterns and images in my mind into embroidery. I love modern romantic designs.
How long have you been preparing for your 25th Anniversary show?
I started doing clothes a year ago, but only with the thought that I wanted to celebrate my 25 years in the business. There was nothing really definite yet as to who will produce the show for me. Originally, I decided to just do 60 to 70 pieces but because Jackie Aquino, my fashion director and best friend, told me that the set-up is going to be massive, he also wanted to include my past creations from years ago so this is going to be a big show.
ADVERTISEMENT - CONTINUE READING BELOW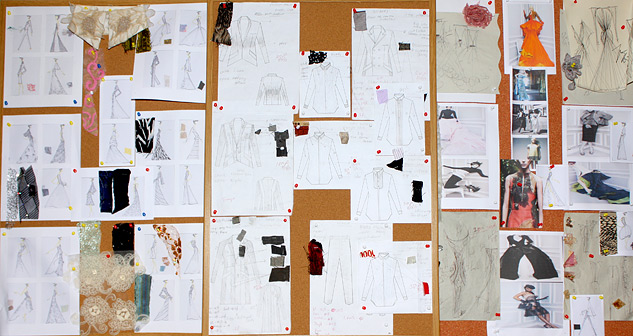 The 25th Anniversary Show mood board
Did you expect that you'd come this far considering that you took up HRM in college?
Not at all. To be honest, I don't even consider myself as a good illustrator. I don't sketch well, all are just flat drawings. But I guess nothing can really beat 25 years of experience. No amount of formal education and formal training can beat that. I just played everything by ear. I was just a young boy who dreamt of doing something that he loves and I guess that principle alone—loving my work from beginning to end—made me where I am now. It takes a lot of passion; it takes a lot of your heart to be in this business and to stay this long.
ADVERTISEMENT - CONTINUE READING BELOW
Were there moments in your career when you felt that you wanted to quit?
Oh yes, a lot of times. I'm a Leo and we're very sensitive people so when I get criticisms about my clothes from the media or from my own clients, it really disillusions me. I really thought that only relationships can hurt but I never realized that this business can also be so painful. But the beauty of it all is that fashion is a journey and when you get to surpass the trials, the feeling is just so beautiful, you can't even explain it.
How did you cope during those hard times?
I try not to be very sensitive about it. If I'm hurt, I just keep it to myself. I'd rather keep my mouth shut. You know, the less you talk the less you get yourself into trouble. I also accepted the fact that you can't please everybody.
ADVERTISEMENT - CONTINUE READING BELOW
Can you share a specific moment in your career when you felt that you finally made it?
There are a lot of moments, actually. But I think the biggest one would be when I became the president of the Fashion Design Council of the Philippines. It's such a big responsibility and to get that certain amount of respect and acceptance from your colleagues is one major affirmation that I'm really part of the clique.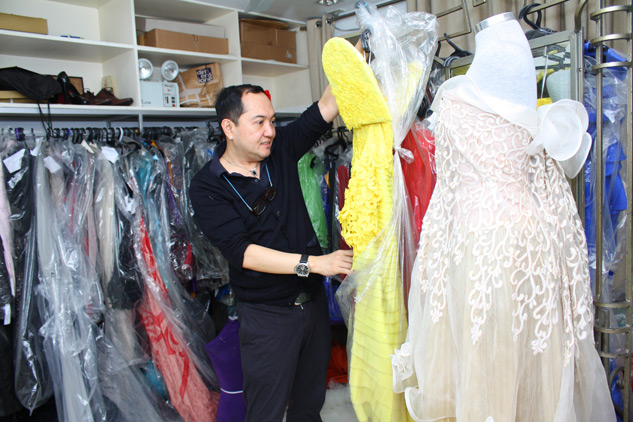 ADVERTISEMENT - CONTINUE READING BELOW
As the president of FDCP, what do you think of new designers today? Do you think they have it easier now because of technology?
It's really a lot easier for them now, especially that there's FDCP who can help hone their talents and give them the form and the venue to really improve and shine. Part of our objective is to help young designers grow in the industry and make them realize that it's not just about being the best or the most talented or the most creative. They have to see this profession as a business. We have to teach them that this is not all about ego.
Can you name a few young designers who you think would be the next big players in the coming years?
I think Joel Escober is doing very well. I've seen his growth as a designer from the time he joined the Jo Salazar Foundation competition up to the time he entered Myth. He really is a talented and promising designer. There's also Veejay Floresca, Vania Romoff, Maureen Disini. Actually, Mark Tamayo from PEFTA is now working for me. Pablo Cabahug also started with me and now he's doing well so I'm very proud and happy.
ADVERTISEMENT - CONTINUE READING BELOW
After doing collaborations with Kashieca and Plains and Prints, do you have other tie-ups in the pipeline?
Honestly, I'd love to go back and do more retail collaborations because I like the excitement that goes through the process. Designing for a niche market requires me to adjust my sensibilities and aesthetics so I really enjoy the challenge.
What other facets of design that you'd like to explore further?
I started doing jewelry. I want to work on real gold. I've done a lot of cufflinks, cuffs, and necklaces for men and I want to expand the product line and do women's jewelry. I want to work with skins, precious metals, and stones.
I also want to go back to bags. I started doing a few bags for men but I had to stop for a while. Perhaps I'll have more time to work on it again after this show.
ADVERTISEMENT - CONTINUE READING BELOW
If you weren't a fashion designer, what would you be doing right now?
Most likely a hotelier or a restaurateur, since that was my course in college. I actually opened a small restaurant, but I'm not really the one directly involved with it.
Do you like to cook?
Oh I love cooking!
What are your specialties?
Mostly Filipino dishes. I have my famous adobo, my sinigang with a twist, and my famous pancit molo which is like the traditional molo from Iloilo because I'm Ilonggo.
Sounds delicious! Are these available in your restaurant?
Just a few. I only serve them in my house, by special invitation. I love to entertain friends. I guess that's how I unwind and de-stress. I make it a point to see them once in a while and then eat and then just indulge and laugh all night long.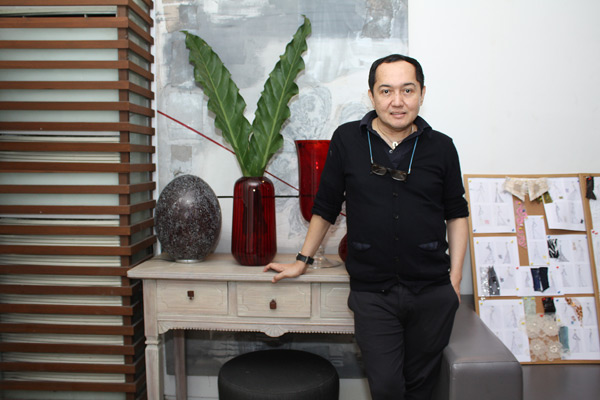 ADVERTISEMENT - CONTINUE READING BELOW
We heard that you travel a lot! How often do you go out of the country?
Travel and shopping is therapy for me. I really love to shop. But I try to balance it out. I'm the type who can appreciate the cheapest and the most expensive things as long as I like it.
When and where was your last vacation?
I went to Hong Kong just a few weeks ago. Lately, I don't like long flights because of the jetlag and I can't really be away for so long. But my favorite destinations are Japan and Bangkok, Thailand. After the show, I plan to go to Bangkok and get a massage everyday and do shopping because I love going to the weekend market. I love Chatuchak. My God, I will never exchange Chatuchak for any Prada or designer store!
Do you travel light?
No, I don't. I always bring [too many] outfits and then get to use only three to four pieces! What I hate about traveling is the packing. I don't like to pack so I would always request my roommate to pack for me which is so unfair and then I always have fear of over baggage but I love to shop so it's a never-ending struggle. (laughs)
ADVERTISEMENT - CONTINUE READING BELOW
Name top three destinations on your bucket list.
I'll make sure that next year, I'll find myself in Russia. I also want to go to Alaska, Brazil, Argentina, and South Africa. I want to experience the Safari.
What's the first big ticket item you bought from your first big paycheck?
I bought a second hand car. I used to just borrow from my dad or from my siblings so I really made it a point to have my own.
Do you get star struck when meet celebrity clients for the first time? Can you name a celebrity that really got you stunned?
Richard Gomez. There's only one Adonis in the Philippine movie industry. He's the original. What I like about Richard is that he is iconic. Before, whenever he cuts his hair or wears a particular outfit, everybody follows. That's the magic of Richard Gomez. I will never forget the first time I met him and now he's not just a client but he became one of my good friends.
ADVERTISEMENT - CONTINUE READING BELOW
Do you have dream Hollywood clients?
Oh definitely! I'm so fascinated by Nicole Kidman. I'd also like to dress up Jennifer Lawrence, Angelina Jolie, and Liv Tyler. She looks so expensive.
Photography by Mark Buenaobra
The Randy O Silver: Heaven on Earth galleries are up! Click on our galleries to view his full collection.
Hey, Preview readers! Follow us on Facebook, Instagram, YouTube, Tiktok, and Twitter to stay up to speed on all things trendy and creative. We'll curate the most stylish feed for you!