As one of the most successful designers in the Philippine fashion industry, Rajo Laurel is nothing short of a celebrity. On top of high-profile collaborations and business ventures, the famed designer is definitely a man about town. Yet he manages to successfully tick every single item off his list, and with much ease and success. His incredible work ethic is one of the qualities that define him as one of the best in the industry.
ADVERTISEMENT - CONTINUE READING BELOW
"My design process is systematic, orderly, borderline obsessive-compulsive," Rajo laughs. "But that's how I like it. If you notice it's the way I work, it's how I do my schedules and how I organize my life." The designer adds that his methodical approach to working becomes an advantage to him because he has a lot of tasks on his plate, yet manages to accomplish every single one of them. "I've always been a big fan of multi-tasking," Rajo adds. "It's also just really being able to do five things at the same time. It helps me become more productive and I'm happier when I'm able to scratch things off my list."
CONTINUE READING BELOW
Recommended Videos
But make no mistake: he's completely and personally involved in all of his clients' projects, especially his brides. Known for his classic, romantic designs, Rajo's bridal dresses especially have a timeless, ethereal quality about them. A dress that he designed 25 years ago could still pass for bridal couture designed today.
To say that Rajo has a passion for bridal dresses would be an understatement. The designer has a deep understanding and appreciation of the importance of a wedding in one's life that allows him to create an intimate, personal yet systematic process of creating the dream wedding gown.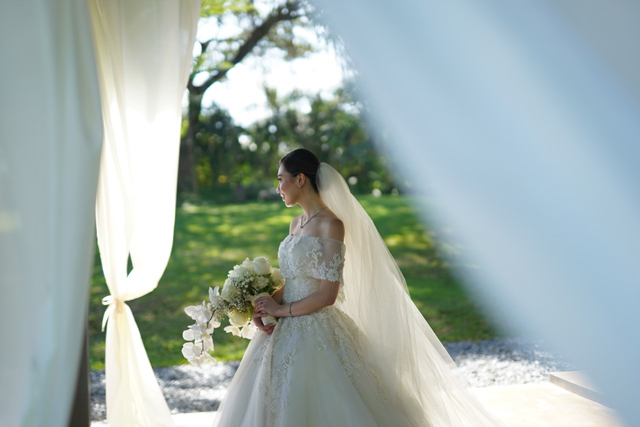 ADVERTISEMENT - CONTINUE READING BELOW
With all the brides he's designed for throughout the years, Rajo has become emotionally invested in every single one of his clients' weddings that go beyond just the dress. He shares, "Because this is one of the most important dresses they'll wear in their lives, as a bridal designer you need to play many parts: psychologist, older brother, best friend… it's really a very intimate relationship. That's why a lot of my brides become really good friends, because you go through that whole experience of upheaval and emotion, and it's not easy. Because we're not just talking about the dress here, we're talking about everything. It's never really about the dress per se, it's about the whole experience. I've always believed that, and the dress is just a product of that whole experience."
As a result, it's never just a transaction for the designer, who revels in each of his bride's little successes, and of course, the actual joy of getting married. "The dress is just the icing or cherry on the sundae. But the whole experience in my mind, should be part of the joy of getting married." Rajo shares a story about a bride who managed to lose 40 pounds within six months of designing her dress, a memorable experience he calls memorable. "So obviously when you lose 40 pounds from when I was designing, that's a completely different set of physical proportions, measurements. It was fun because you could see her getting more and more confident, and more and more daring. And I was like, obviously you can't design something for somebody who was 40 pounds heavier, that's not fair. So what we did was we literally chopped her dress."
ADVERTISEMENT - CONTINUE READING BELOW
Intimate, personal, and with passion—those are what mark Rajo's bridal design process. Preview spoke to Rajo to learn more about his elegant and romantic wedding gowns, and what makes his designs stand out throughout the years.
Do you feel like your process has changed since you started designing?
"Yes and no. I still have a certain process that I adhere to, that works very well for my bride and myself, which really involves a lot of pre-planning. Essentially it's really all about giving an assignment to the bride: The first thing is about trying to understand what she's looking for, so I ask her to do almost like a Pinterest board. So the process before when I started in the '90s was literally cutting and pasting little images on a scrapbook, and then also showing the bridal checklist.
"Now, the process is essentially the same but it's a little faster. Primarily because of technology, they can send me their mood boards online. This initial step is, in my mind, called pre-production. So the pre-production stage before involved a lot of paperwork and a lot of meetings. Now, because everyone's busy, the first thing we do is we set up a means to communicate—the fastest is through WhatsApp or email.
ADVERTISEMENT - CONTINUE READING BELOW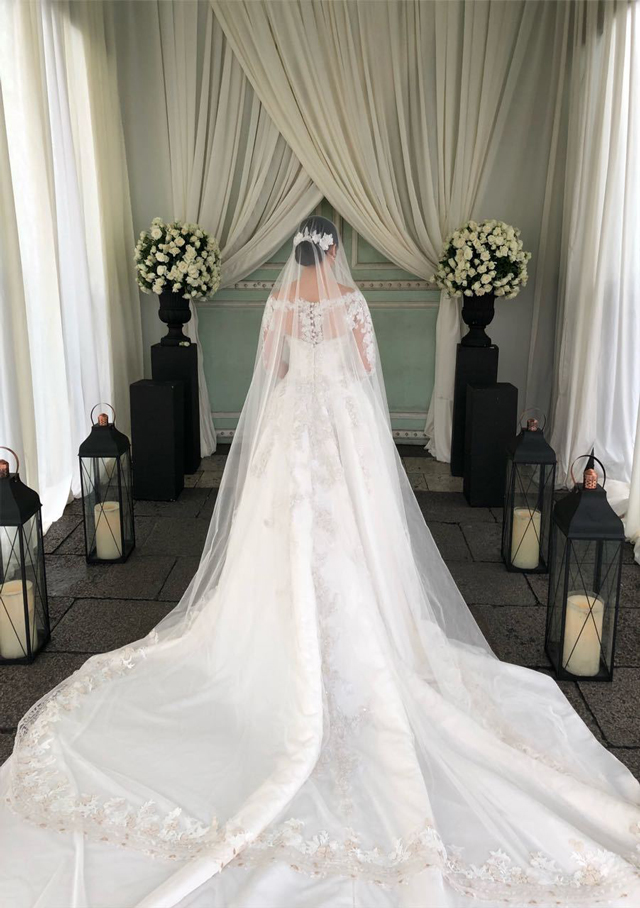 "The next things we establish are the budget and quotation, and the concept and the theme. The illustration and the color fabrication is where we base our quotation on the average, and then we note which areas they want me to be responsible for, for example the bridal dress and certain entourage dresses.
ADVERTISEMENT - CONTINUE READING BELOW
"The second part of this assignment is about understanding what they're looking for. In many ways it's almost like creating a scrapbook, especially during the '90s. Here, the bride puts photos of the kind of flowers she likes, the kind of souvenirs, invitations. In the beginning, we're making sure that she's looking at things in a more compartmentalized manner. Some brides are very particular and detail-oriented, some are not. If a bride is already very organized, it's easier for me to service her. It's all about really anticipating and communicating what she needs.
"In this process, we get to discuss how she wants to be photographed, the kind of cake, the table arrangements— if I were to do the bridesmaids, what would they look like? So it's really a matter of me understanding what a bride is looking for. This is not necessarily what they'll end up with, but this is at least a direction we can start with. This by many ways makes the bride very comfortable, because that's all you need. The minute you attain their faith and trust, then half the battle is already over. If they feel apprehensive or unsure, all of the insecurities and doubts will show."
ADVERTISEMENT - CONTINUE READING BELOW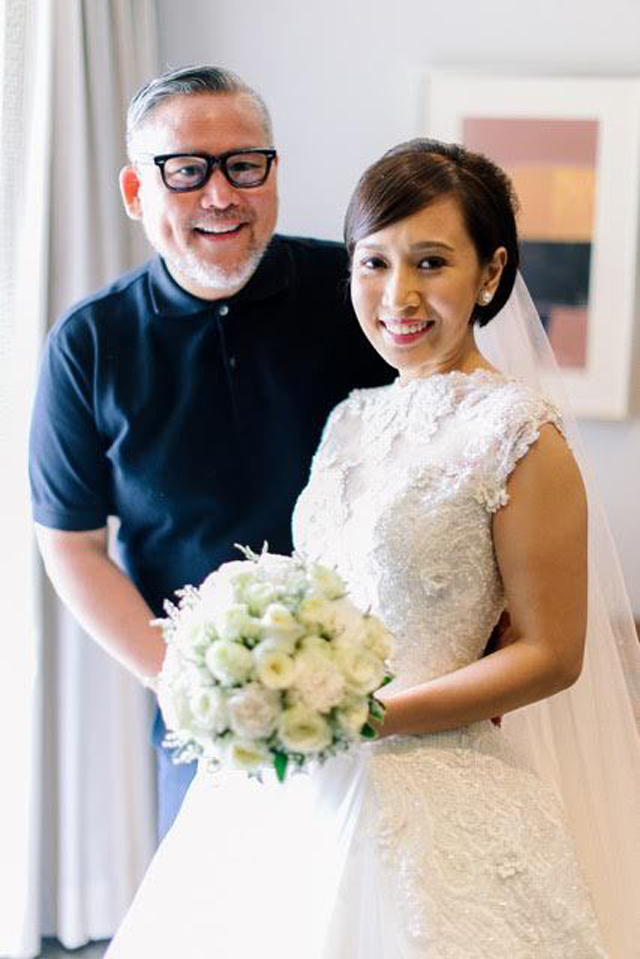 Since you've been doing this for a long time, do you get exhausted with doing wedding dresses or do you see each process with your brides as different?
"Every bride is different, but the process is similar. The exhaustion only happens when you are not able to meet eye to eye with the bride. When you're not able to make her happy. If you can't hit the mark, that's exhausting. It's nobody's fault; either your energies are not in sync, or you're not able to communicate well with each other, and this is a very important tool for communication. Whether it be visual or financial. So all of these factors play.. and that's my process. All designers have different procedures. I like to create some sort of structure, then we weave the different kinds of creative magic."
ADVERTISEMENT - CONTINUE READING BELOW
How do you merge what your bride wants and what you think is best?
"Communication. We use the visual guides, the mood board as a form of communication. For instance, if the bride is petite and she's really adamant in having a dress made with a particular silhouette (like an empire-cut dress). I would tell her, let's not do the cutting on the waist, let's do the shape but instead of pleats, let's do it flat, because the goal is to elongate you. Let's change the neckline so instead of a scoop neckline, let's make it thinner so there's more of a visual length. You make it a win-win situation where she's going to look good and you explain why she's going look good. I never say no. The last thing anybody wants to hear, especially a bride, is no. You always have to say, 'I'll see what I can do.'
ADVERTISEMENT - CONTINUE READING BELOW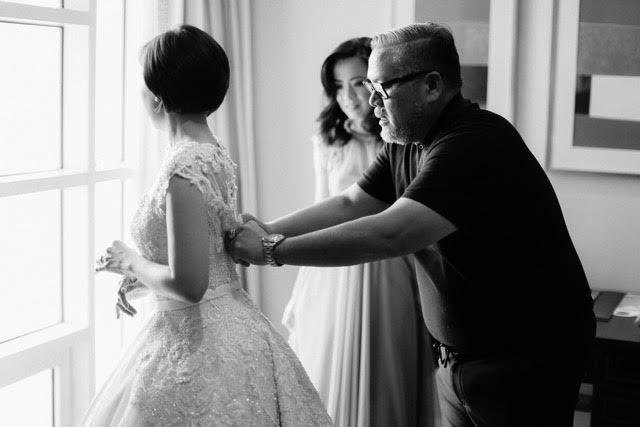 What is the difference of made-to-order vs. off-the-rack bridal couture?
"When you're a designer doing a made-to-order gown, you're literally a fairy godmother. You're able to make her dreams come true. Other design houses have samples that can be tried on, which is also advantageous on the bride's part because they can easily make decisions. But the thing is, we have very long, lovely culture and history of creating bespoke wedding gowns, not only in my house, but really in the culture of the Philippines. There's still something special about that, and that's what we're trying to make available to brides—to have that special experience that something is really made for you, rather than something you just order online. It's just an option."
ADVERTISEMENT - CONTINUE READING BELOW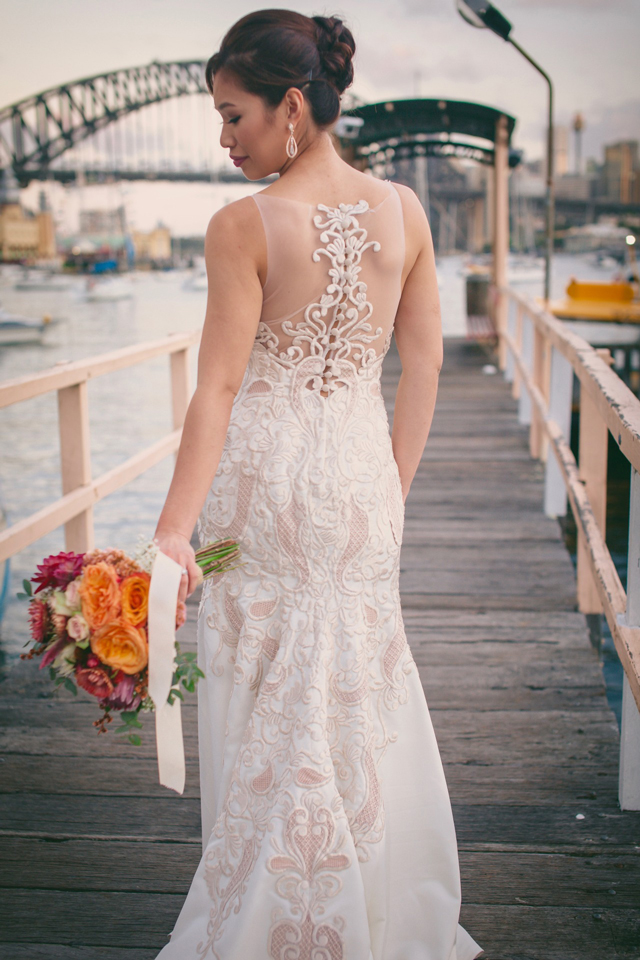 What differentiates a Rajo Laurel bridal dress from others?
"[With every bride], the end goal in mind is the bride getting the dress before her wedding day, and her loving it. And the way to do that is that in each step of the way, you begin to create this sort of emotional experience that allows her to not only fall in love with the dress, but with the entire process—every single stitch, fabric, pattern, was intended specifically for her. That mindset alone is enough for me to think, this is really special. No one else in the entire world will have this because our intention was everything from the beginning, from the first illustration to when I put the veil on you, the moment is yours. That experience is something that no other house can offer, because that's my expression for the bride."
ADVERTISEMENT - CONTINUE READING BELOW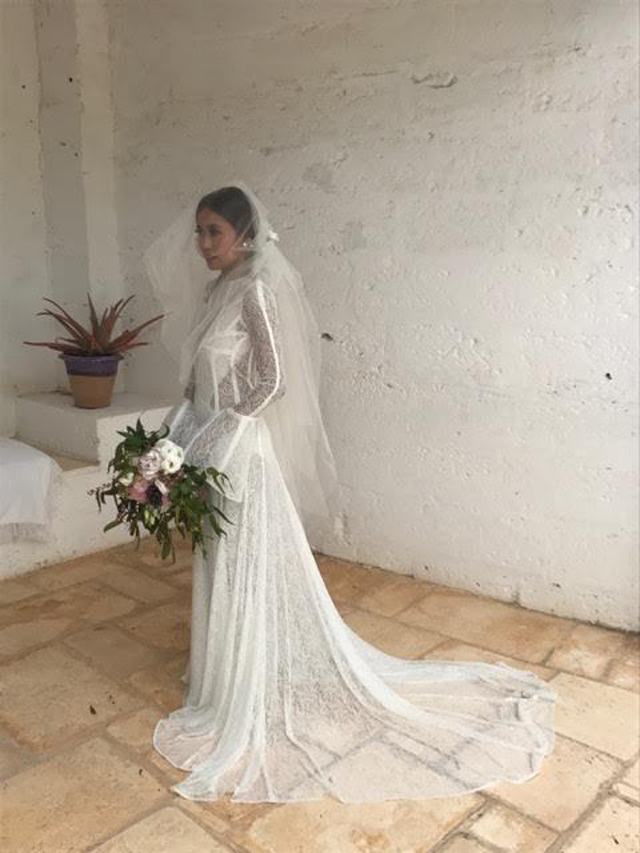 Are there certain styles or aesthetics you shy away from?
"Not really shy away from, but [I would say] it's not me. I'm never overly decorated, and I've never really liked making very, very big dresses. That's not my forte. I like light, timeless dresses [that are more] based on reality. I'm fine with long trains, because I know they can be detached. But if a girl does not glide, a girl does not float, then I have a problem with that. There should be that ethereal quality in my head."
ADVERTISEMENT - CONTINUE READING BELOW
What are non-negotiables in your designs?
"For me, my non-negotiable is that I really don't like those super, duper big-big dresses that look as though they're literally wearing you, and you're not wearing the dress. And when I see it, and I think, 'Oh my goodness, that's unfortunate.' No matter how beautiful you are, pag nahihirapan ka, it shows.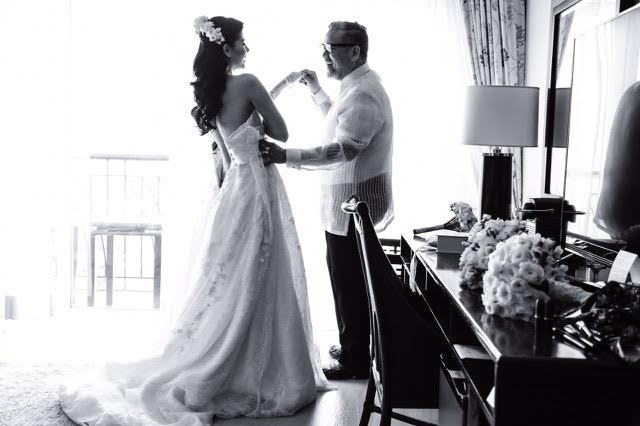 ADVERTISEMENT - CONTINUE READING BELOW
"You also have to be comfortable. That's why for me when we do our fittings, I ask them, 'Are your shoes comfortable?' because you have to be really comfortable. I believe in tiis-ganda, but not when you're wearing it for six hours straight. You can do tiis-ganda, maybe for a date or for two hours. But if you have to be in your dress for almost a day and you can't breathe, can you imagine?"
Do you have a favorite wedding dress? Do you remember them all?
"I do because I keep a file, I have a Tumblr account with photos of all the brides I've created dresses for. And before, when there was no Tumblr I would keep all the pictures, and put them in my library. My favorites would definitely have to be my family, because my sisters and my cousins—only because that was carte blanche. That time was like, 'Shut up, let me do it,' because they're my family, I could do that to my sisters and my relatives. But I can't do that to clients. So those are my favorites because I was able to do things I like. They don't even see a sketch—I just tell them to come to the fitting."
ADVERTISEMENT - CONTINUE READING BELOW
What would you say is a carte blanche Rajo Laurel wedding dress?
"It's classic, it's definitely going to be with sleeves. And it's going to have a cinched waist, because I love that silhouette of a tight waist and a full skirt. It's going to be dreamy, not too much beadwork, but it's really all about getting the right fabric. I like veils that are very, very light. I don't like veils that are too heavy. There's that certain lightness that I'm really into."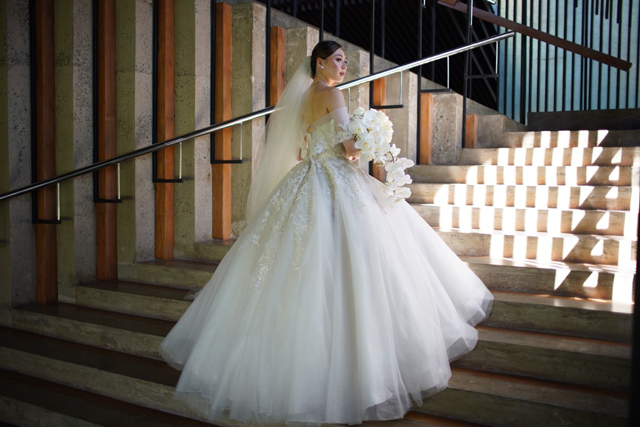 ADVERTISEMENT - CONTINUE READING BELOW
What timeline do you usually give brides?
"Six months is the desired timeline, with four to five fittings. I really fit my dresses. But the shortest timeline I've worked with is three months. It really boils down to the bride making heartfelt decisions. It's a matter of making these decisions and me walking you through it. It's almost like a computer program—if you choose this design, you can choose between these two fabrics, and so on. It happens during the bridal presentation. That's when most of the things happen in terms of the decision-making process. Sometimes in the middle of things, she changes her mind. By all means you're allowed to do that, just as long as it's doable. For example, from strapless she wants sleeves, that's doable. When I say doable, don't expect us to start from scratch."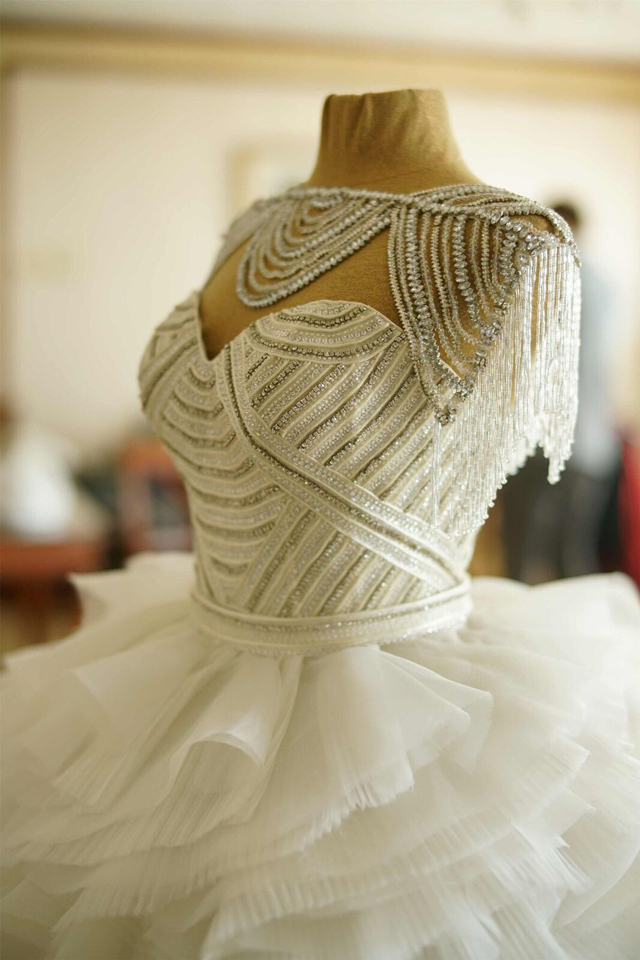 ADVERTISEMENT - CONTINUE READING BELOW
What should clients pay attention to?
"Gut. A designer-and-client relationship is based on a deep understanding of their needs. I can automatically tell if I can make a bride happy or if this going to be a lot of work on both our parts. It's up to [the bride] to sort of continue—there are times when I felt in my heart that it wasn't going to work, so I would write a letter with a list of designer friends saying, "I think what you're looking for I can't give you. I can make an appointment for [her] with Patrice Ramos-Diaz or Paul Cabral because we both have certain aesthetics.' If she was looking for something architectural, or she was looking for something extremely minimal with lots of cuts in the detail, that sounds to me like an Ivarluski Aseron bride. So I would call my friend Ivar, 'Are you willing to meet this client? I think you might give her what she's looking for.' In those instances, I don't mind passing along the client."
ADVERTISEMENT - CONTINUE READING BELOW
How would you describe your brides?
"For my brides, my brides are romantic, girly-girls, who like classic and timeless details. My brides are a little bit unconventional but at the same time from within are feminine. The brides that come to me are already in that mindset."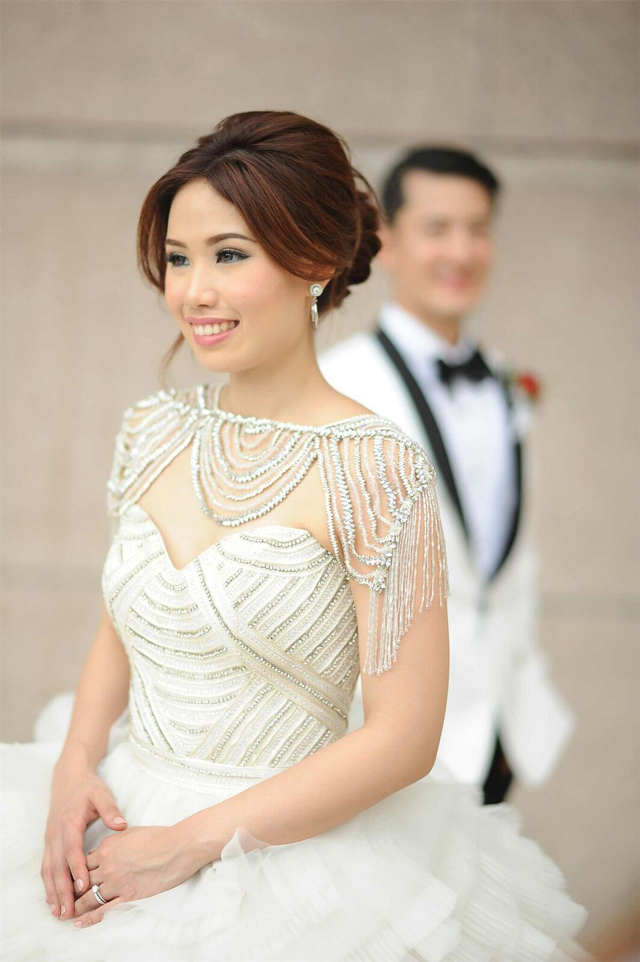 ADVERTISEMENT - CONTINUE READING BELOW
Would you say that's the most important quality that you look for?
"The most important thing for me really is that the bride feels secure. The most important thing on her most important day is that she feels the most beautiful and most herself. That by far is really the most important thing out of everything."
Rajo Laurel wedding gowns start at P200,000, including bridal veil, bridal pouch, hair accessory, second veil, cord, garter, and pillows for bearers.
Gowns for entourage members start at P25,000; gowns for children seven years and below start at P10,000.
Related Stories from Preview.ph
Hey, Preview readers! Follow us on Facebook, Instagram, YouTube, Tiktok, and Twitter to stay up to speed on all things trendy and creative. We'll curate the most stylish feed for you!