The girls at The Soshal Network never run out of amusing ideas. When we heard they were collaborating with fashion designer Rajo Laurel to transform the everyday Good Morning towel into a dress, we were definitely intrigued ourselves.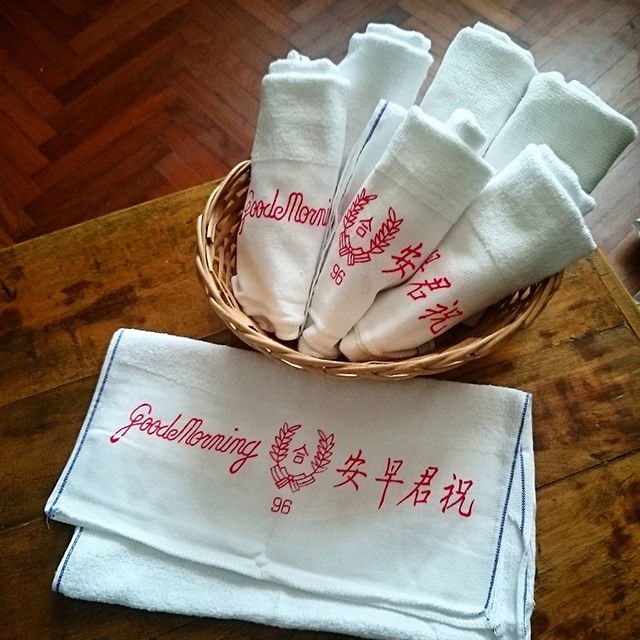 IMAGE Wikimedia Commons
Who doesn't recognize the Good Morning towel?
What makes the Good Morning Towel so recognizable is not only its color and fabric, but the distinct typography plastered on it. We're sure the question in everyone's head is, "How exactly do they plan to pull it off?" Luckily, Rajo was up for the challenge and did more than wrap it around a bodice and sew it together. In the end, he made a wearable and flattering dress that gave the cult classic palengke-bought towel a stylish new charm. Read on to find out how the fun collaboration came about.
The Pitch
How did the collaboration happen? Who messaged who?
Rajo Laurel: "The ladies from The Soshal Network. I have been following them on social media for several months now. I am a big fan of their presence on social media. I find them absolutely hilarious!
"The Soshal Network sent me a message on Instagram. They asked me if I wanted to make a dress out of Good Morning towels, and then I said sure!"
ADVERTISEMENT - CONTINUE READING BELOW
The Soshal Network: "We've always been fans of Rajo (kaso alam namin na 'di namin siya afford). We posted something before using GMT (Good Morning Towel) to imitate one of his more iconic designs, the Iris top. He liked it and sent a comment!
"So therefore, we concluded, without reservation or doubt, na close na kami from that moment on. [Laughs]
"Ms. Domesticated went on a limb and just messaged him if it would be okay for us to visit him and take a short interview. He acceded and then, beyond our wildest dreams, he offered to transform the GMT into actual attire... Couture pa!"
IMAGE Courtesy of The Soshal Network
The Soshal Network girls finally meet Rajo Laurel at his studio.
What made you [Rajo] say yes to the challenge?
RL: "I am always up for adventurous activities! It removes the mundane of my daily work. I am always interested in new challenges and I wanted to find out how I could make Good Morning towels into a dress and how I can elevate it."
What was your reaction when Rajo said he was game to do it?
TSN: "Dedz! We were absolutely thrilled! Himatay levels! We didn't even really expect he would reply, much less take time to meet us. We were so honored, really."

ADVERTISEMENT - CONTINUE READING BELOW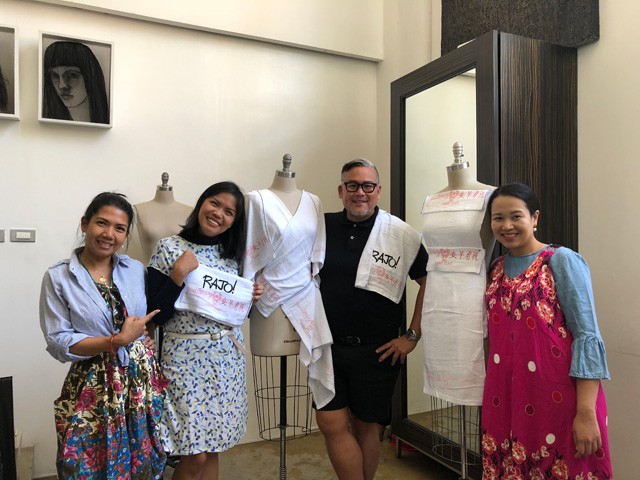 IMAGE Courtesy of The Soshal Network
The Process
What was your concept behind the design?
RL: "I wanted to create a playful design made out of the towels and take it up a notch. I see the dress worn at a nice luncheon or maybe an early cocktail event."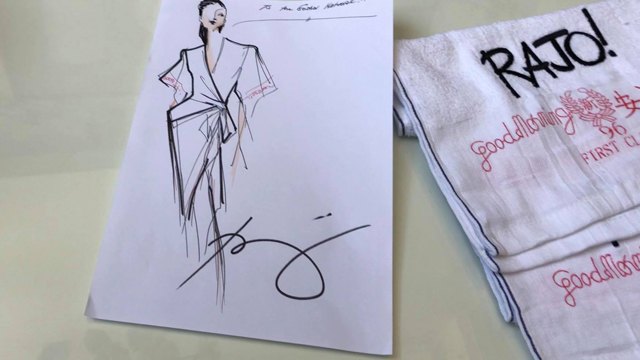 IMAGE Courtesy of The Soshal Network
Rajo's initial sketch for the GMT dress.
Was the Good Morning Towel difficult to use?
RL: Not difficult at all. Towel is also a kind fabric. I work with fabric on a daily basis. It is just a matter of how to utilize the towel. This is similar to Terry cloth in its raw form. I thought of creating a dress with a hanky hem because the towels are like giant handkerchiefs, and then from there we developed a nice design. It was a nice creative experiment."

ADVERTISEMENT - CONTINUE READING BELOW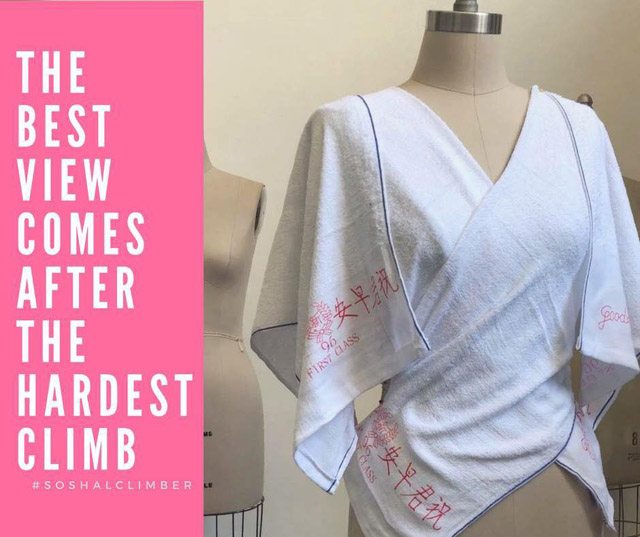 IMAGE Courtesy of The Soshal Network
How long did it take you to make the dress?
RL: "[It took me] about two weeks. We first dyed the towels into a petroleum navy blue, draped the towels, and then patched [them] all together. I think it worked out really well!"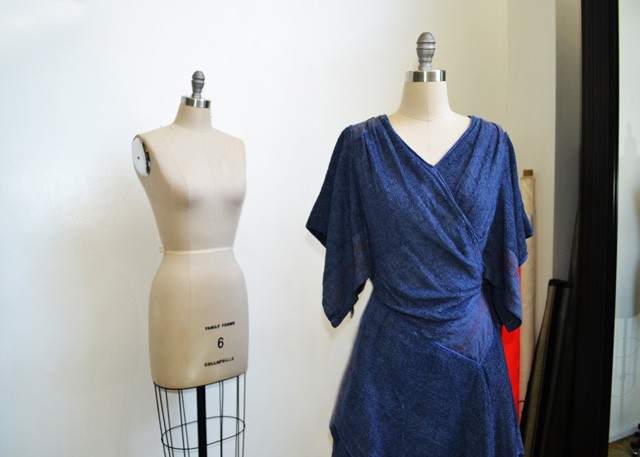 IMAGE Courtesy of Rajo Laurel
How was it like working together?
TSN: "He made it look so easy and relaxed. Nagulat kami bigla na lang siya nagsketch! He was talking us through his design while he drew it in front of us. All we could do was say, 'OMG.. OMG… OMG!' And a lot of our usual gibberish. We were watching a master at work. The only thing anyone could do is watch in awe."
ADVERTISEMENT - CONTINUE READING BELOW
The Finished Product
What was your first impression seeing the final design?
TSN: "Love! Sobrang level up na ng Good Morning Towel—or Good Morning Rawel! Sisiguraduhin namin na makita ng lahat ng tao at si Rajo Laurel ang nagdesign nun! [Laughs]
"With how Rajo made it, we think it's pretty versatile. Look, we wear dasters and GMTs to the mall and even at the work place, so you can bet you'll see the RaWel outfit at every possible venue."
IMAGE Courtesy of Rajo Laurel
Rajo totally transformed the towel into a chic and comfy knee-length dress you can dress up or down.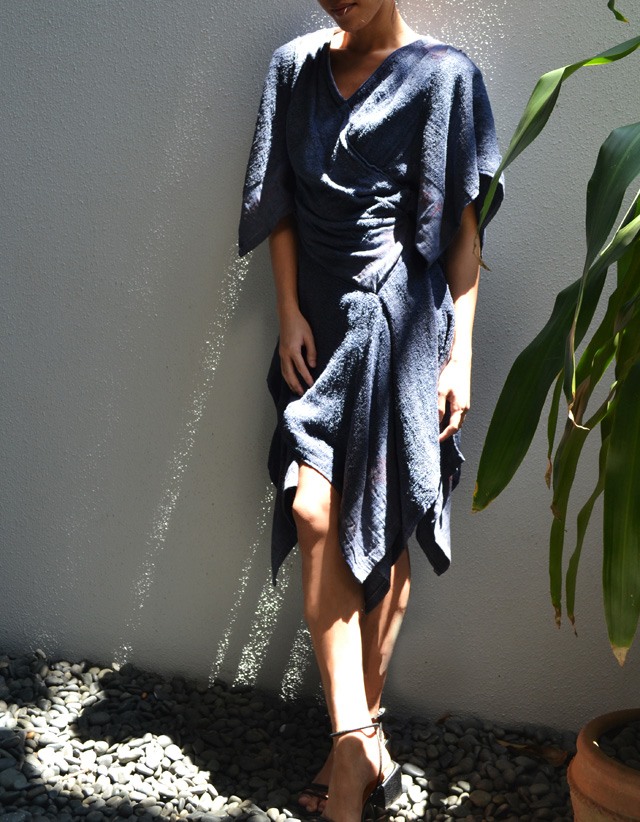 ADVERTISEMENT - CONTINUE READING BELOW
IMAGE Courtesy of Rajo Laurel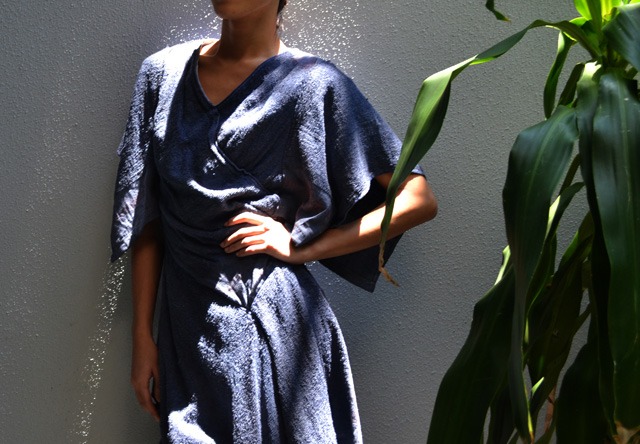 IMAGE Courtesy of Rajo Laurel
We love this draped effect on the waist that makes it look like a wrap dress!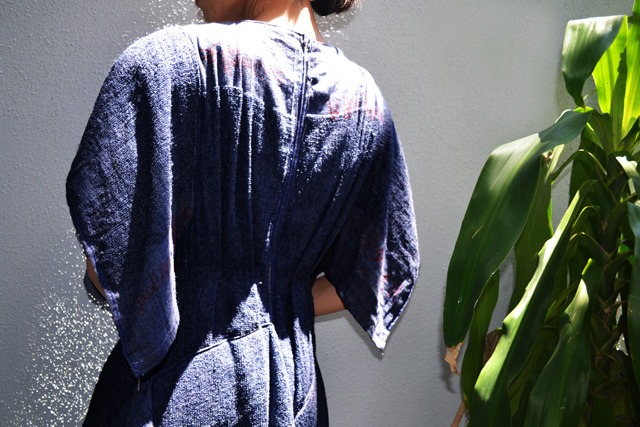 IMAGE Courtesy of Rajo Laurel
You can faintly see the words "Good Morning" still printed on the dress, but it looks more like embroidery than print.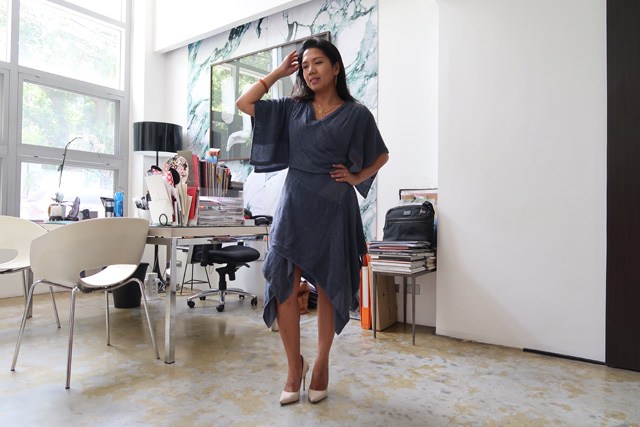 ADVERTISEMENT - CONTINUE READING BELOW
IMAGE Courtesy of The Soshal Network
Ms. Sophisticated modeling the "Good Morning RaWel" dress with a pair of white pumps.
What did you learn from the collab?
RL: "Always to have fun and enjoy the process! And to always say yes to a fun design challenge."
TSN: "We've always said there is a way to enjoy creativity with the most unlikely of things, such as the GMT. We've made a mark on the blogosphere doing all sorts of things with it.
"Rajo elevated our idea exponentially, and we think what he did just confirmed how we have always felt about finding joy in the little things."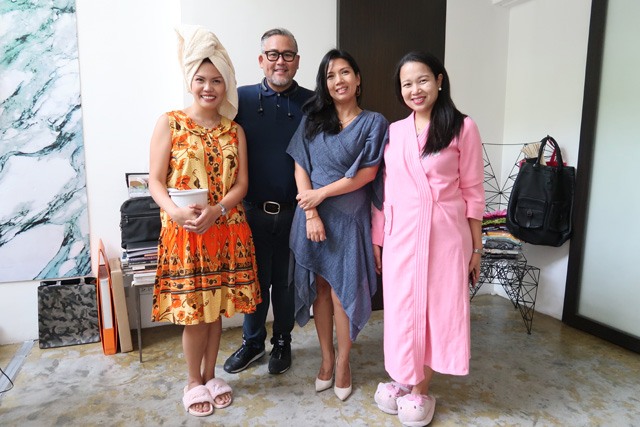 IMAGE Courtesy of The Soshal Network
Watch this quick and funny video below from the TSN girls documenting the entire process: