For me, Russia is the fairy tales my grandmother used to read to me. It's a magical world of princesses, magicians, poetry and ballet, and sad music that brings tears to my eyes. My Russia exists somewhere between Swan Lake and Russian folk tales.

I love Russian humor and generosity, and Russian darkness and sadness in equal measures. I share the extreme sensitivity of Russians, their gloomy romanticism and their profound nostalgia.

- Carine Roitfeld, from her book Irreverent
Thus the interview with Rajo Laurel about his new collection, Russe, begins: A kindred fascination with the French fashion icon for the ethos, spell, and charm of all things Russian. For its magic, grandiose history, famed, old world luxury, even tragic tales told—Russia is a mine of inspiration, ripe for any artistic soul to appropriate and rhapsodize to.
"After Androgyny, which I consider a true palate cleanser, I was hungry for something colorful, exuberant, decadent and luxurious," Rajo reveals. "I wanted to celebrate! It is Christmas, after all. I just feel that you will definitely experience this exuberance and finely tuned sense of drama with Russe."
"The whole collection began with a trip to Russia earlier this year," he begins. "Through my journey to Moscow and St. Petersburg, I was immersed in the splendor of Rococo and Baroque styles, [and] I thought [about] how [these] perfectly suited the holiday season. I wanted to do a collection that was inspired by Russian luxury and opulence. The [House of Laurel] team researched heavily on Russian themes and motifs, concentrating on military uniforms and the majestic style of the Russian monarchs, specifically the ill-fated family of the Romanovs. We translated the mood into a modern context—specifically answering the question 'How would our girl wear all of this today?'"
ADVERTISEMENT - CONTINUE READING BELOW
Both military and royal dress inform Russe in a multitude of ways, from the sharp tailoring (a carryover from Androgyny), the ransom of fabrics (French lace, Italian brocade), to the astounding, couture-worthy embroidery and embellishment of the pieces. There is a distinct attention to detail that characterizes the collection—a result, no doubt, of the team's devotion to quality. "I concentrated first on finding the materials that would express my idea of the collection," he says, "and then continued with the shapes and silhouettes. Our clients would be pleased to know that we employed couture-like craftsmanship (in the intricacy of embellishments, for one thing) melded with ready-to-wear sensibilities. I myself am baffled with the results. I ended up second-guessing if the collection was indeed for ready-to-wear because the look and feel lends itself very well to couture.
The last step was the exploration of decorative techniques like the employment of lace, crystals, metals, and heirloom-worthy embroidery," Rajo continues. "I am very proud of the textural elements because it utilizes a new approach to the usage of crystals, metals and embellishments. We tried to translate the techniques used in Fabergé eggs into clothing."
CONTINUE READING BELOW
Recommended Videos
This collection might be the most romantic and indulgent Rajo collection we've seen in a while, in that it harnesses luxury and drama to best epitomize femininity—and genteel masculinity, too. It's definitely a vivacious outing, too, brimming not just with glamour, but with an enchanted cheer as well. Rajo enthuses, "Normally, the holidays are met with a collection that [is] more decadent and luxurious. It's the influence of holiday cheer, for me. I want vibrancy—the decadent sensibility that is just cause for celebration."
Russe's affluent look calls for affluent muses, and Rajo's mainstays would undoubtedly do the commanding pieces justice. "I know my clients very well and I think they will all look amazing in this collection. I can't wait to see my girls Anne Curtis, Liz Uy, Divine Lee, Ruffa Gutierrez, and definitely Tessa Prieto-Valdes [wearing this collection]. These girls would royally rock my clothes. I also have a fabulous offering for the men! I can't wait for Carlos Concepcion to see it, and also Borgy Manotoc! I have a feeling Robby Carmona, and Tim Yap together Raymond and Richard Gutierrez will be making a beeline for the jackets!"
ADVERTISEMENT - CONTINUE READING BELOW
He declares that for the women, the capelets are a must-have ("This is the perfect holiday party piece that will instantly update any woman's wardrobe! The shape is so modern yet classic, it's really a must-buy, let me tell you!"), while he himself is lusting after the biker military zip-up jacket ("I want to wear it for all the Christmas parties!").
As usual, the tireless designer already has his sights set on his next project. "For Spring 2012, the collection will be all about mystical places combined with my desire for health and fitness. I am enthralled with the magic that comes from the journey of discovery. Think National Geographic meets ESPN!" Something to look forward to, indeed, which will no doubt be another enchanting undertaking. But for now, we have Russe to feast on.
Click here to see Russe: Rajo! (Womenswear) >>
Click here to see Russe: Rajo Man >>
ADVERTISEMENT - CONTINUE READING BELOW
Russe will be launched at House of Laurel this Saturday, November 12, 2011.
Click here for Rajo Laurel's Designer Directory.
Click here for House of Laurel's Store Directory.
Follow Style Bible on Twitter, Facebook, and Tumblr for more on Filipino fashion!
Hey, Preview readers! Follow us on Facebook, Instagram, YouTube, Tiktok, and Twitter to stay up to speed on all things trendy and creative. We'll curate the most stylish feed for you!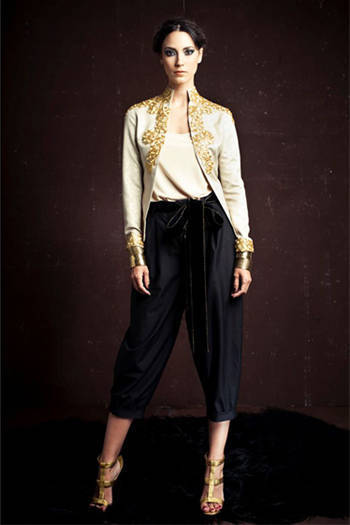 ADVERTISEMENT - CONTINUE READING BELOW
CONTINUE READING BELOW
Recommended Videos
Hey, Preview readers! Follow us on Facebook, Instagram, YouTube, Tiktok, and Twitter to stay up to speed on all things trendy and creative. We'll curate the most stylish feed for you!