Rachel Peters is fated to make her life's biggest gamble—and in fabulous Las Vegas at that.
The 26-year-old British-Filipina will wear the Philippine sash at the next Miss Universe pageant slated for the 27th of November. And as contemporary Pinoy pop culture dictates, she will be responsible in maintaining the country's impressive track record of Miss U victories that Venus Raj ignited in 2010, Pia Wurtzbach punctuated in 2015, and Maxine Medina carried on earlier this year.
In a country where beauty pageants are more than just a form of entertainment and are, in fact, living and breathing topics of online and offline discourse, Rachel's mysterious and downplayed manner of preparing for Miss Universe is its own kind of disruption. It is unlike the strategies of her predecessors and is posing a threat to competition. Whereas those who have gone before her have had their runway walks branded, gown and costume sketches exposed, and hair and makeup looks disclosed, Rachel does away with the bells and whistles, trading grand reveals and pre-pageant hype for honest-to-goodness training and diplomacy.
ADVERTISEMENT - CONTINUE READING BELOW
In this exclusive interview with quite possibly the next Pinay Miss Universe, we find out what she is indeed doing to win the country's fourth crown, what she stands for, and why she'd rather play her cards on the downlow—for now, that is.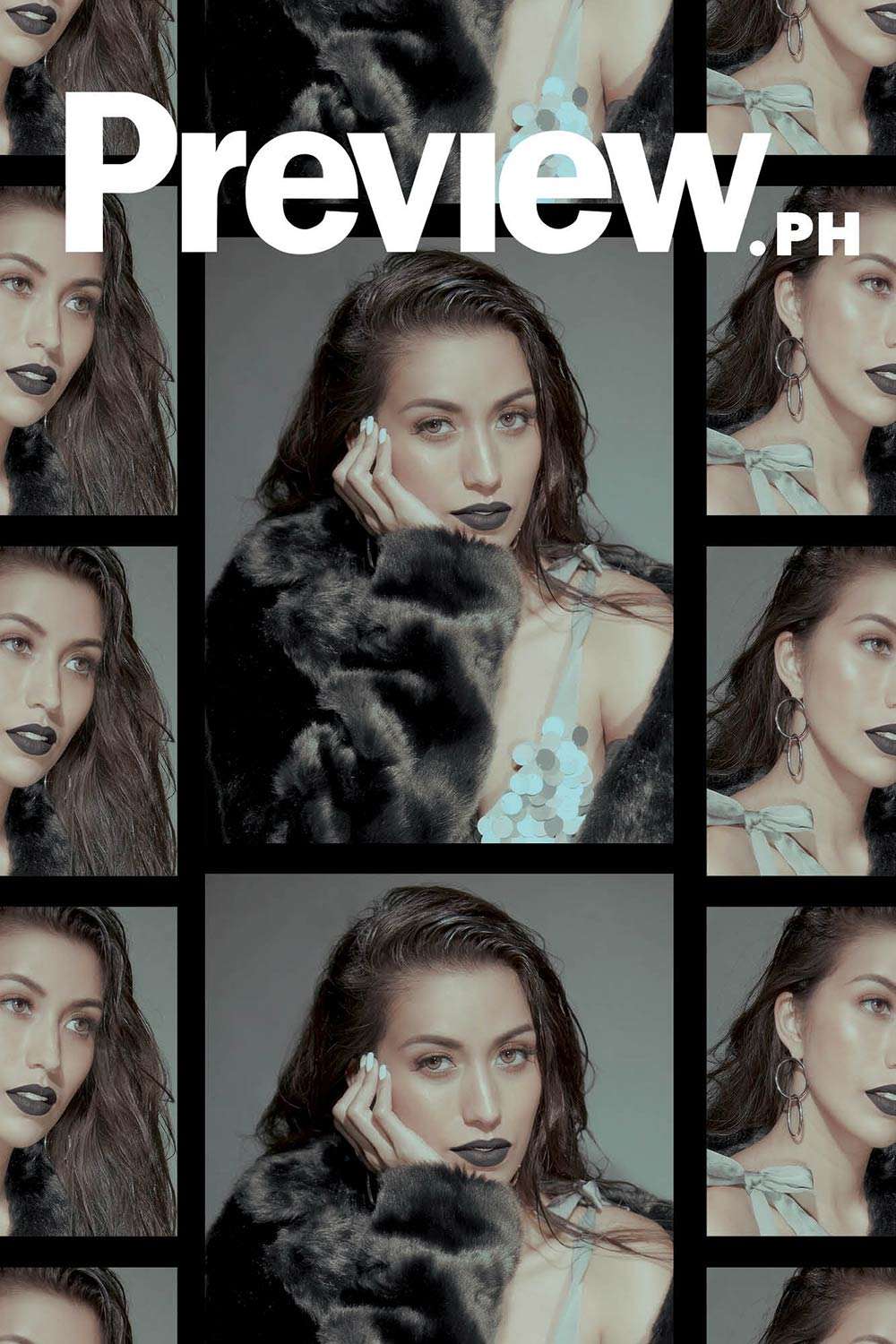 IMAGE Shaira Luna for Preview.ph
CONTINUE READING BELOW
Recommended Videos
(Yong Davalos sequin dress, price available upon inquiry, contact 09173087376; Forever 21 fur coat, P2565, SM Aura)
How Filipino are you?
"I am half-Filipino. My mom is from Cam Sur, my dad is from England. I never lived in England so you can't really say I'm British.
"I'm definitely much more Filipina than I am British because I lived here from kindergarten until fifth grade before we moved away to Thailand. Ever since, we've always had Filipino family, friends, and things around us so I never lost that side of me even when I was living there. We came back after finishing high school and ultimately, after finishing university. This is really home for me. I am Filipino without a doubt."
How has your training been like? You are barely a month into the competition.
"I don't think a lot of people realize that preparing for something like this is like preparing for the Olympics. There are different things we need to be good at: You got to do hair training, then there's make-up, pasarela (runway), you got to be on a diet, you got to go to the gym, and have interview training and personality development training. On top of all of that, you have to organize your entire wardrobe—national costume, evening gown, everyday clothes.
ADVERTISEMENT - CONTINUE READING BELOW
"Most importantly, you got to work on yourself, from within. You cannot go into a contest like Miss Universe where you are judged for the way you look and not be confident about yourself.
"Fortunately, Binibining Pilipinas was a great experience to have had prior to coming to Miss Universe because it was quite intense and was a test of patience and perseverance. But to compete in Las Vegas, a place I am so unfamiliar with and with none of my team with me, that is a whole new challenge in itself because I am on my own."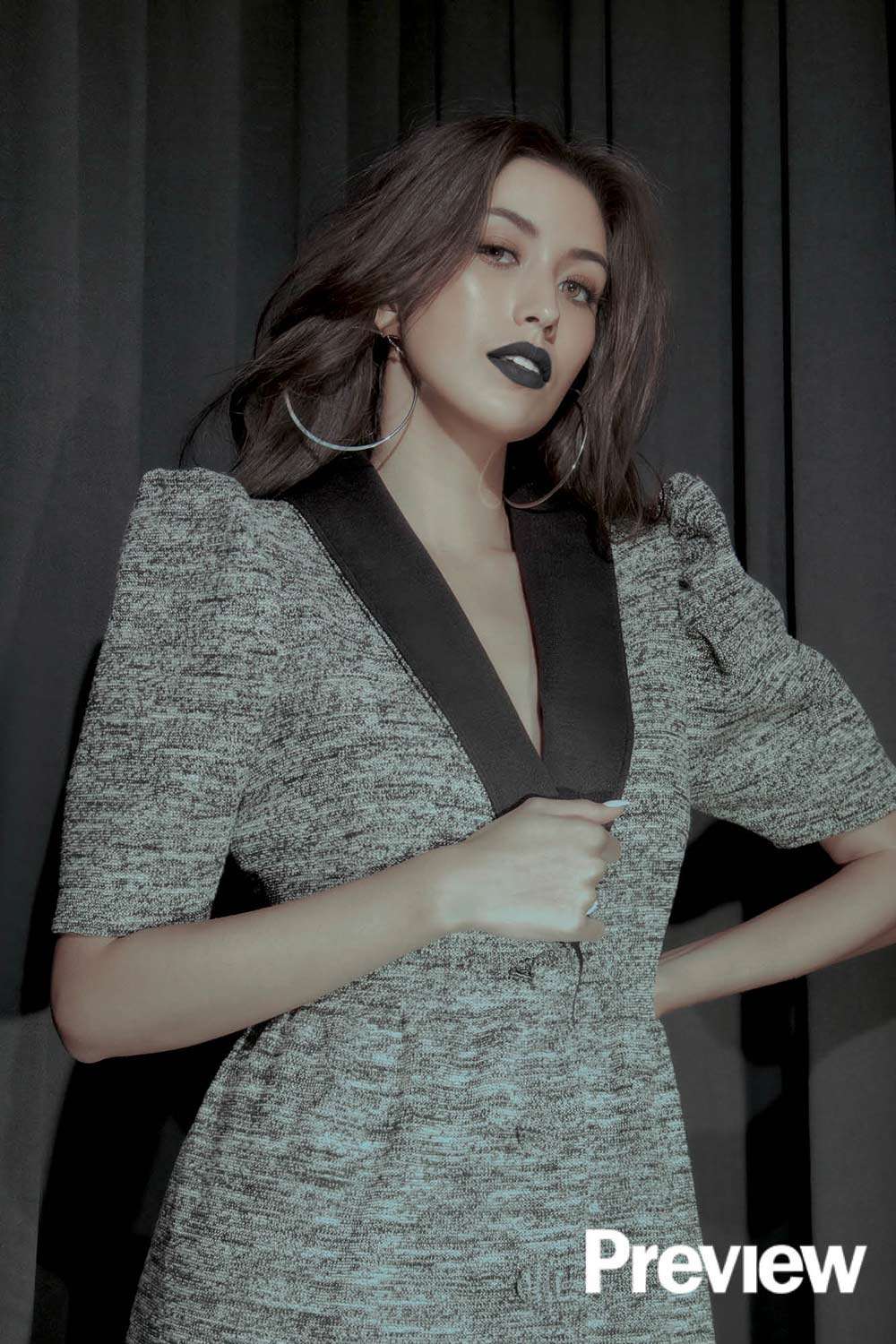 ADVERTISEMENT - CONTINUE READING BELOW
IMAGE Shaira Luna for Preview.ph
(Jinggay Serag dress, price available upon inquiry, contact 09178880554; Forever 21 hoop earrings, P330, SM Aura)
What aspect of your preparations do you find to be the easiest?
"Honestly, I don't think any of it is easy, but I really enjoy pasarela (runway) because it really allows me to show my personality. You are given a base walk and change it to really show who you are. It's fun; you are surrounded by people who support you and motivate you to be better."
And the toughest?
"Hair and makeup. I was never really a girly girl growing up. I was one of the boys. I lived at the beach so there's never really any need to do my hair and makeup. The only pieces I owned were my bronzer and eyeliner and that was when I was going through my emo phase! The eyeliner didn't stick for very long—typically, it was just bronzer. As a beauty queen, you need to know how to be plakado. It is the hardest for me to learn but there is still time.
ADVERTISEMENT - CONTINUE READING BELOW
"The expectations are very high, you need to look as if you are ready to go on stage at any second of the day and so it is a challenge. If you come out with your makeup not good one day and looking good on another, you are showing that you are not consistent and not worthy of being the next Miss Universe.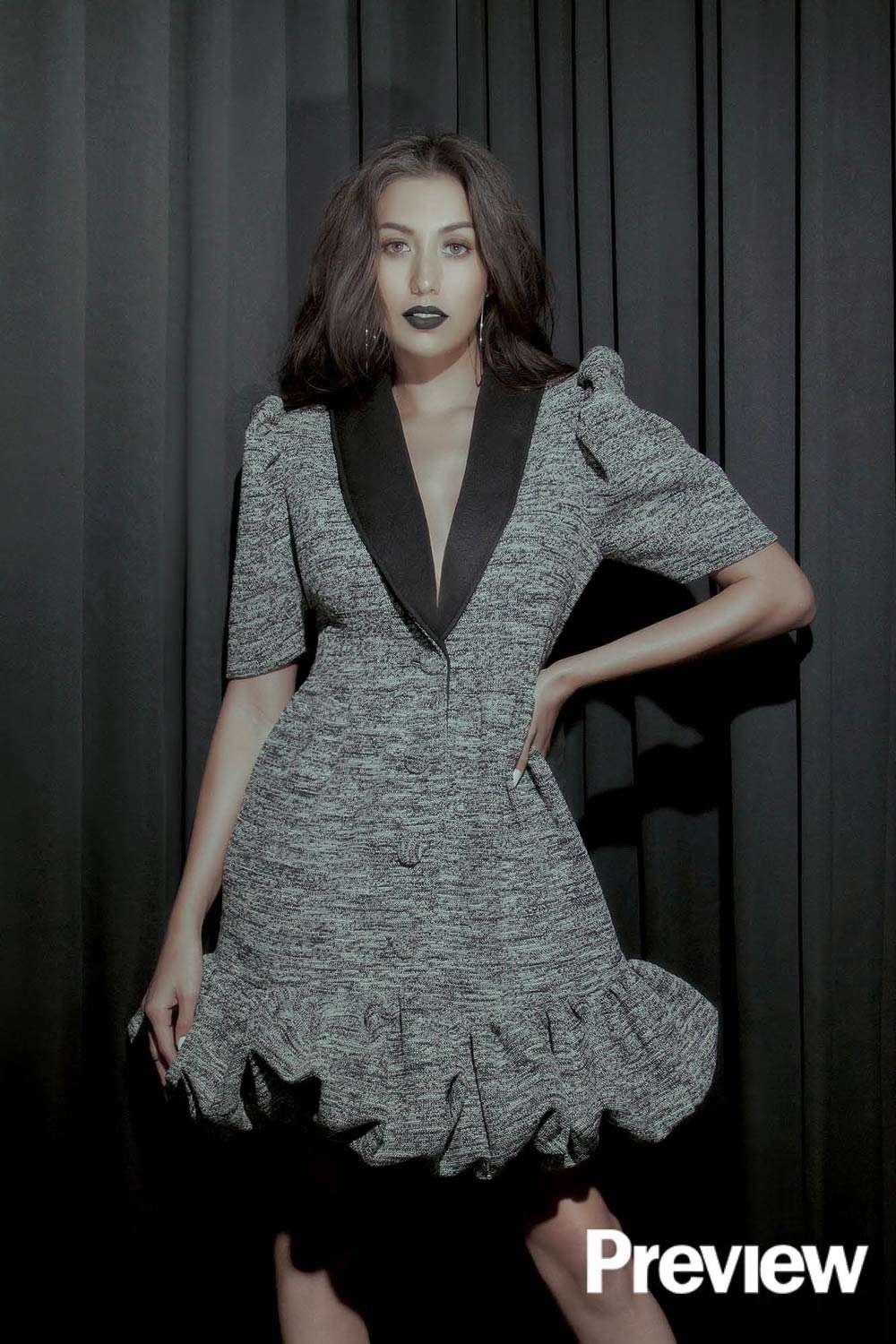 ADVERTISEMENT - CONTINUE READING BELOW
IMAGE Shaira Luna for Preview.ph
Compared to those who've gone before you, you have been relatively very quiet in your preparations for Miss Universe. Is that on purpose?
"I've been on Gandang Gabi Vice, The Bottomline, Tonight with Boy Abunda, and Showtime. You could say I've done the rounds but prior to that, I've been laying low. I didn't feel the need for everyone to be on my case. I know that I need to prepare and I was preparing, it was just a matter of them needing to be more patient with me."
Cobra, Tsunami, Arriba: The walks of your predecessors were branded and on full display for all of interwebs to see. What do you call yours and how come we've not seen it in full?
"No, not yet and partly because I am still perfecting it. I also do not want to be posting what I am doing. The Philippines is a powerhouse in the pageant world. Other countries, they wait, watch, and they copy! But as people have been reminding me, imitation is the best form of flattery, but I don't want people copying the walk I'm going to do there because it takes away from the element of surprise."
ADVERTISEMENT - CONTINUE READING BELOW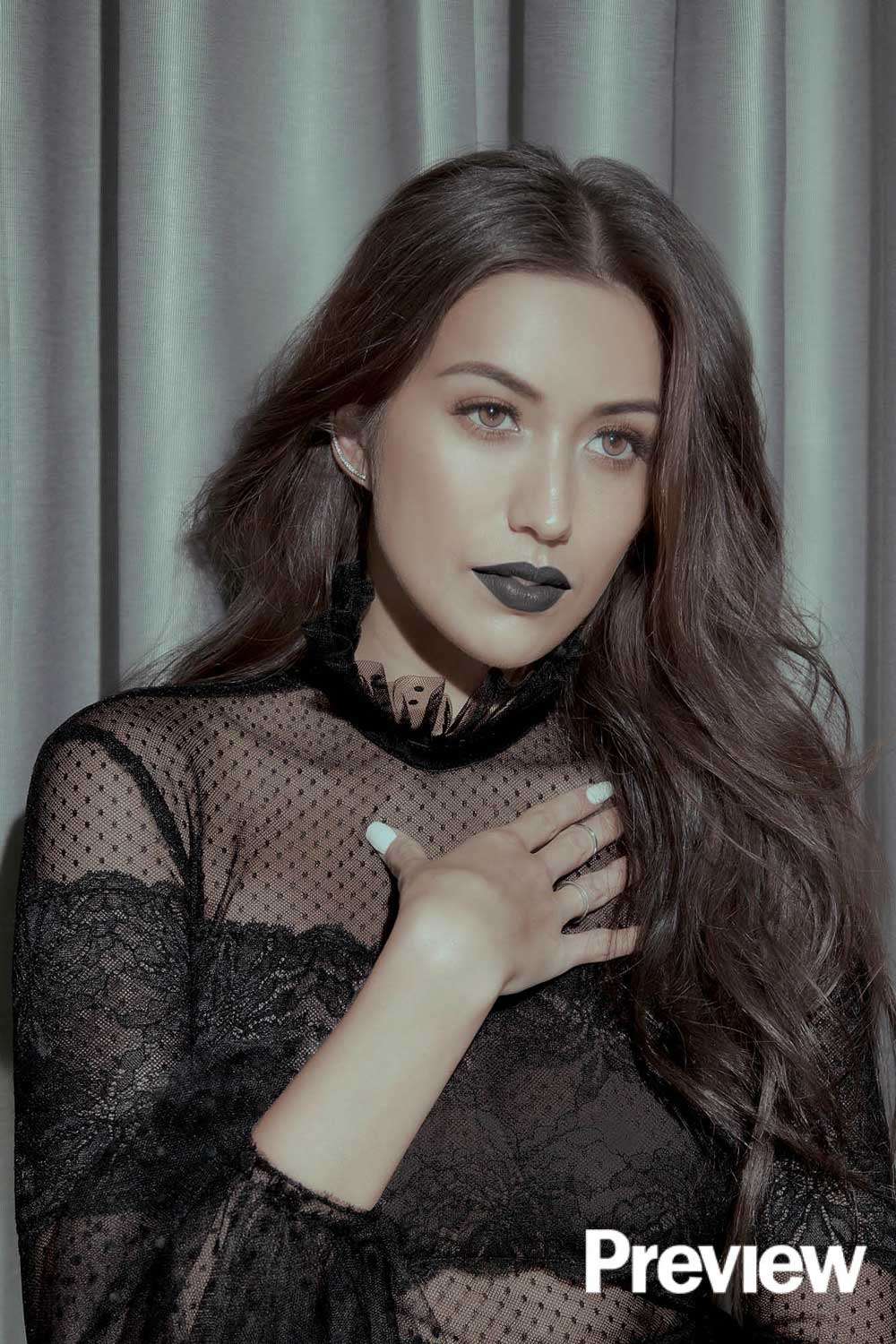 IMAGE Shaira Luna for Preview.ph
(Rob Ortega sheer dress, price available upon inquiry, contact 09176755523; Forever 21 earcuffs, P330; rings, P330, SM Aura)
Does the confidentiality extend to your wardobe, too?
"Those are part of the surprise, too. But I can say that Val Taguba, who was my designer during Binibini, is designing both my national costume and evening gown. It is only respectful and right that I work with him again. I will wear the work of other designers, too. Being in Miss Universe is a great way to showcase Filipino talent and give them exposure."
ADVERTISEMENT - CONTINUE READING BELOW
How immersed are you with pre-pageant news and the bashing that comes with it on social media?
"Originally, I was very much immersed in social media but it really got to me as it did with all the other delegates. People kept saying, 'Just don't read it!' but it's easier said than done, I'm sure you know.
"It got into a point where I thought that these bashers are not judges so what they said does not really matter and does not mean anything. So now, when I see rude comments, they get blocked from my page immediately. Then they make a new account or page and then I block that page, too!
"I go through my blocked list and it's probably ten pages now. I feel way better, you know, and when you block them from your life, it's like you're a brand-new person."
ADVERTISEMENT - CONTINUE READING BELOW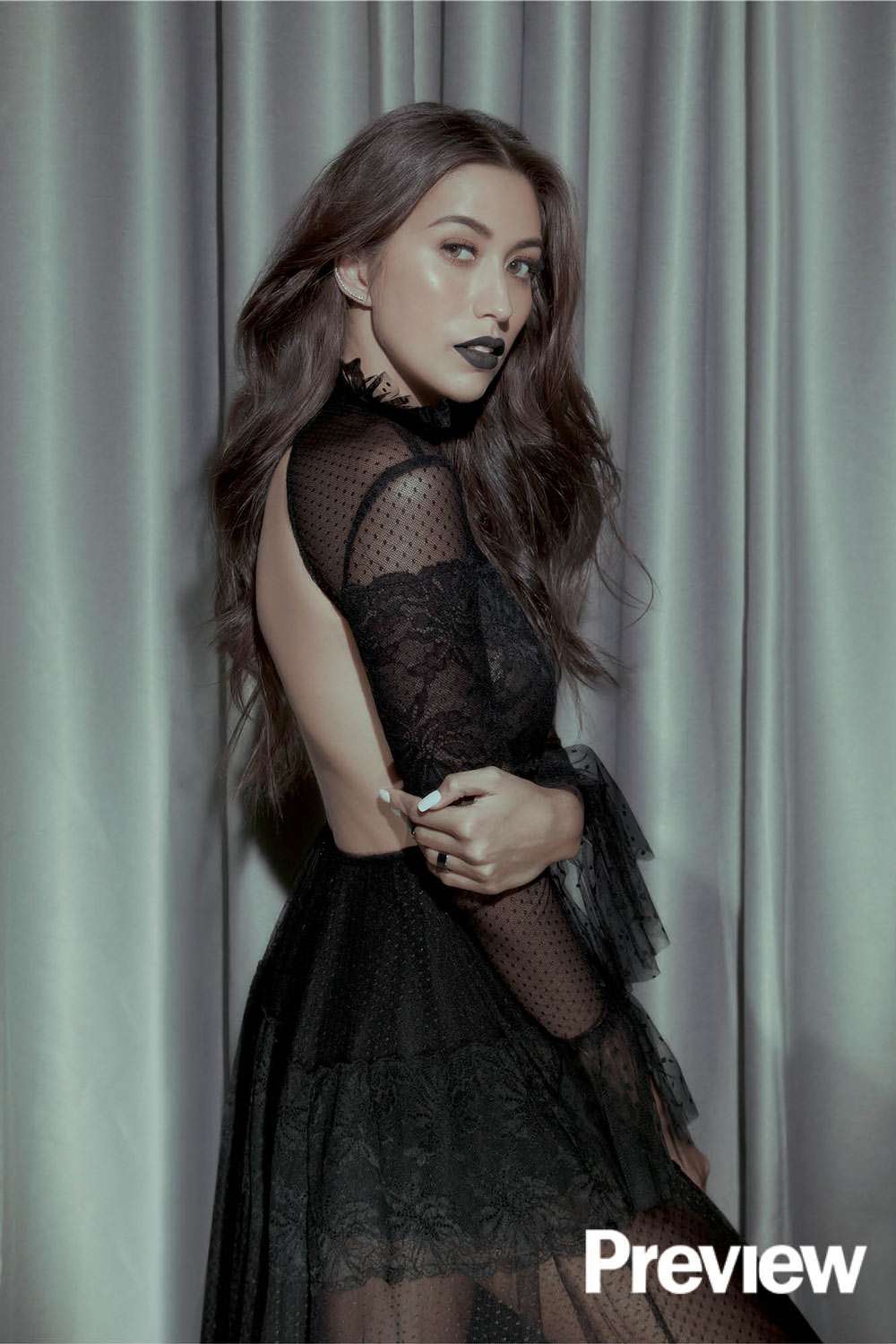 IMAGE Shaira Luna for Preview.ph
Have you had the chance to speak to Pia Wurtzbach? What advice did she give you about competing?
"Pia's tip that really stuck was you're only gonna get to do this once. To really enjoy it. Because afterwards, if I worry, stress about every single detail and don't give it my all and not be in the moment, I'll be like. 'Damn, I wanna do that again.' But you'll never get to."
ADVERTISEMENT - CONTINUE READING BELOW
You are famously associated with Camarines Sur's Governor Migz Villafuerte. What role has he played in your miss Universe journey?
"I wouldn't still be here if it weren't for him, to be honest. He is the person who catches the brunt of it all because you got to put on a brave face, you gotta smile and be happy all the time, and you have to keep it together. You need somebody to talk to and tell them about your day, so he's that person. Migz has been very patient. He helps me with Q&A. He helps me pick out outfits. He's been very helpful and his family, too."
Is he watching Miss Universe live?
"He better be!"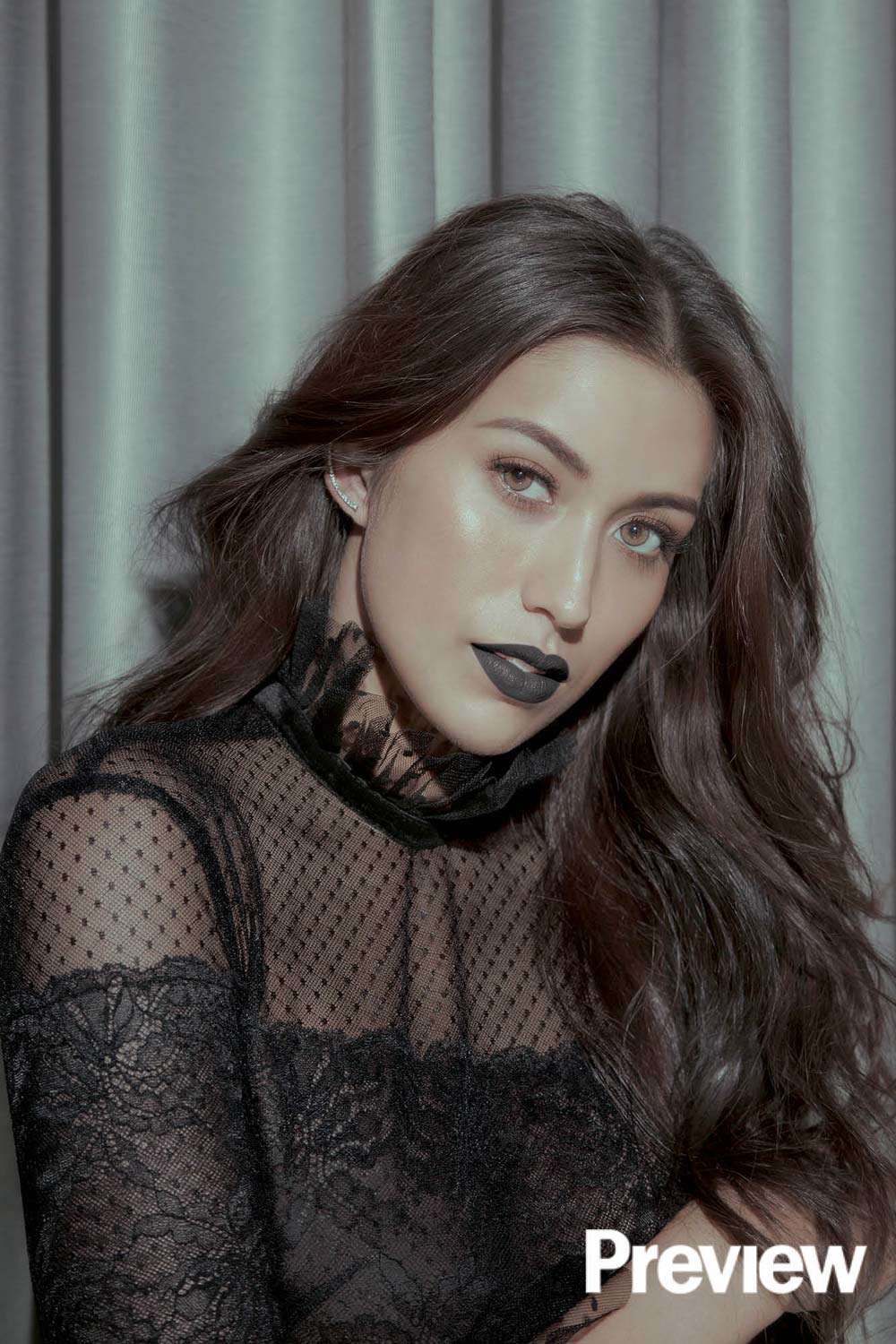 ADVERTISEMENT - CONTINUE READING BELOW
IMAGE Shaira Luna for Preview.ph
Your Binibining Pilipinas batchmates have interesting back stories. Miss Grand International 2nd runner-up Elizabeth Clenci survived a skin disease; Miss Globe 1st runner-up Nelda Ibe is a licensed pilot; Binibining Pilipinas International Mariel de Leon has show biz roots and the guts to speak her mind on national issues. What is your back story?
"To be honest, I do not have a super extraordinary backstory. But the thing with me is that what you see is what you get. My advocacy is celebrating one's individuality, I think it's very important especially in this day and age where social media is everything. Kids feel so much pressure to be what they see on TV or social media. It's quite sad, I see it often. I'm here to inspire them that what you are is good enough.
"I don't wanna pretend to be someone I'm not. I wanna show that even though you are yourself you can still achieve your dreams and goals, do big things, and make changes in the world without having to compromise who you are. You just have to be true to yourself because the truth is a beautiful thing."
ADVERTISEMENT - CONTINUE READING BELOW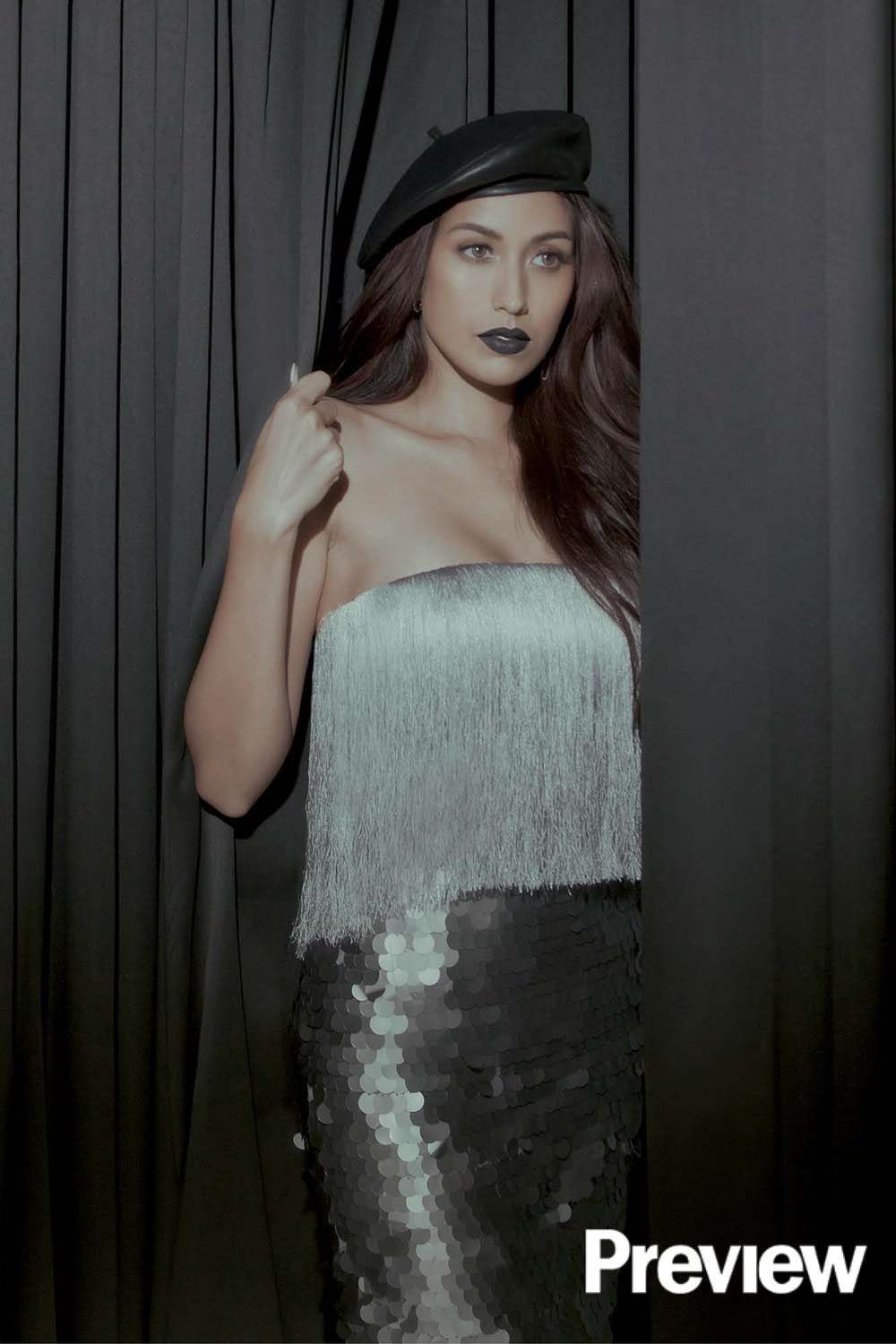 IMAGE Shaira Luna for Preview.ph
(Yong Davalos fringe tube top and sequin skirt, price available upon inquiry, contact 09173087376; Forever 21 leather beret, P845; chain earrings, P280, SM Aura)
You've begun communication with most of the delegates this year. What did you do to make that happen?
"I started a Whatsapp group with all the other Miss Universe delegates. I started the ball rolling when we were only about eight. Now, we are like 40 in the group which is fun. Every day is fun; we add a new girl to the group and start with introductions all over again. 'Hi, I am Rachel, Philippines.'"
ADVERTISEMENT - CONTINUE READING BELOW
What's the mood like in that chat group?
"Everyone's been so nice and down to earth. That's what I feel in the group chat and I am hoping that it stays that way when we all arrive in Vegas. I've heard that it gets very intense when you arrive."
Are you ready for it?
"Oh, yeah. It's a competition. At the end of the day, I'm there to win."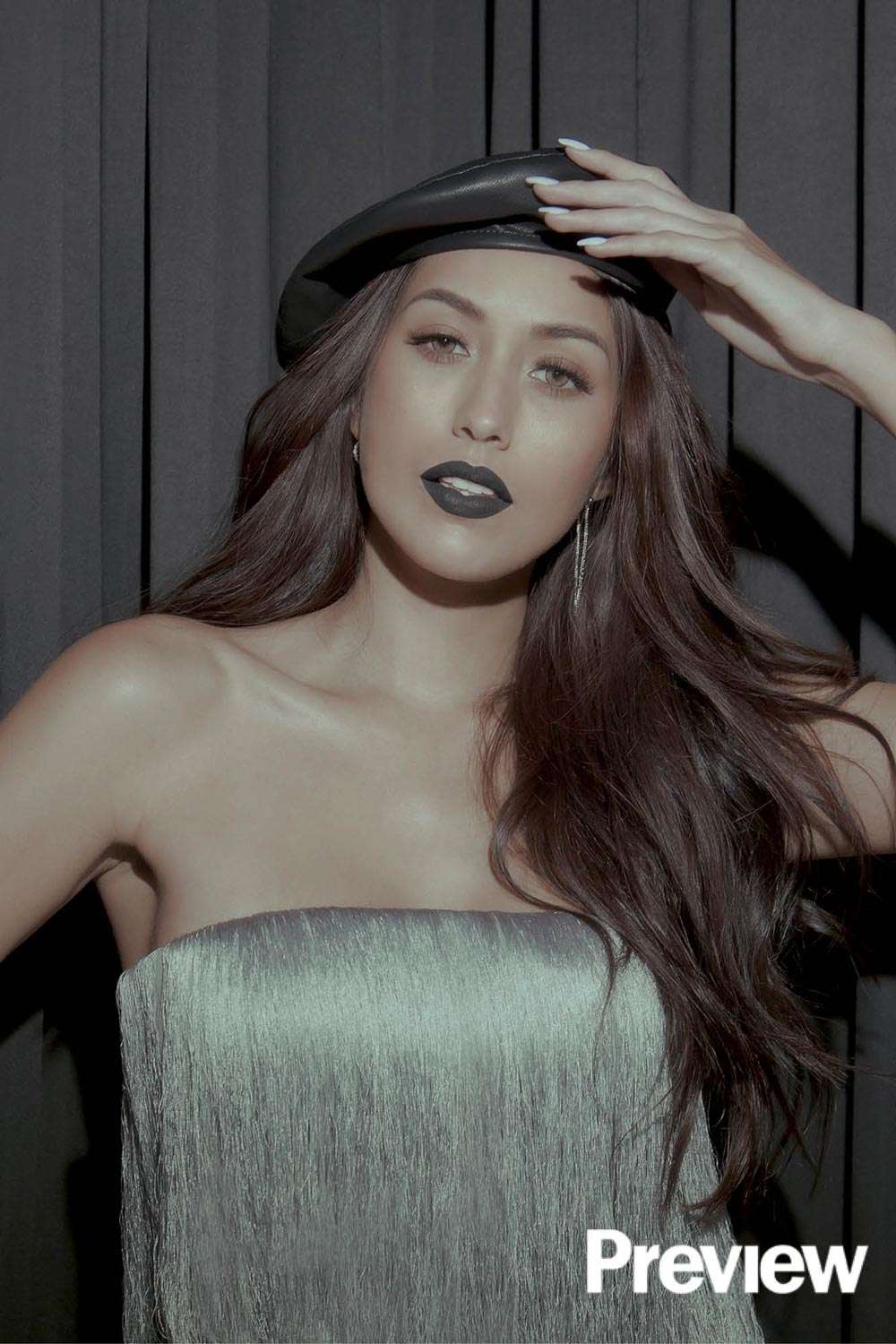 ADVERTISEMENT - CONTINUE READING BELOW
IMAGE Shaira Luna for Preview.ph
Photographed by Shaira Luna
Produced and Styled by Marj Ramos
Art Directed by Mark Buenaobra
Assisted by Steph Sison and Gab Gutierrez
Makeup by Mickey See
Hair by Nante Alingasa
Nails by Luz Fortun of Triple Luck Brow and Nail Salon
Related Stories from Preview.ph
Hey, Preview readers! Follow us on Facebook, Instagram, YouTube, Tiktok, and Twitter to stay up to speed on all things trendy and creative. We'll curate the most stylish feed for you!