Jericho Rosales is an actor. Filipinos know him for his films, his TV shows, and his countless endorsements. Difference is, he's one of those names that are inexplicably linked to the good ol' days of local telenovelas, tacked into our pop-culture-savvy brains because he has simply made an indelible mark.
But then, his Pangako Sa 'Yo days are over. It has been since 2002. Now, on top of his newer acting projects, Jericho spends his days revving the engine of his motorcycles, surfing, managing his own barbershop, and being married to Kim Jones. He's his own man now, far from the TV persona we've all grown to know him for. The actor has now honed a sense of style that's truly his, and it's this sartorially Jericho-esque style that made him irreplaceable in this year's Best Dressed list.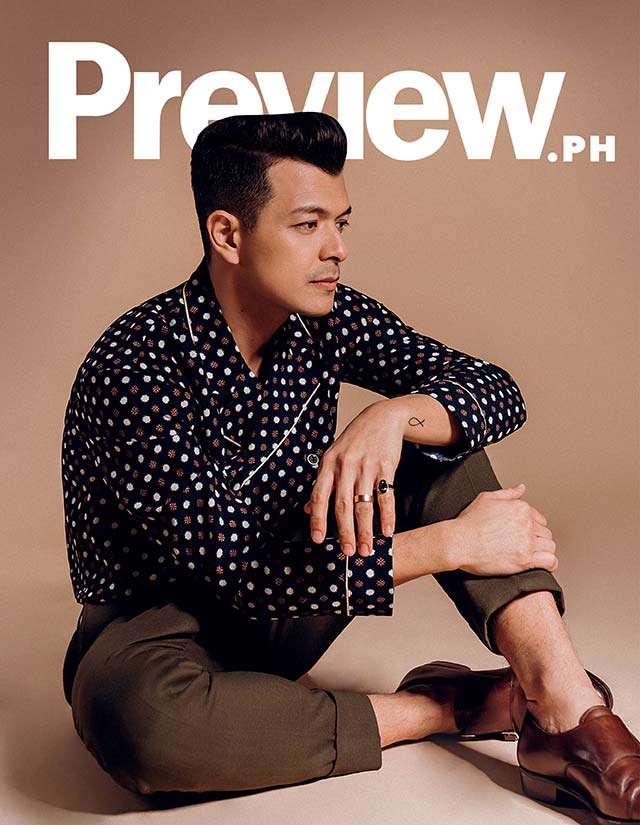 ADVERTISEMENT - CONTINUE READING BELOW
IMAGE Karen de la Fuente for Preview.ph
Ziggy Savella pajama top; AMI Paris pants; Carmina monk shoes
How do you ensure you look unique/different from everyone else?
"Be myself. Nowadays, it's really difficult to, actually. There's this element of having to protect your self-expression and your personality. But for me, if you don't feel comfortable about something, say so or don't do it. We have a hard time saying no, especially in the Philippines, whether it's at work or about clothes. By nature we're so sensitive, and we feel that we're going to hurt people. We shouldn't feel that way, and that's something I learned over the years.
"Being a people-pleaser and being friendly, I had a hard time saying no [to being told to dress or act a certain way], too. But when I changed that, when I learned to say, 'No, I can't do that. Sorry,' people had a strong reaction [at first], but over the years nasanay na sila. I think you have to protect [yourself like] that so your uniqueness will come out, because I believe every person is unique in so many ways."
How do you stay stylish without becoming a slave to what's trendy?
"Personally, I prefer to buy pieces that have a season or a decade attached to it. Say for example, it's a 1940s piece, I can wear that. I can get behind something from the 1940s, '50s and '60s. 'Pag nasa era na 'yon, kaya ko siyang gamitin, because I love that era. I drive a Mustang, I ride vintage motorcycles, I listen to songs from those decades—I like everything classic.
"Our house is also 1950s style, and my surfboards are classic longboards and shortboards that are old school. So for me, if you add my personality and add kung ano mang character meron ako, you stay unique. So I'm not a slave to the changing trends. If may uso ngayon, kaya ko parin 'yon, but I'm not dependent.
"[I started getting into this style] In the early stages of my career. Since I like watching old movies, 'dun ako nakaconnect sa mga [I felt connected to] period films. I also hung out with my grandfather a lot. I hung out with my lolas. It just becomes natural to me. I just make sure that I don't look costume-y. I'm very conscious about that [because] I used to be like that."
ADVERTISEMENT - CONTINUE READING BELOW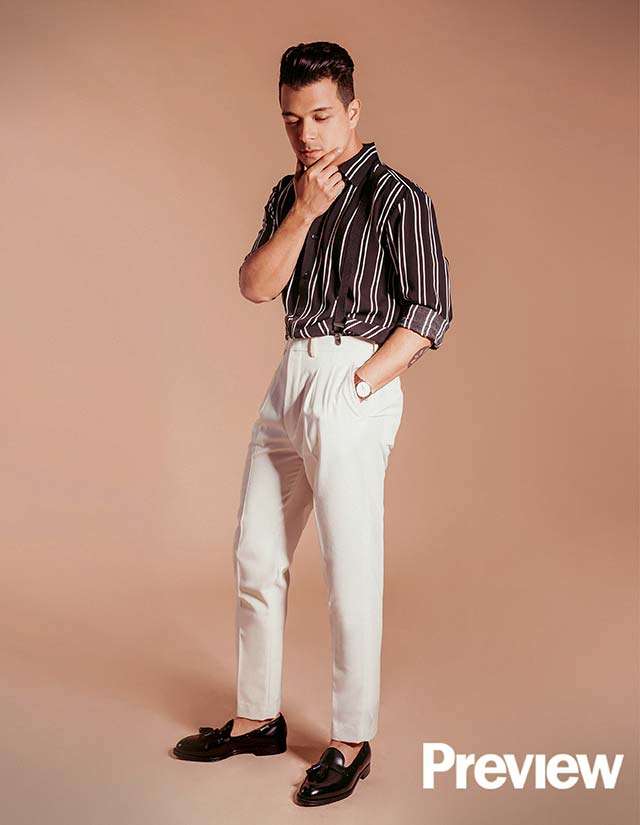 IMAGE Karen de la Fuente for Preview.ph
Ziggy Savella button-down shirt; Alden loafers
What outfit best describes your personal style?
"There's really a gentleman that lives inside me, so I'd say the second outfit [from the shoot]. The striped shirt, double-buckled monk strap shoes, maybe brogues. Really, I'm so comfortable wearing high-waisted '60s style lolo pants, like cropped lolo pants—that's me. And that airy shirt that's almost like satin, or just a roll-up long-sleeved shirt.
ADVERTISEMENT - CONTINUE READING BELOW
What's one clothing/styling hack you always rely on?
"I like to roll up my sleeves. You go back to my Pangako Sa'yo days and you see me and you see my shirt [sleeves rolled up].
"Hair is also a big part of my look. I'm very very particular talaga with my hair. They used to make me straighten my hair, but two years ago I said, 'That's enough. I'm just going to embrace my kulot.' Also Kim [Jones] would be like, can you please not do the Elvis hair again. [laughs]"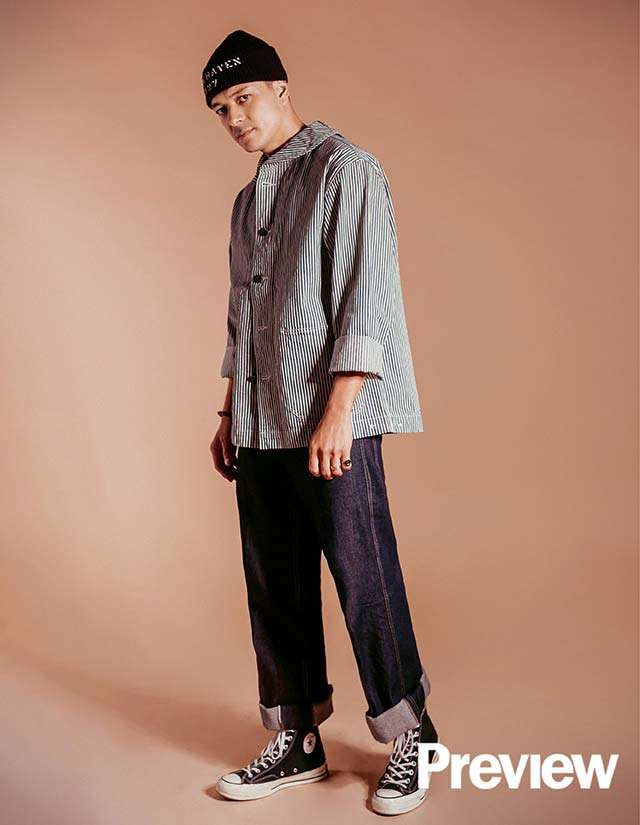 ADVERTISEMENT - CONTINUE READING BELOW
IMAGE Karen de la Fuente for Preview.ph
Buzz Rickson ulitity jacket, Regiment; Carl Jan Cruz denim pants; Ebbets hat, Regiment
How do you approach dressing up for events versus dressing for down time?
"There's a little bit of pressure when you have to dress up for events. I encounter great pressure when I go to ones with Kim. Sometimes I look like her driver. [laughs] When I get invited to a photo wall in events that she has to go to, [sometimes] I just become this super awkward, shy person and I just get that weird energy that makes me look like I'm so uncomfortable. I think you just have to up the level a little bit [for events], but for me that little bit is big because my daily outfit is like a T-shirt and my other favorite stuff.
"I'm constantly dealing with this, so I bought a few pieces, asked Ziggy [Savella] to make a few pieces that I can repeat without a problem. I have a go-to jacket, a go-to shirt, a few dark pants and of course my favorite Carminas [shoes] that I bought years back. So I just [put on] my dress watch, fix my hair a little bit, put on cologne—that's it!"
ADVERTISEMENT - CONTINUE READING BELOW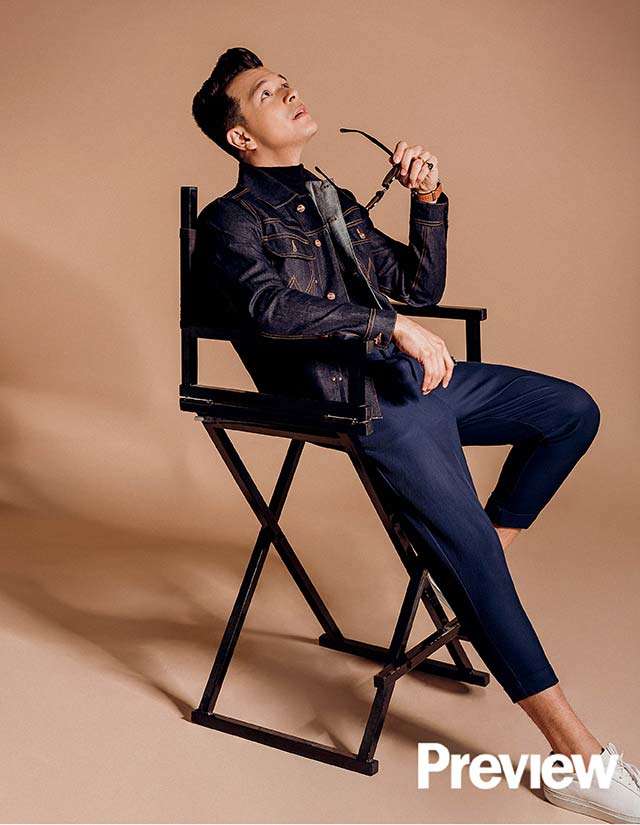 IMAGE Karen de la Fuente for Preview.ph
Wrangler denim jacket; AMI Paris trousers; Moscot sunglasses, Ronnie and Joe; Common Projects sneakers
Accessories can make or break the man. Any advice on how to use this to your advantage?
"I like rings. I'm into signet rings, I have a few from David Yurman and Foundraé. I also have a very cool piece from 13 Lucky Monkey, they're local blacksmiths. I have my favorite "married man" ring, it's rose gold. [I accessorize with] two to four rings in one go, and a necklace. Necklaces are like my comfort thing. Sometimes I wear one to sleep. I'm like that. I get uncomfortable 'pag wala akong necklace. I hang my favorite pendant. It's really a [form of] expression for me.
ADVERTISEMENT - CONTINUE READING BELOW
Sometimes I engrave stuff on my jewelry and my fashion accessories. That's because to me, when I put meaning to my things, I keep wearing them. I'm not going to buy anything that doesn't have an effect on me. I have a few watches, too. I wear Ibarra watches. We actually sell that in the barber shop [Talas Manileño]. I support local, really.
One last thing: I love sunglasses. I like the round ones that are pointed at the sides like the Moscot ones, they're very vintage-looking. Sometimes [I wear] wayfarers, but more of the classic like the round shape kasi 'yun yung bagay sa face ko. I have a few pieces that lasted me ages, like sobrang tagal na. Rings, necklace, sunglasses, that's it. Sometimes the tattoo becomes an accessory, but at the moment I can't fill up my arm because of my shoots."
ADVERTISEMENT - CONTINUE READING BELOW
Photographed by Karen dela Fuente
Grooming by EJ Caro
Art Direction by Mark Buenaobra
Sittings editors: Marj Ramos and Nicole Arcano
Related Stories from Preview.ph
Hey, Preview readers! Follow us on Facebook, Instagram, YouTube, Tiktok, and Twitter to stay up to speed on all things trendy and creative. We'll curate the most stylish feed for you!