It's official: Summer is proving to be quite the pop-up fest. Cura V, in partnesrhip with Shang Salcedo Place, are the latest to hop on the bandwagon via Au Courant, a mini-bazaar/exhibition held in one of the ballrooms of Shangri-La Hotel Makati. A posh, airconditioned, and organized flee market (in shabby-chic terms), Au Courant invited designers and brands whose aesthetic and unique use of materials defined the contemporary design scene for both fashion and interiors.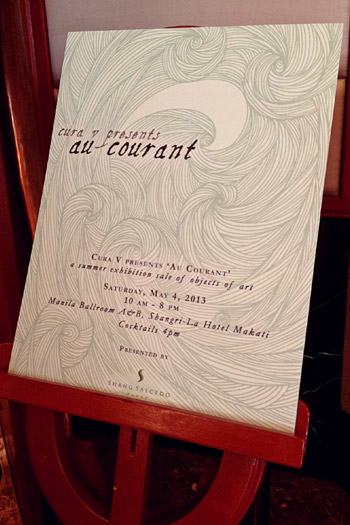 ADVERTISEMENT - CONTINUE READING BELOW
The whole day event went on from 10 a.m. to 8 p.m. and allowed people to indulge in their stylish fetishes, from everything from terrariums to gold-dipped bracelets shaped like wilted leaves with precious stones. It was also a fan day those who've always wanted to meet the designers behind their ogled pieces, like Tweetie de Leon-Gonzalez, who chatted happily with those curious about her designs.
CONTINUE READING BELOW
Recommended Videos
A list of the exhibitors,fFor fashion and furnishings: Emi Jorge, Nicole Whisenhunt, Natalya Lagdameo, Carissa Cruz, Joanique, Cada Dia, Kotur, Two Chic, Maco Custodio, Riqueza by Erica Concepcion-Reyes, Anna Saguil, Tweetie De Leon-Gonzalez, and Bailey & Betmar. For art pieces: Iñigo Elizalde for Catalina, Art Informal, Liliana Manahan, Isabel Gatuslao, Bungalow 300, and Raab Terrarium.
Based on the packed house and satisfied looks from both buyers and exhibitors, safe to say that Cura V's Au Courant needs an encore.
Check out the gallery for more photos.
ADVERTISEMENT - CONTINUE READING BELOW