It really would be a coup if Philippine Fashion Week manages to gather the Philippine fashion industry's most progressive minds to present the best and most innovative Filipino fashion has to offer. Such a successful undertaking would make the PFW Visions & Trends segment into a truly formidable showcase of cutting edge Filipino fashion. It has yet to reach that point, but that's not to say that there is a dearth of brave souls who try to toe those frontiers each season. This time, there are two new names who present us their attempts, together with some segment regulars.
ENRICO CARADO

Enrico Carado gave us a dose of his usual otherworldly designs as an opener for Visions & Trends. Called Tortured Souls, the collection is a reminder of what we first saw and fell in like with from Enrico: hand-treated fabrics cut and layered in various, irregular textures to achieve organic dimensions, and interspersed with strips of buckled leather and brushed hardware for a somewhat tribal and pagan look with vague S&M-ish overtones.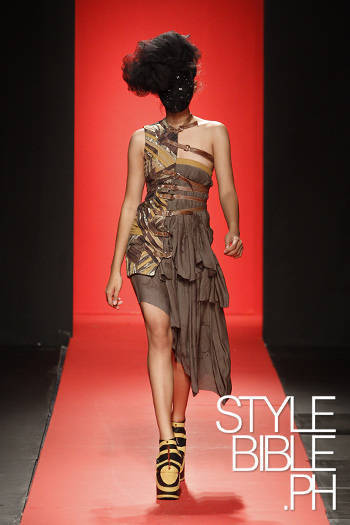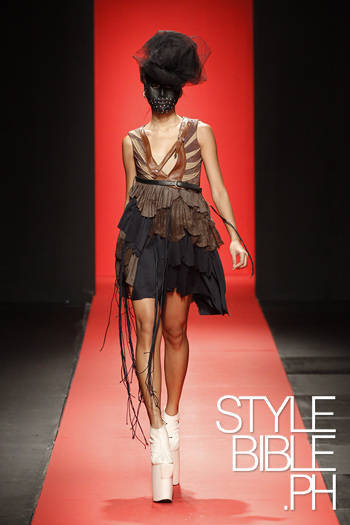 Click here to view Enrico Carado's Spring/Summer 2012 collection.
Click here for his Designer Directory.
JOSHUA GUIBONE

Philippine Fashion Week newcomer Joshua Guibone played with texture and volume for his first PFW outing, sculpting bell- and funnel-like peplums and shoulders over woven, form-fitting dresses. Sticking to a refreshing color palette of pale peach, raspberry, and lemon, this collection is Joshua's rendition of a sorbet-colored, structured and sculptural summer.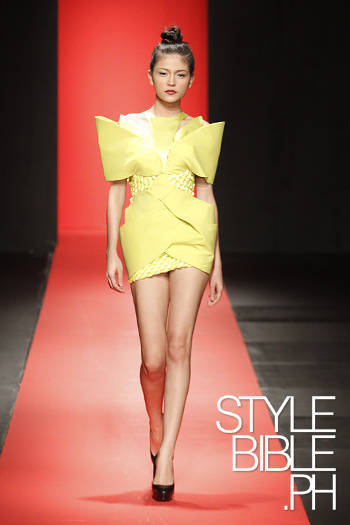 Click here to view Joshua Guibone's Spring/Summer 2012 collection.
Click here for his Designer Directory.
KENNETH CHUA

PEFTA 2010 designer Kenneth Chua heeded past trends of sheer and fringe for his summer lineup, incorporating nude bodysuits topped with lace appliqués and stringy fringe skirts in his ten-look collection. He also showed three menswear ensembles of varying motifs to break the sexiness of his womenswear pieces, of which one stood out for having keen similarities with some design elements of Jerome Salaya Ang's Holiday 2011 collection. Be careful, designers. We're really paying attention!
ADVERTISEMENT - CONTINUE READING BELOW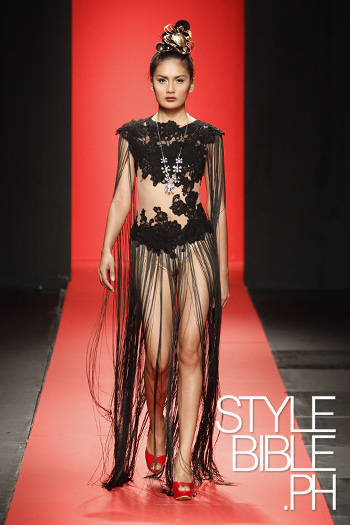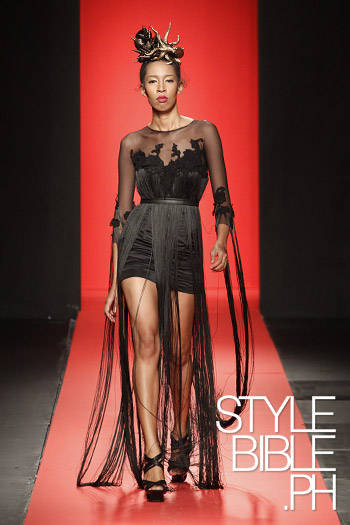 Click here to view Kenneth Chua's Spring/Summer 2012 collection.
Click here for his Designer Directory.
REGINE DULAY
While citing a motley of inspirations for her summer collection ("household objects [such as] broomsticks, blinds, banana husk, shredded paper, Japanese fans and spiral staircases"), Regine Dulay's ten-strong outing is not nearly as scattered as her press release sounds. Her dresses of micro-twill play with volume and dimension via airy folds, layered strips, undulating fabric waves and everything in between, all in a medley of fresh summery colors.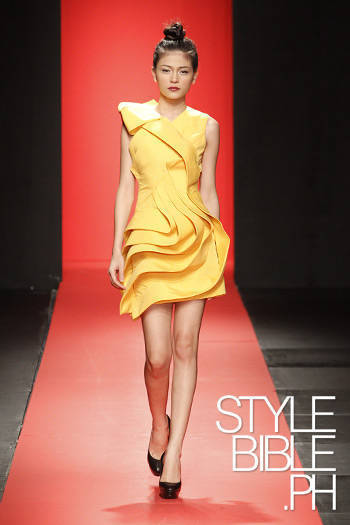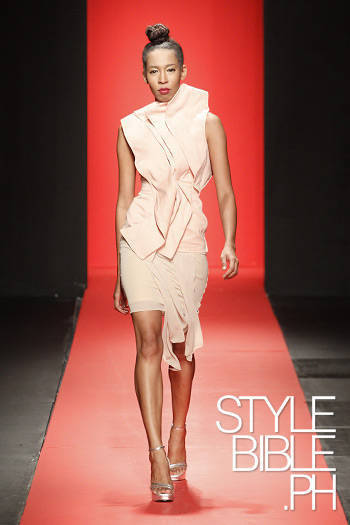 Click here to view Regine Dulay's Spring/Summer 2012 collection.
Click here for her Designer Directory.
ROLAND ALZATÉ
Roland Alzaté is another PFW newcomer, another purveyor of women's workaday separates and cocktail clothing that neither break the ground nor toe the edge of contemporary fashion design, which is what we expect from the Visions & Trends segment of PFW. His teal, olive green, white and tangerine dresses, however, make for sufficiently appealing wardrobe choices for every woman.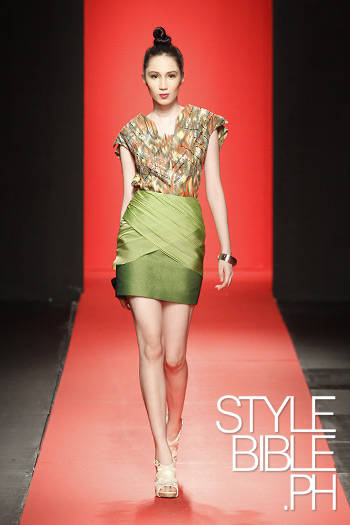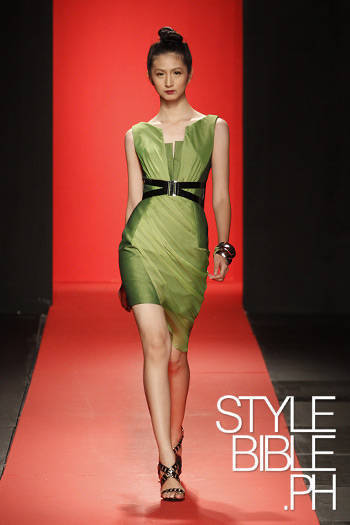 Click here to view Roland Alzaté's Spring/Summer 2012 collection.
Click here for his Designer Directory.
Follow Style Bible on Twitter, Facebook, and Tumblr for live updates from the front rows of Philippine Fashion Week!