Summer freshness and heavy Orientalia were the orders of the fourth day of Philippine Fashion Week Spring/Summer 2012.
ARNOLD GALANG

From this trio of designers, Arnold Galang presented the freshest lineup that had many fashionistas—Style Bible and Preview editors included—rushing post-show to the Hotspot section of SMX to grab his off-the-runway pieces. The black, white, and gold-tinged collection was a hit for its combo of contrasts: loose and sexy silhouettes, matte and shiny textures, angelic and naughty girl motifs, lounge-y, workaday and cocktail aesthetics. The 45-look lineup simply had too many good things going on—incredible separates that can be reworked endlessly through anyone's wardrobe, sexy statement pieces to grab attention in, and strong garments that can be styled this way and that for an even stronger look (even the cute "flat"-forms had their fair share of covetous attention). It had all the makings of a truly wearable collection, sans the negative connotation of the word when used in a context such as this.
For all its accessibility, Arnold's summer outing still strongly imparted his almost minimalist aesthetic for a stark, sexy summer.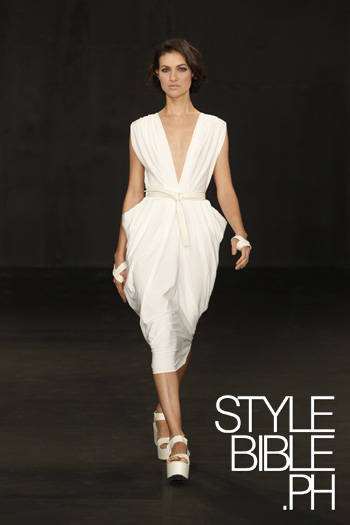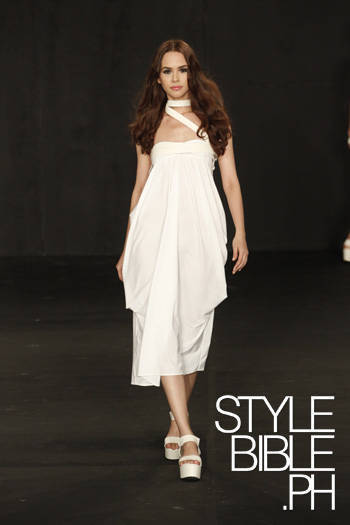 Click here to view Arnold Galang's Spring/Summer 2012 collection.
Click here for his Designer Directory.
GERRY KATIGBAK

Gerry Katigbak's summer collection was likewise another study in freshness, devoid of the droll styling we've seen from him in seasons past. Long, loose, and lounge-perfect silhouettes for women and casual basics for men completed the collection in black, white and sorbet colors, with an assortment of stripes being the lineup's punctuation. Indeed, there were stripes aplenty—from wide bands to nautical to jailbird, there are plenty of choices to variegate your summer outfits with.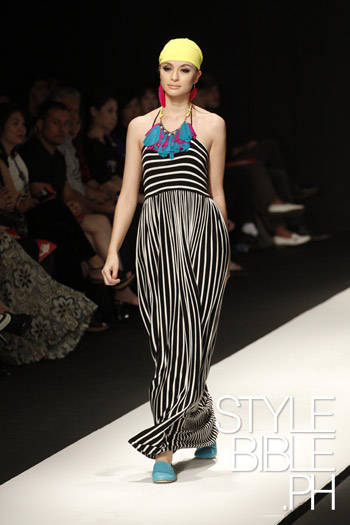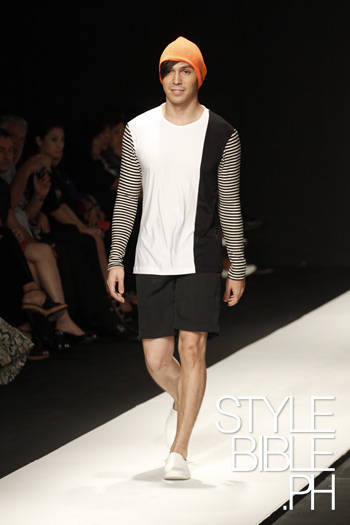 Click here to view Gerry Katigbak's Spring/Summer 2012 collection.
Click here for his Designer Directory.
JUN JUN CAMBE

Closing Day 4 of Philippine Fashion Week was the theatric Jun Jun Cambe, who, season after season, never fails to regale us with the latest spectacles of his imagination. This summer, his fantasies took him—and us—to an Oriental land where aristocratic dragon ladies wore lacquered paddy hats and crotch-baring cheongsams, while eyelinered and lipsticked men bandied about in red briefs and red bandanas. The ostentatious Orientalia was actually entertaining to a point until it was broken, a third of the way through, with a displaced pink flower power print, and then it just slugged through the lengthy Asiana performance, where mesh shirts for men are acceptable as long as their pecs are modestly banded, and navel exhibitionism is encouraged in shiny spandex.
ADVERTISEMENT - CONTINUE READING BELOW
But mind you, some whispers were actually heard, on the front row, of some measurable desire for the ponchos, dhoti, and harem pants, so perhaps all wasn't lost for the Xianzai (a Chinese word translating to "now") collection.
And naturally, this being a Jun Jun Cambe repertoire, Marina Benipayo had to close the show in what could only be her nth empress dowager incarnation.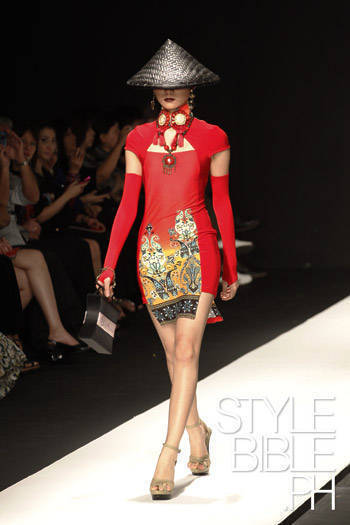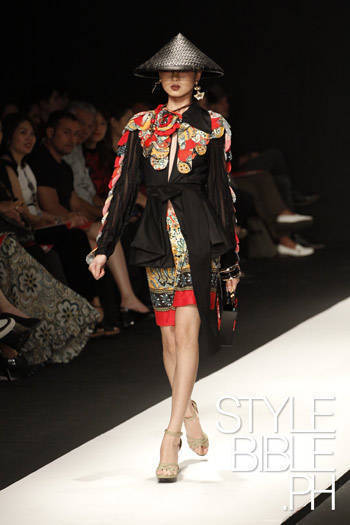 Click here to view Jun Jun Cambe's Spring/Summer 2012 collection.
Click here for his Designer Directory.
Follow Style Bible on Twitter, Facebook, and Tumblr for more on Philippine Fashion Week Spring/Summer 2012!