Chris Diaz, Eric delos Santos, and Lizanne Cua left the multitudes in SMX for a showing at the SMDC of their latest collections for Philippine Fashion Week Spring/Summer 2012.
CHRIS DIAZ

Not for nothing is Chris Diaz one of the designers whose show is looked forward to during Philippine Fashion Week. This self-proclaimed romanticist gave us a medieval story last season, and this time, he captured the imagination (and desire) of his audience with a neo-tribal outing called Techihhila, which was introduced through a beautifully shot video seen here. Playful fringe, linen flowers, draped silhouettes and hand-worked neckpieces and belts pepper the collection, which was inspired by the photographs of Native Americans by Edward Curtis.
Where's the romance in the collection, one might ask? Aside from the crimson drapery, micropleated teal drama, and the subdued pretty print, it resides in the collection's name: Techihhila "is a native Sioux word for 'I love you,'" Chris reveals.
We're enamored, too, Chris.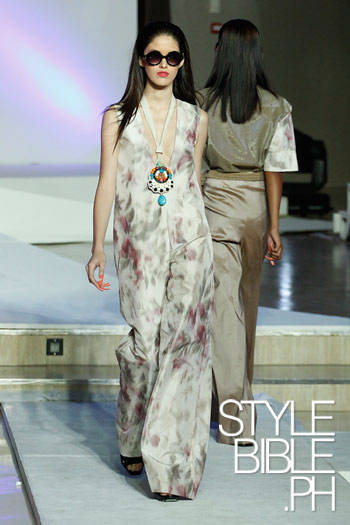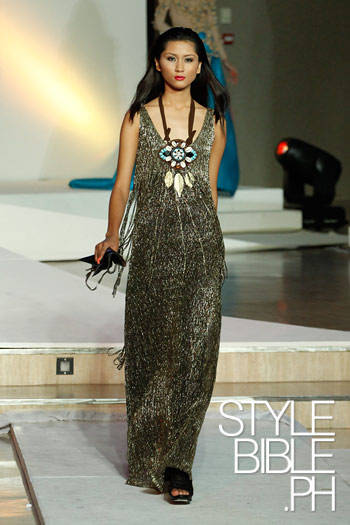 Click here to view Chris Diaz's Spring/Summer 2012 collection.
Click here for his Designer Directory.
ERIC DELOS SANTOS

Completely departing from Chris's earthy, American Western influences, party circuit favorite Eric delos Santos presented a lineup banking on luxe rock 'n roll that is more suited for the holidays than it is for summer, with the abundance of "fur" (which is actually fringe), faux leather, and general heaviness (in length, texture, and color) of most of the ensembles. But perhaps this was no accident on Eric's part, who knows his market, and only too well. Why dole out swimwear at this time of the year when nights out abound in the next few months, anyway? But thankfully, some breezy dresses came out in the last quarter of the show, giving us a proper taste and longing for the hotter season this PFW platform has in sight.
ADVERTISEMENT - CONTINUE READING BELOW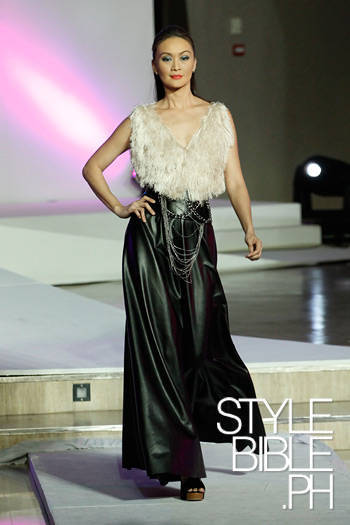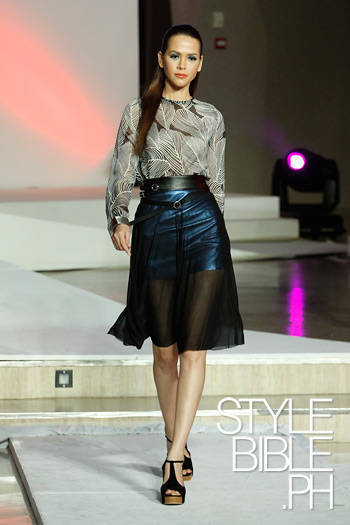 Click here to view Eric delos Santos' Spring/Summer 2012 collection.
Click here for his Designer Directory.
LIZANNE CUA

Lizanne Cua is one of those designers who have an unmistakable aesthetic that hardly varies from one season to the next. Comfortable, slouchy, lounge-y, quite basic and casual, her designs are always unfussy and seldom veer away from an easy, dilatory, and almost non-committal way of dressing. Knowing she's grouped with the more showy duo of Chris Diaz and Eric delos Santos, we were curious to see how she would sustain a 50-look show with her simple stylings. But fortunately enough, Lizanne gave us more than a fair dose of minimalist offerings in a rich palette of colors (red, mustard, teal) that, were you inclined to fuss and play, would lend themselves as easy canvases for layering, accessorizing, and all other manners of styling.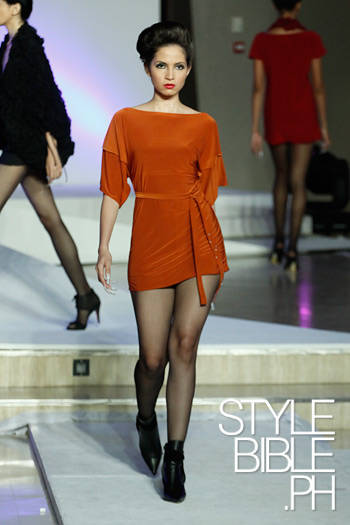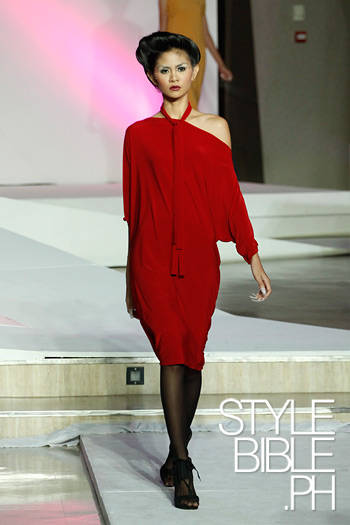 Click here to view Lizanne Cua's Spring/Summer 2012 collection.
Click here for her Designer Directory.
Follow Style Bible on Twitter, Facebook, and Tumblr for more on Philippine Fashion Week Spring/Summer 2012!