The last day of Philippine Fashion Week Spring/Summer 2012 brought us five designers—Jerome Salaya Ang, Noel Crisostomo, Sassa Jimenez, and Raoul Ramirez and Audie Espino for EsAc—bearing four collections, which varied from the otherworldly to the current, from the frivolous to the practical.

JEROME SALAYA ANG

Whichever Philippine Fashion Week segment that includes Jerome Salaya Ang is sure to be a much-awaited one. Season after season, the runways upon which his collections walk are transformed into the fantastical stages of whatever inspiration took ahold of him. From disfigured, redhead fairies to decadently dressed zombies to post-apocalyptic streetwalkers, we've seen all that and more from the concept-driven designer. This summer, it's all about "The Gods We've Known Before Us," the otherworldly beings Jerome imagines to have preceded us.
As he tells us in the current issue of Preview (in which he's profiled on Designer Spotlight), the collection is "about the connection of paganism associated with extraterrestrial beings from a civilization way before us." Composed mostly of form-hugging pieces in stretch jacquard and sprinkled with tons of sequins, this outing might just be the most wearable and accessible we've seen from Jerome thus far. Behold the paneled bodycons, the glittery tops and draped skirts, the peplumed trousers and sculptural cocktail dresses: there are plenty of items that will have members of the party circuit spoiled for choice. But regardless of his transition towards a more streamlined (and almost commercial) aesthetic, his conceptual sensibility is not at all lost. In fact, the collection only presages a whole new terrain for Jerome to explore.
ADVERTISEMENT - CONTINUE READING BELOW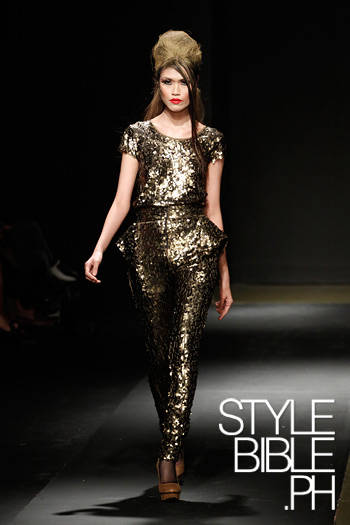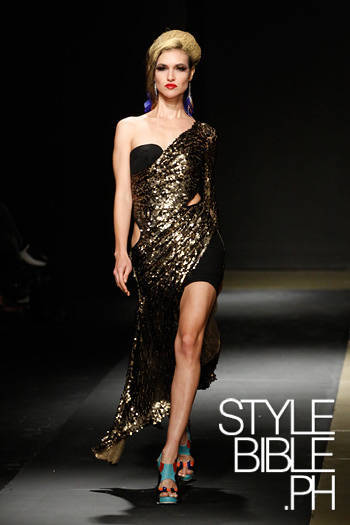 CONTINUE READING BELOW
Recommended Videos
Click here to view Jerome Salaya Ang's Spring/Summer 2012 collection.
Click here for his Designer Directory.
NOEL CRISOSTOMO

Here's another designer who gets us excited with every showing: Noel Crisostomo doled out what could possibly be the chicest summer collection of the entire Philippine Fashion Week. The outing has a decidedly sportif, resort motif done in clean, sharp silhouettes with fluid and immaculately tailored garments dispersed within. Combined with the models' fresh faces, slicked-back hair. and impeccable styling, the outing is the sleekest so far from the formerly Toronto-based designer.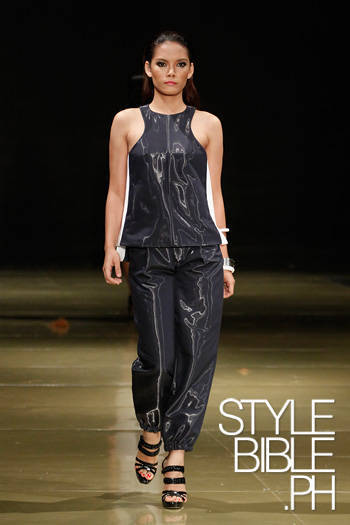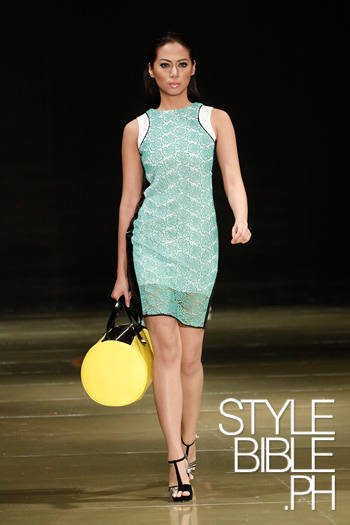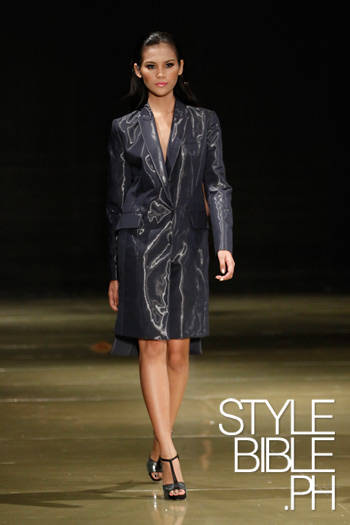 ADVERTISEMENT - CONTINUE READING BELOW
Click here to view Noel Crisostomo's Spring/Summer 2012 collection.
Click here for his Designer Directory.
SASSA JIMENEZ

Easily the most youthful, ergo most playful and quirky collection of the bunch, Sassa Jimenez brought us a wide assortment of garments: voluminous strapless tops, a bustier mini-dress with an Elizabethan collar, scrunched skirts, poufy debut dresses, a reprise of her gargantuan bubble skirts, and an array of long evening gowns cut from various moods and inspirations. There are lots of choices for the teenybopper to the prom crowd, which is just as well, since that's the demographic Sassa's aesthetic appeals most to anyway.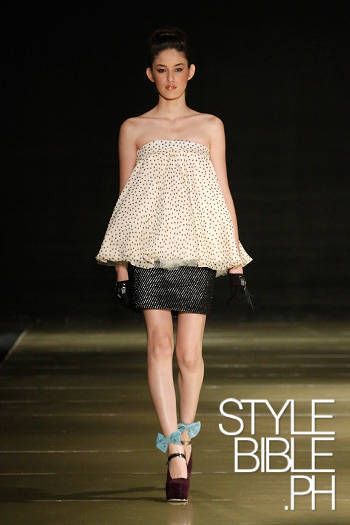 ADVERTISEMENT - CONTINUE READING BELOW
Click here to view Sassa Jimenez's Spring/Summer 2012 collection.
Click here for her Designer Directory.
EsAc by Raoul Ramirez and AudieE

Naturally, the EsAc show opened with a strapping man in nothing but red briefs. Since we first witnessed this EsAc tradition, we've mulled about the meaning behind it. What sanguine portent lies, um, behind those signature briefs? What deep meaning lies behind this nearly naked statement? It's difficult to fathom and we suppose only Raoul and Audie would truly know. And perhaps it's futile to philosophize about the opening as it would be to analyze the gray collection, which is as straightforward as it gets. Oh well. But behold, anyway, the design duo's scarlet statement by ogling their opener—click on the link below!
Click here to view EsAc's Spring/Summer 2012 collection.
Follow Style Bible on Twitter, Facebook, and Tumblr for more on Philippine Fashion Week Spring/Summer 2012!
Hey, Preview readers! Follow us on Facebook, Instagram, YouTube, Tiktok, and Twitter to stay up to speed on all things trendy and creative. We'll curate the most stylish feed for you!