"Before, we only have around 10 designers, three brands, and then others don't see it as a responsibility to show their collections to the market. Now, these brands and designers understand that it's their responsibility to show what they would offer for the coming six months. We made them aware that in order to exist actively in the minds of customers, they really have to show what they've got in whatever way they can, be it a 10-piece collection, 30-piece, or like a full collection of 45," says Joey. With the emergence of talented designers overseas like Michael Cinco, Albert Andrada, and Lesley Mobo, Joey can't help but feel proud of the fact that these A-list designers still make an effort to go back to their roots, considering they're already known abroad.
He recounts, "When we did Lesley Mobo last season I was so happy because this guy from Aklan, with parents actually flying in from Aklan, took center stage with Manila's [elite] 500 as his eager audience. I feel more for the parents rather than the fashion crowd because at the end of the day, we are still close with our families, and we work hard because we want to give back to where we came from. And that's what we want to really rally for: You can be a talented designer and be famous but you can still be a good person. You can still remember your roots, and you should know what's important to you. It's not all about fame, money, and popularity, because once you have the money, what's next?"
ADVERTISEMENT - CONTINUE READING BELOW
CONTINUE READING BELOW
Recommended Videos
And we couldn't agree more. Moving forward, the stage is once again set for another round of fresh collections for the discerning public. PHFW Holiday 2013 starts on May 22 to 26, with internationally-acclaimed designer Michael Cinco and retail powerhouse SM to open the five-day event.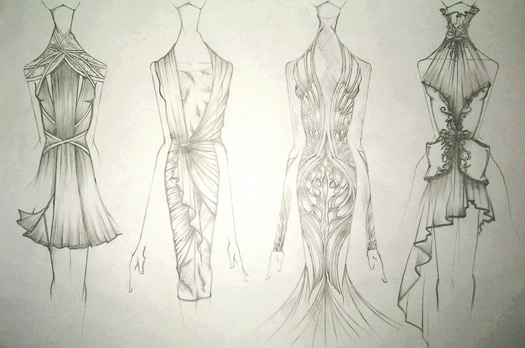 Albert Andrada will close PHFW this season. We're so excited to see these sketches come to life!
ADVERTISEMENT - CONTINUE READING BELOW
PHFW may look superficial from an outsider's point of view, but if you look closely, every piece has a story to tell and Runway Productions is here to make sure that this story will go on. As Joey puts it, "we're here to stand to continue the saga, and I hope that the Philippine market will really improve some more so that the future Filipino breed will become more globally-attuned, fashion-oriented people. That's what I really want to aim for."
What to take a look back at Preview's Top 10 Collections from last season? Click on the links below:
Click here for the complete schedule of shows for Philippine Fashion Week Holiday 2013.>
>