Philippine Fashion Week host Sarah Meier-Albano was prompted to tweet the following regarding the crazy attendance at the shows of designers Eric delos Santos, Jerome Salaya Ang, and Sassa Jimenez last May 14, Day 6 of PFW Holiday 2011: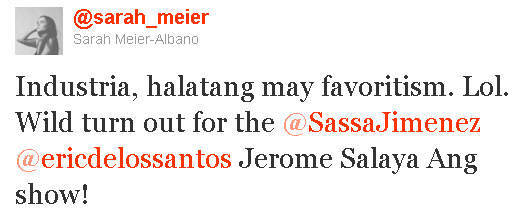 It really was a packed house, with all seats taken and people occupying even the steps and corners of SMX Function Rooms 2 and 3. Running from the previous show (Emily Sy, Joyce Pilarsky, Jun Jun Cambe, Michelle Lim) to this three-part segment, we weren't able to make it in time to catch good seats and had to sit in the photographers' pit—but it was all well worth it, as these three designers delivered exhilarating spectacles that left us riveted, inspired, and itching to dress up, which is always important!
ADVERTISEMENT - CONTINUE READING BELOW
CONTINUE READING BELOW
Recommended Videos
ERIC DELOS SANTOS
First to show is celeb go-to designer Eric delos Santos, who presented 40+ looks of ultra-feminine creations whose softness somewhat deviates from his usual sparkly, sequinned, party circuit-ready designs. It was a gentler outing from him this season around, dominated with two distinguishing elements, texture-wise: delicate fringing that recalls the flappers of the '20s, and Oriental silken embroidery, reminiscent of lavishly handworked kimonos.
Embroidered palazzo pants were paired with breezy chiffon tops with halter or asymmetrical necklines, while fringed tops capped off knee- and floor-length skirts accentuated with Grecian drapes. His color palette was refreshing, too, dominated with bold brights of carnelian, salmon, royal blue, and emerald.
Click here to view his collection.
JEROME SALAYA ANG
Designer Marlon Rivera was all praise for Jerome when we sat down for a quick interview, exclaiming that Jerome consistently puts out every season, and that his patterns and designs get more complicated each time. Naturally, we wouldn't deign to disagree, as Jerome really does deliver the best lineups every Fashion Week, regularly making it to Preview's Top Ten.
ADVERTISEMENT - CONTINUE READING BELOW
For Holiday 2010, Jerome showcased his signature mastery of textures, doling a cascade of pretty, feminine silhouettes done up in an amalgam of textures and prints that give his highly stylized creations a whole lot of dimension. Frills, flounces, feathers and drapes give all sorts of volume and body to cocktail-perfect dresses and sexy floor-skimmers that are always cut close to the body, enhancing and putting to best view the female form. The hair and makeup are distinctly Jerome, too—that is to say, provocative and always a little unsettling: models walked out onto the runway in disfiguring prosthetic-like masks and flaming red bouffants.
Click here to view his collection.
SASSA JIMENEZ
The last of the three to show, Sassa easily churned out the most youthful and exuberant collection in the three-part show, presenting an assortment of fun little dresses in sparkling neutrals and vibrant hues. Tea-length babydolls, tiered minidresses and evening gowns, and some flapper-inspired tent dresses comprised the bulk of the 45-look lineup, which was punctuated with bubble-skirted confections pulsing with whimsy and verve, reminding us that fashion is our playground, and that dressing up should be rollicking and fun.
ADVERTISEMENT - CONTINUE READING BELOW
Click here to view her collection.
Click here to view our complete coverage of Philippine Fashion Week Holiday 2011.