Summer is not all about skimping it out on the beach with your sunnies and floppy hats―especially when there are talented designers revolutionizing Philippine fashion, a season at a time. Day-to-night renditions in pops of color and neutrality dramatically closed the 4th evening of Philippine Fashion Week, and we have to say, there are a handful of noteworthy frocks we can't wait to get our hands on. Read on as 15 creative artists showcase their take on Spring Summer 2014 glam, Filipino-style.
"Drawn to the behavior and movement of moths, I created dark and sensual clothes for my Spring/Summer 2014 offering called Windfall. Wafting in trails of tulle, charmeuse, crepe-de-chine, jerseys, and lace in textural black and gray, lavender, rose, and pomegranate hues, I'm able to achieve sheer panels, sexy layers, and very mysterious and feminine silhouettes."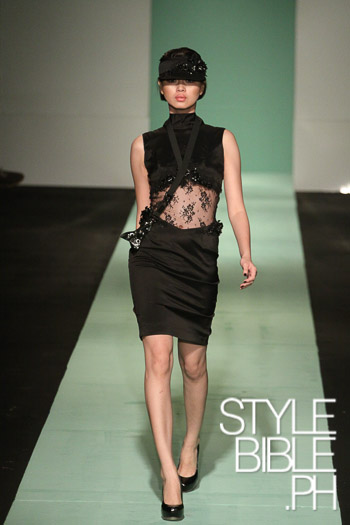 SHEER LACE. The sweet appeal of lace is turned edgy with mysterious blacks and embellished visors.
ADVERTISEMENT - CONTINUE READING BELOW
"Global ethinicity is the theme of my collection this season. I wanted to showcase the fusion of Eastern and Western elements in my aesthetic with each piece so I used an alalgamation of colors to achieve this, mixing together purple, orange, yellow, fuschia, and green."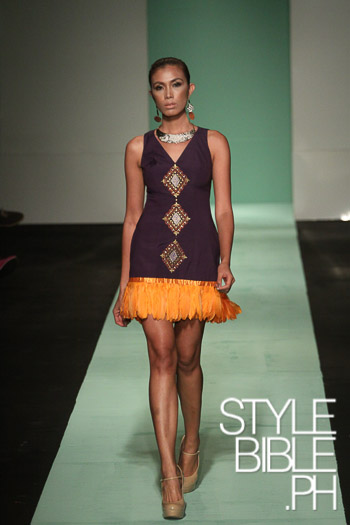 EAST MEETS WEST. Asian embroidery infused with western silhouettes make a fun exotic collection.
"My collection Cecile 1986 is dedicated to today's modern women, as I offer them a sartorial series that will make them feel put-together and confident, regardless of what they're doing. Keeping in mind the demands of their day-to-day responsibilities, I tailored my creations to function as second-skin armore to swathe my wearers with the comfort and security they need."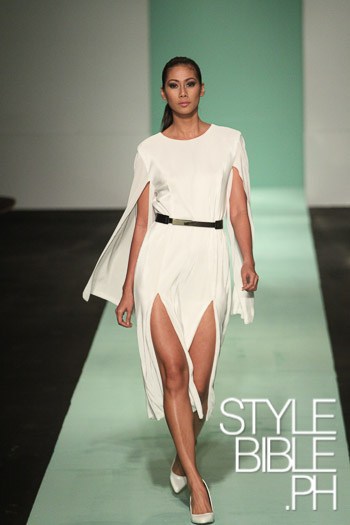 CAPES AND SLITS. This white number is on trend in so many ways.
"Organized Chaos takes inspiration from graffiti art. My collection is comprised of shift dress in prints that exhibit an eye-catching collage of colors and designs. Using twill, cotton, and knitted fabric, I present pieces for women to wear comfortably and confidently, allowing them to stand out in a classy and subtle fashion."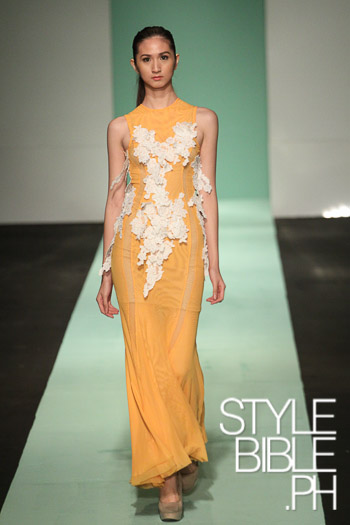 "Biker Femme is grunge-chic and sportswear-inspired. Combining mesh, chiffon, brocade, and metallic twill, I paired sheer frocks and mullet-hem dresses and skirts with stylized biker jackets in black, ash grey, and metallic blue to still give off that summery feel. I kept it edgy with gold metal accessories."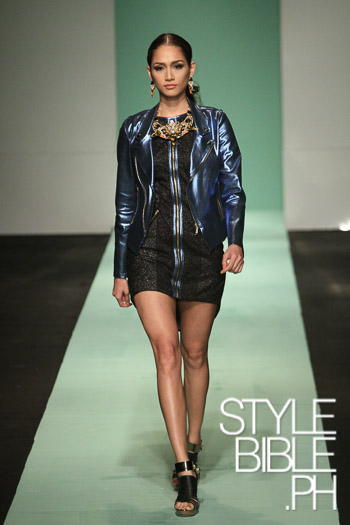 ADVERTISEMENT - CONTINUE READING BELOW
FORMAL GRUNGE. The biker jacket takes a dip in metallic territory.
"With modern ulitarianism in mind, I wanted to maximize the use of every piece in my collection by settling for only two types of cuts. First come the skin-baring, figure-sculpting pieces, which I consider the basic blocks: midriff tops, racer backs, bralets, and tube tops in muted tones of beige, stone, and amber. Balancing these looks are the loosely-silhouetted pieces, such as the tunics, circular skirts, culottes, and wide-leg pants."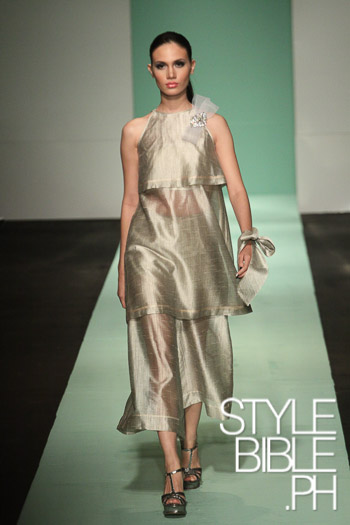 "Having always been influenced by Rock 'n' Roll fashion, this season, I've taken inspiration from the Roaring '20s. I tailored each piece in loose and baggy silhouettes using cotton, leather, and shiny and lacy fabrics that drive attention to the waist area. For a touch of luxurious '20s style, I accentuated my pieces with beadwork and embroidery, and sequins and pailettes."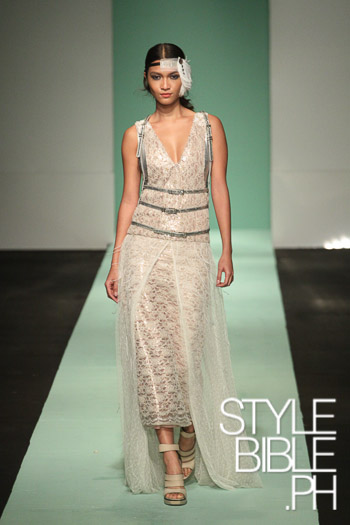 2014 FLAPPER. The signature '20s shape gets a makeover via shiny lace and fresh styling.
"Named after the god of death and wealth, I dubbed my Spring/Summer 2014 collection, Hades in Odyssey. Interpreting such a dark concept, I used black, grey, and charcoal-toned fabrics elaborated with exaggerated sashes and overlays, box pleats, and chiffon tailored to A-line silhouettes."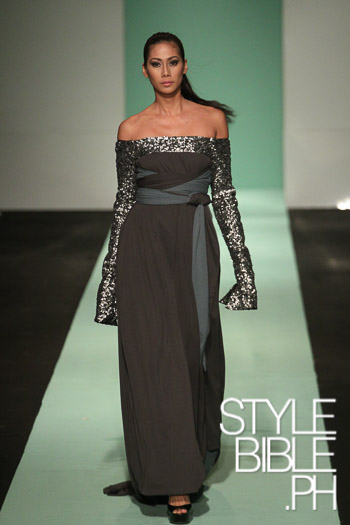 ADVERTISEMENT - CONTINUE READING BELOW
BRIDE OF HADES. Charcoal overlays and flowy silhouettes fit for a modern goddess.
"My collection for Spring/Summer 2014 is all about sportswear. The utilitarian elements I've incorporated in my pieces are perfect for women who have an active lifestyle. At the same time, I used muted and neutral colors to give off a sexy and more delicate appeal to my creations."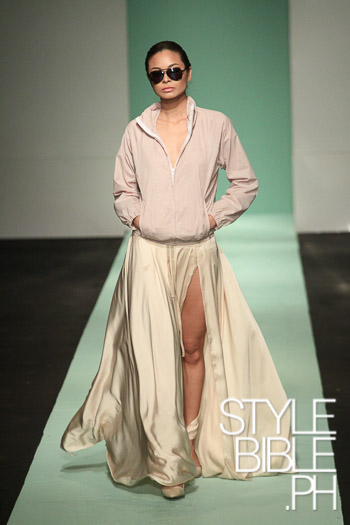 SPORTY SPICE. Definitely one of the looks that made it to the top of our list.
"In Heroine, I envision a woman who's delicate yet fearless, hence the use of my sculptural blouses, in Rothkoesque tiles, paired with pedestal-like pants. Each interpretation to the brave woman's polarity, I used a contrast of elements in my creations, such as silver beadwork applied to tweed, chiffon, georgette, and organza, and juxtaposing these with red, black, peach, black, and white leather."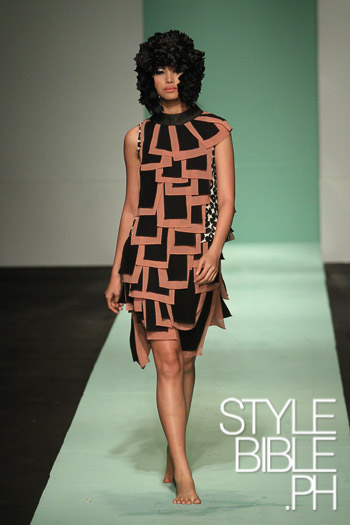 CHAOTIC ART. Smartly juxtaposed patchwork detail yields crafty designs complete with floral headpieces.
Basic shapes adapting clean cuts and drapes amidst a roundup of dark or pleasant colors from other luxe wear collections, Llyle's jersey versions are clearly apt for the summer festivities.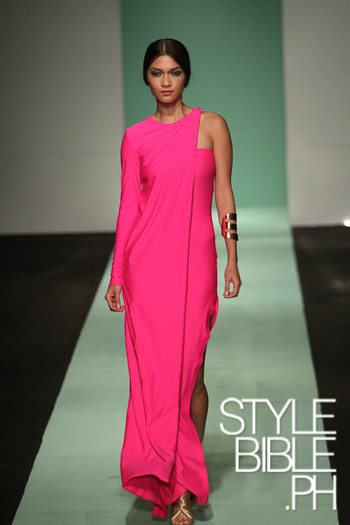 PINK POP. The refreshing pink dress stood out from Llyle's otherwise dark-hued collection.
ADVERTISEMENT - CONTINUE READING BELOW
Clean lines, ovoid shapes, pastel blues, and crisp whites make up Ronaldo Arnaldo's SS 2014 line. Styled with high ponies, subtle smokey eyes, and nude lips, his refreshing collection screams Parisian chic.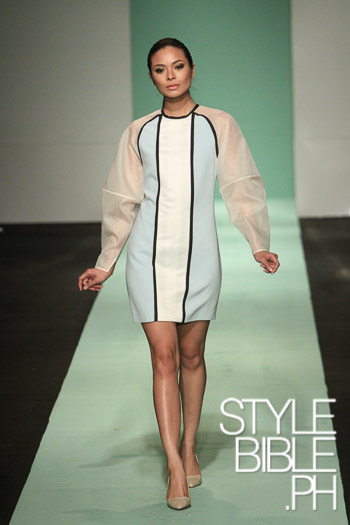 ROUND UP. A tasteful take on the bodycon/shift dress amped up by puff sleeves.
Matte metallics refined silhouettes, complete with minimalist baroque inspired details for both the men and women constitute Simon's 10-piece collection.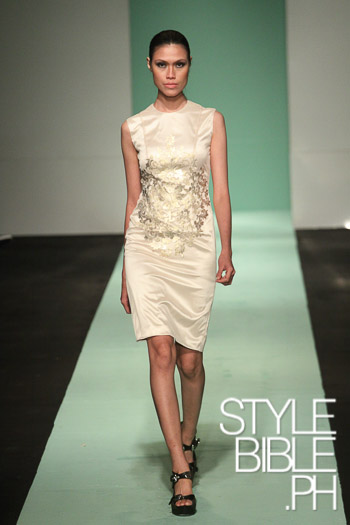 MAKE THE SHIFT. Take your pick from an array of shift dresses that hugs the woman's body in all the right places.
Bare midriffs via crops, long gams from thigh high slits, and decolletage baring low V's compose the fearless avant-garde collection of Tina Daniac. Topped with volumized blowouts and coral lips, S stands for both summer and sexy.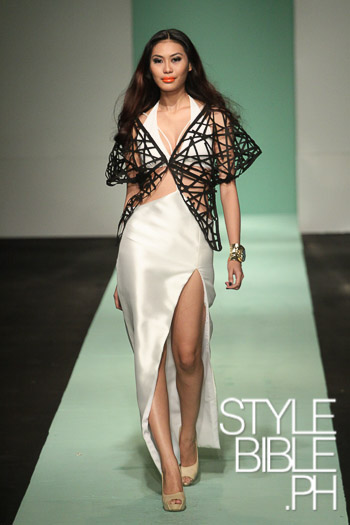 CUTTING IT. The cobweb-esque cover-up takes the hot,haute cutout dress up a notch.
Sport any of Vania's pieces and be that elegant lady at the party. Classy sophisticates can delight on her array of structured-yet-drapey, sexy-and-tasteful, and spotless-but-interesting frocks.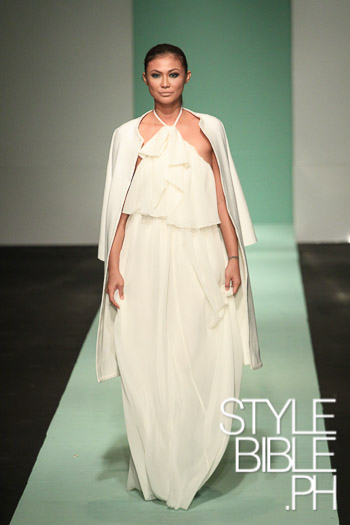 ADVERTISEMENT - CONTINUE READING BELOW
CLOUDY WITH A CHANCE. Like a breath of fresh air, this halter dress and sleek coat stood-out from all the busy designs that walked th runway.
To view their full collections, click on Chris Diaz, Delby Bragais, Martin Bautista, Richard Papa, Roland Lirio, Ronald Mendoza, Russell Villafuerte, Sidney Perez Sio, Veejay Floresca, Yvonne Quisumbing, Llyle Ibañez, Ronaldo Arnaldo, Simon Ariel Vasquez, Tina Daniac, and Vania Romoff .
Click here to view the Designer Directory.
Hey, Preview readers! Follow us on Facebook, Instagram, YouTube, Tiktok, and Twitter to stay up to speed on all things trendy and creative. We'll curate the most stylish feed for you!