The fashion stakes get higher every year at Philippine Fashion Week and this season, the height of elegance at the Grand Allure show was as it should be with 14 designers showcasing their different takes on formal wear. The range of styles goes from classic to contemporary, heartened with exquisite detailing and dramatic silhouettes.
Boyet Dysangco opened the show with his collection of floor-sweeping gowns in dove gray hues and ladylike silhouettes reminiscent of the '50s. The first piece was a nod to one of this year's trends with its rounded shoulders while a handful of structured dresses all came sashaying with variegated accoutrements like beading, capes, trains, and a whole lot of shine. As a finishing touch, masks provided the mysterious yet sultry ambience as in a masquerade ball.
ADVERTISEMENT - CONTINUE READING BELOW
GO ROUND AND ROUND. Rounded shoulders are slowly coming into the spotlight.
Cherry Samuya Veric sent down models dripping in gold. The color was the defining feature of his collection, adding strategically positioned ornamentation to give it a baroque feel. The use of lace reckoned a luxe treatment to the body-skimming silhouettes and created a lovely layer of texture on sheer fabric.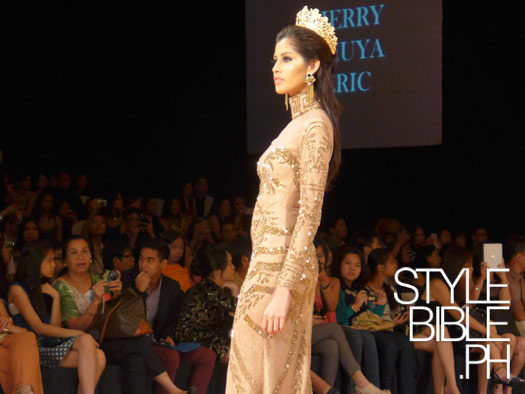 CONTINUE READING BELOW
Recommended Videos
THE QUEEN. Beauty queen Shamsey Supsup walks down the runway as one of
Cherry Veric's muses.
Berry hues dominated Christian Narvadez's collection of cocktail dresses, with a sprinkling of a couple of pieces in yellow. Furthermore, the highlights of his collection are the flower appliqués that spruced up the dresses and the flowy chiffon fabric—some on uneven hems—that made them look breezy and unmistakably feminine.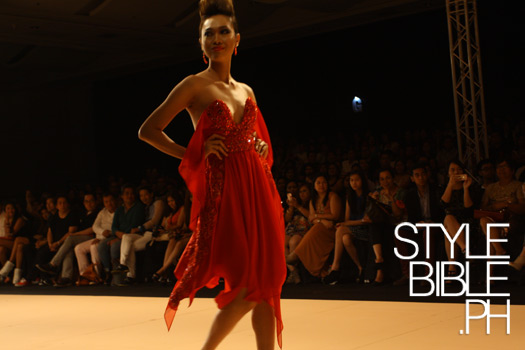 ADVERTISEMENT - CONTINUE READING BELOW
THE LONG AND SHORT OF IT. The uneven hemline gives this piece a certain kind of allure—positive,
of course.
Dave Ocampo created stark contrast by combining edgily embellished black mesh with silky fabric in jewel tones as well as layered tulle in black. The cuts were more flirty and girly than feminine, choosing the mullet rather than full skirts.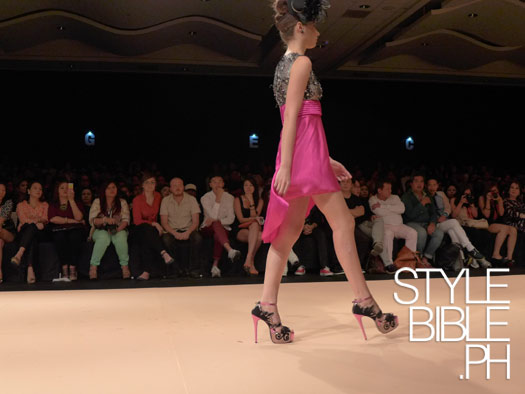 ADVERTISEMENT - CONTINUE READING BELOW
HIGH AND LOW. Mullet skirts are making a comeback.
Edgar San Diego took a different route and favored earthy details over crystals. He looked to the Muslim Mindanao culture for inspiration, making use of colorful beads, woven tinalak, and brass to complete the look. He translated the traditional attire of Muslim tribes into modern, wearable pieces agreeable to the city slicker. Case in point: His smart separates that played with colors and patterns.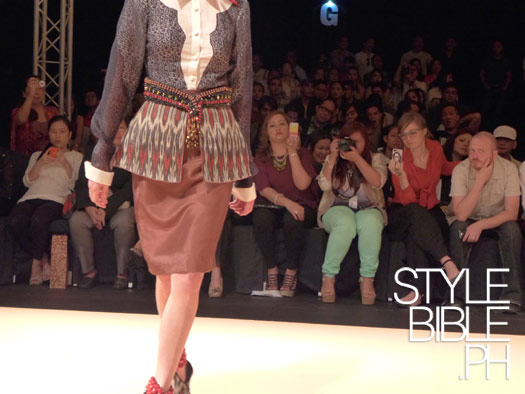 ADVERTISEMENT - CONTINUE READING BELOW
CHIC NOMAD. Edgar's play on prints and colors is impactful without being flashy.
Edwin Uy was all about dramatic black lace and tiered peplums. The material du jour was given a sexy spin in the form of silhouettes that cut close to the body and sheer panels that give a glimpse of skin. Some of the looks are very Cruella De Vil you might say, and that's certainly not for the faint-hearted.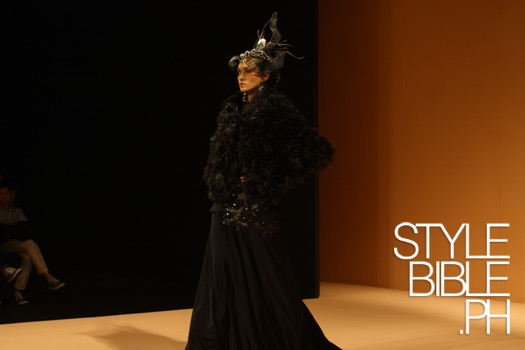 ADVERTISEMENT - CONTINUE READING BELOW
BONJOUR, MADEMOISELLE. If it's an entrance you're going for at a grand ball, this piece is suited
to the task.
Blush hues, soft drapes, and ruching all made Erwin Tan's collection decidedly feminine. The designer kept the silhouettes streamlined but he, without a doubt, did not skimp on the details that make things even more ladylike—sequins, beads, and some flower appliqués.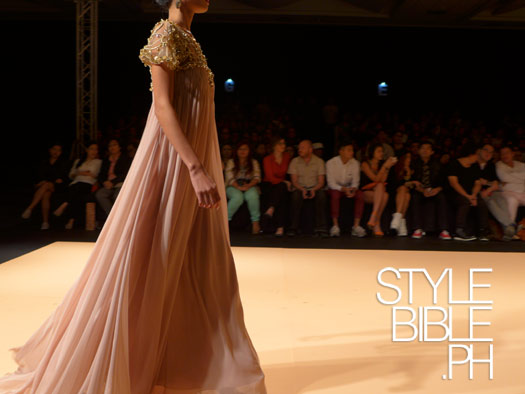 ADVERTISEMENT - CONTINUE READING BELOW
BELLE OF THE BALL. Understated glamour fittingly describes this dress.
Gil Macaibay went daring with sheer fabric while adding a dose of glam by infusing his pieces with rope beading technique, some lace, and compulsory shine.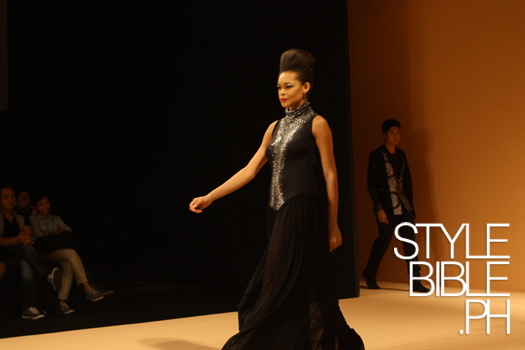 SHEER MADNESS. Now that's a sexy ensemble without being over-revealing.
Jaz Cerezo's sheer panels brought to mind Art Deco patterns—and they're quite dangerous, too! A substantial serving of sequins and embroidery afforded a bit of charm to the pieces, a twist to the otherwise daring aesthetic. A couple of posh velvet dresses also took chic up a notch.
ADVERTISEMENT - CONTINUE READING BELOW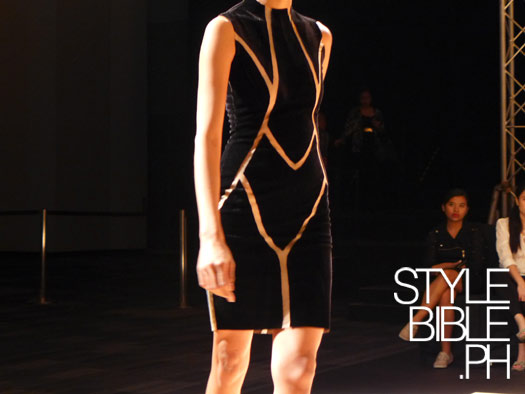 VELVET CRUSH. The fabric lends elegance to this Jaz Cerezo creation.
June Pugat veered away a little from his past collections (dip-dyed fabrics and dramatic folds) by pulling out his metallic textile to create an air of opulence for his pieces this season. Dominated by black and gold, June makes use of spliced fabric to add streaks of copper, bronze, burgundy, and purple, a way to temper too much shine.
ADVERTISEMENT - CONTINUE READING BELOW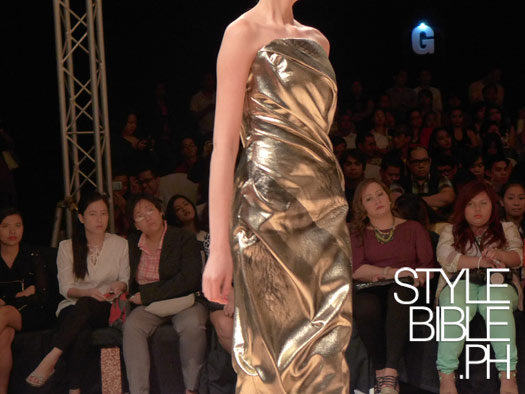 GOLD MINE. Metallics are another of this year's biggest trends.
Mark Tamayo Holiday 2013 is an offshoot of his Spring/Summer 2013 collection: Lace and Bone. He worked around figure-skimming silhouettes in mesh, tulle, and Vietnamese silk and added sexy cut-outs and embroidery to give off a glam punk feel. His signature fishbone-like embellishments also made for a fascinating metallic accent.
ADVERTISEMENT - CONTINUE READING BELOW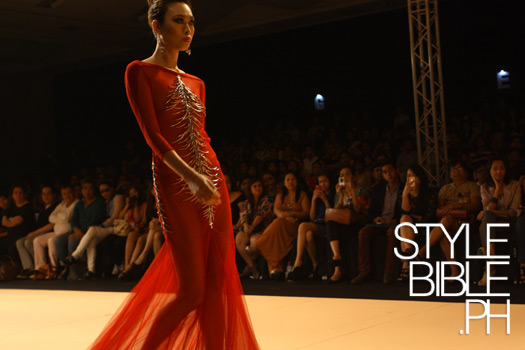 IN THE DETAILS. The Preview Emerging Fashion Talent Awards (PEFTA) alumnus made a toned down silhouette the perfect foil for this interesting detailing.
Popo Go latched onto one unifying silhouette for his collection—corseted bodice and full skirt—and picked a pastel palette to create pieces we can describe as dainty and red carpet-ready.
ADVERTISEMENT - CONTINUE READING BELOW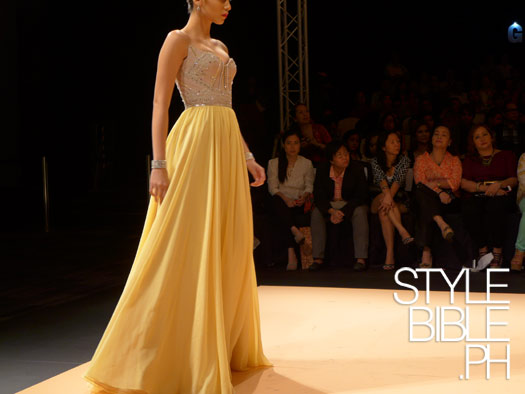 PRINCESS DIARIES. Swarovski crystals abound to give this piece some glamour.
The combination of tangerine and black was the story of Richard Papa's Holiday 2013 offering. He started with a more low-key set of separates and ended on a high note courtesy of his more romantic chiffon gowns.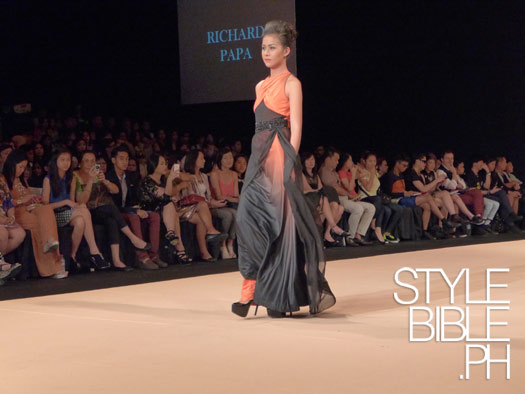 ADVERTISEMENT - CONTINUE READING BELOW
LUCID DREAMS. A sea of chiffon conjures up a romantic mood.
Finally, Ruben Santos dared to give a visual treat through his extraordinary creations that featured mollusk-shaped folds, decadent pleating, and a lavish attention to texture.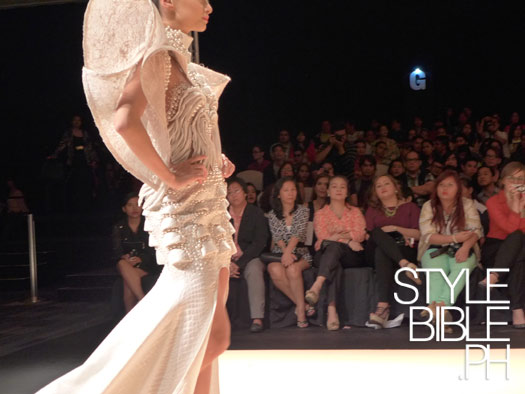 MOTHER OF PEARL. A spattering of pearls was mounted onto the fabric to add another dimension
ADVERTISEMENT - CONTINUE READING BELOW
to the piece.
Click here to view the complete collections of Boyet Dysangco, Cherry Samuya Veric, Christian Narvadez, Dave Ocampo, Edgar San Diego, Edwin Uy, Erwin Tan, Gil Macaibay, Jaz Cerezo, June Pugat, Mark Tamayo, Popo Go, Richard Papa, Ruben Santos.
Click here to view the full coverage of Philippine Fashion Week holiday 2013.
Click here to view the Designer Directory.
Hey, Preview readers! Follow us on Facebook, Instagram, YouTube, Tiktok, and Twitter to stay up to speed on all things trendy and creative. We'll curate the most stylish feed for you!