We've heard it all before that wearing the perfect underwear completes any outfit, especially on your very wedding day!
There's no excuse for you to wear undergarments that are ill-fitting on a regular day, what more on your special day? What you wear underneath your gorgeous wedding dress is just as important as everything else. Having the right underwear and shape wear for your gown will surely make a big difference.
With the help of Wacoal, we show you a variety of wedding dresses along with the perfect under garments and shape wear to complete your look!
Read on to see our tips!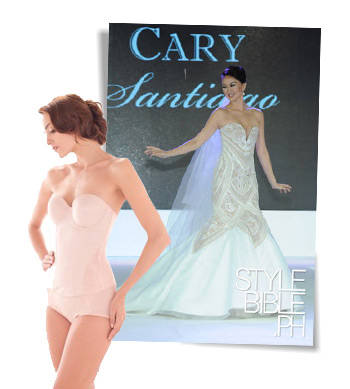 The mermaid cut hugs the body until almost your knees. It highlights your natural curves especially your torso. On your special day, we suggest you wear a bustier corset to flatten your stomach and give you a more defined waist, pair it with a panty girdle for additional tummy control.
ADVERTISEMENT - CONTINUE READING BELOW
CONTINUE READING BELOW
Recommended Videos
Click here to shop the look >>>
Dress by Cary Santiago>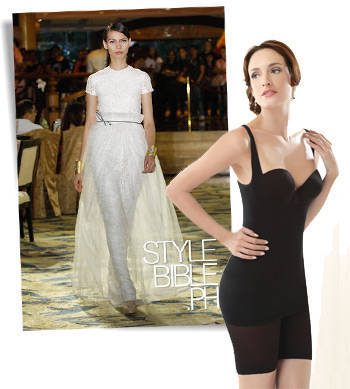 >
An out-of-the-box design, this cap-sleeved dress with a ruffled cinched waist looks delightfully feminine and modern. One way to keep yourself looking impeccable in this style is by wearing a smoothing body suit that gets rid of unwanted bulges in your all-white ensemble. This particular body suit even scoops under your bust to give your girls an extra special lift.>
Click here to shop the look >>>
Dress by Dennis Lustico>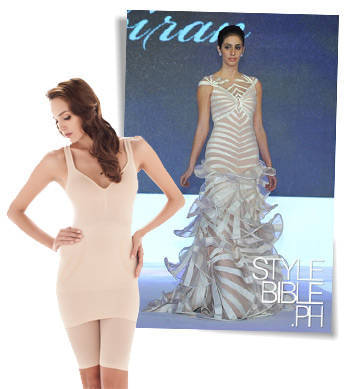 >
Sheer paneled dresses look great but can be a little tricky to wear. To ensure that there are no unwarranted peek-a-boo's, don a full body suit in a nude color, not only will streamline your silhouette, it gives great coverage that can perfectly blend in with your wedding dress!>
Click here to shop the look >>>
Dress by Francis Libiran>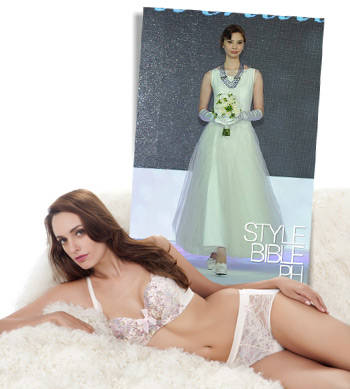 >
Going for a classic cut for your wedding is a fool-proof plan. Not only does it flatter most body types, it never goes out of style. Keep things interesting underneath by wearing lace lingerie that's feminine and sexy. No one will see it (except your husband, of course) but it will surely give you a boost of confidence.>
Click here to shop the look >>>
Dress by JC Buendia>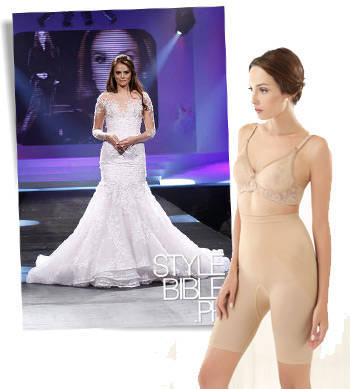 >
Just like the mermaid cut, the trumpet is also fit closely to the body, showing off your curves. Since the décolletage is bare, you can opt to wear a long leg shaper that starts from under your bust area and ends mid-thigh. Its compression panels will be perfect for slimming down your torso and thighs.>
Click here to shop the look >>>
Dress by Michael Cinco>
>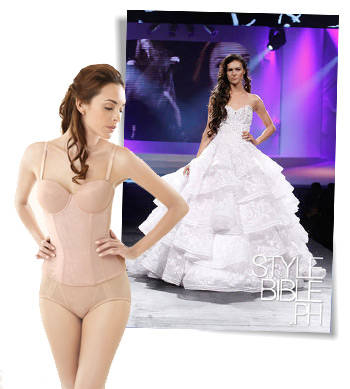 Ball gowns have a fitted bodice that ends in a full, voluminous skirt. Add definition to your waist and bust by wearing a corset with bosom-enhancing cups. Not only will it give you great upper body shape, you will also have great posture throughout your wedding!>
Click here to shop the look >>> Dress by Michael Cinco
>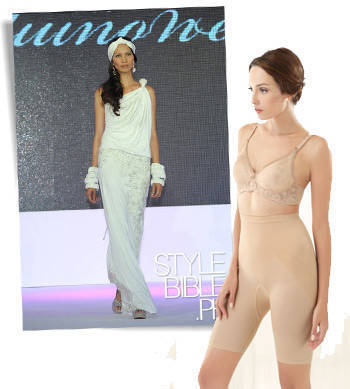 >
A sheath is a dress that skims over the body with the draping clinging to your curves. What better way to highlight your wedding-ready figure than to wear a long leg shaper that smoothens out your silhouette? Your gown can cling wherever it wants, you will have nothing to worry about!>
Click here to shop the look >>>
Dress by Puey Quinones>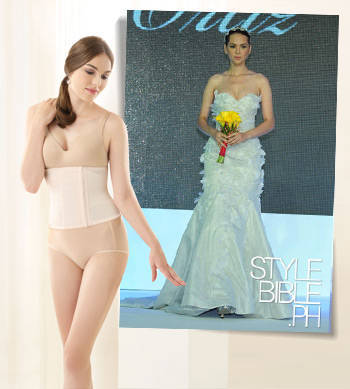 >
A dress that's ruched and tiered for texture is exciting but it can also add bulk to your body. Counter this effect with a slimming waist cincher to keep your midsection nice and tiny. It'll give you great posture, as any corset would, too!>
Click here to shop the look >>>
Dress by Randy Ortiz>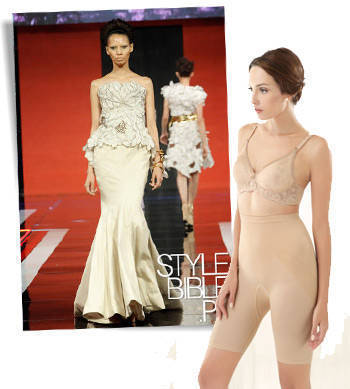 >
When wearing a two piece wedding dress, like this peplum top paired with a mermaid cut skirt, it's easy to pick which underwear or shape wear to pair it depending with your concern, in this instance, you want your leg area to be smooth under your skirt, a long leg shaper would be perfect tool to prevent unsightly VPL.>
Click here to shop the look >>>
Dress by Randy Ortiz>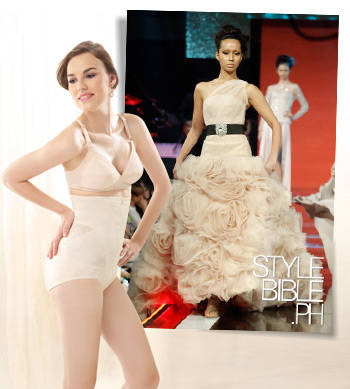 >
This particular dress is similar to a trumpet, but instead being cut close to the body mid-thigh, this ends at first hip. Since your legs will be under a full skirt, you can choose to wear a smoothing high waist brief, so that the compression will be focused more on your upper body than your legs.>
Click here to shop the look >>>
Dress by Veejay Floresca>
>>
ADVERTISEMENT - CONTINUE READING BELOW