We love it when our local designers are going global, and we love it even more when they're part of PEFTA! Since its inception in 2010, the Preview Emerging Fashion Talent Awards paved the way for a lot of budding designers who are now big names in the fashion industry today. Imagine our glee when we found out that three out of the six designers who were chosen to represent our country at the annual International Fashion Showcase (IFS) all started out in PEFTA! How amazing is that?
Carefully chosen by the British Fashion Council, fashion designers Ken Samudio (PEFTA 2011), Tipay Caintic (PEFTA 2012), and Adante Leyesa (PEFTA 2013) together with Joel Escober, Jun Artajo, and Olivia d'Aboville will be carrying the official country brand, Fashion Philippines, as the private label of Manila Wear alongside 16 other countries in a 10-day exhibit at 180 The Strand, London. Curious to find out how they got in to this very prestigious exhibit? Read our quick chat below!
ADVERTISEMENT - CONTINUE READING BELOW
--
Tell us, how did you get into IFS? What's the process?
Adante: Because we were part of Manila Wear, we were asked to submit our portfolio to the Center for International Trade Expositions and Missions (CITEM). After screening the submissions, CITEM forwarded their nominations to the Bristish Fashion Council for deliberation. And then from there, the Bristish Fashion Council shortlisted six designers, which we are a part of.
Ken: So far, we are the biggest delegation of CITEM for IFS. And we are so happy!
When and how did you find out about the good news?
Ken: It was announced last October 2013, during Manila FAME.
Adante: But they only confirmed last January.
Tipay: I only found out December, the day before we were called in for a meeting. I had no idea, I was completely surprised! I even thought there might be a mistake, or something. (laughs)
Ken: I was so ecstatic! I remember Joel and I were jumping up and down saying "We're going to London! We're going to London!"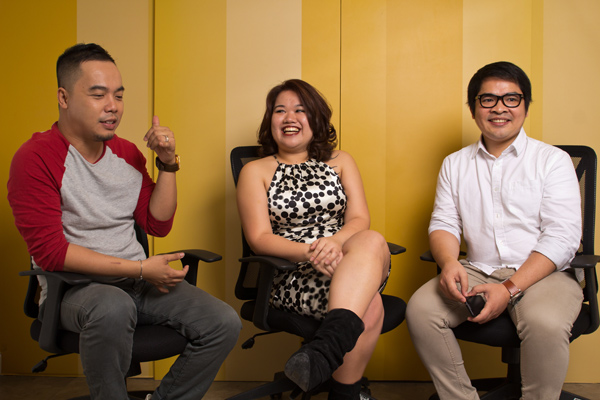 So if they formally announced it on January, that meant you only had one month to prepare, right?
ALL: YES!!!
Ken: We did our best with the one-month duration they gave us.
Tipay: They required us to make 15-20 editorial pieces so everything was a rush.
Did they ask you to follow a specific theme?
ADVERTISEMENT - CONTINUE READING BELOW
Adante: Yes. The organizers required us to make custom avante garde pieces with cultural relevance, so more of art pieces than commercial ones.
Describe your collection in three words.
Ken: Hard to make (laughs)
Tipay: Knitted, silicon, balls
Adante: Intricate, divine, Filipino
What's your inspiration behind your collection?
Adante: Religious landmarks, particularly chapels, basilica, and churches
Tipay: Mine was very personal. I took inspiration from Yolanda because I'm from Tacloban. So every piece has a story behind it.
Ken: Everybody knows my aesthetics. It's happy and playful, so I stuck with that. I was also inspired by colorful vintas and coral reefs. Since I'm a BS Biology graduate, I'm always veering into organic and natural elements.
Are you guys friends? Do you call each other or help each other out especially that you only had a month to prepare?
Ken: Our friendship became solid because of this. I've known Adante because we always see each other during shoots. As for Tipay, well, even if she hates people calling her on the phone, I call her anyway. (laughs)
ADVERTISEMENT - CONTINUE READING BELOW
Tipay: Yes, we update each other all the time like "How many pieces have you finished? Did you get your VISA already?" Just random things just to keep us sane.
What's the most difficult part in putting up this collection in particular?
Ken: For me the technical part was easy; the conceptualizing in a short span of time was the hardest.
Tipay: The product development. All my materials are experimental. I'm breaking with knits, rubber silicon, acrylic, and stuff like that so it's all trial and error. On top of that, I was also dealing with VISA requirements and logistics, so I have to function like a one woman show.
Adante: For me the conceptualization was easy because I had it planned already so the struggle was shortage of craftsmen since most of them went abroad. So all of my pieces for London were personally handcrafted by me.
What are you most excited to see in London?
ADVERTISEMENT - CONTINUE READING BELOW
Ken: The Queen! (laughs)
Tipay: I want to go and watch the Isabella Blow Exhibit at Somerset House.
Adante: I'm just excited for the event itself. We're very excited to show our pieces and we want make our country proud.
After this exhibit, what are your other goals for this year?
Adante: I'm starting to get interested in home décor. Also, I'd like to expound further my capacity building advocacy in different communities. I'm looking at the possibility of working with an LGU in Lipa on some of their livelihood programs in Batangas and also some of the communities here in Manila like the Gawad Kalinga and Tahanang Walang Hagdan.
Tipay: My background is fine arts and fashion so when I was doing my collection for IFS, it felt like going back to my roots. I've been doing bridal and other sellable stuff so I missed doing the wilder stuff. It's in the works, after Manila Wear my next project is going to be a fashion show in a gallery in Baguio. And it's going to be handcrafted, artisanal, still knitted but going back to my fine arts roots as well.
ADVERTISEMENT - CONTINUE READING BELOW
Ken: I'll continue to strengthen the business part of my brand. I feel like I already have a steady following, so I'm focusing now on the business side of the brand. I want it to expand internationally because there are already several people interested to bring them in their independent boutiques.
Want to take a sneak peek of Ken, Tipay, and Andante's IFS collections? Click on the gallery now!
Hey, Preview readers! Follow us on Facebook, Instagram, YouTube, Tiktok, and Twitter to stay up to speed on all things trendy and creative. We'll curate the most stylish feed for you!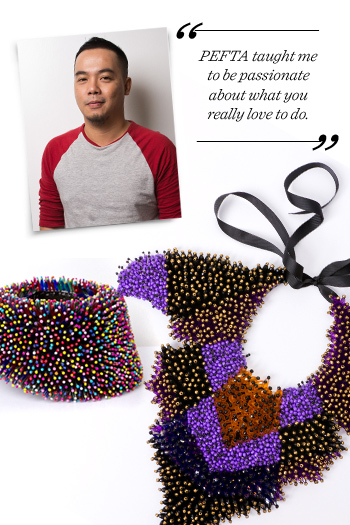 ADVERTISEMENT - CONTINUE READING BELOW
Hey, Preview readers! Follow us on Facebook, Instagram, YouTube, Tiktok, and Twitter to stay up to speed on all things trendy and creative. We'll curate the most stylish feed for you!