How do you feel about being a PEFTA finalist this year?
Nervous, excited, really grateful, giddy.
What motivated you to study fashion design?
I've always loved to dress up, dress down, dress differently. I love color, quirky things, drawing, working with my hands. I['ve] loved fashion early on, but as a kid with my temperament, growing up in the province I was raised to believe that fashion isn't a career, more like a byproduct of being artsy.
I took up fine arts when I went to university, zeroed in on visual communication and started a career in advertising. I thought that was the most responsible career a person like myself ought to have. Two years after graduating from college, [I realized] it was time to quit my job and move on. I decided to stop wasting my time and creative juices doing something I couldn't see myself doing in the next two to twenty years, to stop building up the courage or the credibility to do what I've always envisioned myself to be doing, to stop feeling guilty for wanting something so frivolous and just quit the day job, dive into it without a backup plan and focus. I wanted to go back to school. I had all these desires to do this and that, but [I had] no outlet, no idea on how to go about it. I wanted an education. I wanted validation.
ADVERTISEMENT - CONTINUE READING BELOW
CONTINUE READING BELOW
Recommended Videos
So I applied for a scholarship in SoFA Design Institute, got it, and now I'm on my third and last term before I get my diploma in fashion design.
How would you describe your design aesthetic?
I can't answer that directly because I would not like to limit myself with what I can or shouldn't do, nor would I desire to mislabel, label or (God forbid) oversell my work. If it looks like how I imagine it in my head, if it looks like it achieved the feel I wanted [it] to give off, that's that!
Please tell us about the portfolio you submitted to Preview. What is the concept behind it? How does it tie in with this year's theme, Silhouette?
It was kind of a literal interpretation of the theme, "Redefining the Silhouette." If I were to redefine something, anything, I'd take it apart before I could put it all together again, build something substantial. The overall theme or word I would use to describe my collection would be "unraveling." Think [of] a knitted sweater getting snagged somewhere, a single strand [of] yarn trailing. Think [of] spools of yarn, bunched up and woven—braided even—like a country girl's plaits, with a hairy quality to it.
ADVERTISEMENT - CONTINUE READING BELOW
Please tell us about the piece that the Preview editors selected for you to execute.
I was surprised when I saw the piece the Preview editors picked out because I didn't even remember sketching it! (Guess it wasn't one of my favorites.) But when I thought about it, I realized that particular dress more or less defined the whole idea for the collection.
It was very interesting for me that I submitted a mood board without a word of explanation [with] a dozen sketches, then from that, unbiased, scrutinizing eyes gave an overview of what they saw. It gave me something more to think about, a deeper understanding of my own collection, one I didn't think about or realize before.
The dress, look 7, is a dull, baby pink in color, gray-pink. It would be completely hand-made, cable-knitted. The silhouette is... bulge-y? Don't really have the technical term to define it, but I like referring to its shape as "blup-blupey" while making the round-and-fat hand gestures that go up-and-down.
ADVERTISEMENT - CONTINUE READING BELOW
It would be hard to source the perfect yarns for the dress. Harder even to execute because I have never knitted in my entire life!
Where do you get your inspiration?
I read this quote somewhere: "All creativity starts with some kind of fascination, and a desire to recreate the feelings and attractions that was originally connected to it." I am fascinated by so many different things and so many different people, inside and outside the fashion world. Inspiration comes to me whether knowingly or not, whether I seek for it or not.
Which artists do you admire most, both local and foreign? How does your aesthetic resonate with theirs?
Alexander McQueen, Andre Judd, Annie Leibovitz, Beth Ditto, Brothers Quay, Damien Hirst, Danilo Franco, David LaChapelle, Hieronymus Bosch, Issey Miyake, Jujiin Samonte, Karl Lagerfeld, Lady Gaga, Martin Margiela, Michel Gondry, Stanley Kubrick, Tim Burton. I admire many different artists from all fields, sometimes for what they represent, sometimes for the resonance of their works, Most of the time, I love them for the richness they feed my eyes with.
ADVERTISEMENT - CONTINUE READING BELOW
As a young person growing up surrounded with increasingly elaborate visuals, I do have a penchant for the theatrics, the exaggerated. [I am] forever obsessed with coming up with something I've never seen before. As a student of fine arts and now fashion design, I have a healthy respect for the old masters, for institutions and the classics, for past movements and trends. As a fan of their work I am unashamedly impressionable. As a designer, I have all these amazing and inspiring bodies of work at my disposal, both to emulate and refrain from copying off.
What accomplishments in your budding career are you most proud of?
Being nominated by SoFA for PEFTA and becoming a finalist. Being a finalist in both traditional and non-traditional categories in the Hiyas Jewelry Design Competition by the Guild of Philippine Jewelers.
What aspect of fashion design do you seek to master?
Sketching a design on paper is one thing. Translating a sketch into a three-dimensional garment is a totally different matter. I want to be as faithful as [possible] to my croquis, to the original concept. To successfully execute an idea from my head into a tangible, handsomely crafted inside and out, wearable piece of garment is what I strive for. Technique wise—draping, drafting, pattern making, cutting, sewing, etc. (all that encompasses garment construction)—I know that I have a long, long way to go. Improving one's skill and craft is a lifelong process I strive for project after project.
ADVERTISEMENT - CONTINUE READING BELOW
As somebody blessed with the option to pursue what she loves doing as a career, there is nothing more I desire than to be able to make designing a profitable and sustainable opportunity, not only for myself, but for future employees and collaborators.
How do you envision yourself evolving as a designer?
I want to achieve a healthy balance between creating bespoke pieces and a ready-to-wear brand. Inspired pieces for art's sake and wearables with my own stamp.
How do you see yourself contributing to the growth of Philippine fashion?
I would like to have a hand in revitalizing the textile industry of the Philippines. One of the frustrations as a designer is that we do not get to create our own fabrics. We are limited by what is readily available. It is my fervent hope that one day, the designing process for local designers [would] begin with designing the fabric, not with drawing the croquis.
ADVERTISEMENT - CONTINUE READING BELOW
Hey, Preview readers! Follow us on Facebook, Instagram, YouTube, Tiktok, and Twitter to stay up to speed on all things trendy and creative. We'll curate the most stylish feed for you!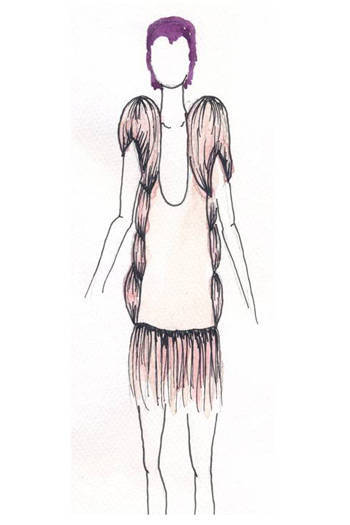 Hey, Preview readers! Follow us on Facebook, Instagram, YouTube, Tiktok, and Twitter to stay up to speed on all things trendy and creative. We'll curate the most stylish feed for you!