How do you feel about being on the PEFTA list this year?
It is very surreal up to now. To be chosen by the leading fashion magazine in the country is a great honor. [To do] what you are passionate about as a career [and] to be noticed is a blessing itself. It adds a bit [of] pressure, but then again, it's all about being yourself and staying true to your aesthetic.
What motivated you to pursue fashion design?
It all began with my hobby as a custom doll artist. I wanted to learn the proper techniques in constructing garments for my one-of-a-kind doll creations. Come graduation day, people where happy with what I presented and they kept asking if I make clothes for real people. I gave it a thought.
How would you describe your design aesthetic?
I like pieces that are structured but at the same time experimental. I guess it came from from my hobby. I used to source for materials as an alternative. There are certain materials that are not available here in the country. But I guess being Filipino it's our second nature to make do of what we have and maximize our available resources to our advantage. The main challenge about it is to avoid making it look like a craft project.
ADVERTISEMENT - CONTINUE READING BELOW
CONTINUE READING BELOW
Recommended Videos
Please tell us about your PEFTA 2012 collection. How does it address this year's theme, Silhouette?
My collection is all about curves of the human body. Some of the details cling on certain parts as well as exaggerating others. The pieces are all about framing the body at the same time creating shapes and crevices that serves an enhancement or illusions of form and movement.
Where do you get your inspiration? Who are your style influences?
I usually get my inspirations from random items or sometimes even my mood. Sometimes when I design, I would know that it's "the one" if I have this tingling feel in me.
For style influences, it varies on the look I am aiming for, though I would opt for the silhouette and apply my own interpretation or technique. Sometimes, when I feel playful, I opt for Betsy Johnson or Vivienne Westwood. For a more hardcore expression, I would go for Jean-Paul Gaultier, McQueen or Gareth Pugh. For chic and classic lines, I would go for Valentino, Tom Ford and the crispness of Calvin Klein.
ADVERTISEMENT - CONTINUE READING BELOW
Which artists do you admire most, both local and foreign? How does your aesthetic resonate with theirs?

There are lot of artists that I admire, though I have no one in particular that I admire the most. I guess they are all even. I am more inclined to the feeling or mood or the statement an artist expresses. I am not so much keen on the nitty-gritty stuff of all of their works. It's like DNA, everyone has the basic components but the combination makes an individual. In a nutshell, I just love appreciating everything that's around me since everyone is entitled to self-expression and I respect that.

What accomplishments in your career, so far, are you most proud of?

Working under the mentorship of Francis Libiran. I was part of the team that created the pieces for the Hello Kitty episode in America's Next Top Model. Just the idea that I am part of something that has been seen in an international market was an experience I will never forget.

And of course being part of PEFTA this year, modesty aside. I have been featured because of my doll creations. I even made dolls for charity auctions internationally. However, with this opportunity, it just gives me more motivation and drive to design for real people. Keeping in mind my personal expression through prints and details.

How do you see yourself contributing to the growth of Philippine fashion?

I always love challenges even if it means I have to drain all my creative juices just to achieve a vision. It's unfortunate that our local fashion industry has been bashed by people. I do believe in the talents of our fellow Filipino designers. Come to think of it, we can make fashion out of rags. That's how creative and innovative we are. I hope that I can contribute in a way that [despite] the [scarcity] of local resources, we can still create something that is different and marketable not only in the local market, but also in the worldwide fashion arena.
Click on the photo gallery to view his sketches for his PEFTA 2012 collection.
ADVERTISEMENT - CONTINUE READING BELOW
Hey, Preview readers! Follow us on Facebook, Instagram, YouTube, Tiktok, and Twitter to stay up to speed on all things trendy and creative. We'll curate the most stylish feed for you!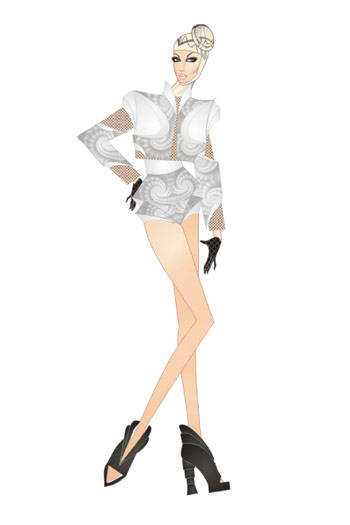 Hey, Preview readers! Follow us on Facebook, Instagram, YouTube, Tiktok, and Twitter to stay up to speed on all things trendy and creative. We'll curate the most stylish feed for you!