In a highly westernized local society, Filipinianas seem to be only reserved for "big Filipino-themed ceremonies such as nuptials, centennial events, Linggo ng Wika, or graduation," Tygie points out. This local store notes how unfortunate it is to "use this culture-defining attire for only three to five times in a lifetime" when these garments certainly have a huge sartorial potential. Below, Tygie makes a case for everyday wear Filipinianas.
1. What is the concept behind Tygie? Where did the name come from?
"Tygie, founded by its namesake Teodora "Tygie" Gonzales, is a home-grown Filipiniana brand that aims to elevate the traditional Filipiniana outfit to more than just a costume. With a passion for Filipino culture, Tygie endeavors to integrate the Filipiniana in the modern Filipina's closet, enabling her to wear it for even casual everyday affairs such as office attire, dates, gimmicks, walking-in-the-mall outfit, or any day-to-day activity she desires to feel beautiful and respectable in herself."
ADVERTISEMENT - CONTINUE READING BELOW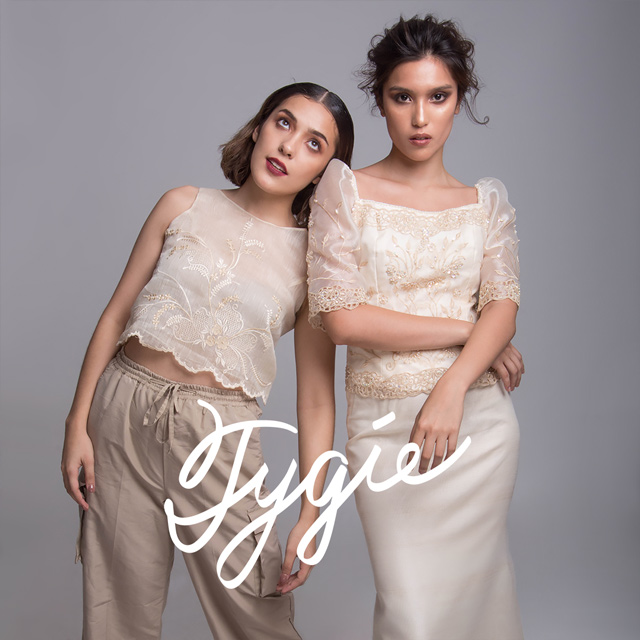 Rochel crop top in beige made from Cocoon, P2999.75 and Jonalyn Gown in beige made from Organza, P6499.75
"With this, Tygie forges two categories: Filipina Wear which breaks down the traditional Filipiniana Terno into pieces that you can integrate with your everyday wear, and Heirloom which honors the traditional blouse and skirt Terno, that you can use for life's milestones and be passed on to your loved ones or to the next generation. For Tygie, the Filipiniana, in its modern and traditional forms, gives dignity and respect to whoever wears it. Whether you're young or old, defeated or victorious, working your way up or redefining a new life, wherever you're from, whatever race or gender—you can have dignity and respect. Whether you're wearing micro jean shorts or going to the office wearing a sleeveless polo, add in Filipina Wear and you elevate your look to more than just a skimpy or dull outfit. Memorializing the words of Madame Teodora Gonzales, ''pag naka-suot ka ng Filipiniana, ika'y kagalang kagalang, ka-respe-respeto,' and Tygie dreams for all women to have this kind of consciousness for self-respect."
CONTINUE READING BELOW
Recommended Videos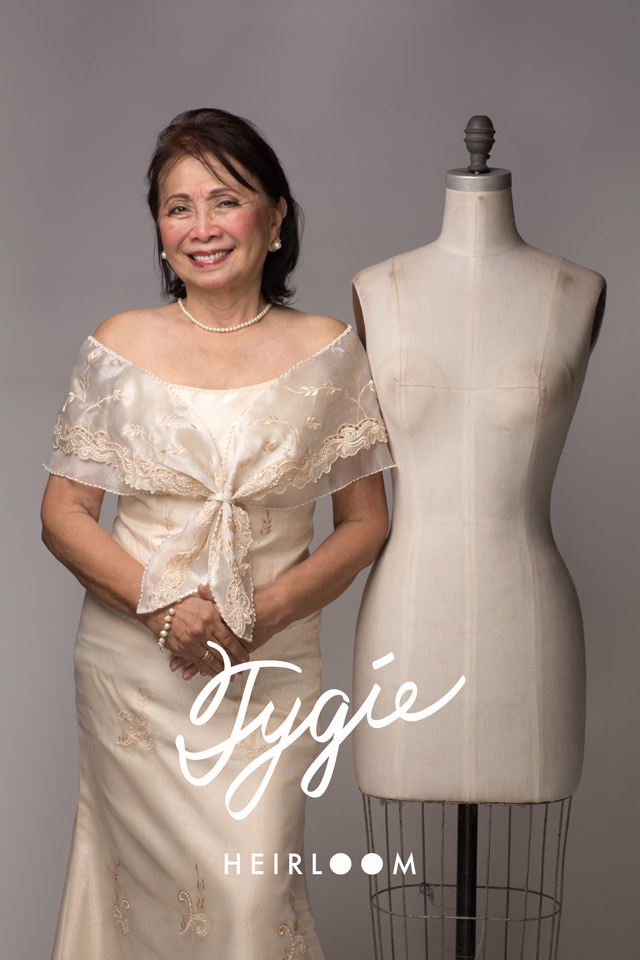 2. Who designs your pieces? Please describe your overall aesthetic.
"Madame Teodora leads a team in the designing of Heirloom Tygie pieces and Ivy Nario with new designs. Tygie's over-all aesthetic is inspired by the traditional Filipiniana which is generally clean and delicate with intricate details (hand embroidery, Callado, machine embroidery, beadwork, floral and traditional Filipino tattoo arts) or hand-painted prints applied to modern cuts and silhouettes."
ADVERTISEMENT - CONTINUE READING BELOW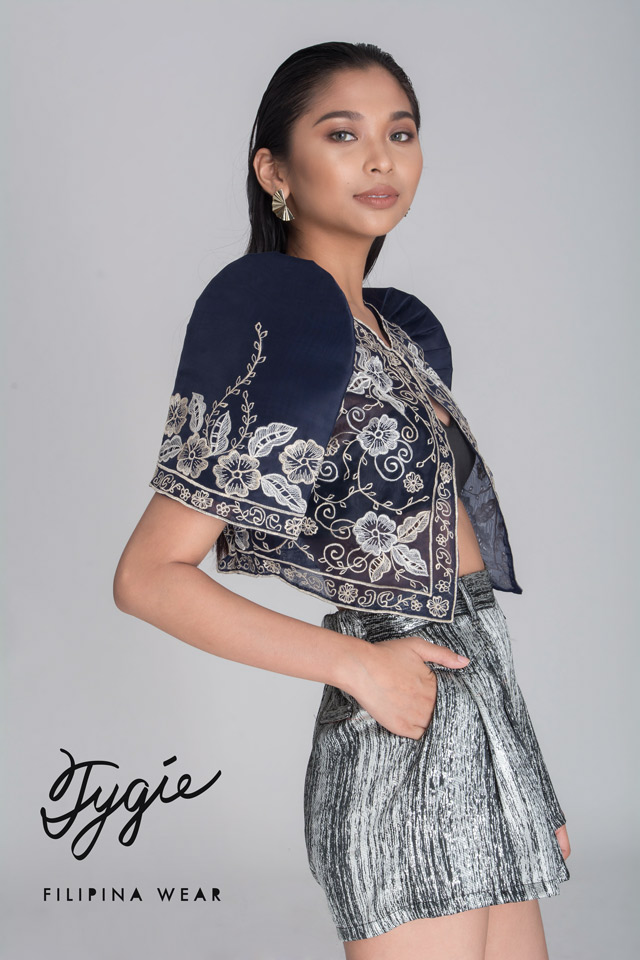 Susana Butterfly sleeve bolero in Midnight blue made from Organza, P2999.75
3. What kind of materials do you use in producing your items?
"Tygie uses various fabrics and textiles for different items like natural fibres which include piña, hinabue, cocoon, and jusi; ethnic textiles like T'nalak, Hablon, Inabel, and Abel Iloco; as well as other fabrics like organza, shantung, and chiffon."
ADVERTISEMENT - CONTINUE READING BELOW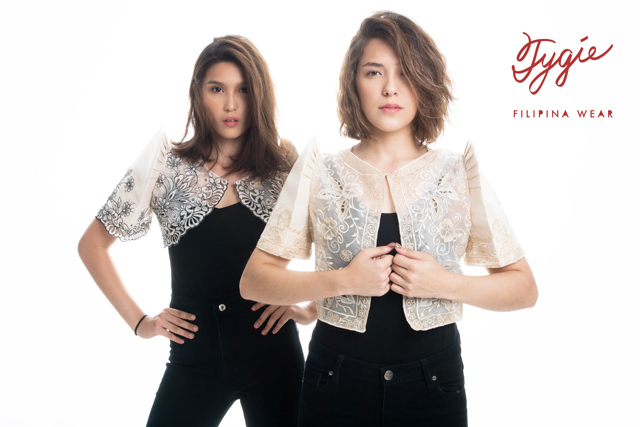 Angelie Butterfly sleeve bolero in Beige with black embroidery made from Organza P3499.75 and Susanna Butterfly sleeve bolero in Beige with beige embroidery made from Organza P2499.75
4. What made you decide to pursue using this materials?
"We believe that using local textiles and fabrics is one way of showing and putting our local products and talents to the front of the fashion industry. By supporting this, we empower our local artisans and community to keep the craft traditions and the local textile industry alive."
ADVERTISEMENT - CONTINUE READING BELOW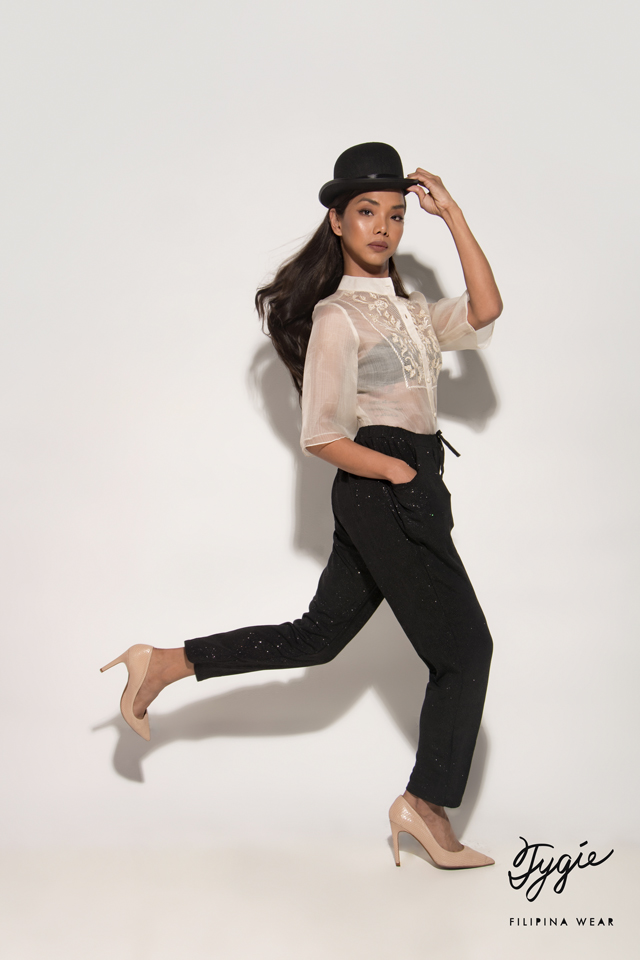 Arnie Lady Barong in Beige made from Cocoon, P5499.75
5. How did you start your business and who are its founders?
"Tygie was founded by Madam Teodora Tygie Gonzales in 1970 (we're marking our 50th year in 2020). When she was younger, she always hung out at her uncle's patahian. She'd sometimes get the scraps sew the pieces together, and from time to time try on the machine pedal until she was asked if she wanted to learn how to sew. Her uncle's business started as a tailoring shop for office uniforms, while young Teodora would offer her own Filipiniana pieces on the side, introducing intricate floral embroideries onto the regular Filipiniana design. More and more people clamored for Tygie's Filipinianas, and the brand grew to what is now.
ADVERTISEMENT - CONTINUE READING BELOW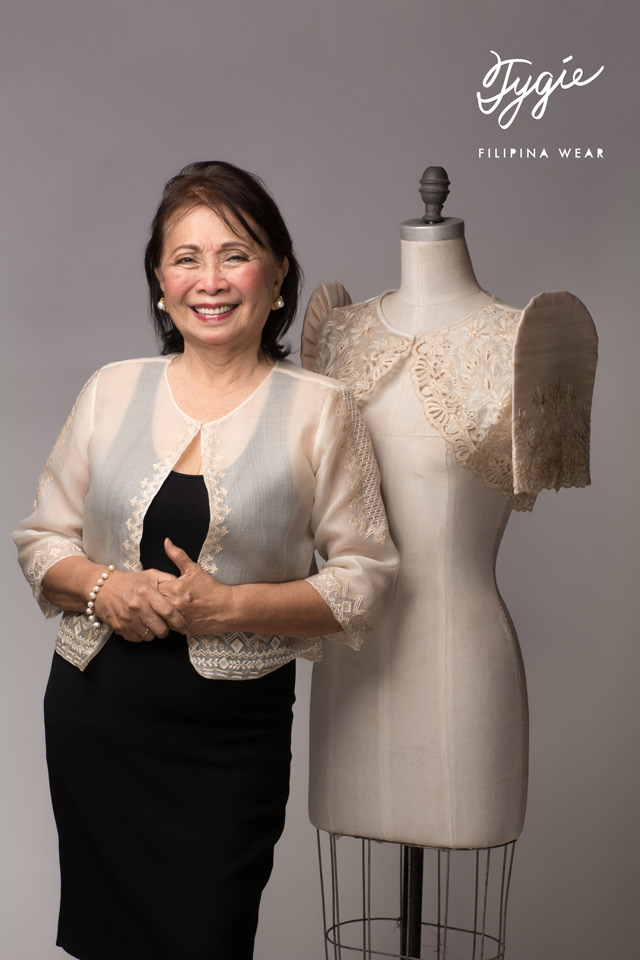 "Madame Tygie acknowledges that Philippine fashion continues to evolve, but the beauty of Filipinianas nevertheless gives a woman dignity and respect like no other. With this, the Tygie brand continues to evolve with women's needs innovating styles and silhouettes without losing the essence of the Filipiniana tradition."
ADVERTISEMENT - CONTINUE READING BELOW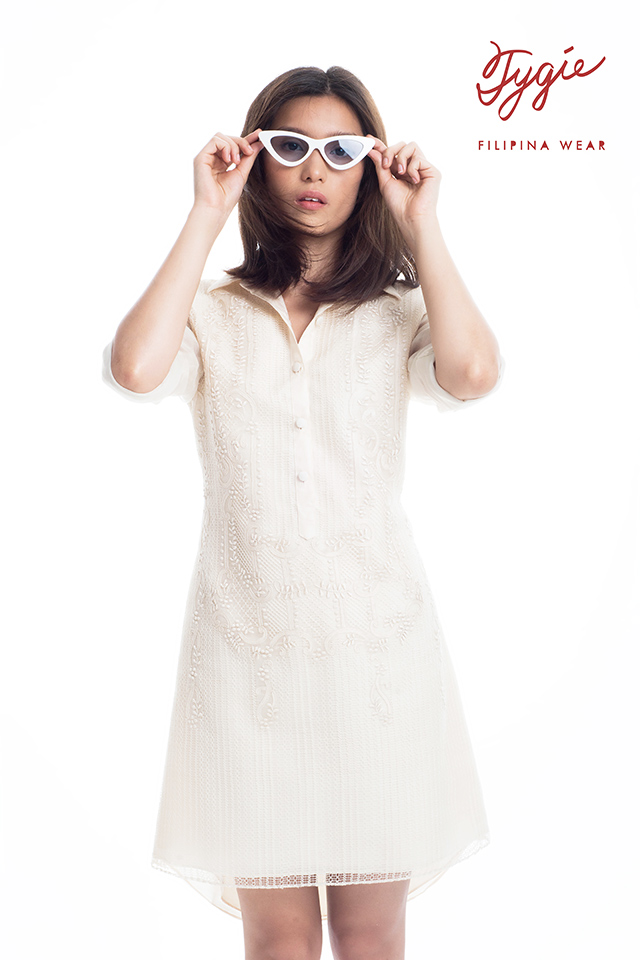 Aladi with full Callado detail Lady Barong in Beige made from Piña, P19,999.75
6. What sort of woman do you have in mind when you design your pieces? Describe the ideal Tygie woman.
"The Tygie lady embraces diversity in a sense that she's accepting of anyone no matter what age, size, race, color or religion. She's the regular modern girl with responsibilities, fears, and struggles, yet prevails with her confidence rooted in her values and strong sense of self. Every day is a chance for her to make the most of her life instead of waiting for big days to make great impressions. In all her endeavors, she wears what is comfortable yet clothes herself with dignity and respect, knowing that however and wherever she presents herself, she epitomizes the beauty of what a true Filipina is inside and out."
ADVERTISEMENT - CONTINUE READING BELOW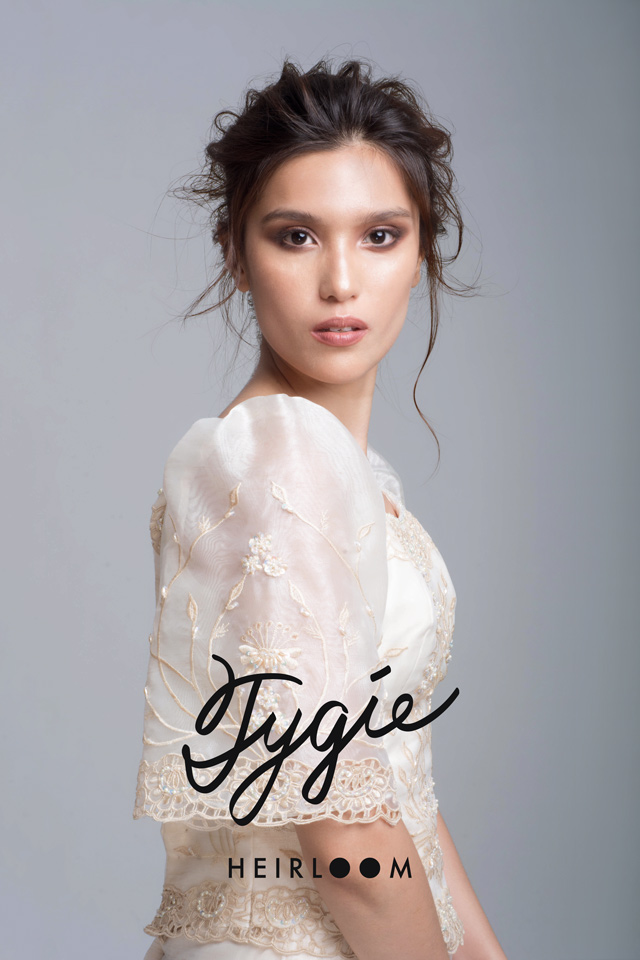 Jonalyn Gown in beige made from Organza, P6499.75
7. What are your brand's greatest strengths? What sets you apart from other stores?
"We can say that as a brand for almost 50 years, we have been the go-to brand for Filipiniana and by then we have cultured a bond with our customers who seek to know more about their heritage and culture through Filipino fashion. We have clothed our customers with dignity and respect but without compromising the fit, style, and the heritage that go along with it; our consistency in terms of relationships with our customers; and the good mix of tradition and modernity—those are our strengths and what have made Tygie what it is now."
ADVERTISEMENT - CONTINUE READING BELOW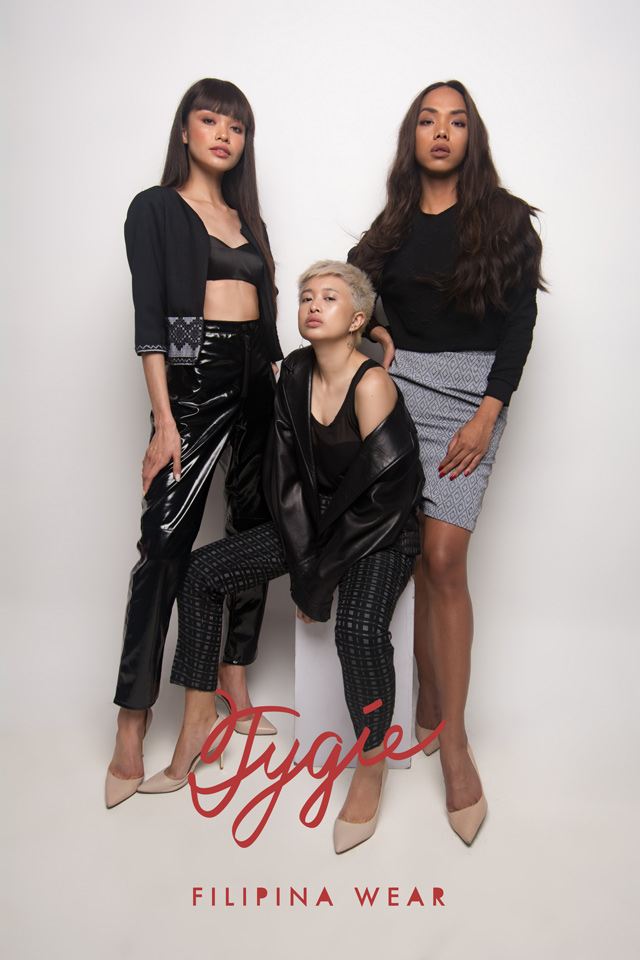 Carrie blazer in Black made from Kinukis, P4299.75; Aiden pants in Black made from Kinukis, P6499.75; Ciara skirt in Blue made from Kinukis, P5499.75
8. What about its weaknesses? How are you able to overcome these?
"Challenges are always part of any endeavor, and we've always been humbled by having our own. Any Filipiniana—modern or traditional—needs to maintain a certain look and feel with respect to its heritage, and meeting this qualification has its demands. For one, compared to other local RTWs, Filipinanas can neither be made overnight nor mass-produced by machines. Some natural fabrics and hand made textiles moreover may not always be readily available, or that they take time to produce. To meet our clients' demands, we address this with efficient production management and personal customer care relations.
ADVERTISEMENT - CONTINUE READING BELOW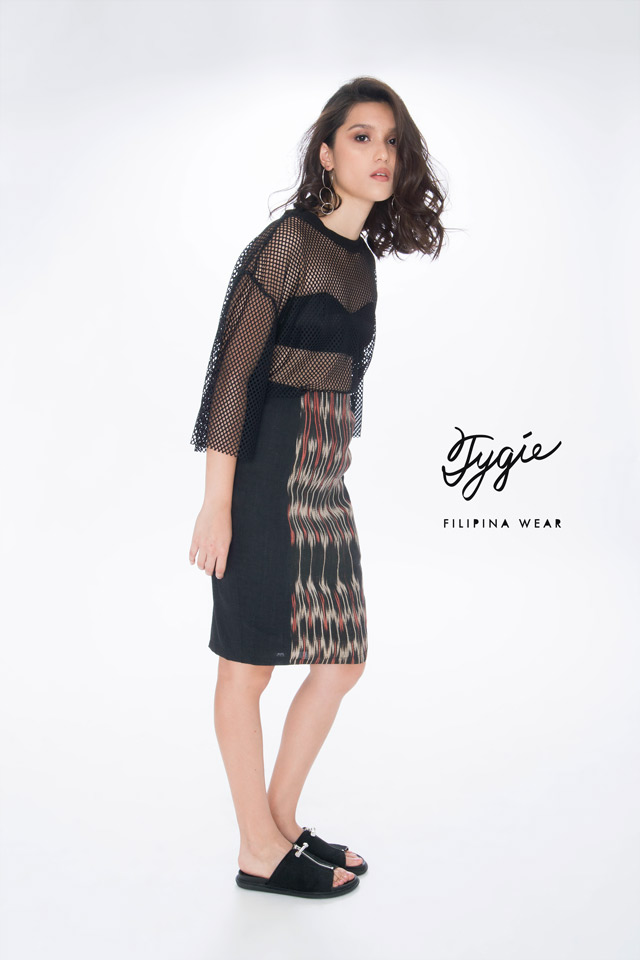 Stephie skirt in Black made from T'nalak, P1299.75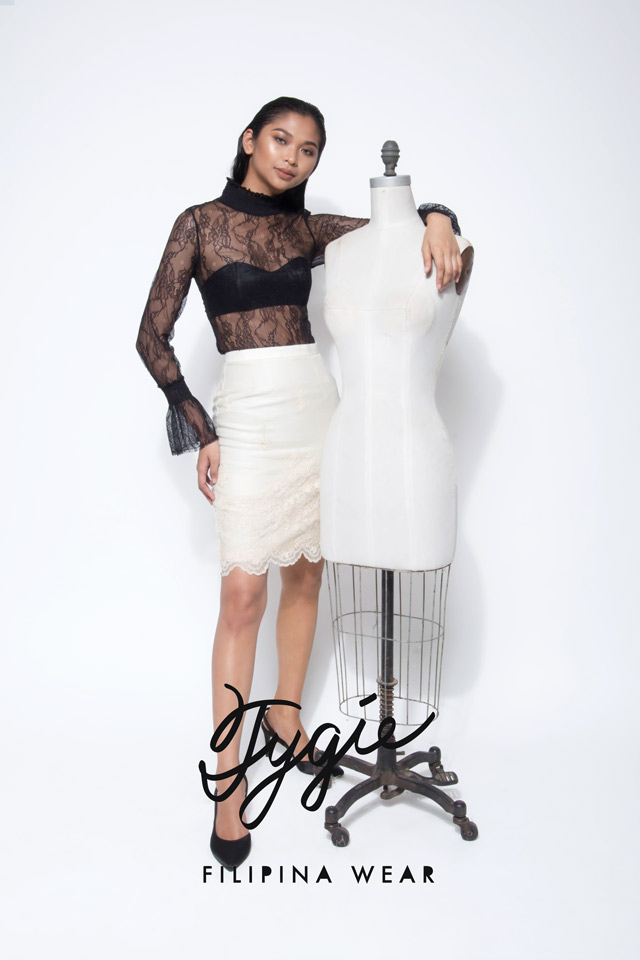 ADVERTISEMENT - CONTINUE READING BELOW
Rochel skirt in Beige made from Hinabue, P3999.75
"Furthermore, with the fast paced changes in the local fashion industry like online shopping, international retail giants coming in from left and right, we admit that it was hard to cope with the times. The changes however were meant for us to think of ways how we can rise up and challenge the local market on how they perceive the Filipiniana—which for the longest time, are just a piece of history and used as costumes during Linggo ng Wika and formal functions. We undertake to change the perception of the local market by gradually sharing styling ideas such as wear the Terno top with your favorite jeans, or you can rock a local Habi blazer with your workwear, or you can don a Filipiniana dress on your date night. With the use of our social media platforms, we let the woman of today see that it's cool to wear the Filipiniana not just as a costume but part of their wardrobe staple."
ADVERTISEMENT - CONTINUE READING BELOW
9. Where do you see your brand in the coming years? What should we expect from Tygie in the future?
"We're opening up our flagship store soon! We are so excited for this new concept and this will totally mark that the Filipiniana can be global and can be worn by all woman locally and internationally—rooted on the core values of Filipino ingenuity and women deserving of respect and dignity. Tygie is constantly evolving with the times. The local fashion industry is booming and that's an opportunity we can't dare miss. More designs, partnerships and who knows maybe a store abroad? We'll see."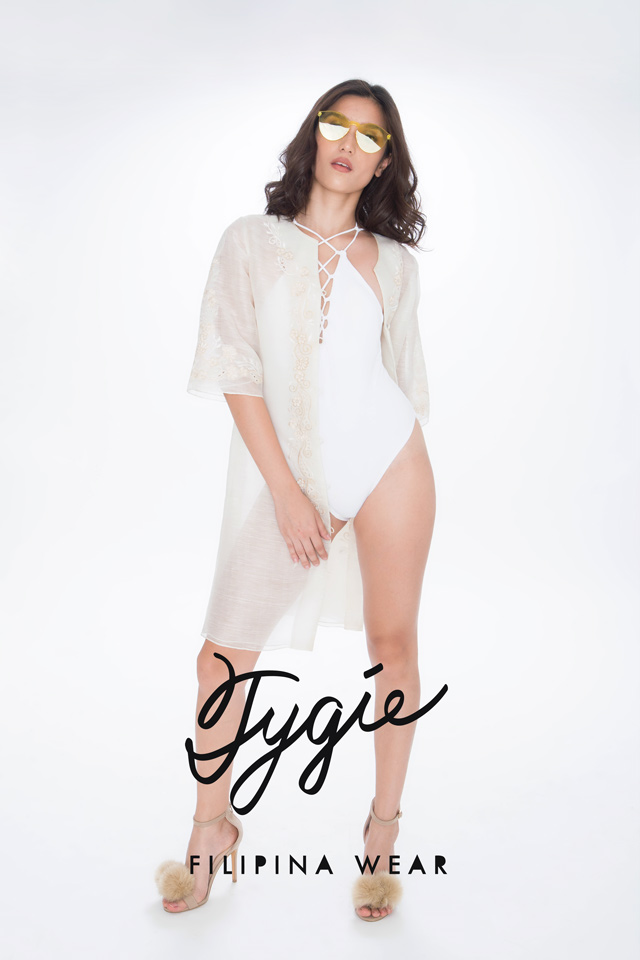 ADVERTISEMENT - CONTINUE READING BELOW
Denzel Lady Barong in Beige made from Hinabue, P7999.75
10. What are your price points?
"We have both accessible Filipiniana pieces ranging from P1500 to P5000, and very intricate gowns ranging from P6500 to P40,000, depending on the materials used. We also have boleros, cover ups, kimona blouses, barongs, and terno blouse and skirt gowns with varying prices considering the materials used."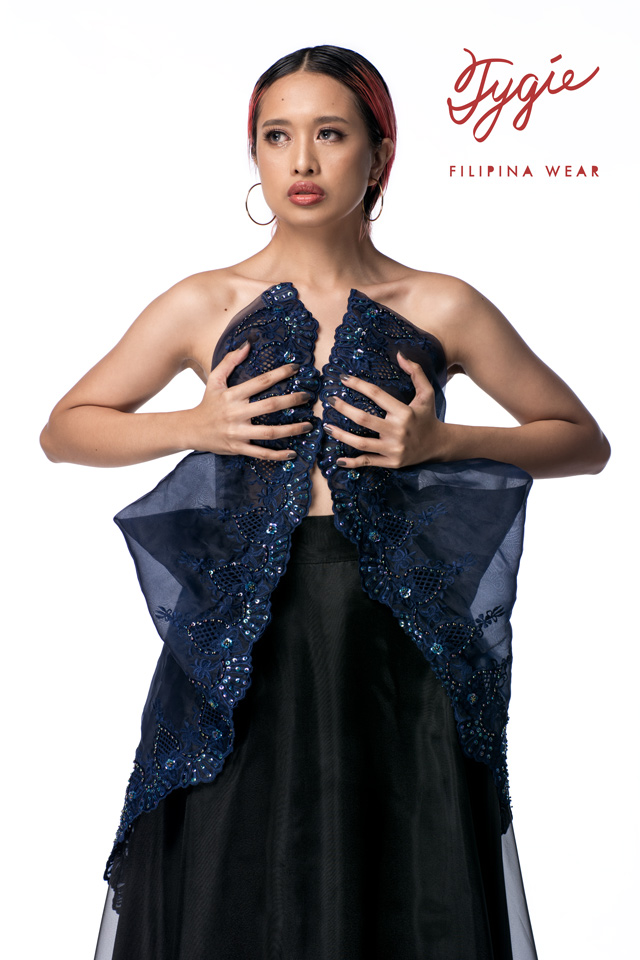 ADVERTISEMENT - CONTINUE READING BELOW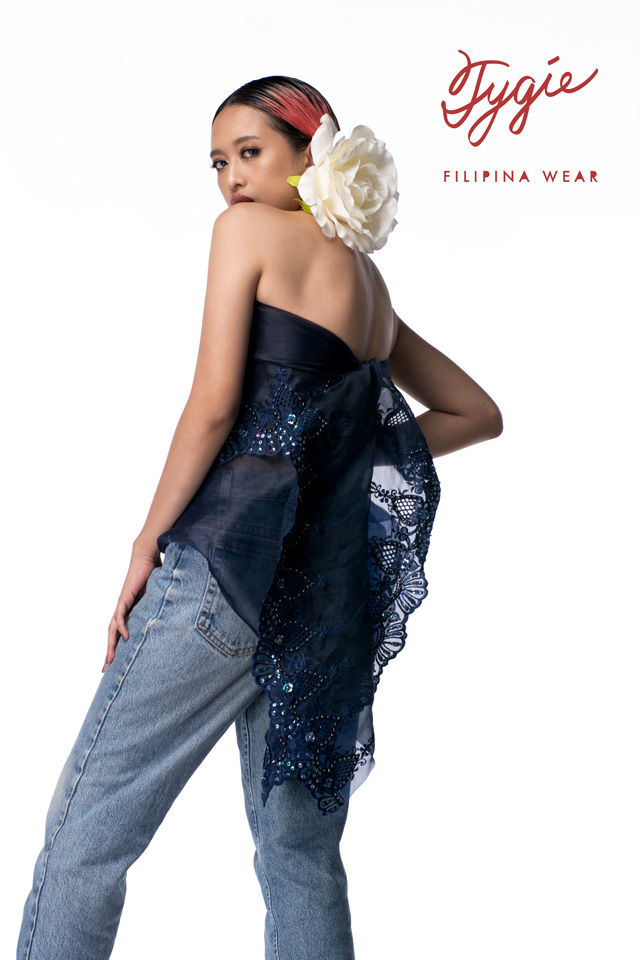 Lolette Alampay in Midnight Blue made from Organza, P1999.75
Tygie is available in SM Kultura stores nationwide, and can be ordered online via customercare@tygie.ph. Tygie's flagship store will be coming to the heart of Metro Manila soon.
Related Stories from Preview.ph
Hey, Preview readers! Follow us on Facebook, Instagram, YouTube, Tiktok, and Twitter to stay up to speed on all things trendy and creative. We'll curate the most stylish feed for you!