Named after a Pangasinense term meaning "just right," Susto the Label brings the best sartorial pieces for the modern Filipina. They launch over a hundred designs per month so it's hard to believe that this brand has only been around two months ago. Built by University of Asia & the Pacific fresh graduate Micah Del Rosario, Susto captures both contemporary and feminine dressing.
IMAGE Susto the Label
Hi Micah! Please describe your design aesthetic. Do you sketch your own pieces?
"Yes, we do sketch our own pieces and have them made in China. When it comes to Susto, our designs emanate contemporary aesthetics and feminine dressing. We aim to provide a unique fashion environment that offers timeless pieces that are affordable and of high quality. It holds fast to the principles of slow fashion and conscious design–that kind of quality does not come cheap, but these are pieces you will be wearing for years."
IMAGE Susto the Label
Where do you get inspiration for your clothes?
"We draw inspiration from the classics and reinvent them to create styles that reflect the now, but are forever wearable. This reflects our modern yet edgy style. Each design is brought to life by a simple but effective attribute: the reveal of a shoulder, a dramatic drape, an elegant cutout–presented in cleanest monochrome. We take pride in our aesthetic attention to detail in our tailoring and materials to develop pieces that are timeless and ideal."
IMAGE Susto the Label
Aside from clothes, what else do you offer?
"We try to provide everything for our customers by being more than just a specialty store that has limited options. Bags, shoes and accessories are also aboard to complete your Susto outfit."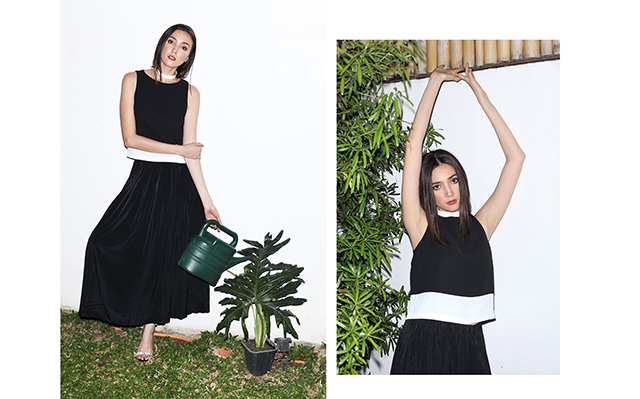 IMAGE Susto the Label
What made you start your own business?
"I'm an entrepreneur, fashion stylist, art and creative director with an eye for fashion and beauty. Combining my love for these fields, I was able to form Susto. It has always been my goal since I was 12 [when I started] my own fashion business."
ADVERTISEMENT - CONTINUE READING BELOW
IMAGE Susto the Label
What's been the best thing that has ever happened to Susto so far?
"Although, we just launched Susto last July, it was happily welcomed and well-received by celebrities, personalities, and bloggers."
IMAGE Susto the Label
Where do you see Susto in the coming years?
"We want Susto to be known as more than just another fashion brand. We use the brand as a platform to promote the work of other creatives. We want to champion local talent and combine our forces—fashion, photography, film —to represent the brand aesthetic.
The coming years is going to be a really exciting one for Susto because we just have so much coming out, like new items, more interesting content, and so many ways to engage with us beyond just our traditional channels like social media. Look out for pop-up stores! And oh, we're looking at putting up a lounge, too."
IMAGE Susto the Label
They just launched their newest collection so be sure to drop by their website at susto.co and their Instagram account, @sustothelabel. Oh, and did we mention they're latest muse is Kendall's lookalike, Carmen Salaverri? Check out their campaign video below!
Photos and main images from Emerson Leonor for Susto the Label.