Sulsi Manila knows how much of a struggle it can be to look for dresses that fit just right. Hence, this four-man crew decided to create a brand that can cater to all body shapes and sizes. With a modern aesthetic that meets with the sartorial taste of Filipinas today, Sulsi Manila is all about offering pieces that you will love to wear from desk 'til dinner, be it for work or for vacay. Below, we talk to Nio Manzano, Sulsi Manila's creative director, as we get to know more about their brand's style DNA.
What is Sulsi Manila? What's the concept behind the brand's name?
"Sulsi Manila is a brand that was originally born from frustration, [which stems from] size constraints of ready-to-wear items. We want to be very inclusive when it comes to the sizes of our dresses, so our sizes range from small to extra large. We've come up with the name because we want something that rolls off the tongue and at the same time gives a nod to Manila. We are all proud Manileños."
ADVERTISEMENT - CONTINUE READING BELOW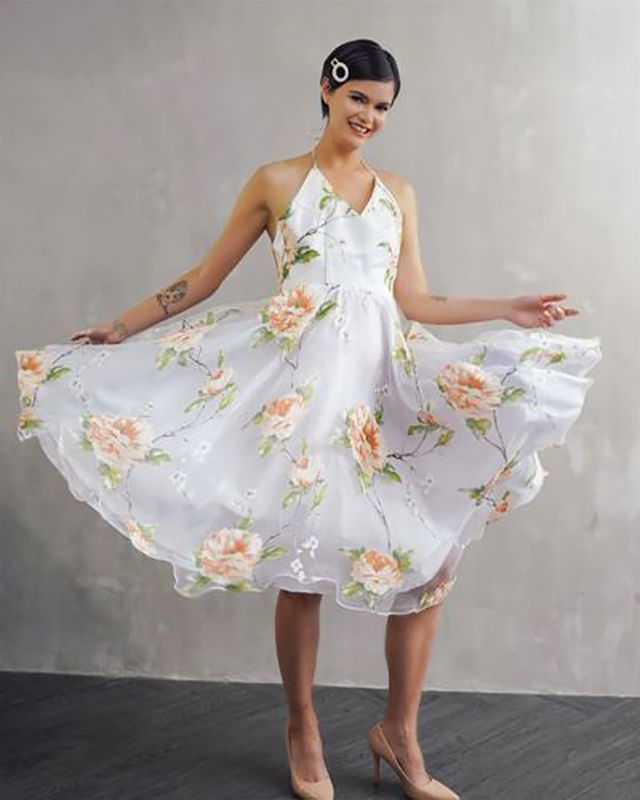 Could you tell us how your brand started? Who else are on your team?
"We really wanted to create clothes that would translate well to all body types and sizes. So coming up with the designs for our first collection really was a challenge. With a bit of trial and error, we were able to come up with what you now see, and we are super excited for the next batch!
CONTINUE READING BELOW
Recommended Videos
"There are four of us in the team. I'm (Nio Manzano) a fashion stylist and the creative director for the team. Our designer is Enrico Carado, and he's the one who's responsible for all the design of the dresses. We have Erika Igual, who is my business partner. She also helps us with marketing and product development. And finally we have Lorenz Valencia, who is our business manager. He's more of the third eye of the group. His experience with visual merchandise and his profession as an interior designer are very beneficial to us not only for how our studio looks but also for being critical with what we bring out to the public. Everything goes through him first."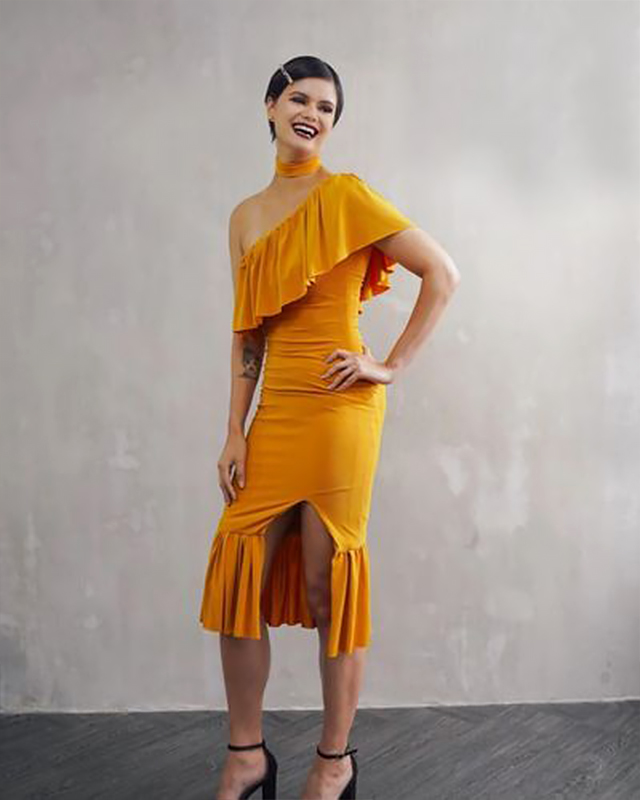 ADVERTISEMENT - CONTINUE READING BELOW
Your brand promises modern classic silhouettes. How does this aesthetic reflect the fashion sense of Filipinas today?
"Some Filipinas today are more experimental when it comes to clothes. Especially in the work force, it is now not often that you see two ladies copping out the same style. Even in events. I think that's what classic modern silhouettes do, like you're sure you've seen this dress somewhere before but there is an element of modernity in it somewhere that makes you [question it]. Like our white printed organza dress. [It's] very Marilyn Monroe but is floral printed and with a lower back."
What motivated you to pursue this venture?
"The thought of making the clothes very inclusive size-wise is a very important motivating factor for us. We wanted to help frustrated ladies who are somewhat corralled into certain silhouettes when they can actually rock, say, peek-a-boo details. We want to somehow empower ladies to try other shapes because now it is available in their size."
ADVERTISEMENT - CONTINUE READING BELOW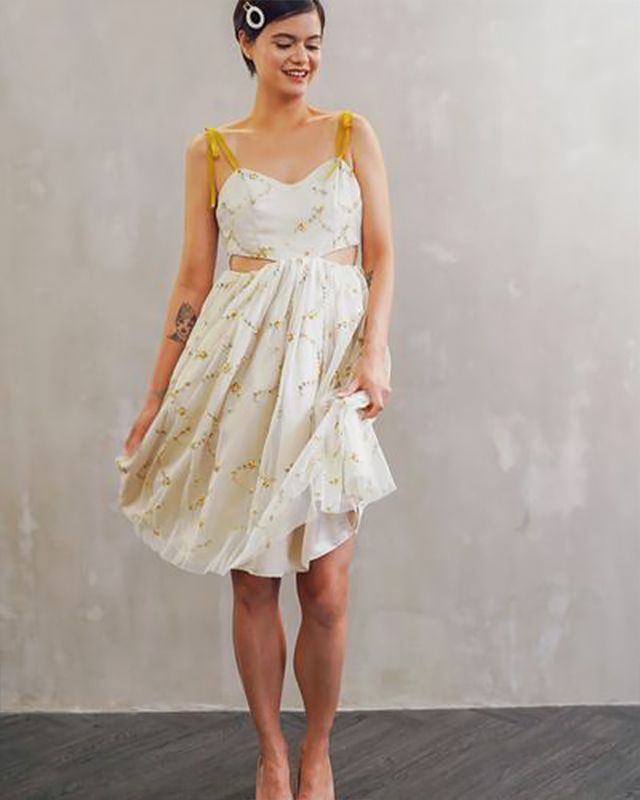 Could you walk us through the process? Who designs, manufactures, and curates your pieces?
"Enrico is the main man when it comes to designing our clothes. He creates the prototypes first and then sends the patterns and the finished garment to our dressmakers. At the moment, we have two suppliers who manufacture the clothes for us. All four of us are hands-on in curating what we bring out to the public."
ADVERTISEMENT - CONTINUE READING BELOW
What do you consider to be your signature style as a fashion brand?
"Feminine and romantic with a bit of a surprise. Could be a cut-out here or pockets there. Each one of our clothes has personality."
Where do you usually draw inspiration from?
"Since we want our dresses to fit most women sizes, the female form is our main inspiration. We're keen to making sure that the outfit we come out with can cross sizes."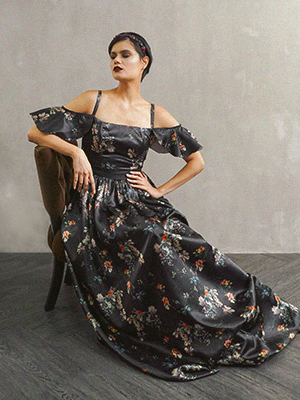 ADVERTISEMENT - CONTINUE READING BELOW
On your site, we noticed you only have about five RTW pieces. Is this a capsule collection or are you in the middle of rolling out a full line?
"We decided as a group to come out with five looks for our introductory collection, with a dress that we consider as a 'one-of-a-kind' piece. It's just something new that we're trying out. The piece is made in such a way that whoever buys it, we can alter to fit the buyer. But going back to the question, after this first try, we will figure out if we'll make more pieces for the next collection. We also limit the garments to up to three pieces per size."
Do you accept made-to-order pieces? If so, how does the process go and what's your price range?
"We are actually surprised that our made-to-order services are taking off way before the RTW pieces took flight! For made-to-order pieces, short dresses start at P8000 and long dresses start at P10,000. Our bridal gowns start at P40,000. You can set an appointment with us to visit our studio for an initial measuring/fitting by leaving us a message on our website (www.sulsimnl.com), sending us an e-mail at sulsimnl@gmail.com, or simply messaging us on our Facebook page (SulsiMNL), on twitter, or even on Instagram (@SulsiMNL)."
ADVERTISEMENT - CONTINUE READING BELOW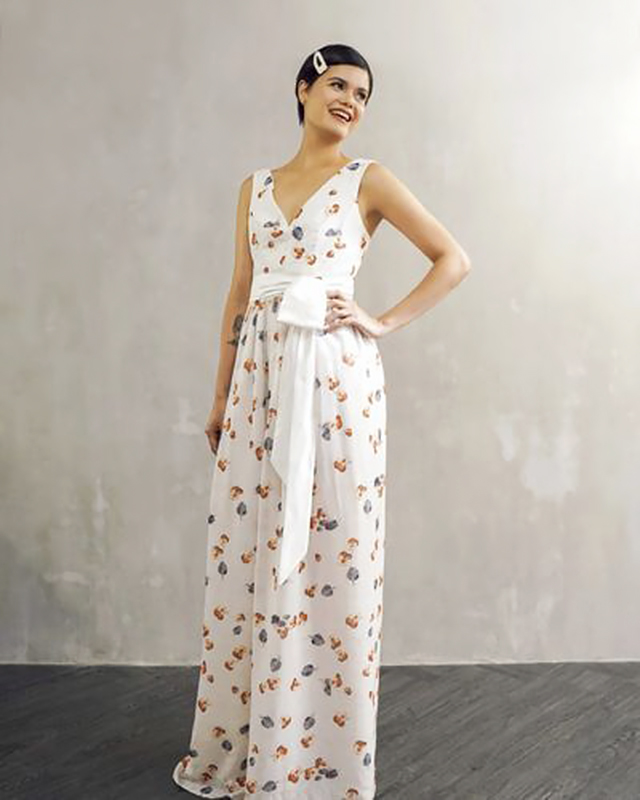 What can we expect from Sulsi Manila in the future?
"We are already starting our next collection just in time for the holidays! Hopefully by that time, you wouldn't need to set an appointment with us to see the clothes in person in our studio. Also by that time, we are hoping that we'd be able to cater to a more diverse size range than what we are initially offering now. We have lots of plans for the brand, but we are also trying to hold back our excitement because every move we make costs something."
ADVERTISEMENT - CONTINUE READING BELOW
Related Stories from Preview.ph
Hey, Preview readers! Follow us on Facebook, Instagram, YouTube, Tiktok, and Twitter to stay up to speed on all things trendy and creative. We'll curate the most stylish feed for you!