Sisters Shari and Raiza Poquiz are no strangers in the blogging community. In fact, you probably even follow them on Instagram, too—Shari, 28, a BS Management graduate from Ateneo de Manila University, and Raiza, 25, an interior designer who hails from De La Salle-College of Saint Benilde, are two of our favorite local bloggers for a good reason: one is beauty savvy and the other is sartorially chic. Combine both of their skill sets together and what do you have? An equally stylish accessory line "for kickass gals who aren't afraid to make a statement." Ladies, meet Rory & Sloan.
It has only been a few months since the brand launched and it's already getting its well-deserved buzz, what with its visually pleasing Instagram account and two #girlbosses who clearly know a thing or two about social media and the perfect marketing strategy. (Fun fact: their earrings are named after inspiring female TV characters! Jessica Pearson of Suits and Olivia Pope of Scandal, ring a bell?) In an interview with Preview, Shari and Raiza talk about how they started their business, what it's like to build a brand, and more about Rory & Sloan. Read on below.
ADVERTISEMENT - CONTINUE READING BELOW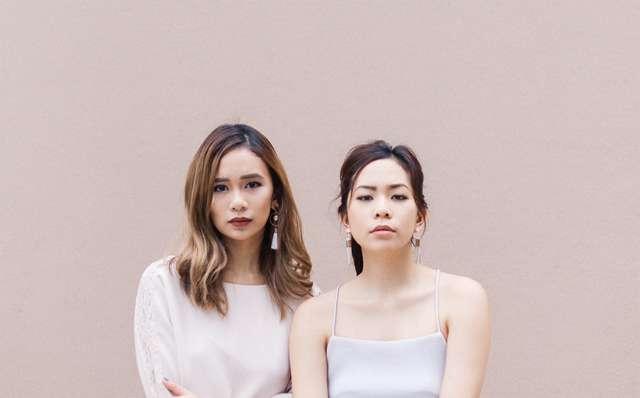 IMAGE Rory & Sloan
Share with us your story. What is Rory & Sloan and how did it start?
Raiza: As sisters with different backgrounds, I being the creative and she being the corporate Management grad, we've always dreamed about creating something together. Anything, actually. We've also always shared with each other what we both are good at individually. My sister always shares her knowledge [through] blogging [about] beauty, while I've helped her learn how to use the camera manually, expand her Photoshop skills, and everything else I learned in design school and fashion!
Shari: Starting our own business has been five years in the making. I remember telling Raiza when I was pregnant with Selene and was just kicking off my blog that we needed to start our own business so I can be a work-at-home mom and not have to go back to corporate! We had so many ideas—from home decor to printing art designs to clothes, bag—ang dami. But nothing ever came to fruition because we were so careful to the point of doubtful after researching for weeks on end about a possible product (for clothes or shoes, sizing is tricky; for bags, market is saturated, etc.). Then one night, I was [obsessing iver] earrings and wanted to buy 10 pairs all in one sitting online. It was during this time it came to me that maybe we can do earrings!
ADVERTISEMENT - CONTINUE READING BELOW
Why the name Rory & Sloan?
R: One of our shared hobbies is watching TV series. We'd even be excited to buy Tater's popcorn for our series marathons! Rory & Sloan are character names from two TV shows we both love (which my sister introduced to me).
S: The earring idea came to me while watching Gilmore Girls. I've been binge watching the whole seven seasons and can't shut up about it to Raiz. I shared with her how I can relate with Lorelai Gilmore and hoped Selene would grow up to be a Rory Gilmore someday (LOL).
R: Plus, I relate with her on the recent sequel where she feels lost and confused on what she wants to do with her life. Haha!
S: Sloan, on the other hand, came from Olivia Munn's character in Newsroom, whom we both loved—a smart, sassy PHD economist who isn't afraid to speak her mind on certain issues and let her voice be heard. We also love that she punched her ex-boyfriend when he leaked racy photos of her on the web. That's our gal.
ADVERTISEMENT - CONTINUE READING BELOW
Take us through the back-end process. Who designs your pieces and how do you go about product sourcing and manufacturing?
S: Initially, we found a supplier who gave us a catalog of designs they already have available and we just chose since it was our initial collection and we wanted to somehow just test the market. For our succeeding collections and additional styles, we were more hands-on. We researched on the upcoming accessory trends (using a style forecasting service), sourced our preferred materials (high quality silk for our balls, hardware, etc.) ourselves and kept tweaking the design until we were satisfied.
ADVERTISEMENT - CONTINUE READING BELOW
R: We outsource the work but our pieces are all handmade and require extra attention to make sure they all come out high quality. We also used to keep our stock in a room at home but we've since organized all our inventory in our humble office space. We've partnered with a courier service to make sure we deliver promptly as well. There are so many things we want to improve on—from packaging to customer service—but we want to tackle it one day at a time. We are still learning every day!
ADVERTISEMENT - CONTINUE READING BELOW
How would you describe the Rory & Sloan aesthetic?
R: We like to make a statement but there are times we're also just chill, you know? So we try to balance our bold and empowered vibe with a casual cool and minimal aesthetic.
What kind of girl do you imagine wearing your pieces?
Gals who like their bodies, coffee, and brow games strong. Not afraid to speak their minds and chase after their dreams, tie their hair up, get their hands dirty to get the job done. But they also love to have fun, let their hair down, grab a drink, put their favorite lipsticks on, and celebrate life's little and big moments.
ADVERTISEMENT - CONTINUE READING BELOW
Your Instagram is flawless, btw! What's the idea behind it and how do you curate your social media content?
We want to share content that fellow millennials can relate to. You know how easy it is to be sucked into the endless stream of social media, right? We want to offer a light-hearted break to all that with our content. We love to share quotes that we all can relate to like, "I would get so much more sleep if I didn't have to read the whole damn internet every night."
You're both well-established bloggers already. How does that help you in terms of promoting your brand?
It has definitely helped a great deal because our fellow beauty, style, and mom bloggers are all super supportive. We were initially shy to give them earrings because we didn't want to pressure them to post about us (we are the worst in PR, we swear. HAHA!) so when they express their openness to wear us, we are ecstatic because they truly believe in our brand. Our network of fellow bloggers really, tremendously contributed to our marketing and we can't be more thankful for that!
ADVERTISEMENT - CONTINUE READING BELOW
Also, most of our features stem from the interest that we are bloggers running a business, and that we actually were able to start this business once and for all because of the savings we got from blogging. So yes, we cannot discount that being bloggers and having blogger friends gave us a great advantage.
ADVERTISEMENT - CONTINUE READING BELOW
Please tell us about your new collection and what more we can expect from Rory & Sloan.
R: Our ball drop earrings are dropping like crazy. We didn't expect this since everyone is still hooked on tassels (which we still do love!). But we strive to constantly come out with something new for our audience, which is why we introduce new styles almost every month. Our Olsen ball drops in silk thread are definitely a classic piece, which everyone tells us they want in all colors. They've even already suggested which colors we should release next!
S: At the moment, we are set to release our Rory & Sloan Gal profile series on our website. We want to feature kickass working millennials who are trying to do it all (with 10 cups of coffee a day). Haha!
Related Stories from Preview.ph
Hey, Preview readers! Follow us on Facebook, Instagram, YouTube, Tiktok, and Twitter to stay up to speed on all things trendy and creative. We'll curate the most stylish feed for you!