If you're someone who's grown tired of hoarding fashion accessories that easily tarnish and don't last, we have an alternative you might want to consider: demi-fine jewelry. Online store Modern Myth offers "adult jewelry" that won't break the bank and will last you long. Below, we talk to its owner and designer Camille Aquino about her trendy yet subtle accessories perfect for your everyday wardrobe!
1. What is the concept behind Modern Myth?
"Modern Myth is all about minimalist, versatile, and understated everyday wearable demi-fine jewelry. All pieces, except for some components, are locally handmade. We are not mass-produced fashion jewelry accessories."
2. Who designs your jewelry? Please describe your overall aesthetic.
"It's just me but I also get inspiration from minimalist elements, what I think would look nice, and how else I can share the simple aesthetic with wearable pieces. Everything is backed-up by the idea of having a piece or a combination of pieces that work together and that work with any outfit for any day."
ADVERTISEMENT - CONTINUE READING BELOW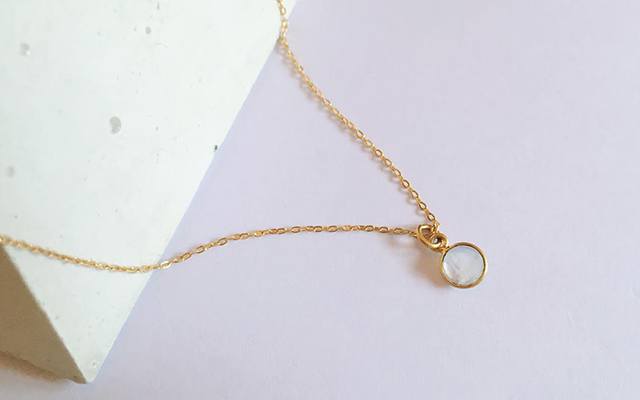 IMAGE Courtesy of Modern Myth
3. You mentioned that your pieces are demi-fine jewelry. How does it differ from real jewelry?
"Actually, demi-fine jewelry was just coined a few years ago and has been an emerging category, but it perfectly captures what the brand is! It's mid-priced and falls between fashion jewelry and fine jewelry. It's everyday luxury jewelry that's made from solid gold, gold-plated sterling silver, sterling silver, and semi-precious gemstones with affordable and moderate pricing. There's also a touch of uniqueness in each piece and can be personalized. This is unlike fashion jewelry that's mass-produced, sold cheap, with quick usage, and uses other alternative materials (e.g. glass, crystal, nickel). This also differs from fine jewelry that costs tens and hundreds of thousands of pesos. Demi-fine jewelry is still seen as an investment and uses quality materials."
CONTINUE READING BELOW
Recommended Videos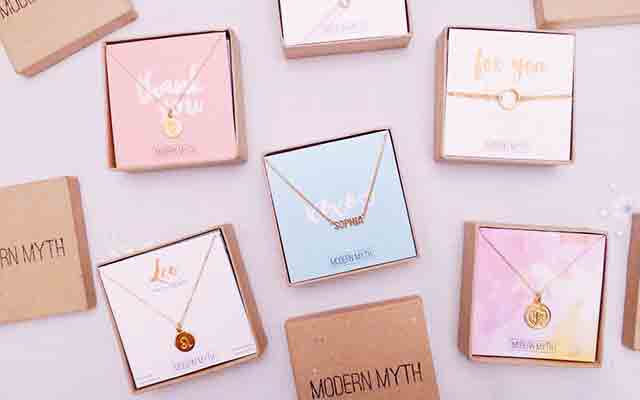 IMAGE Courtesy of Modern Myth
"With the abovementioned characteristics of demi-fine jewelry, the aesthetic would now depend on the vision of each brand but essentially, it's a jewelry category that still has intrinsic value with the metals the pieces are made of. So hopefully with time, people would appreciate this new concept more and understand what brands like Modern Myth has to offer."
ADVERTISEMENT - CONTINUE READING BELOW
4. What kind of materials do you use in producing your jewelry?
"We use 14k gold for made-to-order pieces but mainly work with sterling silver and 24k gold-plated sterling silver. We also offer 24k gold-filled necklace chains as a good alternative."
5. Is there a proper way to care for demi-fine jewelry?
"One of our musts is to provide the jewelry care card in every purchase and make the information available at the online site. We want every Modern Myth piece to look its very best and in perfect condition. It's very important for the customer to understand the jewelry they are purchasing (or interested in purchasing) and how to take care of it.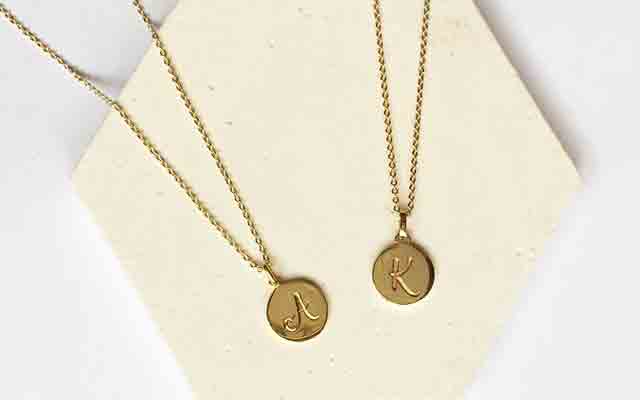 ADVERTISEMENT - CONTINUE READING BELOW
IMAGE Courtesy of Modern Myth
"Each material is treated differently. 14k gold can be cleaned with warm water and dried with a soft cloth. Sterling silver can be cleaned using a silver shine cloth or any commercially-available solution, preferably non-chemical. With 24k gold-plated sterling silver, it gets a bit more delicate and requires special attention.
"With time and wear (including moisture, sweat, and friction), the gold layer on the gold-plated sterling silver piece will begin to fade and the sterling silver underneath will be exposed (it may also tarnish). Also, varying skin acidity levels will impact the longevity of the plating. To prolong the good state of the plating, avoid wearing the jewelry when bathing, swimming, or working out. Also, wait until your lotion and perfume are dry or have been absorbed by your skin before putting on your jewelry. Only use very soft cloth to gently clean the surface of the jewelry. When not worn, store it in an airtight container or in the pouch provided. But it's also a fact that pieces may need to be re-plated every now and then to maintain their original appearance."
ADVERTISEMENT - CONTINUE READING BELOW
IMAGE Courtesy of Modern Myth
6. What made you decide to start this kind of business? How did it take off?
"It started out as a small passion and DIY project [in] 2012. Personally, it was because I wanted an outlet for my 'inner creativity.' I had two kinds of jewelry then: beaded bracelets and zodiac sign necklaces (yes, they go way back!). I made the bracelets and the necklaces were produced with the help of local jewelry artisans—I consider myself very fortunate to have discovered and known them during that time, and they are still the ones working with me until now. However, with work and other priorities, the jewelry sideline was set aside. But I was able to revive it and Modern Myth was re-launched in late 2016. The online site went live on June 2017, and since then, I've been doing it full-time together with another business which I share with my sister.
ADVERTISEMENT - CONTINUE READING BELOW
"With my background in brand marketing, I was always driven to create and build a product and brand. Better if it was from scratch! It was a good journey for me when I started Modern Myth, and I still do the same things until now. I closely work with a small group of local artisans who are very skilled in their craft of jewelry making (and me learning the technical side of it along the way). I look for raw materials and supplies. I design the packaging and other collaterals. I manage the online accounts. I take the orders and I ship them out. I'm very hands-on. So with this journey, I pieced everything together and I was able to create Modern Myth."
ADVERTISEMENT - CONTINUE READING BELOW
IMAGE Courtesy of Modern Myth
7. Who do you have in mind carrying your pieces? Describe the ideal Modern Myth girl.
"The ideal Modern Myth girl is a minimalist and effortless woman who embraces simplicity and comfort. She has timeless taste in style [that] is not dictated by trends or seasons. This is someone who considers her purchases as investments since she'll be wearing them for a long time. Oh, and she's very happy with her capsule wardrobe!"
8. What are your brand's greatest strengths? What sets you apart from other stores?
"Even if our aesthetic is minimalist and simple, our jewelry is still expressive and can be considered a statement piece. With each piece formed individually by hand, the slight variances make them more unique and personal to each one. We're also very hands-on especially with production, and it still turns out to be a very productive collaboration with the jewelry craftsmen. One very helpful thing is they also teach me along the way. In fact, my next technical lesson will be on wax sculpting and casting.
ADVERTISEMENT - CONTINUE READING BELOW
"If the pieces are not produced in advance and we don't have on-hand stocks, we're also transparent that production takes time. It's not instant as handstamped jewelry or using a process where we just use jewelry blanks."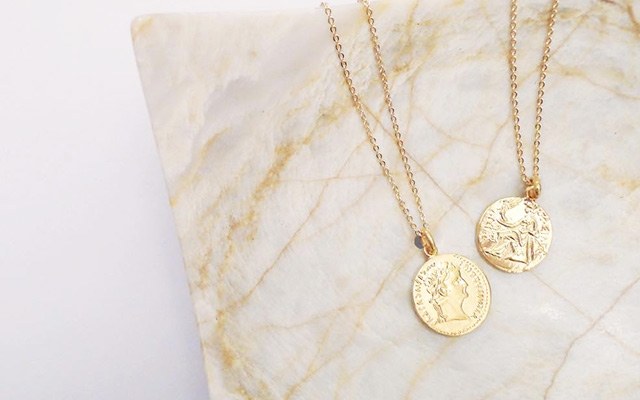 IMAGE Courtesy of Modern Myth
"We also value our interaction with the customers. We make it a point to talk to them and to understand what they need; whether it be mixing and matching the pieces, what material suits them the best, and even planning on what to make or customize for them—which we also encourage so that the piece is uniquely their own. Not a lot of people know, but we also make jewelry based on the customer's design and specifications. All-in-all, it's like we collaborate with the customer. Apart from that, we are also proud in retaining the relationship with them especially the customer service we provide. If something needs fixing, we attend to these kinds of matters. We don't want to just sell and afterwards, ignore further inquiries or concerns.
ADVERTISEMENT - CONTINUE READING BELOW
"Since we want our customers to get their money's worth, we make it a point to include a detailed description of what each piece is and what material it's made of. We also make sure to properly communicate how these pieces should be taken care of."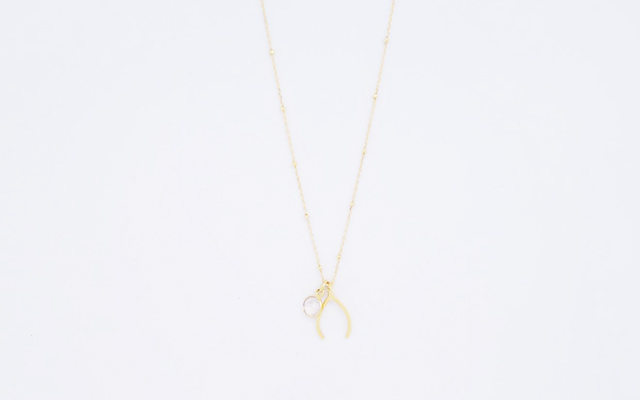 IMAGE Courtesy of Modern Myth
ADVERTISEMENT - CONTINUE READING BELOW
9. What about your brand's weaknesses? How are you able to overcome them?
"I think it still lies on the fact that we are mid-priced and some of the materials we use, though intrinsically valuable, are still delicate and need special care. Some people are hesitant and want long-lasting jewelry that is budget-friendly. There's still a big chunk of the market that doesn't understand what we have to offer, so they compare us to fashion jewelry and other mass- and machine-produced accessories (a lot of which are just being resold under a different brand).
"Same as our strengths, we always answer customers' inquiries and tell them about the materials we use, as well as how to take care of them. Transparency is key and we don't want to turn a blind eye and just sell something and then after a while, leave customers wondering. So it's really about educating our consumers and being transparent of what Modern Myth offers."
ADVERTISEMENT - CONTINUE READING BELOW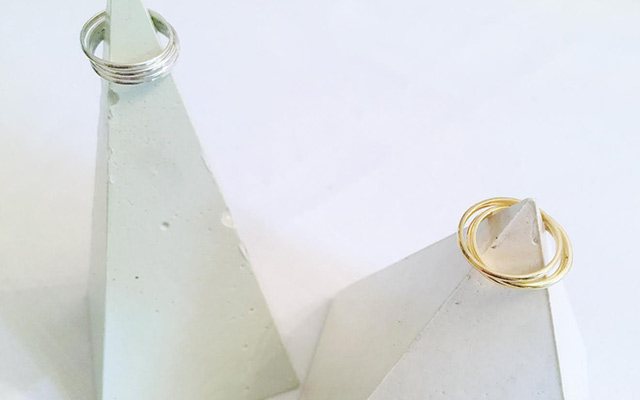 IMAGE Courtesy of Modern Myth
10. Where do you see your brand in the coming years? What should we expect from Modern Myth in the future?
"Good question as this prepares us for the next phases! Currently, we're in the process of expanding our jewelry line so this includes more pieces like bracelets, rings, and earrings. And we will contemporize it a bit, but definitely still in line with our overall aesthetic. Further, we plan on collaborating with different artists and influencers to offer new and limited pieces to both our clientele. We're now working on our first collaboration with an internationally-known Filipino illustrator and we're targeting to release the collection in July.
ADVERTISEMENT - CONTINUE READING BELOW
"What we're more excited to share about is the long-term plan for Modern Myth, which we just recently began working on. The next phase is to transition the brand to a small fashion and lifestyle label that embraces slow fashion and the philosophy of having the essentials and the basics—dedicated to minimalism and the idea that simple is still better. Nothing trendy and nothing seasonal. Beyond just creating beautiful and wearable jewelry, Modern Myth wants to share other simple pieces that can be used time and time again. Part of this transition will also affect our social media platform and online store, adhering to fresher visuals and themes. Finally, part of the vision for the label is to open it internationally and cater to the global market."
Related Stories from Preview.ph
Hey, Preview readers! Follow us on Facebook, Instagram, YouTube, Tiktok, and Twitter to stay up to speed on all things trendy and creative. We'll curate the most stylish feed for you!