Design is the first thing that draws us in when shopping for shoes. However, before actually making the purchase, there are two other important things we consider: quality and comfort. Thankfully, Leather & Feet hits all three birds with one stone. It offers practical yet stylish options of leather footwear proudly made by Marikina shoemakers. Niña Chua and Monica Herrera, both graduates of AB Multimedia Arts in De La Salle-College of Saint Benilde, are the brains behind this local brand—read their interview with Preview below and you'll be even more convinced to buy yourself a pair or two!
Tell us about the brand. How did you come up with the name Leather & Feet?
"Leather & Feet is a homegrown high quality shoe brand specially crafted by our skilled local artisans and makers. Every thread and leather is sustainably sourced, stitched, and glued together beautifully with love and balance.
"Both of us thought of the name. Leather & Feet is perfect because it already gives a hint on what kind of products we provide: leather footwear. And also, for it to be effective, we wanted our brand name to be simple and easily remembered. [The name] Leather & Feet is distinctive, easy to say and spell, and completely self-explanatory."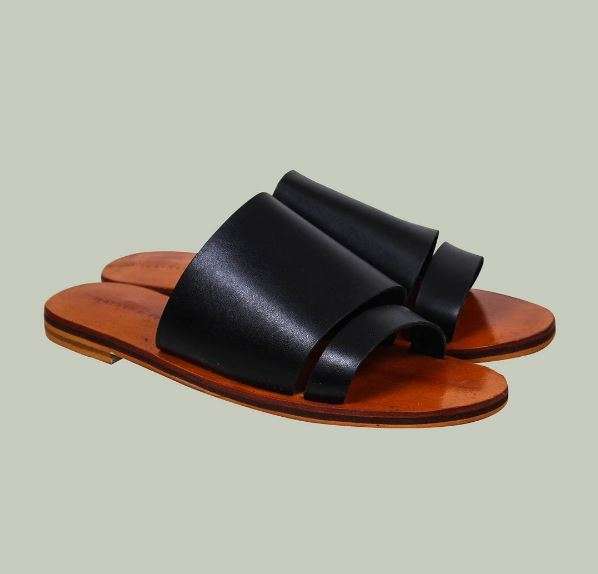 ADVERTISEMENT - CONTINUE READING BELOW
IMAGE instagram.com/leatherandfeet
Leather & Feet Dominique in Black, P1450, instagram.com/leatherandfeet
Please take us back to how you started.
"As good friends, we've always envisioned building ventures together. The idea of putting up a shoe brand started in the latter part of 2015 during one of our travels in the Philippines. Leather & Feet came to life in June of 2016 and we launched our first collection on our Instagram page."
Are your products sourced and made locally?
"Yes, all are made in the Philippines. We work hand in hand with our skilled and passionate Marikina shoemakers."
IMAGE instagram.com/leatherandfeet
Leather & Feet Bretta in Tan, P1650, instagram.com/leatherandfeet
How would you describe your brand's aesthetic?
"Our leather footwear caters sophistication in every piece with timeless quality. Our designs have undergone functional and aesthetic considerations. Shoes are intended to protect and comfort the human feet while the wearer is doing various activities. Thus, we strive to offer comfort and style in every move and step you take.
"We aren't meant to stay in one place; your feet will take you places, and we want to share that journey with you. [Hence, our tag line:] 'Designed to move you.'"
Where do you get inspiration for your designs?
ADVERTISEMENT - CONTINUE READING BELOW
"Inspirations for our designs come from unexpected places. For instance, a walk on the beach can make you a better designer. Inspired by the colors and fineness of the beach sand, ADELISA IN SAND was conceptualized during one of our spontaneous trips to the beach."
IMAGE instagram.com/leatherandfeet
Leather & Feet Adelisa in Sand, P1350, instagram.com/leatherandfeet
What kind of girl do you see wearing your brand?
"Leather & Feet is for every girl/lady. She can be the laid-back type or the girl who's always on the go, more playful, a bigger risk taker, and more extroverted. Our shoes fit everyone!"