In case you missed it, the Jonas Brothers surprised us with a comeback music video last Friday! We've caught the love bug all over again as Joe, Kevin, and Nick debuted their new single, Sucker.
What's more, their significant others made fashionable cameos, too. That's right! The JSisters—as Danielle Jonas (Kevin's wife)—would call themselves, appear with the JoBros.
Along with Dani, Priyanka Chopra (Nick's wife) and Sophie Turner (Joe's fiancé) graced the MV clad in the most avant-garde garments. The video could possibly be inspired by a lavish version of Alice in Wonderland or an ode to the period film, The Favourite, seen through high fashion lenses.
Here, Sophie wears NYFW's breakout designer, Tomo Koizumi who hails from Japan.
But while the special women in their lives were all glammed up, the brother trio also brought their sartorial A-game. But what particularly caught our eye, though, was Nick's printed long coat made by none other than our very own Michael Cinco.
ADVERTISEMENT - CONTINUE READING BELOW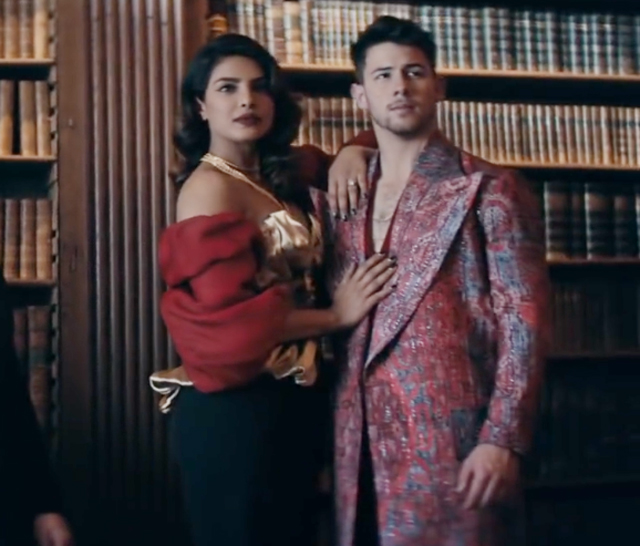 "The outfit that Nick Jonas wore in his latest video is from my Impalpable Dream of Persia Collection," Michael tells Preview. The long coat was inspired by Persian carpet and was luxuriously "studded with Swarovski crystals" and was styled with its matching black pants.
Additionally, Michael shares that his stylists also pulled out a crimson red vest from his collection, which Nick is seen wearing in the video. He added that, "they didn't tell [him] any specifications because it was a secret video that they were filming. The stylists just asked my PR to send [pieces from his] menswear collection that they have seen online."
ADVERTISEMENT - CONTINUE READING BELOW
Check out the full music video below.