Mimiyuuuh's sense of style is, in a way, a reflection of who she is. It's quirky and off-kilter, yet, at the same time, so endearing that you just can't get enough of it. If we're not clicking on one of her vlogs for her down-to-earth personality or her hilarious antics and quips, it's because we want to see what distinctly charming outfits she has on.
Fashion puts a wide, contagious smile on the YouTube sensation's face. With her track record of making hundreds of followers just as happy, coupled with her undeniable eye for all things stylish, it only makes sense that the next thing Mimi's ticking off her checklist is to spread the joy of dressing up.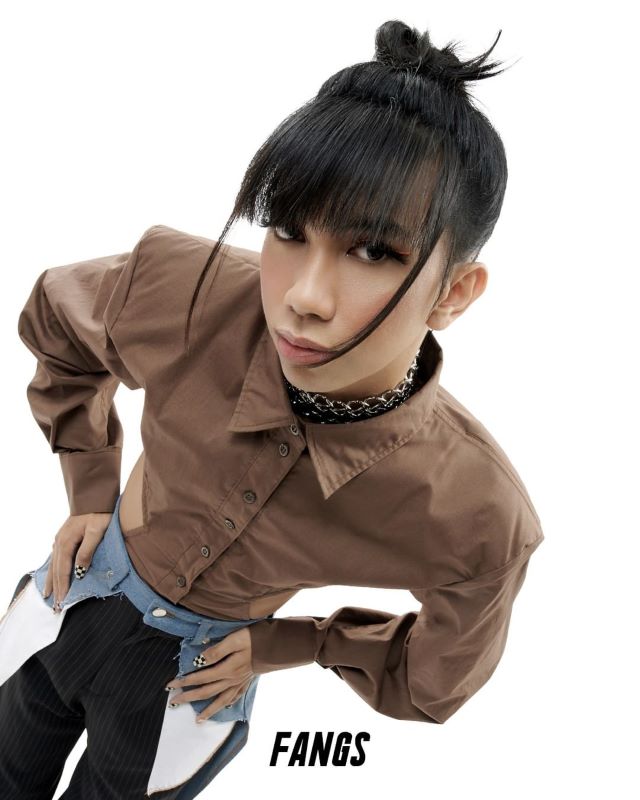 Just yesterday at the strike of midnight, she relaunched her very own label, FANGS, with a fresh new collection that just screams Mimiyuuuh. In an exclusive interview with Preview, the 25-year-old tells us all about what it took to bring the brand back to life, and why she's ready to solidify the title of "fashion designer" beside her name.
How Mimiyuuuh relaunched her fashion brand, FANGS
Having graduated from the De La Salle-College of Saint Benilde with a degree in fashion (and an honorable mention distinction, mind you), putting out her own clothing line seemed to be the natural next step for Mimi. With that, FANGS debuted almost five years ago in 2017. The content creator says that the brand got its name from one of her personal aces—her distinct set of chompers. "Kasi yung ngipin ko may pangil sa gitna, so [naisip ko na] bakit di ko to gawing sariling identity ko, especially for my brand," Mimi explains.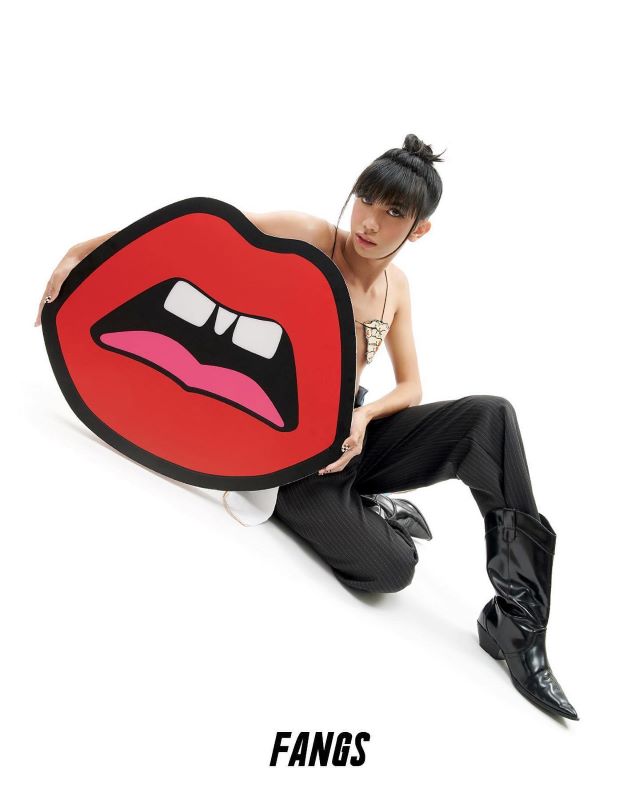 Her first collection prominently featured cut-outs, eccentric colors, and boxy silhouettes, all elements we identify with Mimi's fashion preferences. Her release this year follows the same idea, with each piece still reflecting the style sensibilities of the designer behind them.
"I wanted to design something that I would definitely wear. Kasi gusto ko rin ma-excite ulit sa fashion kasi medyo nawala rin yun," she expresses, "kaya nag-design ako ng something na ma-e-enjoy ko suotin, and at the same time, ma-e-enjoy rin ng mga consumer ko." Her personal favorite from the relaunch is the 'Get Them Bags' Top, a statement-making long-sleeve shirt with shoulder pads and a waist cut-out. "I feel like I am the CEO of my own life, I'm super hyped up kapag sinusuot ko siya," she puts it.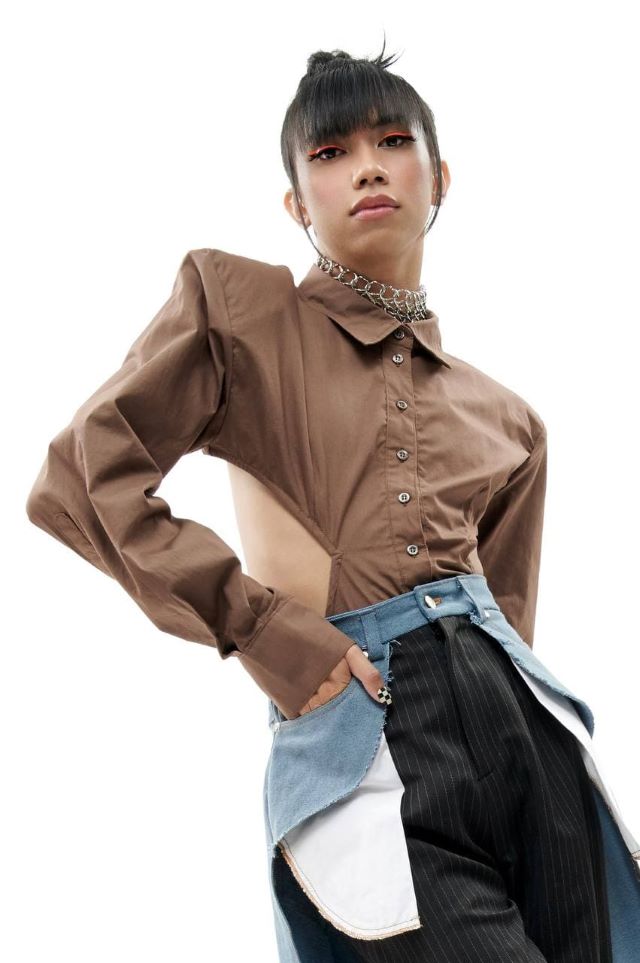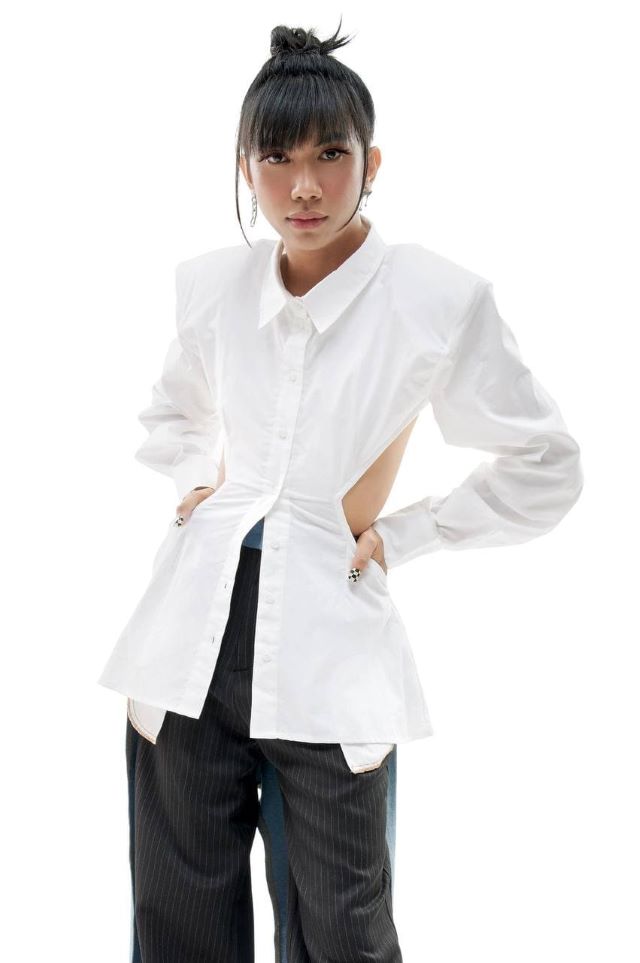 A young Mimi, who used to just stare at the clothes her mom would be selling, would be pleasantly surpised to see how far her fascination with fashion has gotten. "I really wanted to [start] my 2022 with my brand, so nag-manage po ako ng time. Binigyan ko po ng oras yung sketching, resourcing, [and] talking wtih suppliers," says the style siren. Vlogging and other gigs may have to take a backseat for now, but Mimi strongly feels that it's about time her notebook drawings came to life. "Feeling ko it's time to prioritize what really makes me happy, [so] pinush ko na siya this February," she remarks.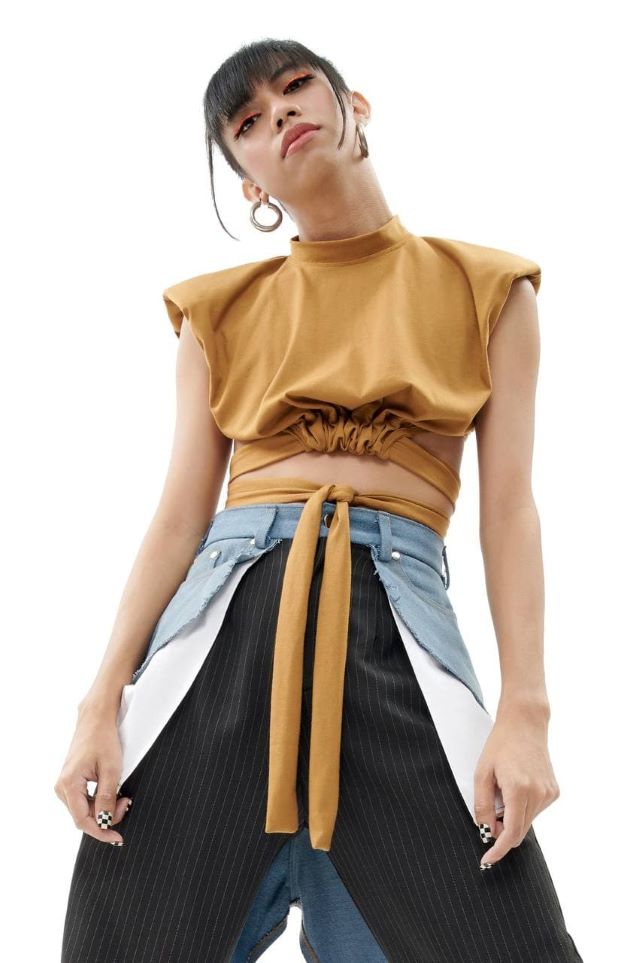 Now that being a fashion entrepreneur is part of her daily life, the 25-year-old finds herself actualizing the things she studied in college. One of the lessons that's been particularly helpful with FANGS' relaunch is how to properly price their clothes. "Meron kaming course called Fashion Merchandising, so we were taught kung paano yung tamang pag-co-cost ng mga pieces," Mimi recalls. With that in mind, she made sure that the price tags on her items, as covetable as they are, were still relatively affordable for her audiences.
Besides that, one of the most vital things Mimi's learned throughout the whole experience is how to manage her time. Ever since she embarked on the relaunch, she would start her days checking samples and giving feedback to her collaborators and suppliers. She would attend to these while running a YouTube channel, attending shoots, and making various appearances.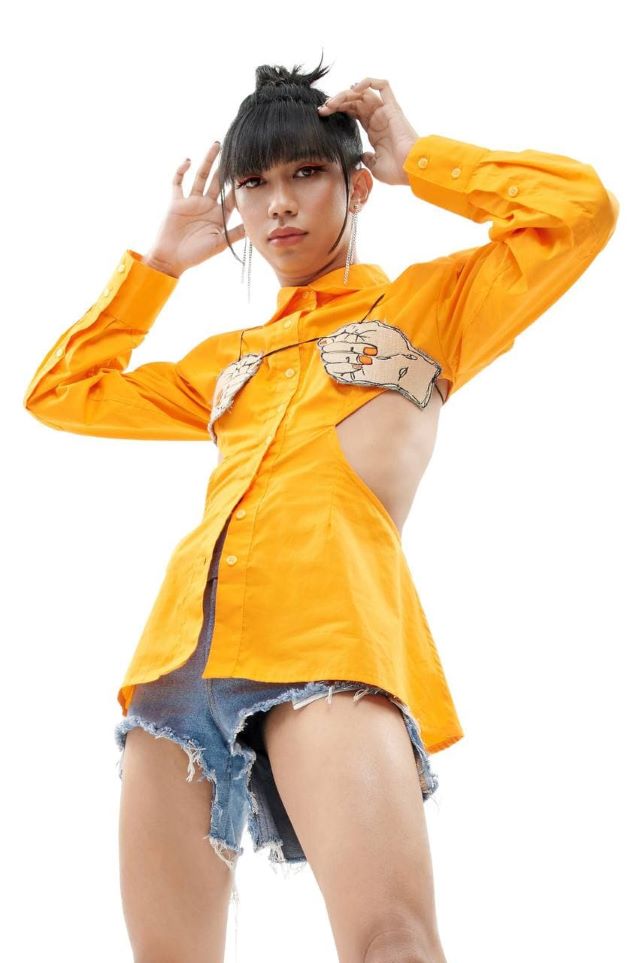 This is why she's particularly thankful to her friend Ima, who's been the boost she needed throughout the process. "Syempre, it's so hard to do anything right now kasi may pandemic. Mahirap humanap ng suppliers, mahirap kumausap ng mga manufacturers, napapatagal yung mga process. Kaya I'm super thankful talaga na nandito si Ima. She made our life easier."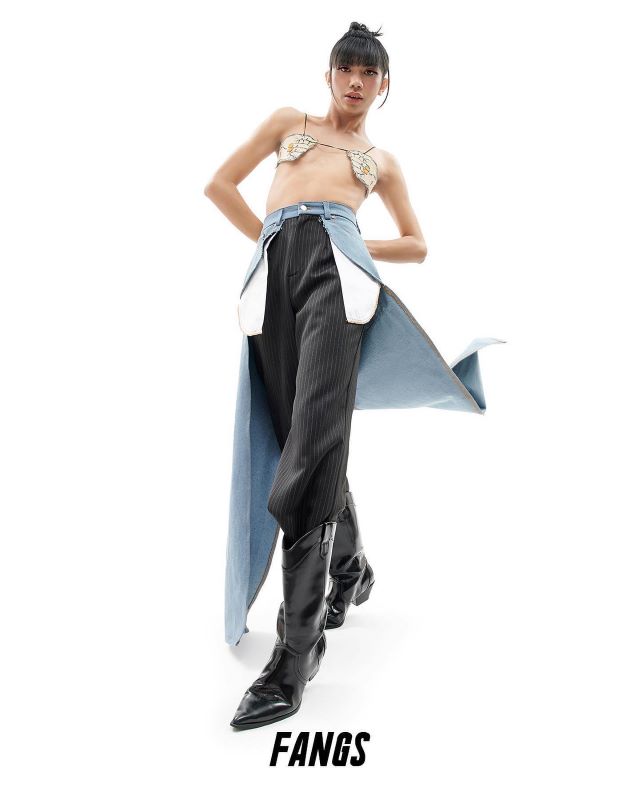 With FANGS officially launched as a new milestone for Mimiyuuuh, she reflects on what it took for her to get here, and what balancing act she had to do between passion and pragmatism. "It's so impractical to say "Follow your dreams!" kasi, at the end of the day, gusto talaga nating kumita. So, pwede kang mag-risk to [make] your own brand, or pwede ka munang mag-ipon—and ayun yung ginawa ko; nag-ipon muna ako."
Looking ahead, Mimi hopes that the brand's audience (she affectionately calls them the "Fangs Gang") expands further. "Basta ang gusto ko lang for my brand is [for it] to make it big, and marami pang ma-empower through our clothes," she says.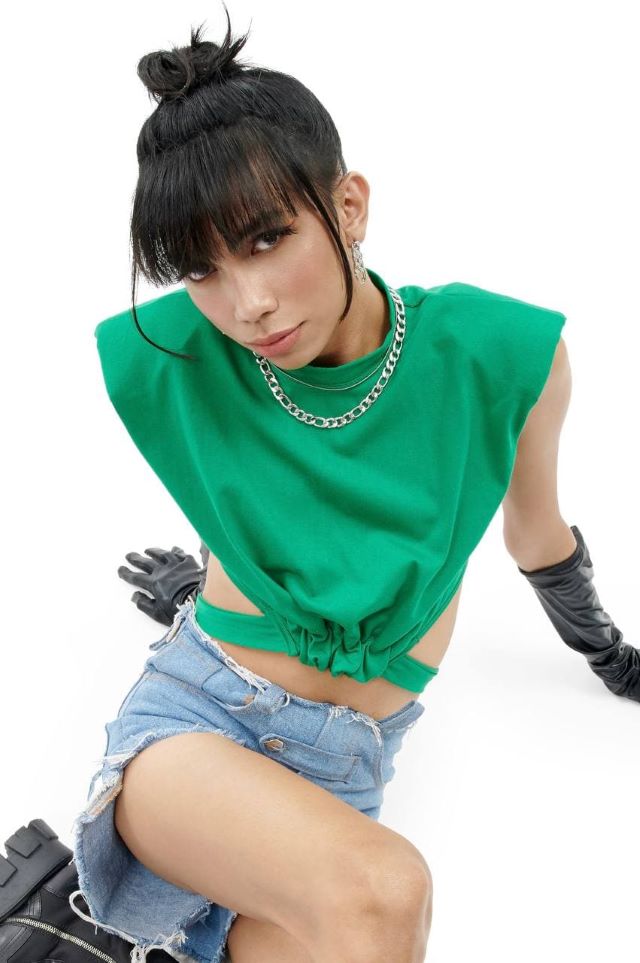 To anyone who aspires to one day go down the same stylish path Mimi has, she has this to say: "Ang mahalaga is [that] you have [a] passion for fashion. Do what will make you happy and at the same time, be responsible with your money." We truly couldn't have said it better ourselves.
Eager to join the "Fangs Gang"? Shop their current collection on their official website, and be updated on future releases through their Instagram page.
Related Stories from Preview.ph