A day at the Preview office normally involves scanning through countless runway photos for reference and inspiration. However, not so often do we get the chance to try on these designer clothes ourselves (that's reserved for our Preview cover girls!), but when we do, we're definitely all for it. This brings us to one summer afternoon at work, when our resident Preview.ph fashion girls Steph Sison and Yanna Lopez traded their typical office style for two head-to-toe Michael Kors Spring/Summer 2018 looks. How did they fare in the Manila heat and a full day at work? Scroll down to find out!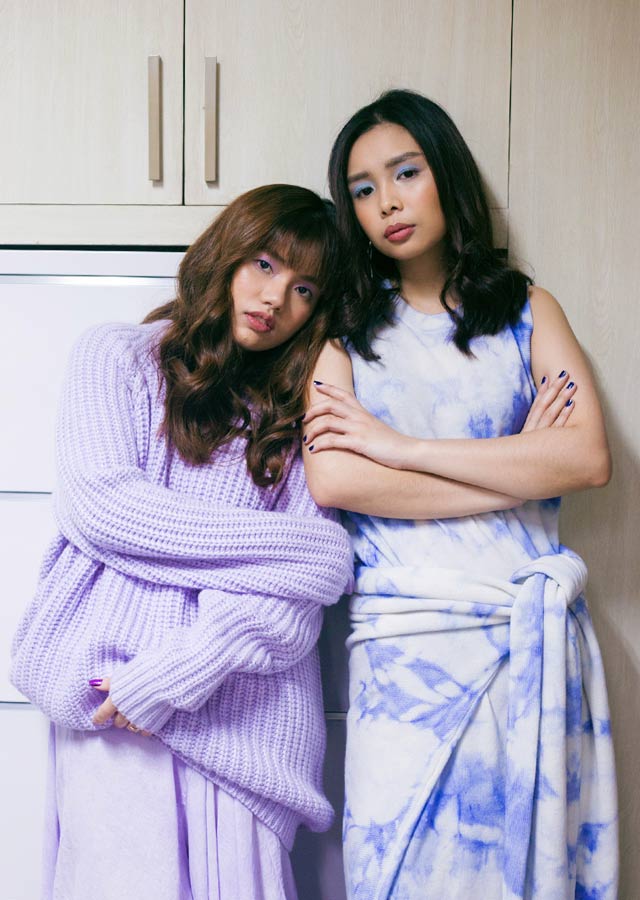 ADVERTISEMENT - CONTINUE READING BELOW
IMAGE Ritz Marie
What were your first impressions?
YANNA: "THE COLOR WAS DIVINE. I got assigned to this head-to-toe lavender outfit and fell in love at first sight. I'm not actually one to wear a lot of hues, but I'm partial to soft purple lately and this look was right up my alley—I didn't realize it until I laid eyes on it. Black can step aside for now."
STEPH: "I was a tie-dye convert the moment I laid eyes on the dress! I wore this cashmere column gown with a side slit and a matching sweater-like wrap, both of which came in cornflower blue. The tie-dye print made me look and feel as if I was wearing the sky."
What did you think of the clothes based on the runway photos? What do you know about Michael Kors and his collections (or the way he makes clothes)?

CONTINUE READING BELOW
Recommended Videos
Y: "My first thought was, man, these clothes are long and I am nowhere near tall enough to wear them! Spoiler: I was kind of right.
"Through my years working in fashion, I've always associated Michael Kors with the idea of wearable, accessible luxury."
S: "I share the same sentiment with Yanna. I was worried about the length because the international models who had worn them on the runway are tall! I was worried I might not give the clothes the justice they deserve with my petite frame.
"For this collection, Michael Kors aimed to bring beachy vibes to the city without looking too undone or too bare, as one would expect to wear by the shore. I think the idea here is to have an array of pieces that can be worn in the office without looking too stiff or glum for summer. He aced this part, as he was able to capture the breezy spirit of the season and contextualize it to fit an urbanite. This sums up the house, if you ask me. MK looks are usually expected to be comfortably worn every day without losing their sense of luxury."
ADVERTISEMENT - CONTINUE READING BELOW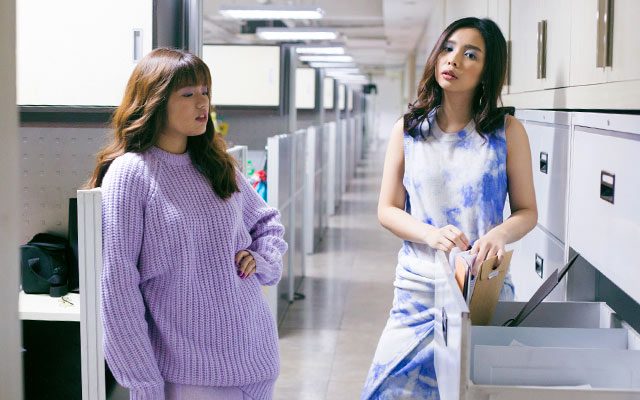 IMAGE Ritz Marie
Were the outfits comfortable?

Y: "Actually, they were. Just a tad bit too hot to be frolicking around under the unforgiving Manila sun, but this is 100% an outfit I'd wear indoors."
S: "Surprisingly, yes. I didn't feel as hot while wearing it as I had anticipated. And mind you, mine was made of cashmere. But, maybe I'd wear the dress on days I would spend less time outside under the summer sun. Plus, you can't just throw cashmere in the wash. This fabric calls for dry cleaning only."
ADVERTISEMENT - CONTINUE READING BELOW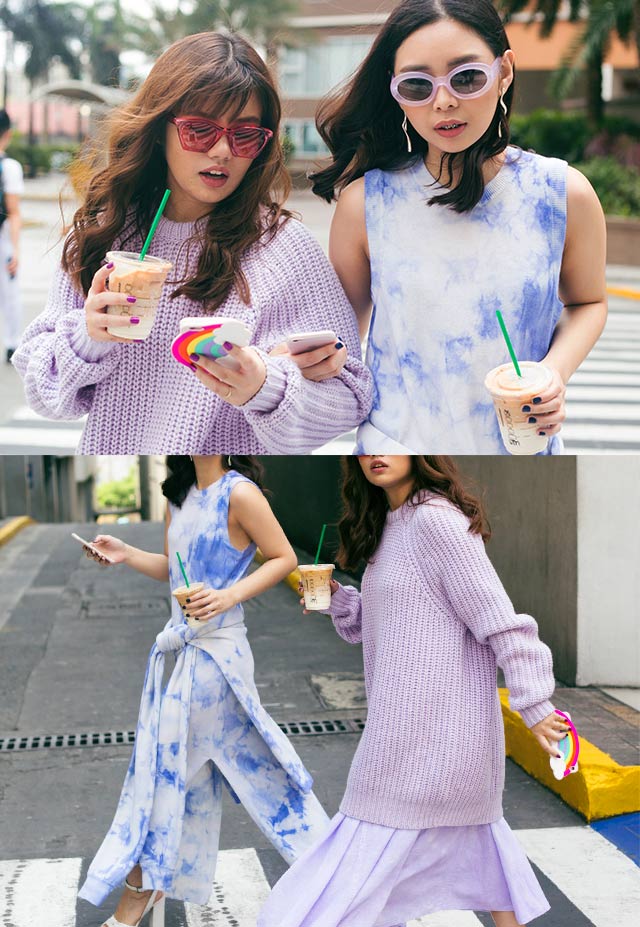 IMAGE Ritz Marie
In your opinion, who is the woman Michael Kors is designing for based on these designs?

Y: "She's fuss-free, languid, stylish, elegant."
S: "She's someone who's ready to get out of the city for an Instagram-ready vacay."
How wearable are they really?

Y: "Pretty wearable, in my opinion. My outfit consisted of an oversized knit sweater and asymmetrical-hemmed maxi skirt—simple. I could have done without the underskirt, if only because on my tiny frame the pullover was big enough to be a whole dress! Still, I'm all for the idea of summer layering."
ADVERTISEMENT - CONTINUE READING BELOW
S: "Quite wearable. I'd ditch the wrap-around, though, if I were to wear the look on a summer day and add that as an accent to a different outfit."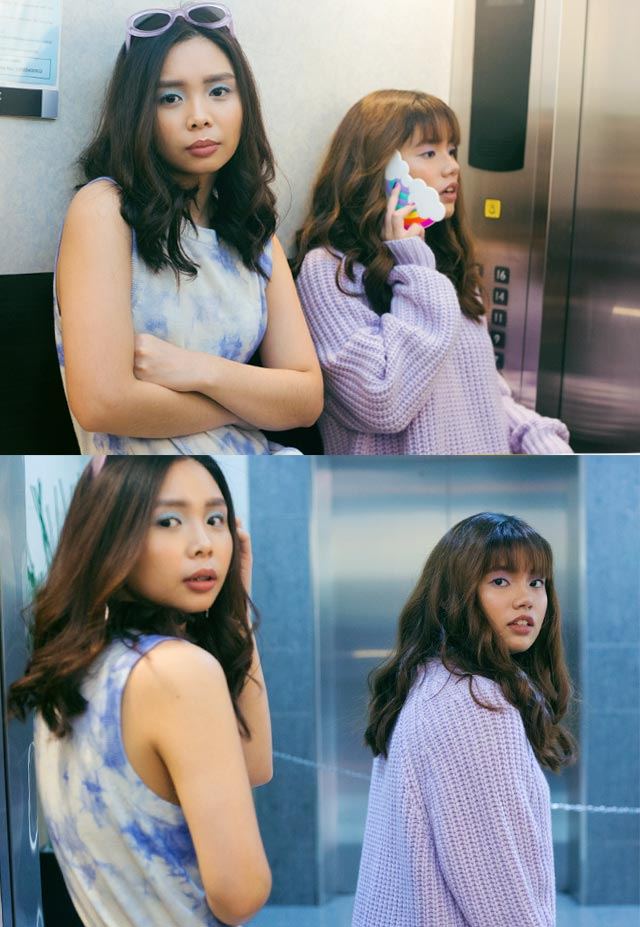 IMAGE Ritz Marie
Can you commute in them? Describe the feeling of wearing off-the-runway designer clothes?

Y: "Not in our tropics, no! I'd drive in them, though. Or board a 16-hour flight in them. They're that comfy."
ADVERTISEMENT - CONTINUE READING BELOW
S: "Not exactly! But if you're going on a road trip with friends, and you need a no-fuss look that's both stylish and comfortable for a five-hour drive, definitely."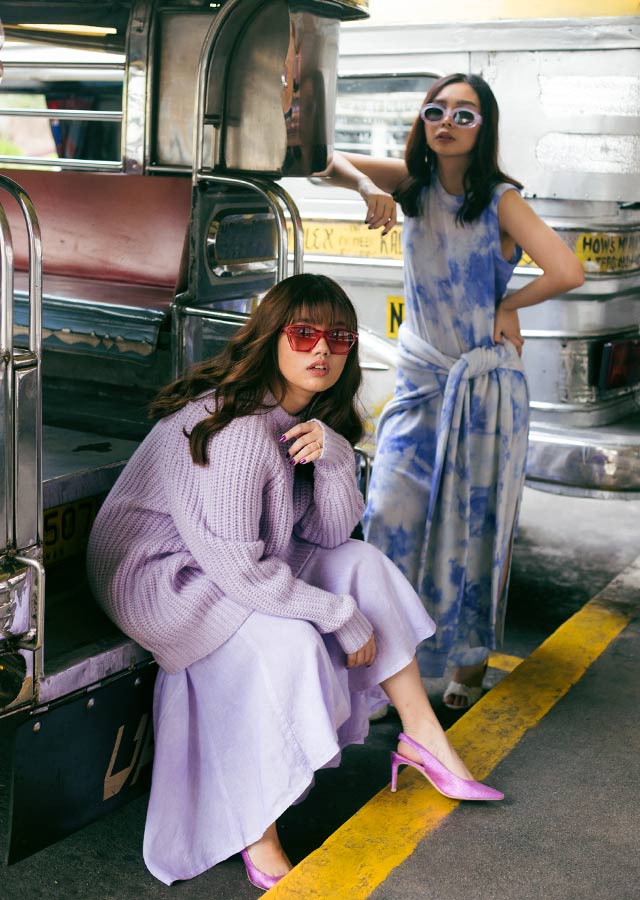 IMAGE Ritz Marie
Describe how you felt while wearing these clothes right off the runway.
Y: "There's a thrill to it knowing that just weeks earlier a whole room of fashion's most important people first laid eyes on these clothes. It was like vicariously absorbing all their combined forces."
ADVERTISEMENT - CONTINUE READING BELOW
S: "What Yanna said! Plus when you wear designer pieces, you instantly feel upgraded since you're aware that the craftsmanship and the materials used to create the clothes are both topnotch. Perhaps you can also add my slight proud moment that I fit into a sample size."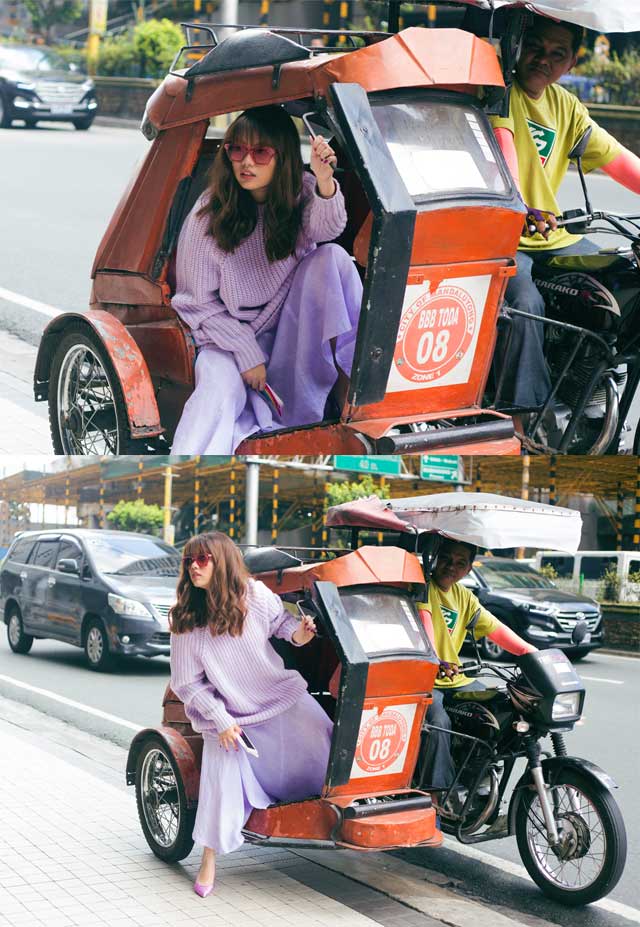 IMAGE Ritz Marie
ADVERTISEMENT - CONTINUE READING BELOW
What makes these pieces special?

Y: "I loved the subtle, faded tie-dye effect dotting my floor-grazing skirt (that we had to pin up, by the way, lest I went tromping around in a puddle of lavender fabric)."
S: "I loved the fabric. Not just its quality but also its print and soft hue. When one thinks of tie-dye, we automatically visualize neon hues and busy prints, but with this look, it had the opposite effect. It was actually calming and almost hypnotic."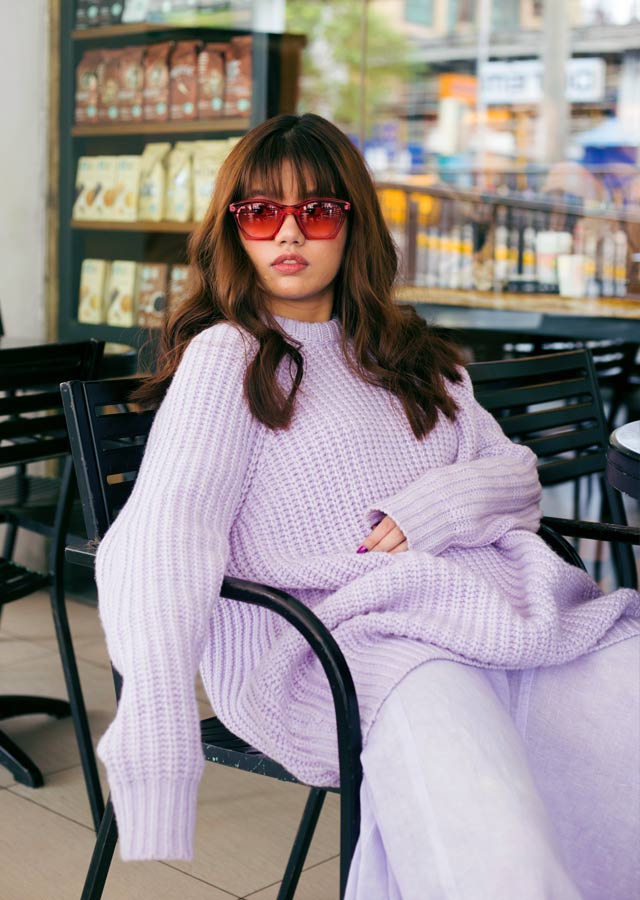 ADVERTISEMENT - CONTINUE READING BELOW
IMAGE Ritz Marie
Can you tell us about the fabric and what's the obvious difference you felt when you wore these clothes?

Y: "You can tell in an instant that these pieces are well-made. Well-made is, in fact, an understatement. The quality of the knit was heavy in that way you know is because it's excellent; you get the singular feeling that these clothes will last you a long, long time. They're an investment."
S: "Slipping into the clothes felt as if I was wearing art, a masterpiece. But they don't look flimsy or too delicate for everyday wear. They're well-made, as Yanna mentioned, and because of that, they feel more luxurious and you can tell they will last you a long time. Definitely worth every buck."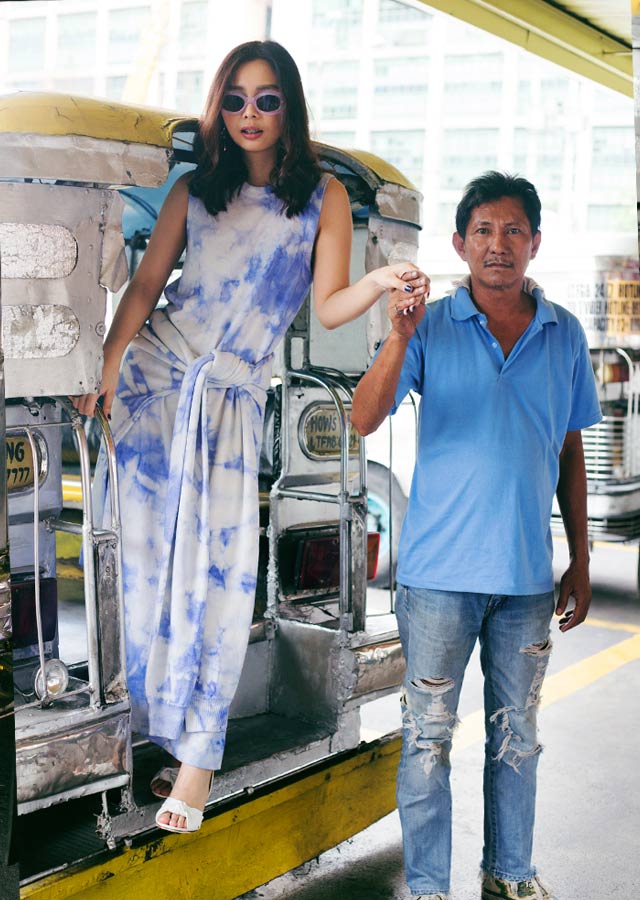 ADVERTISEMENT - CONTINUE READING BELOW
IMAGE Ritz Marie
People are often times scared of wearing "outrageous fashion" on a daily basis? Would you classify this as outrageous?

Y: "Not outrageous at all. Again, the outfits both Steph and I got were simple in styling and structure. Also, I'm the type to step out in glitter and sequins on any given working weekday so these looks are comparatively nice and muted."
S: "Not at all! Working in fashion, the looks we were given come nowhere near the avant-garde looks you'd expect from Comme des Garçons or Viktor & Rolf. And that's a good thing in this case. The silhouettes are simple and structured and the palette is muted enough to be worn on a regular day. But the looks are versatile enough to be spruced up, too, once you add the right accessories."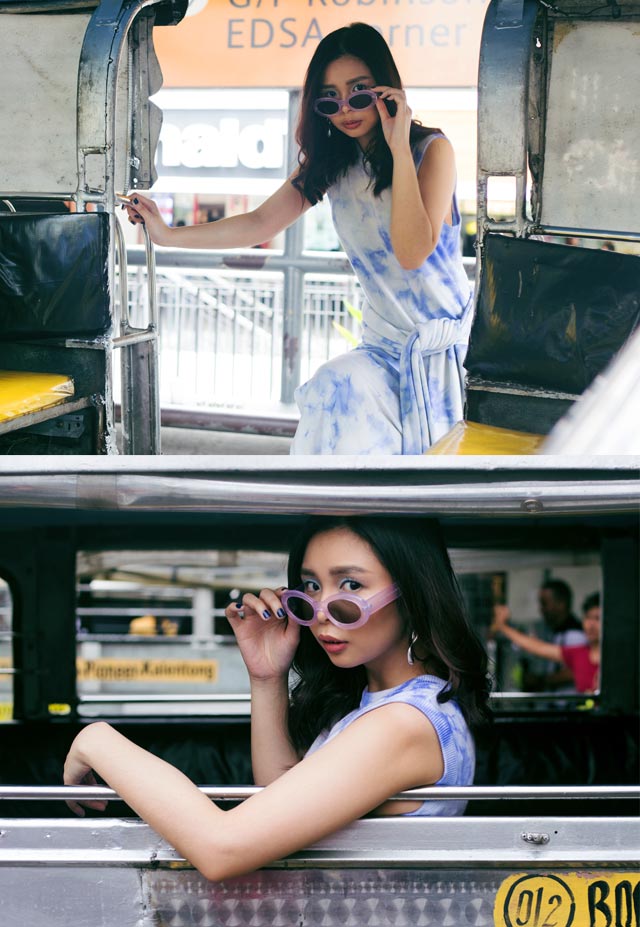 ADVERTISEMENT - CONTINUE READING BELOW
IMAGE Ritz Marie
From a scale of one to 10, how wearable is it? (10 being very wearable)
Y: "I'd say an 8 for my look at least! That's two points deducted just because they're inevitably too warm to take outdoors."
S: "I'd give my look a 9. Only because the tie-dye print can easily be remembered and I would have to give the outfit a longer interval before I can repeat it again."
Overall thoughts:
Y: "I would do it again. Catwalk to cubicle is an addicting concept, and I admit that parading around in fresh-off-the-runway Michael Kors made for quite the refreshing Wednesday."
S: "I think the main takeaway here is to abandon the thought that just because it's designer, it's automatically too outrageous or too over-the-top. Designer clothes are made with excellent materials and with expert hands, which make them extra unique and precious. Given the chance, I would definitely wear fresh-off-the-runway clothes to the office again!"
ADVERTISEMENT - CONTINUE READING BELOW
Produced by Maura Rodriguez
Photographed by Ritz Marie
Makeup and Hair by Sylvina Lopez
Michael Kors is exclusively distributed by Stores Specialists, Inc.
Related Stories from Preview.ph
Hey, Preview readers! Follow us on Facebook, Instagram, YouTube, Tiktok, and Twitter to stay up to speed on all things trendy and creative. We'll curate the most stylish feed for you!