Manila Fashion Festival Beyond had just closed last week but we're still running high with fashion fever. With the thriving local fashion scene, we now look to our own runways for style pegs and inspiration. See below the top six trends we can't wait to sport in the coming days!
1. Asymmetry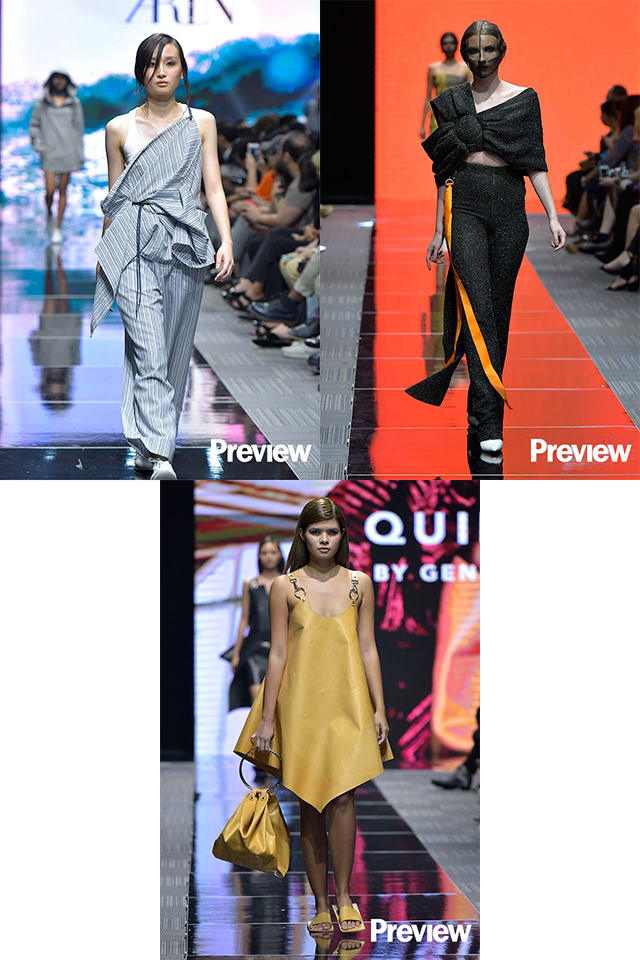 IMAGE Andrew Co
Arin, Daryl Maat, Genevieve Go
The lop-sided, off-balanced, and wonky side of fashion took center stage as designers highlighted asymmetry that allows flesh flashing in the most unexpected ways. Aside from the baring of the decolletage or thighs, these cuts and silhouettes also offer an opportunity for layering.
2. Fringe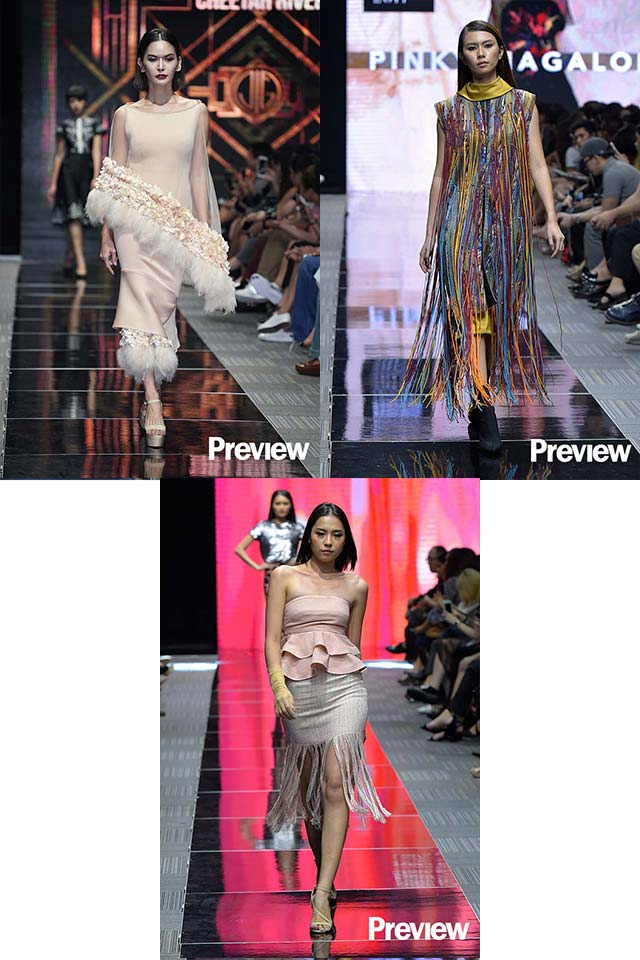 ADVERTISEMENT - CONTINUE READING BELOW
IMAGE Andrew Co and Ryan Ong
Cheetah Rivera, Pinky Magalona, Yong Davalos
Swing into the new season with shimmy-shakers strategically placed at the hems or made to cascade down the length of the garments to allow full movement in every step. We don't know about you, but we're totally doing Boomerang OOTDs in fringe ensembles!
3. Pastels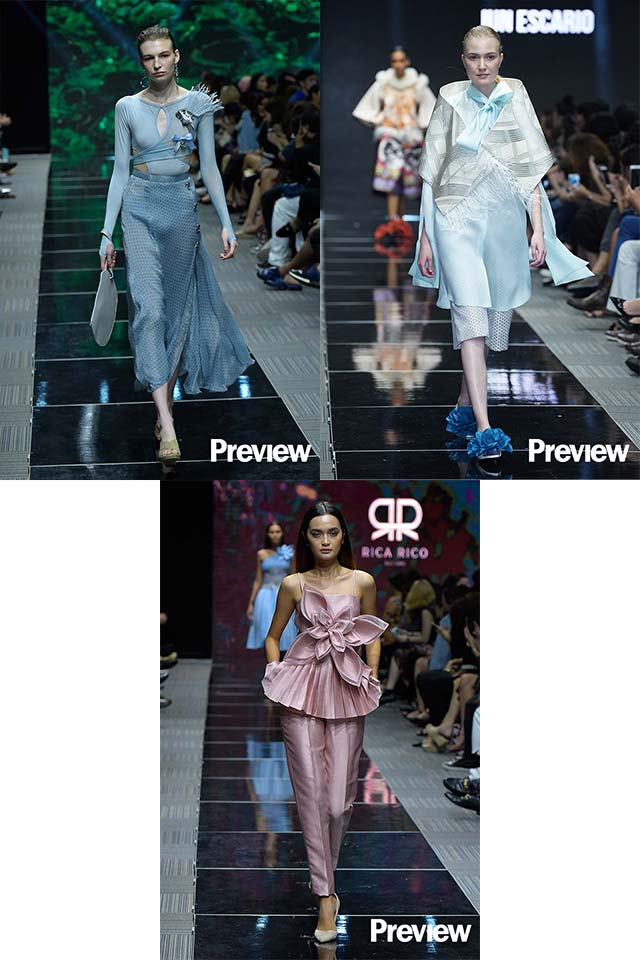 IMAGE Andrew Co and Ryan Ong
Chris Diaz, Jun Escario, Rica Rico
Muted, mellow, and calming to the eyes, we see pastels ruling this season. But while washed out pastels are en vogue now, that doesn't mean you have to forego your bold hues. In fact, you can wear them both to complement each other and bring depth to your look. Who's to say pastels are made just for spring, right?
4. Red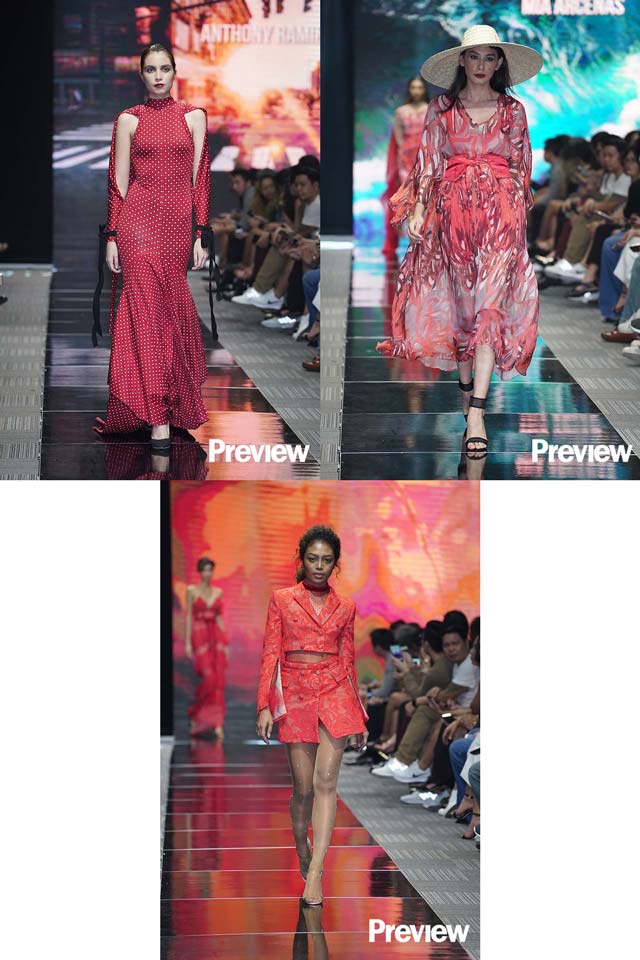 ADVERTISEMENT - CONTINUE READING BELOW
IMAGE Ryan Ong
Anthony Ramirez, Mia Arcenas, Rob Ortega
The fiery power color isn't going to fade out just yet. But it comes no longer just in plain hues. It's taken things up a notch by coming in printed iterations that make the color even more luxurious and trendy.
5. Ruffles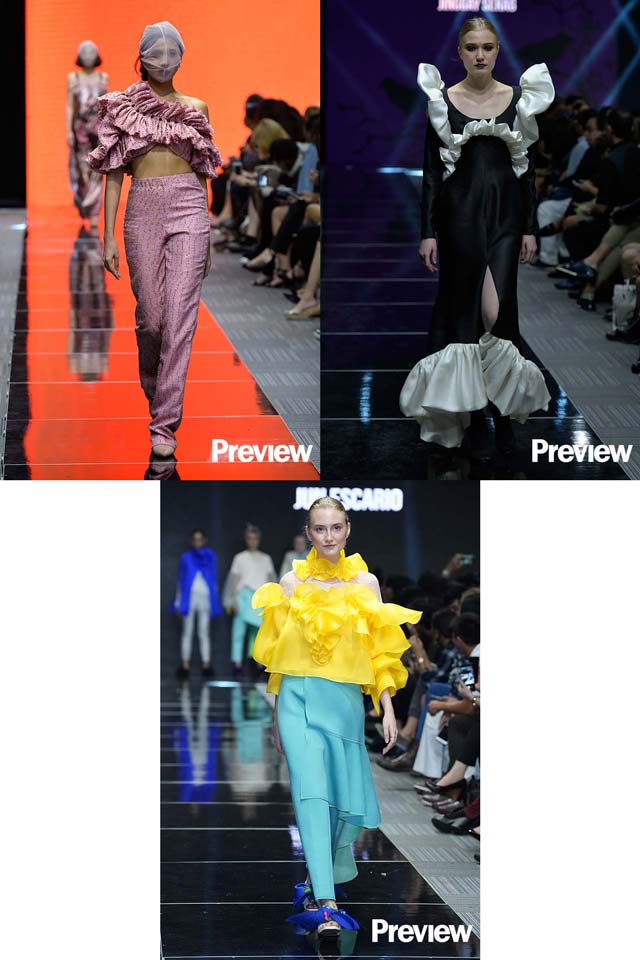 IMAGE Andrew Co and Ryan Ong
Daryl Maat, Jinggay Serag, Jun Escario
Ruffles and frills are not meant to be worn half-heartedly this season. Go for head-turning flounces to make any outfit look far from ordinary.
6. Sheer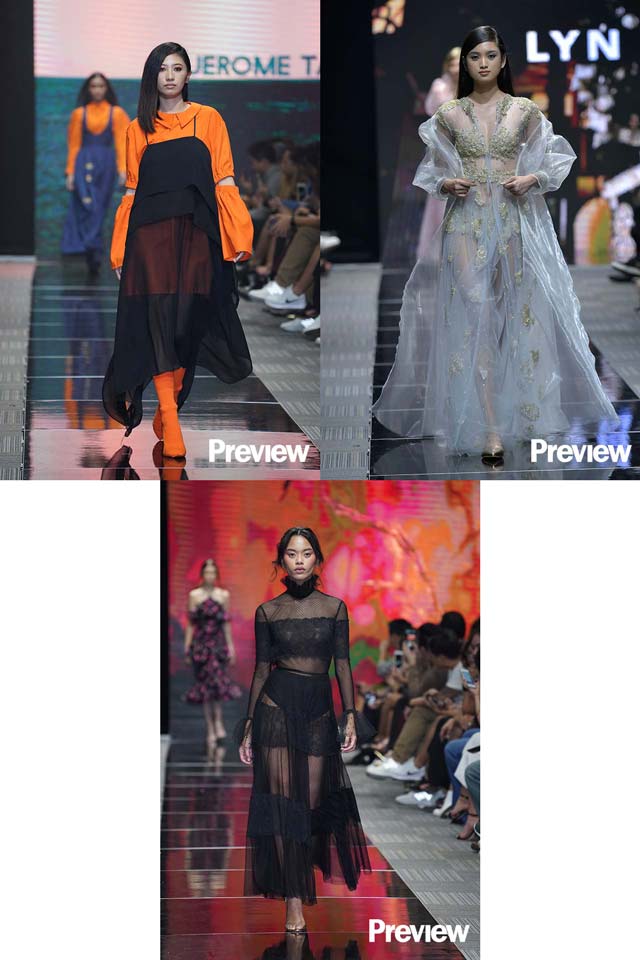 IMAGE Andrew Co and Ryan Ong
Jerome Tayao for Air Asia, Lyn Galo, Rob Ortega
ADVERTISEMENT - CONTINUE READING BELOW
Sheer maintains to be a favorite among designers this season. The airy and light vibe it offers lets you get away with baring skin without overdoing it. Plus, sheer proves to be a chameleon. Whether you're aiming for a feminine look or a street style star vibe, there's something sheer out there that's meant for your aesthetic.