We'll probably never really know how California-based artist Vin Servillon (@findvin on Instagram) felt when Marc Jacobs tweeted him, but obviously, happy would be an understatement.
Vin traded his life in advertising to be a self-taught painter with a lot of passion and equal love for fashion. His unconventional portraits show that there is more to "beauty" than the word pretty. Below, we talk to Vin about his journey as an artist and what makes something beautiful.
ADVERTISEMENT - CONTINUE READING BELOW
How did you get started with your art?
"Growing up, I was occasionally castigated for painting on the walls of the house, spilling paint and scribbling with chalk on the hardwood floors. Somehow I found comfort in the chaos. Needless to say, I was a pretty weird kid. That was the start of my love affair with art. I used to paint to pass the time, to get over the occasional bouts of the blues during gloomy winter days. How I professionally became an artist was purely unintentional. I am self-taught."
How long have you been doing your fashion illustrations/paintings?
"I remember (and I still talk about this painting to this day) my first ever painting was of a giraffe. I used yellow and brown markers on notebook paper. I thought it was the coolest thing I have drawn in my life. I was probably around eight at the time. Before I started posting my paintings on Instagram (@findvin), I used to keep them all under my bed. I was very bashful about showing my paintings to anyone. I still get messages from friends saying stuff like "I didn't know you could paint! Why didn't you tell me?" Thing is, I still don't think I can paint. Is that weird? I draw/paint to reconnect to that childhood memory, to that eight-year-old boy who drew the giraffe.
CONTINUE READING BELOW
Recommended Videos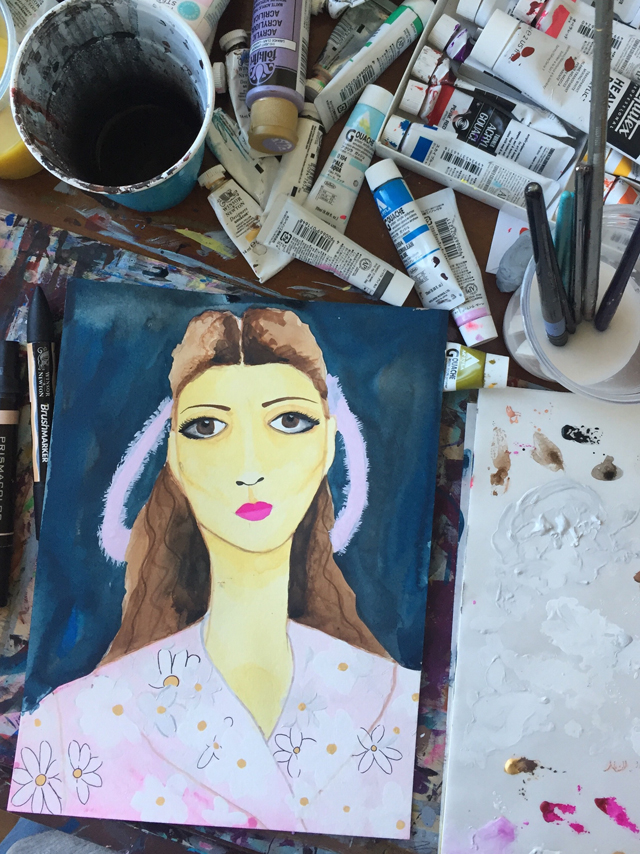 "So to answer your question, I have been painting almost my whole life but really not paying much attention to it. Fashion Illustration is pretty recent, probably less than a year. Though to me, they are paintings and portraits more than 'illustrations.' Instagram has really helped me get my work out there. I remember starting with just a few random followers, and it has increased immensely since I posted my first painting on Instagram."
ADVERTISEMENT - CONTINUE READING BELOW
Have you always been interested in fashion? What about it fascinates you?
"To be completely honest, not always. I favor style more than fashion. I think the fashion industry is full of the most creative minds on earth, which is incredibly enticing. I am in awe of all of them, and draw inspiration from what they create. But as the great Yves Saint Laurent said, 'Fashion fades, style is eternal.' And I could not agree more."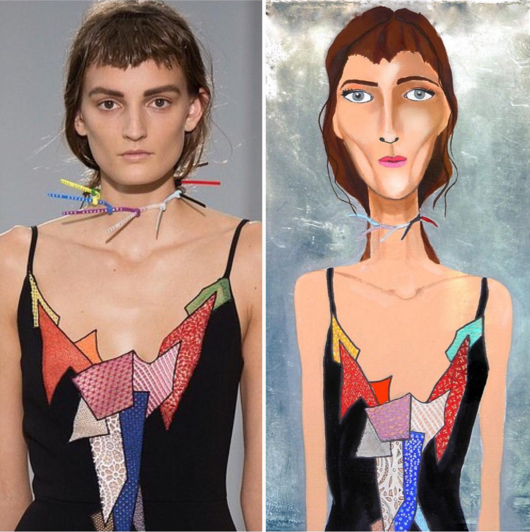 ADVERTISEMENT - CONTINUE READING BELOW
Vin's version of one of Christopher Kane's S/S 2016 looks.
What kind of materials do you use in your work?
"I mostly go by 'feel,' if that makes sense. Though lately, I have been really into ink and acrylic gouache. I have used chalk, pastels, and everything in between. I actually use real blush on my paintings. My mother left a cream blush in my house some time ago, and one day, I decided to use it to give some cheek color to my painting."
How long does it take you to finish one work?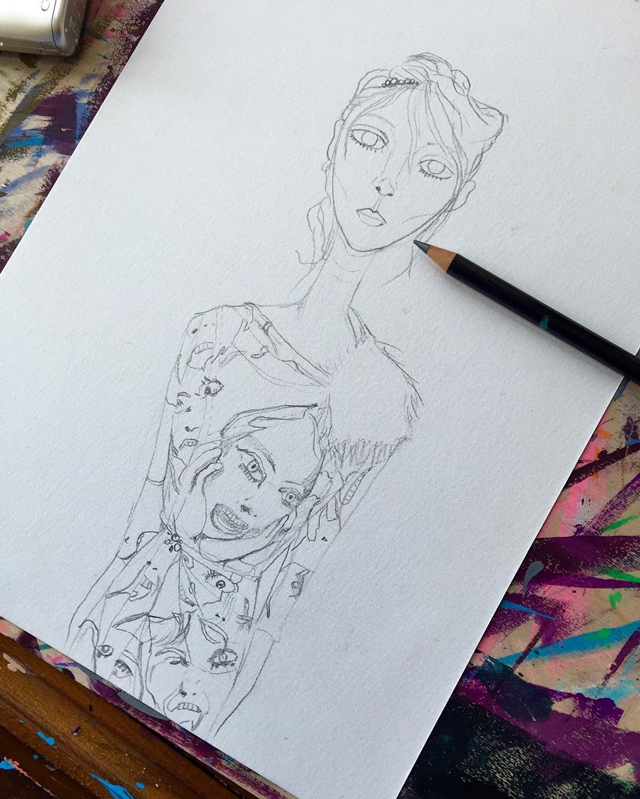 ADVERTISEMENT - CONTINUE READING BELOW
Vin's sketch for one of his Marc Jacobs paintings.
"A painting takes me from anywhere between four hours to a whole day or maybe even two days. As my work gets bigger and bigger on paper, it takes longer, naturally. I can't relax or sleep soundly until it's done."
What inspired this style of yours?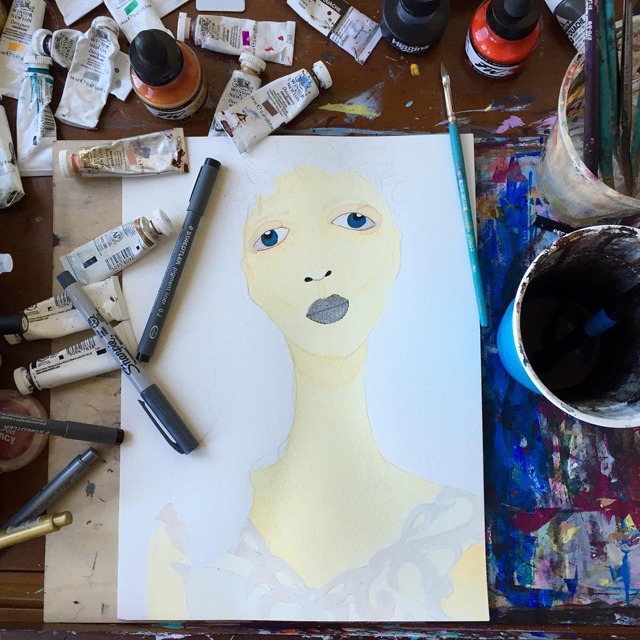 ADVERTISEMENT - CONTINUE READING BELOW
Not your typical beauty shot, the faces of Vin's girls are always engaging.
"I think I am more attracted to what is unconventionally beautiful. I think perfection is monotonous. Perfection is just an idea really I think and can never be achieved. We all have different versions of what is 'perfect' and what is 'beauty' and my style of art roots from that and the child-like curiosity that I'd like to think I still have."
Read more about Vin in our October issue here.
Hey, Preview readers! Follow us on Facebook, Instagram, YouTube, Tiktok, and Twitter to stay up to speed on all things trendy and creative. We'll curate the most stylish feed for you!