Maxi skirts are queen in terms of versatility, being the longest skirt of the mini-midi-maxi roster. Make no mistake, it's mini and midi counterparts definitely make their case, but these typically ankle-grazing to floor length bottoms scream "go with the flow," and we're right there there with 'em.
Thinking of making a statement? Check out these looks to show you why the maxi is a tried and tested skirt for all seasons, especially this summer.
Playful & Pleated
Despite having the same vibe, the pleated skirt is nothing like its close cousin the tiered peasant skirt. Pleated skirts are head-turners in themselves, and can scale a look up or down on any occasion. Wider pleats with heavier fabrics are great for dressier and more sophisticated looks, while thinner pleats with lighter, more flowy fabrics build on a more modern silhouette.
Pro Tip: Partner your pleats with your favorite heels to take the look to the next level.
ADVERTISEMENT - CONTINUE READING BELOW
Stock up on your own with a few options, below!
1. This white maxi skirt is a great combination of drama and playful, with loose pleats and a high-slit. Pair this statement piece with a plain polo and pumps to match, or take it down a notch with simple spaghetti straps and your favorite flats to boot.
CONTINUE READING BELOW
Recommended Videos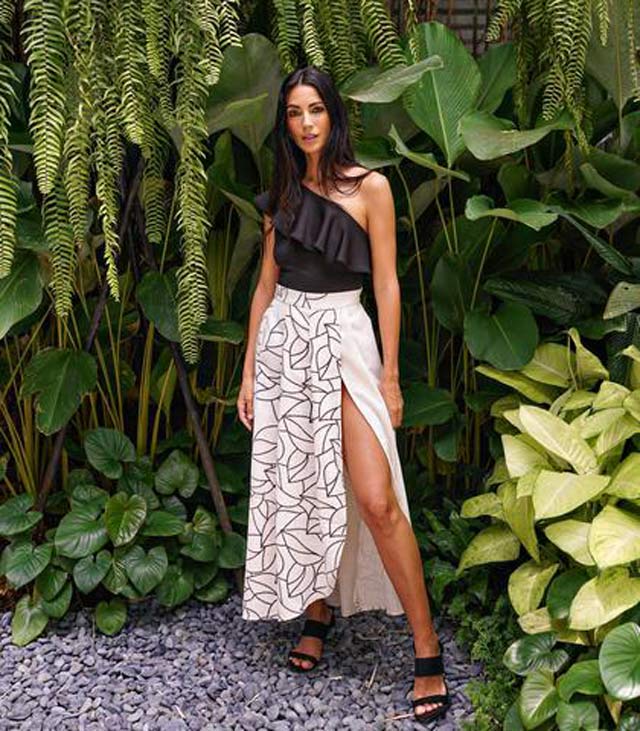 ADVERTISEMENT - CONTINUE READING BELOW
Haras pleated skirt, P2790, SEEK THE UNIQ, seektheuniq.com
2. Simple screams smart. Try out a more structured ensemble and wear this sea green pleated skirt with a blazer or button down to the office, teaming the skirt's asymmetric hem with kitten heels or pumps.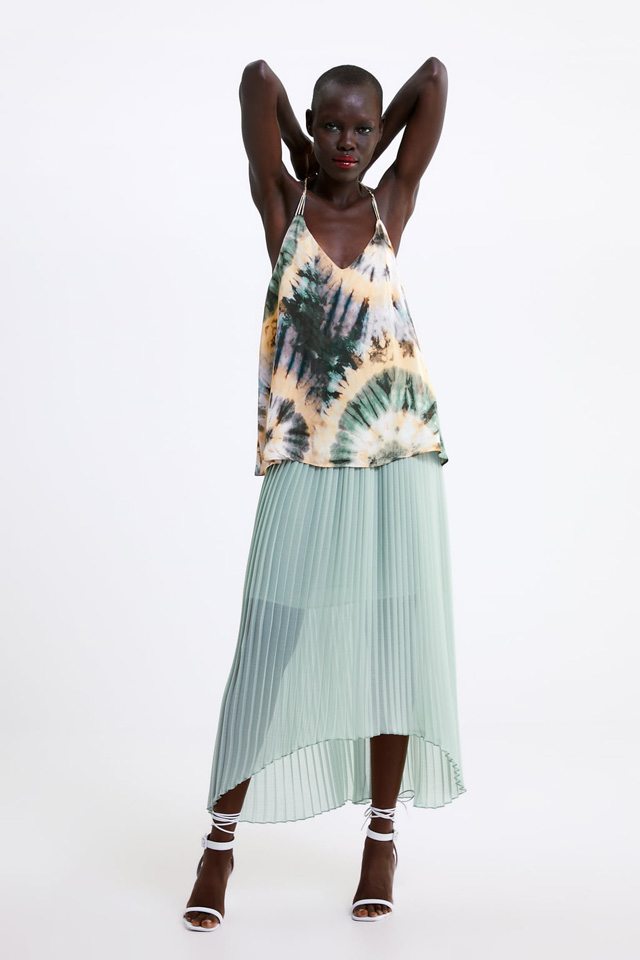 Pleated skirt, P2495, ZARA, SM Megamall
ADVERTISEMENT - CONTINUE READING BELOW
Boho Chic
Tap into your inner free spirit and throwback to the sixties by going boho. Tie-die prints, eclectic clothing, loose fabric, and layering characterized the fashion trend and represented a lifestyle. Infuse a touch of Bohemian into your style with floral or paisley prints, and add the extra oomph with a braided headband or flower crown.
Start shopping for them, below!
1. Thinking of going full boho? Zara's got just the thing with this flowy A-line skirt with contrasting belt detailing and bead appliqués. Wear this maxi-skirt with a loose tank, low-cut ankle boots and accessorize with layered bracelets, rings, or both!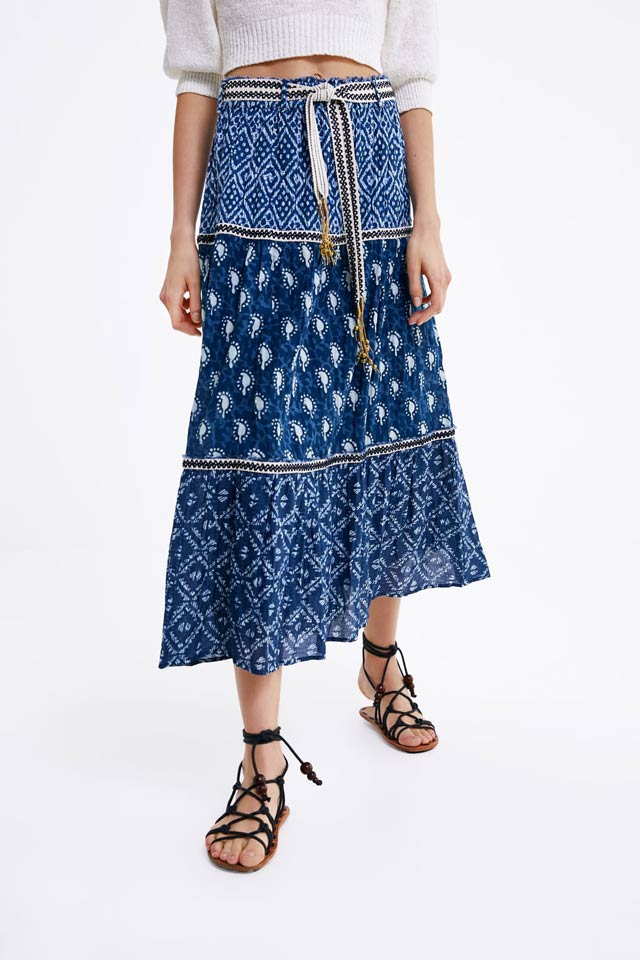 ADVERTISEMENT - CONTINUE READING BELOW
Printed skirt with belt, P3295, ZARA, SM Megamall
2. This maxi pulls out all the stops with its intricate print design, frilly detailing, and asymmetric hemline. Take a cue from us and team this dusty rose boho print maxi with a neutral top, and accessorize with beaded earrings and your favorite statement tote.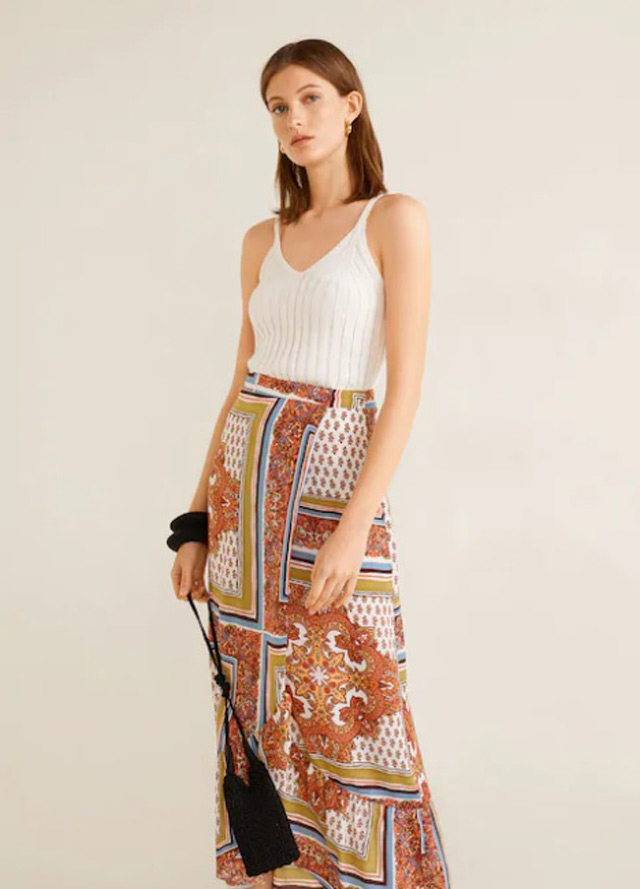 ADVERTISEMENT - CONTINUE READING BELOW
Printed long skirt, P2995, MANGO, SM Megamall
3. Pretty prints are what this maxi is all about, and you'll love the subtle button-down detailing overlain against the flowy China blue fabric. Take it up a notch and achieve unfettered hippie-chic by wearing this skirt with a solid color crop or tie top, while layering necklaces and building on bracelets or rings.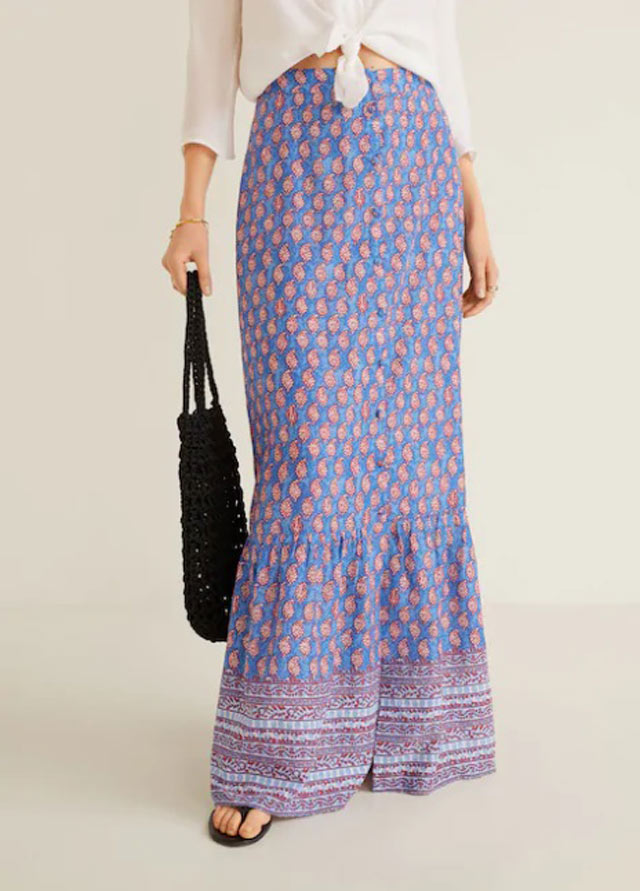 ADVERTISEMENT - CONTINUE READING BELOW
Flowy long skirt, P2295, MANGO, SM Megamall
Straight up structured
Despite popular belief, maxi skirts aren't synonymous to casual. Take a more structured approach in putting together your ensemble by thinking straight lines that define and accentuate the waist, keeping in mind a neutral or monochrome to mix into your wardrobe.
Figure out which version piques your fancy, below!
1. This cotton-fabric maxi is anything but standard with its straight design and belted accent cinching the waist. And yes, it does have pockets. Wear this neutral straight-cut maxi with a collared blouse and chunky heels for an office-appropriate look, or dress it down with long sleeved crop top, and you're good to go.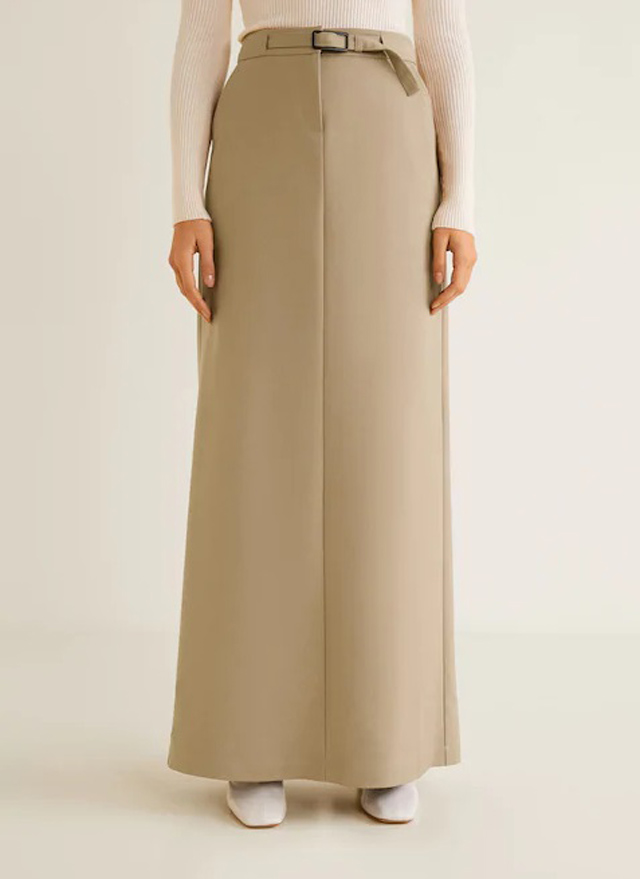 ADVERTISEMENT - CONTINUE READING BELOW
Belt long skirt, P1695, MANGO, SM Megamall
2. Mango's got comfort and chic covered with this cotton and knit blend flared button-down maxi. Consider shaking things up and make sure your ootd is a hit by pairing this maxi skirt with a bright tie top and feathered slides.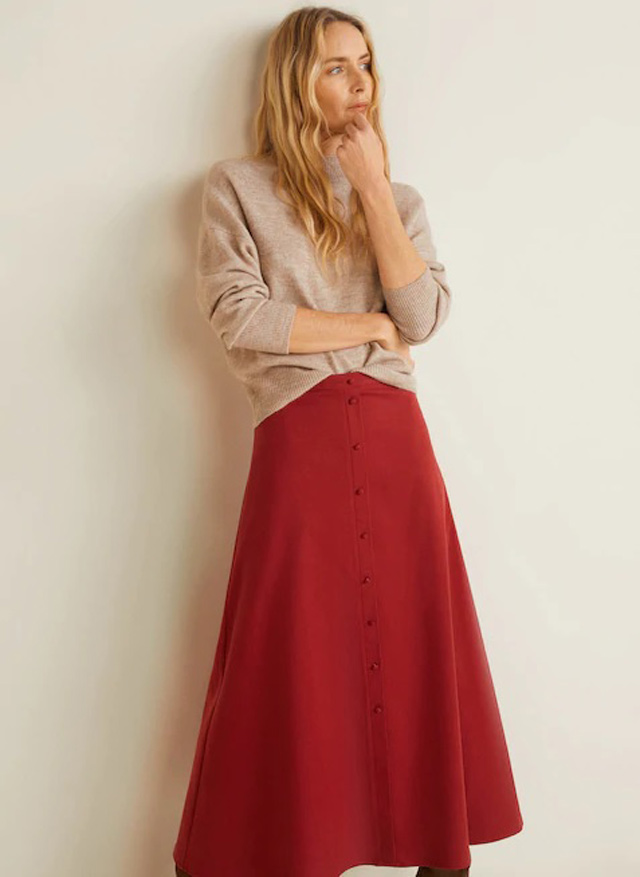 ADVERTISEMENT - CONTINUE READING BELOW
Button long skirt, p1295, MANGO, SM Megamall
3. If you're not one for brighter prints or colors but want to go with a bolder look, then this maxi might just be the thing for you. This off-white button down maxi-skirt by Undo is slitted on both sides, and the best part is it's made of Rami Linen to keep your skin cool during the sticky summer months. Cop this linen maxi and pair it with a loose separate and neutral sandals. Don't forget to add some pizzaz by accessorizing with a colorful or patterned clutch.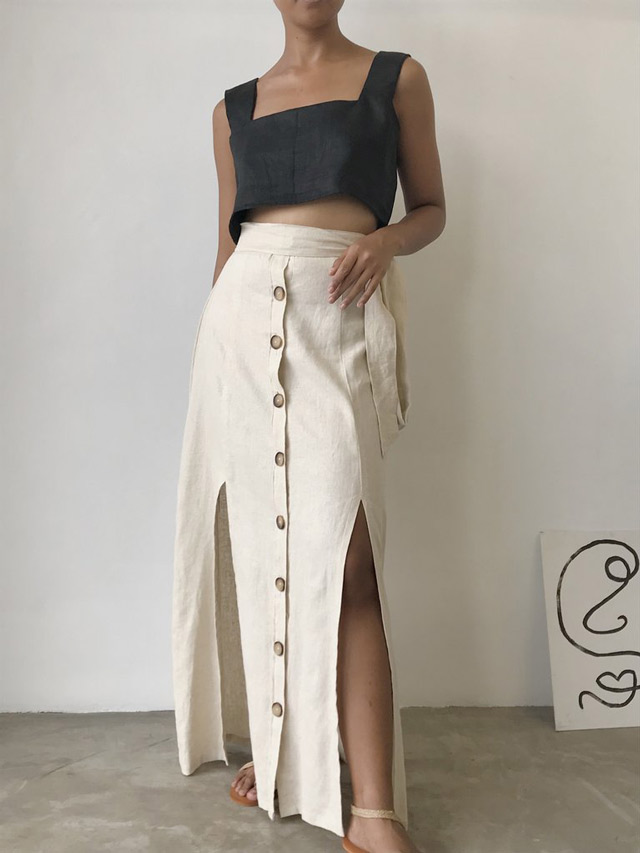 ADVERTISEMENT - CONTINUE READING BELOW
Eliana skirt, P2495, UNDO, undoclothing.com
Prints, please!
The tables have definitely turned, reversing the trend of ever shrinking and shortening hemlines that began in the 2000s. Yes, hemlines are hitting the ground once again. Revamp your wardrobe with these vibrant printed, vintage-like pieces that last throughout the seasons—guaranteed to make sure you're the talk to the town at your next social.
1. Cop this elegant piece from the LMxKamiseta (Love Marie x Kamiseta) collection. The collection features colorful prints from the art arsenal of Heart Evangelista and is a tasteful marriage of art and fashion in wearable chic. Team these pretty pleats with a preppy polo, a solid color off-shoulder.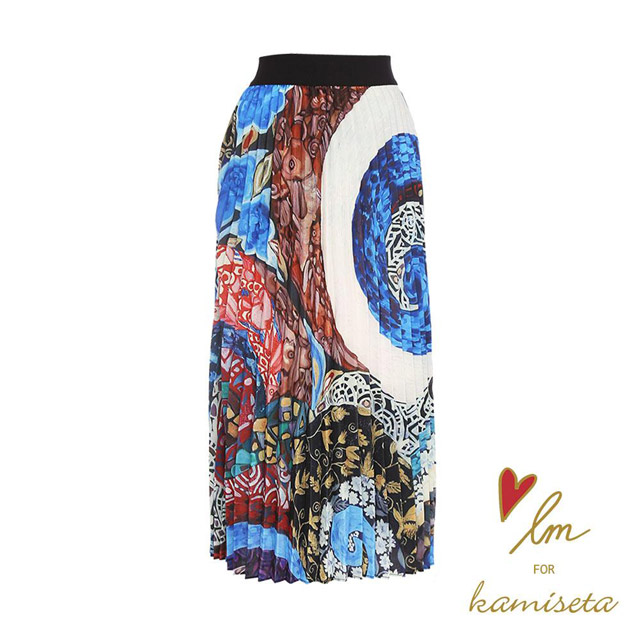 ADVERTISEMENT - CONTINUE READING BELOW
LMK Mesmerize pleated skirt, P2799, KAMISETA, Glorietta 4
2. This cool leaf-green printed maxi will have you longing for the beach, and even more, to complete your collection of resort wear while you're at it. Keep things free flowing, easy and breezy by wearing this patterned maxi over your favorite swimmie or bodysuit, a rattan bag, and your favorite pair of wedges or espadrilles.

3. We're loving the bold and bright hues of yellow and rust that put a spin on the traditional tie-dye print. Tie the look together with a loose white tee and a long statement necklace, add a pair of strappy sandals, et voilà!
ADVERTISEMENT - CONTINUE READING BELOW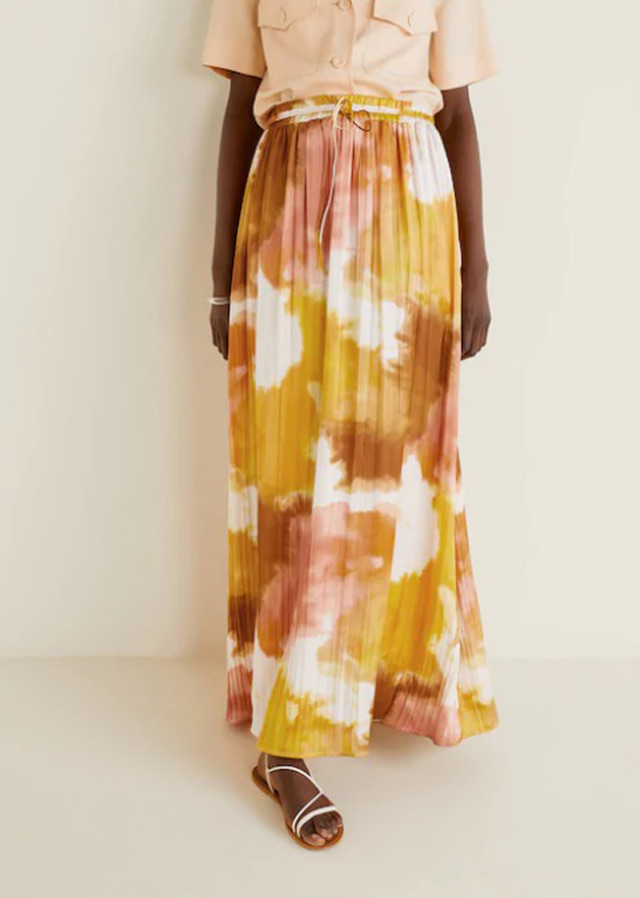 Tie-dye pleated skirt, P4995, MANGO, SM Megamall
Wrap around
Most flirty of all the maxi skirts are the wrap arounds, varying in style and length but combining the form fitting elements of a pencil skirt, with an option to adjust the slit depending on how you tie the skirt . Whether you're wearing this maxi to the office or going for after-work cocktails, this style maxi comes highly recommended with short heels.
ADVERTISEMENT - CONTINUE READING BELOW
Shop for your own, below and take these wrap arounds for a spin!
1. This ruffled wrap skirt is positively regal in crisp white—easy on the eyes, lending the piece a light, laidback look to compliment its frilly hemline. Pair this wrap around maxi with a form-fitting halter top, or matching off-shoulder and a bold lip, and you're golden.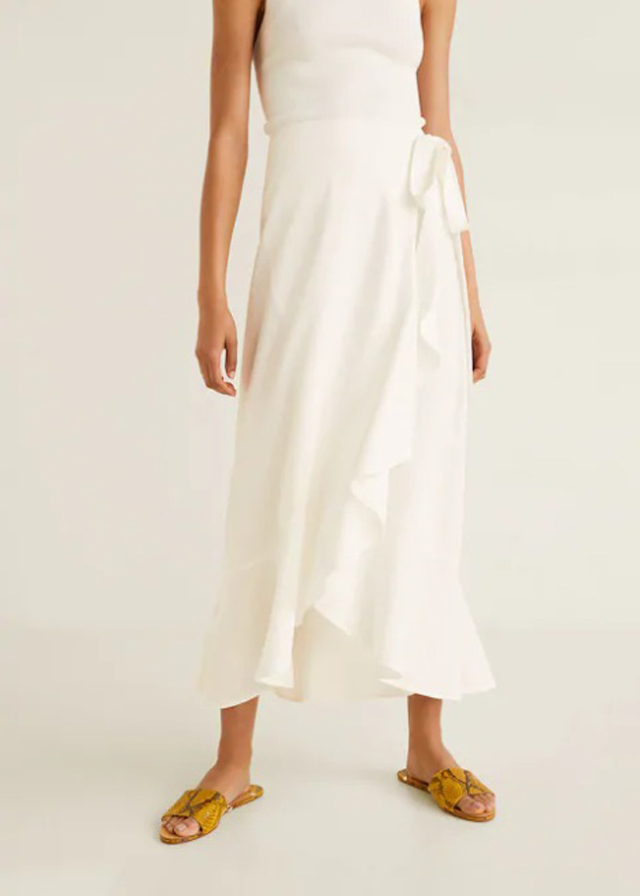 ADVERTISEMENT - CONTINUE READING BELOW
Ruffled wrap skirt, P3995, MANGO, SM Megamall

2. Dark hues on flowy fabric makes for versatility when going for a day-to-night outfit. This is exactly what the Dex skirt does, chic with it's playfully sheared hemline. Give your OOTD an edge by highlighting the statement maxi with a crisp collared blouse, or dress down and pair it with a solid color tube-top, and short heeled sandals or mules to boot.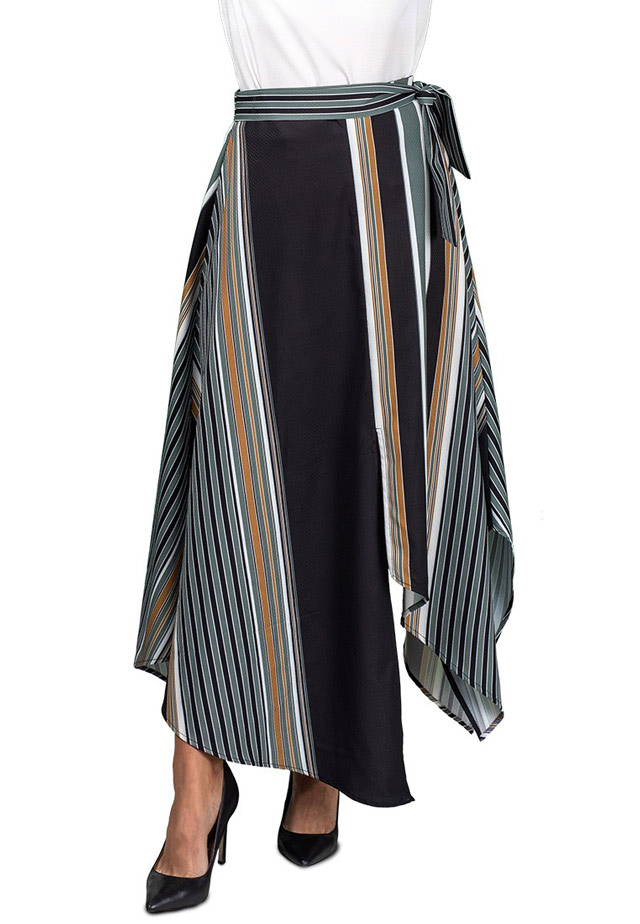 ADVERTISEMENT - CONTINUE READING BELOW

3. Just as the color alludes, this wrap-skirt maxi from Kamiseta is the epitome of peaceful. Contrast the cool colors with a form fitting long-sleeved top or turtleneck and finish the look with ankle strap heels, and accessorize with a statement clutch.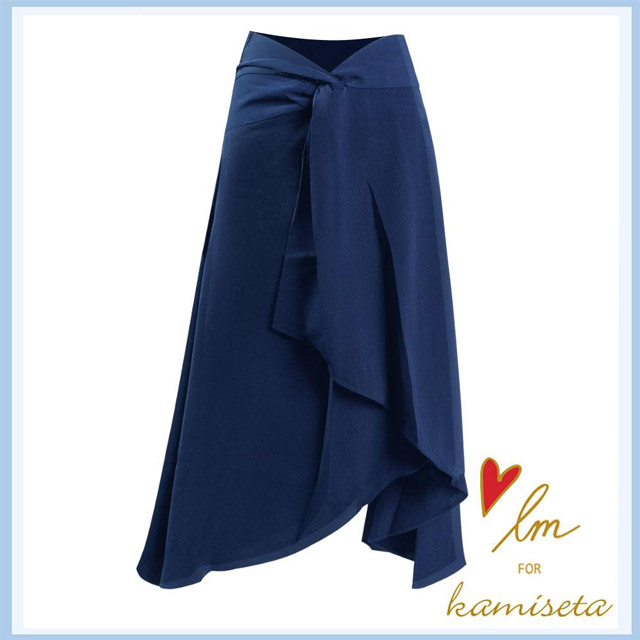 ADVERTISEMENT - CONTINUE READING BELOW
W-LMK-PEACEFUL-NB, P2299, KAMISETA, Glorietta 4
Shop these maxi skirts and and fall in love with length while conquering the streets all flowy, fine and feminine.
Top Articles from Preview.ph
>>