Finding the right bra to wear underneath slinky or backless clothing is a struggle, and hubadera girls can attest to this. With an ordinary bra, you'll still have to worry about the straps showing; but without straps, you'll fear that the bra won't give you the right support. We hear you, ladies! We tried out the Marks & Spencer Stick On Adhesive Backless Bra, designed to be comfortably invisible under your hubadera outfits. Here's what we found out:
1. What were your first impressions on the bra?
Steph: I got the nude sticky bra, which complemented my skin tone since I'm fair-skinned. I also noticed its unique wiring design that allows strategic coverage if you're wearing a top with deep plunging neckline.
Nikki: The first thing that caught my eye was the shape—it has an underwire and looked like a normal molded strapless bra. It looked promising.
2. Have you worn any similar items? How do they compare?
ADVERTISEMENT - CONTINUE READING BELOW
S: To me, what makes a nice strapless bra is when you forget you're even wearing one. And it's something that the Marks & Spencer sticky bra has achieved. I have worn a silicone stick-on bra before, which is basically stuck across the whole breast so you kind of feel the whole thing on your chest; whereas the M&S one is just stuck onto the sides of your torso making it feel quite weightless when worn.
N: I've worn stick-on bras that look just like the normal bras, but this was the first time I've tried one with stickers on the side. The Marks & Spencer one is lightweight compared to the typical silicone bra, which adds about a cup size and I'm not exactly a fan of that.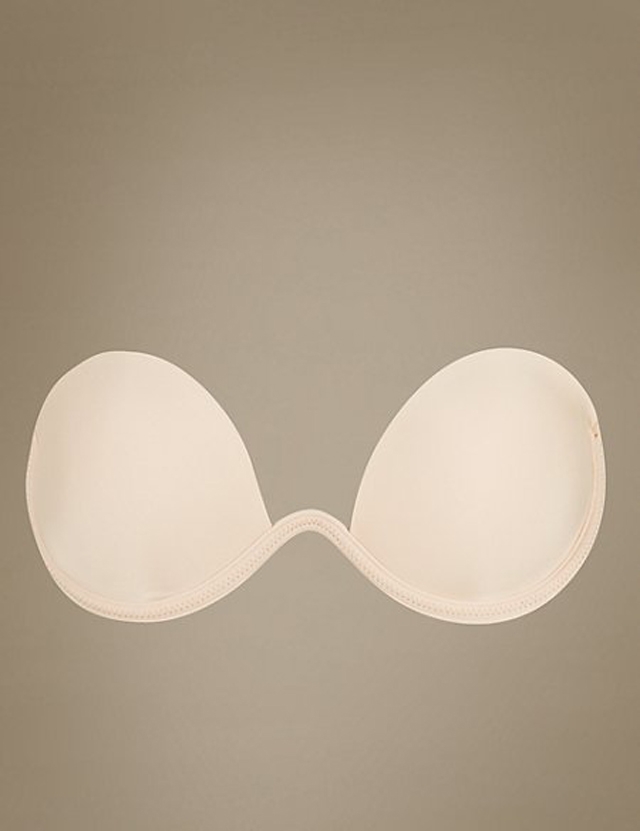 CONTINUE READING BELOW
Recommended Videos
IMAGE Marks & Spencer
Stick On Adhesive Backless Bra, P2150, MARKS & SPENCER, Greenbelt 5
3. How long did you wear it and how did it feel during and after?
S: I'm usually in the office the whole day or outside attending events or doing shoots. The bra feels light when worn and not at all restricting. However, when you apply a fresh pad of the sticky tapes that come with the bra, it can be hard to remove at the end of the day.
N: The first time I put it on, it took me a few minutes to decide on how high or low I should stick the flaps on. I had to peel them off about four times to reposition but that didn't seem to lessen their stickiness. However, I figured why it had taken me several tries: The bra didn't fit me well. There was a bit of a gap between the bra and my breasts but unfortunately, it was already smallest size available. Because of this, the level of support didn't fill me with confidence. I wore a backless linen top over it and at some point, depending on my position, the gap would become visible. The bra endured a full day in the office (which was air conditioned) though.
ADVERTISEMENT - CONTINUE READING BELOW
I wore it again, this time spending parts of my day outdoors. When it started feeling balmy, I felt like it was going to fall off. Perhaps it was purely paranoia but I had this constant desire to press on the flaps to make sure they were holding on. It never fell off as the Marks & Spencer stick-on bra has a pretty good staying power.
4. What are the type of looks and/or specific pieces that you think you can only pull off with the help of this bra?
S: To be honest, you can wear almost everything! I don't usually wear skin-baring clothes but I do wear a lot of sleeveless tops. It made my life easier since I don't have to worry about my bra straps showing when I move. I also found myself wearing the bra even with sleeved tops—that's how much I liked it!
ADVERTISEMENT - CONTINUE READING BELOW
N: I would wear this bra not only with backless tops or dresses but also with sheer tops, which I have a lot of. It would sit well with plunging necklines as well, thanks to the bra's shape and wiring design.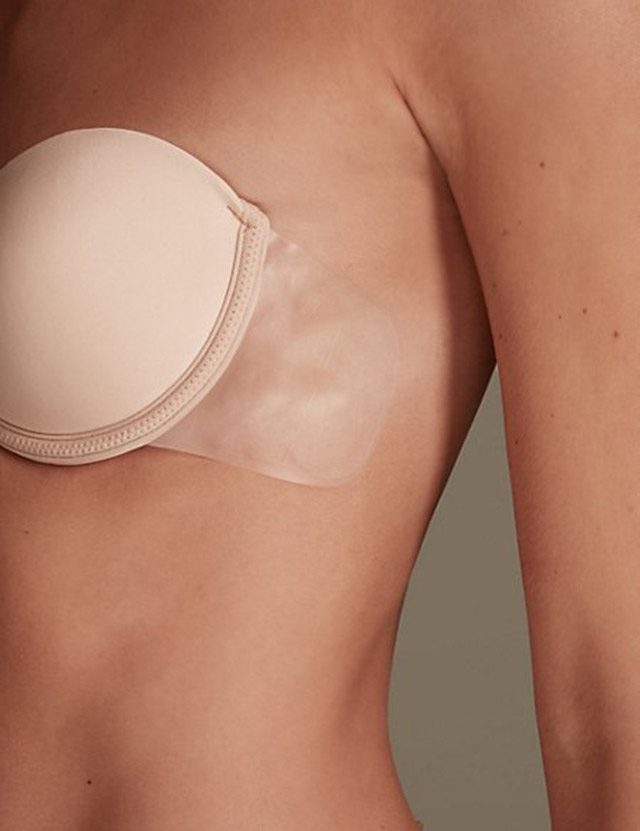 IMAGE Marks & Spencer
5. How was the experience given that we are at the peak of summer?
ADVERTISEMENT - CONTINUE READING BELOW
S: Oh, it was heaven-sent! Comparing it with the silicone bra, the M&S one is airy and ultra comfortable. Boob sweat is real and that's really difficult to manage if you're wearing silicone stuck to your breasts.
N: It was comfortable in the sense that you don't feel like you're wearing a bra—which I would much prefer in this heat. But as with any adhesive bra out there, I think the less you sweat, the better.
6. What did you like best about the bra?
S: I liked that it's built both for aesthetic and purpose. It looks nice and it offers ample support.
N: I liked its light fabric material, plus it comes with replaceable sticky strips. That means more wears.
7. What were the challenges in wearing it?
S: Like what I mentioned earlier, I found the first removal of the sticky side difficult, but it becomes manageable over time. The bra comes with only two pairs of sticky tape, which I thought was going to be a problem if I wanted to keep wearing the bra. But as it turns out, the tape is actually long-lasting! I used one pair for almost one and a half weeks straight.
ADVERTISEMENT - CONTINUE READING BELOW
N: I wish Marks & Spencer had it in my size.
8. How was the overall experience?
S: It was great! I loved the bra and it made me rethink strapless bras entirely. It was easy to use, felt comfortable, and undetectable underneath risqué clothes. I'd definitely wear the bra again. Perhaps even buy one in black just so I could use it under a sheer top without worrying about bulky hooks potentially ruining my top.
N: It would've been entirely pleasant save for the gap. Fit, after all, is the most important consideration when buying a bra. The staying power of the Marks & Spencer stick-on bra is commendable; however, with the heat we're experiencing this summer, I would recommend staying indoors if you're wearing this bra—or any adhesive backless bra for that matter.
Related Stories from Preview.ph
Hey, Preview readers! Follow us on Facebook, Instagram, YouTube, Tiktok, and Twitter to stay up to speed on all things trendy and creative. We'll curate the most stylish feed for you!