There are two things that can make or break a wedding: the gown and the catering menu. Whenever we find ourselves at a wedding, the first thing we gawk at is the bride's dress, and the thing we remember the most after leaving is whether or not the food served at the reception was good. It's really important for brides-to-be to pay attention to these two things, but with a busy schedule, it could be tricky.
In that regard, Bizu Catering Studio has heard our cries of help. They brought forth Taste By Design, a collaboration with Manila's top bridal designers, to help you put together your dream wedding. And to kick things off, Bizu Catering Studio hosted a sumptuous dinner with Mark Bumgarner, a Filipino designer known for his elaborate ball gowns with a modern touch. In an interview with Preview, he revealed to us all the deets on his latest bridal collection.
ADVERTISEMENT - CONTINUE READING BELOW
CONTINUE READING BELOW
Recommended Videos
Let's talk about your new bridal collection. Can you tell us more about the designs and the creative process?
"For this collection, basically it's really a wide range of ideas because I wanted to show diversity, that I don't just do one style, because there are so many different types of brides out there. It's not necessarily 'oh, this designer can only do this'. No, because with bridal it's really a one-on-one experience; it's really a collaboration [between] the bride and the designer. I want to show them that I can work with different types of brides. I think this collection is just a wide variety of options for different brides. For the process, it took us like five months to do this. We're still not done."
ADVERTISEMENT - CONTINUE READING BELOW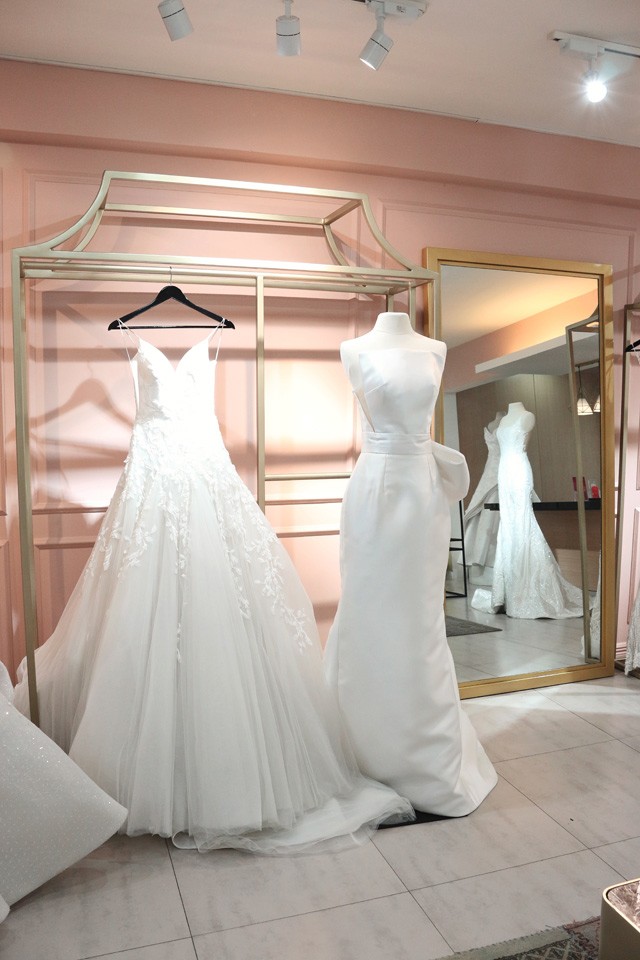 IMAGE Courtesy of Bizu
What inspired you for this set?
"It's really very different. The inspiration comes from anywhere, but I'd like to get real. I really start from what material I'm going to use first, and then I look for a source of inspiration, so sometimes I'll come find it when I'm traveling or even when I'm just here at the office. So it really comes from anywhere."
ADVERTISEMENT - CONTINUE READING BELOW
How is this different from your other previous collections of evening wear?
"Well, for my evening wear collection, I have a process talaga. For example, I do my fabrication, I have my color story, I have different silhouettes or techniques that I want to showcase. With bridal, you can't do a color story because, I mean, it's very seldom that you have a bride [who would prefer not to] wear white. With bridal, it's kind of harder to go a little more out there. I'd like to think that, whenever I have brides come here or set an appointment with me, they're confident enough [to wear] something modern because they can't go to me and want something traditional."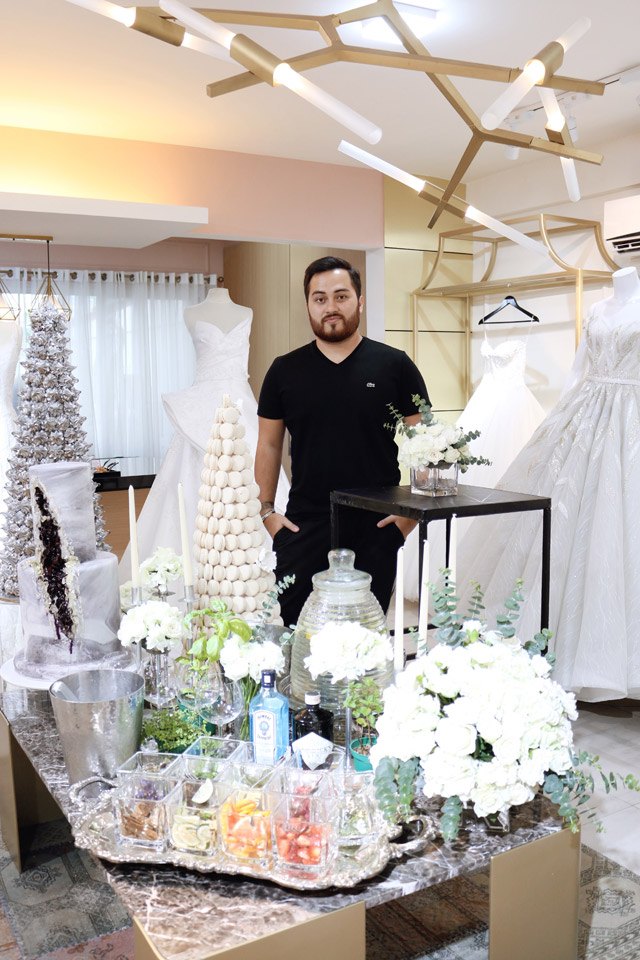 ADVERTISEMENT - CONTINUE READING BELOW
IMAGE Courtesy of Bizu
Can you tell us about your favorite piece in this collection?
"Oh, that's so hard! One of my favorite pieces is the ball gown with the geometric embroidery. I like that because I think that's super against the grain, because usually they like floral, they like super duper sparkly. [But with] the geometric pattern, the linear patterns of the embroidery, the volume of the ball gown, [those details] speak for themselves."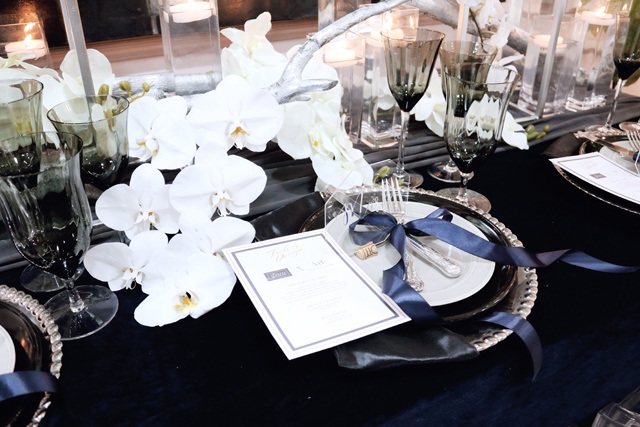 ADVERTISEMENT - CONTINUE READING BELOW
IMAGE Courtesy of Bizu
Tell us about this collaboration with Bizu.
"When Bizu approached me to do this, it was a no brainer. Bizu is a a well-known and respected brand in their field and they have super good food, so I said yes right away, on the spot. It's a good experience also for my brides—to come in, fit the gowns, and at the same time get a food tasting and also create their own menu with Bizu on the spot. It's very seldom you get to do that here, unless you go to a bridal fair, but that's not really private. So at least here it's very private. They get to fit the gowns, consult with me, and also talk to Bizu about what they want to do [with regards to the] menu. Because just like me, Bizu also personalizes the menu [based on] what the client wants. It's really making the brides' dreams come true, whether it's about the gown, the food, or the set-up."
ADVERTISEMENT - CONTINUE READING BELOW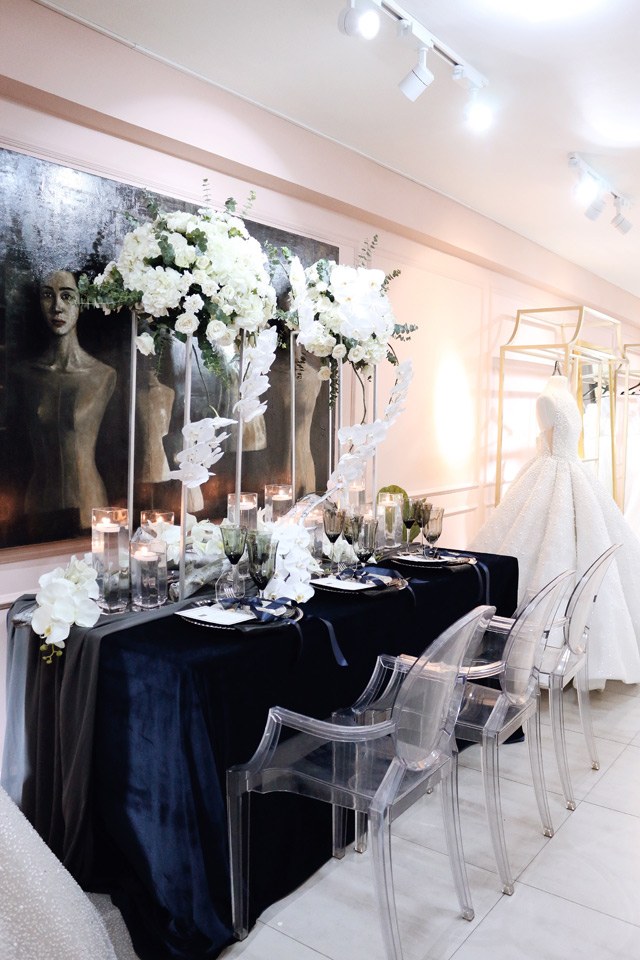 IMAGE Courtesy of Bizu
How is your design aesthetic reflected in this menu?
"Maybe more on the set-up 'cause, I mean, with the food and presentation, it goes with everything. They all look too pretty to eat, but with the menu I think they really prepared it based on their brand brief from me, stuff that I like. And they also came here and saw how my atelier looked, so they based it there; they used the brand and the space that we've created here as the inspiration for the set-up."
ADVERTISEMENT - CONTINUE READING BELOW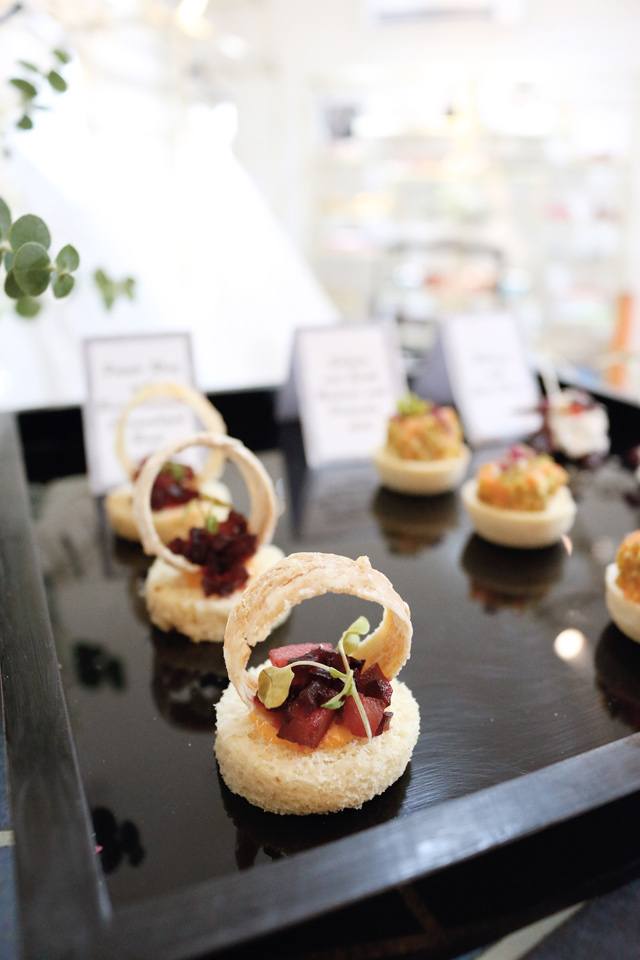 IMAGE Courtesy of Bizu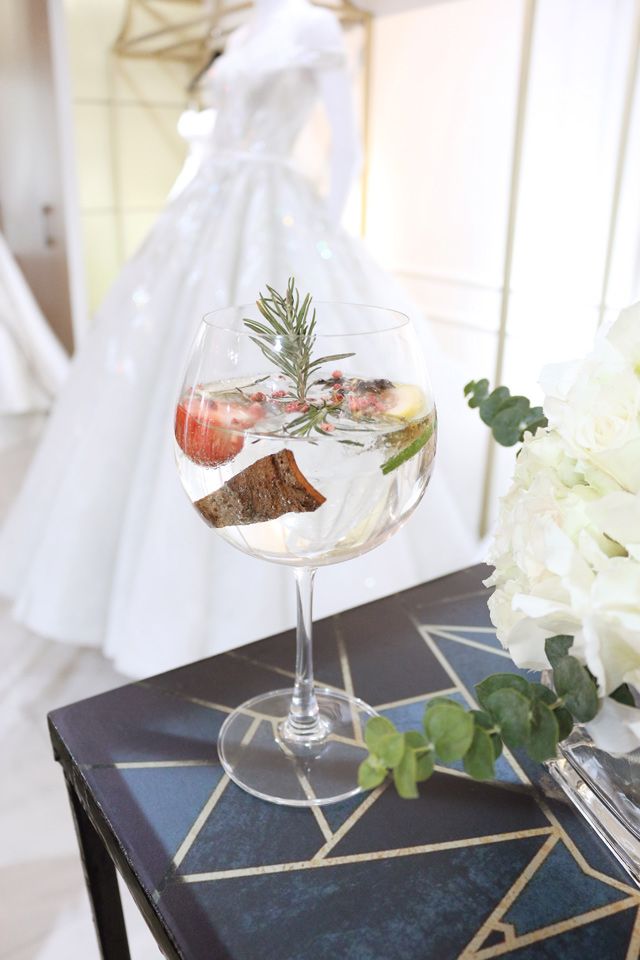 ADVERTISEMENT - CONTINUE READING BELOW
IMAGE Courtesy of Bizu
Have you ever taken inspiration from certain dishes before?
"Hmm… No, wala pa. I eat everything."
What advice can you give brides when it comes to selecting the perfect wedding dress?
"I always say go custom or go made-to-order because it's your wedding day. I think [opting for something] off-the-rack is cutting yourself short. Why buy something off the rack when you can create it from scratch and it'll be more special? But before you go to me, I suggest you go to the bridal salon and fit the gowns, so that you'll know if what you want or what you're dreaming of fits you or not. Or, you can find a silhouette that you like. You'll know what you like, you'll know what you don't like."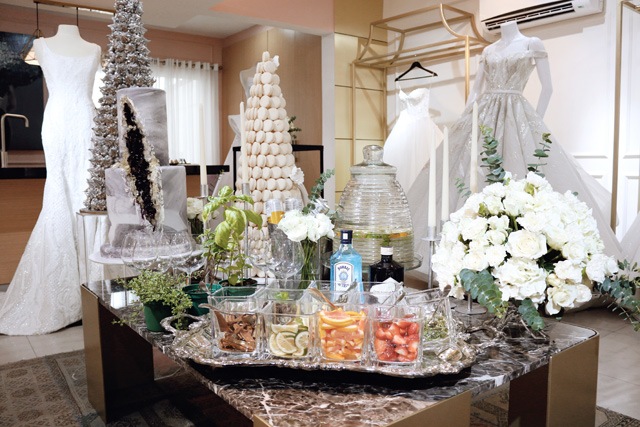 ADVERTISEMENT - CONTINUE READING BELOW
IMAGE Courtesy of Bizu
What can a bride expect in a Mark Bumgarner wedding dress?
"Well, one thing they can expect from me is, if they do get a gown from me, they'll look back 20 years from now and it's not going to look old or outdated. It's always timeless, so when they see their pictures, they won't realize how long ago it was. When they walk [down the aisle], the best validation is when you see the reaction of the crowd. When the sister or the mom come to a fitting, they cry."
Related Stories from Preview.ph
Hey, Preview readers! Follow us on Facebook, Instagram, YouTube, Tiktok, and Twitter to stay up to speed on all things trendy and creative. We'll curate the most stylish feed for you!