Catriona Gray's win as Miss Universe 2018 felt as if it was written in the stars. Her mother's dream, for one, seemed like a prophecy in the making. That, coupled with her hard work and with the help of her dream team, turned the said dream into a reality.
Related Stories from Preview.ph
Mak Tumang, a local designer from Pampanga, was a big instrument in Catriona's coronation as Miss Universe. The now-iconic clothes he made for the beauty queen gave her proper ammunition to stand out amongst the sea of beautiful candidates vying for the title. But Catriona was already well aware of Mak's talent and capability as a designer since the beginning; in fact, he gave him full reign over the designs. Below, in an exclusive interview with Preview, get to know more about the man behind Catriona's signature Miss Universe dresses.
ADVERTISEMENT - CONTINUE READING BELOW
How did you become a designer?
"It was actually by accident. In college, my course was actually theater design. But it was my friends from fashion design [course]—who were my orgmates in a theater group—who urged me to join the Fashion Design Competition way back in 2006."
How did you get into making clothes?
"I am very active in our church, and my interest in fashion can actually be traced back to my inclination in making vestments for the statues of saints. You can say that it was because of this [that] I have developed a well-trained eye for details."
CONTINUE READING BELOW
Recommended Videos
Have you always worked on gowns?
"It just developed through time. I had to find first my direction as a designer. I needed to figure out my aesthetic first because when I started doing editorial work for magazines, they would usually give me pegs and I would just do it. From this, I eventually saw and figured out what is 'me' as a designer, which is [all about] gowns that are romantic and elegant."
ADVERTISEMENT - CONTINUE READING BELOW
So what would you describe to be your signature design aesthetic? We noticed in your Universe collection that your designs are hinged on very Pinoy elements.
"My work is all about the details. And for this, when Cat asked me to do her gown, she only instructed me to do a red gown. There was no peg or inspiration. It was a challenge for me, and I even asked myself: "Saan ako huhugot?" Because if I use pegs from [gowns] from the Oscars or Hollywood, there's a risk of having a gown that looks like something else, something that's already been done. So I looked at our own. I drew inspiration from the Philippines—anything Filipino like our arts and culture. So [I decided that] the look I will form for Catriona will be unique and there will be a story per look; nothing will look similar to something else."
ADVERTISEMENT - CONTINUE READING BELOW
Could you walk us through the design process that you have undergone in creating these gowns for Catriona?
"Initially, I just sketched the seven gowns. We didn't think which of them will be used for any events. It just unfolded eventually and we ended up choosing the Lava or the Mayon gown as an ode to her hometown. But what I really intentionally chose for her is her homecoming outfit, the Sampaguita.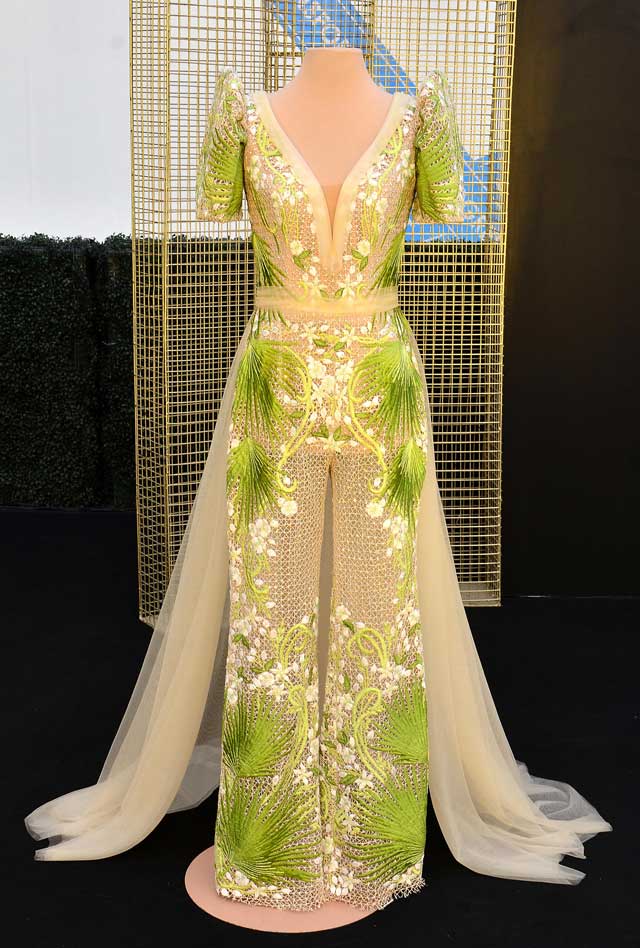 ADVERTISEMENT - CONTINUE READING BELOW
The Sampaguita
Related Stories from Preview.ph
Among the seven gowns, six of the concepts were from me. The other one, The Pearl of the Orient, was originally Cat's concept. Before it was named as such, its original color was red and gold and it was an option for the finals. The Adarna gown was also originally red."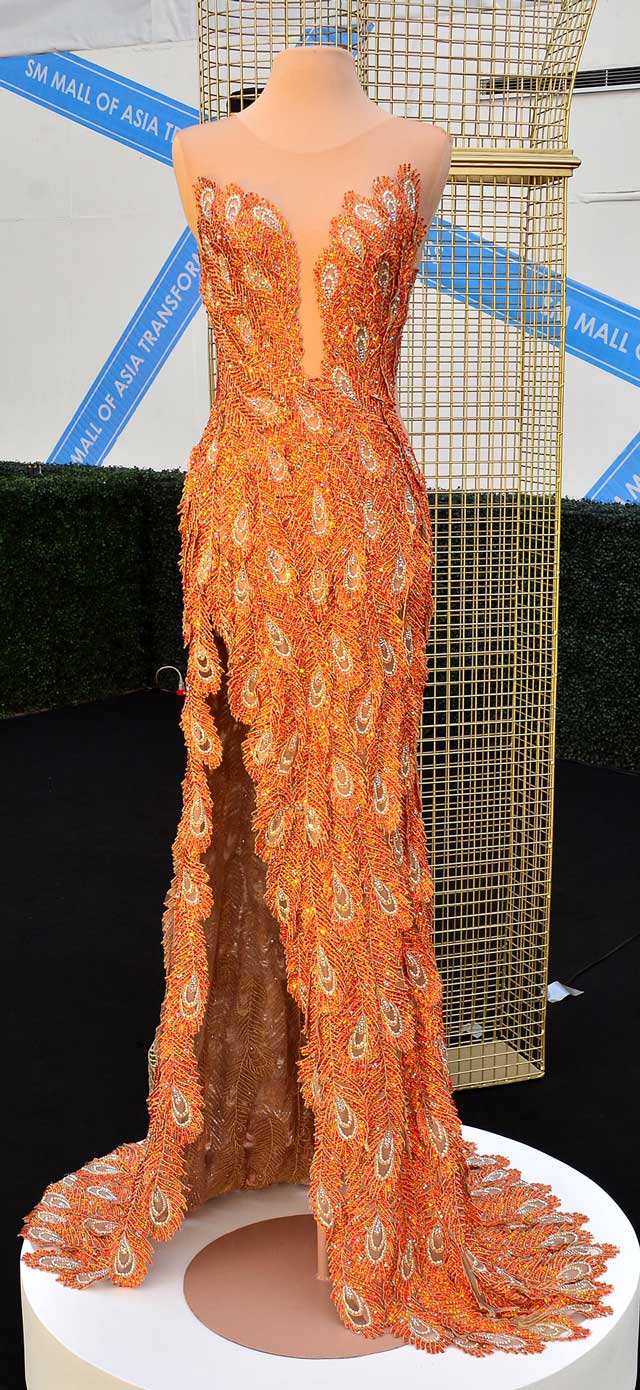 ADVERTISEMENT - CONTINUE READING BELOW
The Adarna
Let's talk more about the Mayon gown. How did its creation start?
"Cat contacted me—asking to send her gown ideas—after a week since she won Binibining Pilipinas. But she didn't know that I had already sketched the Mayon gown for her soon after her win. And when I sent it to her, she fell in love with it because it was very unique but it wasn't decided yet that she'd use the gown for the finals night of Miss Universe. She only decided on it on the last of June last year, after I presented to her the other gown concepts."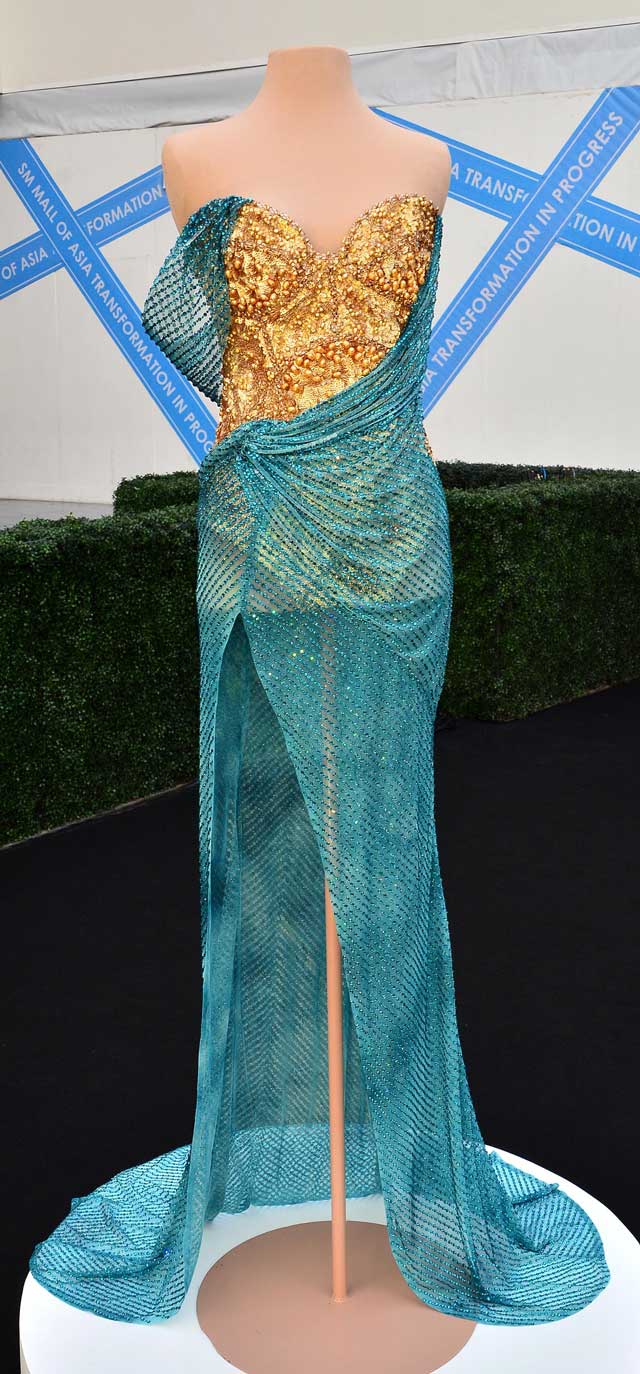 ADVERTISEMENT - CONTINUE READING BELOW
The Pearl of the Orient
"For the prelimenaries, her two options were the Adarna and Pearl of the Orient gowns. She really wanted to wear the Pearl of the Orient because it was her idea with the corset and the draping. But I think she got convinced to wear the Adarna because of the meaning behind it and it looks visually good on stage."

ADVERTISEMENT - CONTINUE READING BELOW
The Alon gown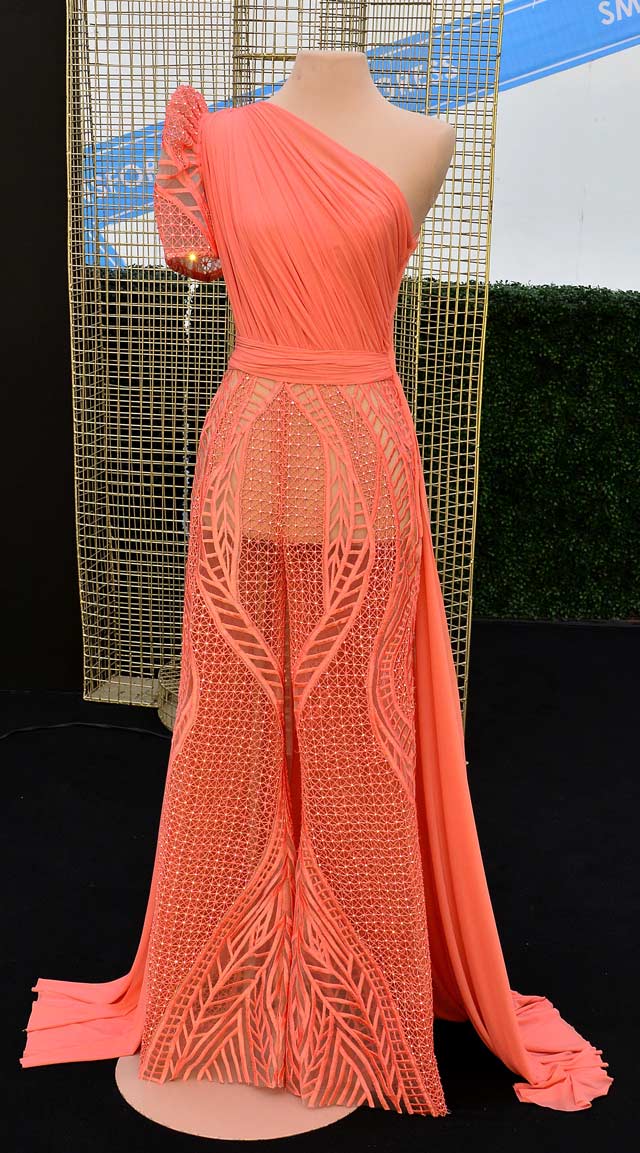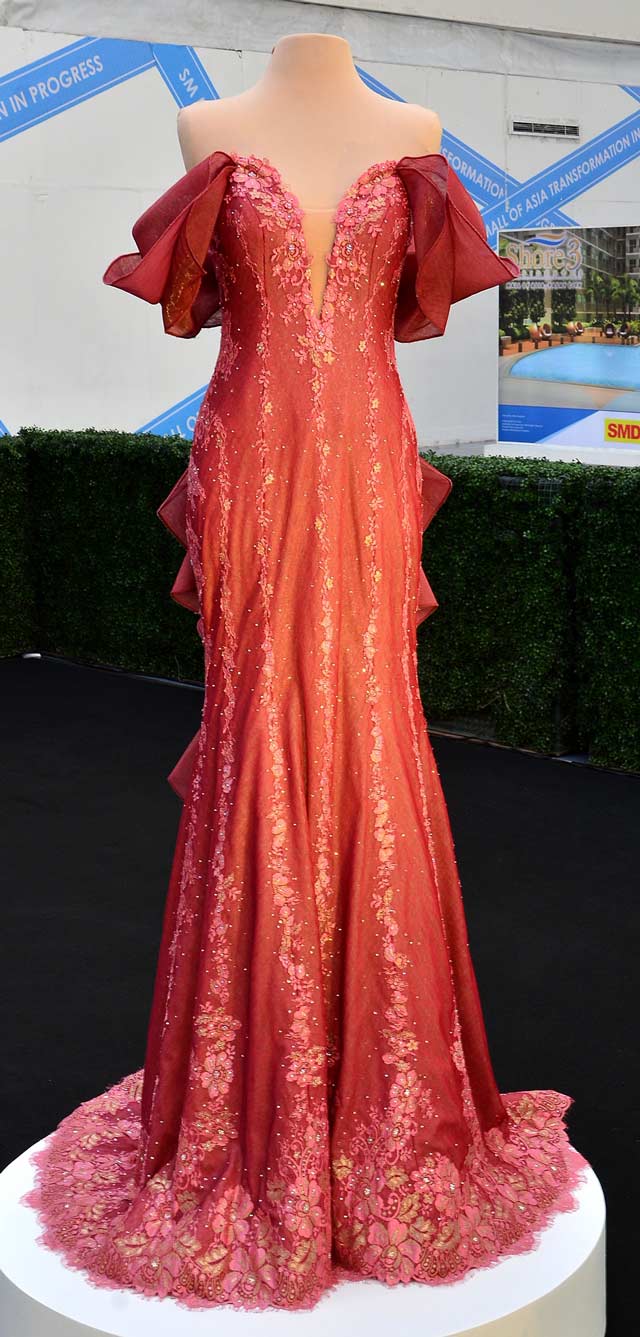 ADVERTISEMENT - CONTINUE READING BELOW
How long did it take you to finish everything?
"We started the concept late March. Then we started researching, sampling, and sourcing for materials. That's what really took the longest time to do. I even studied abroad. I studied at Central Saint Martins just for a week and took up couture embroidery. We made three prototypes for the Mayon gown.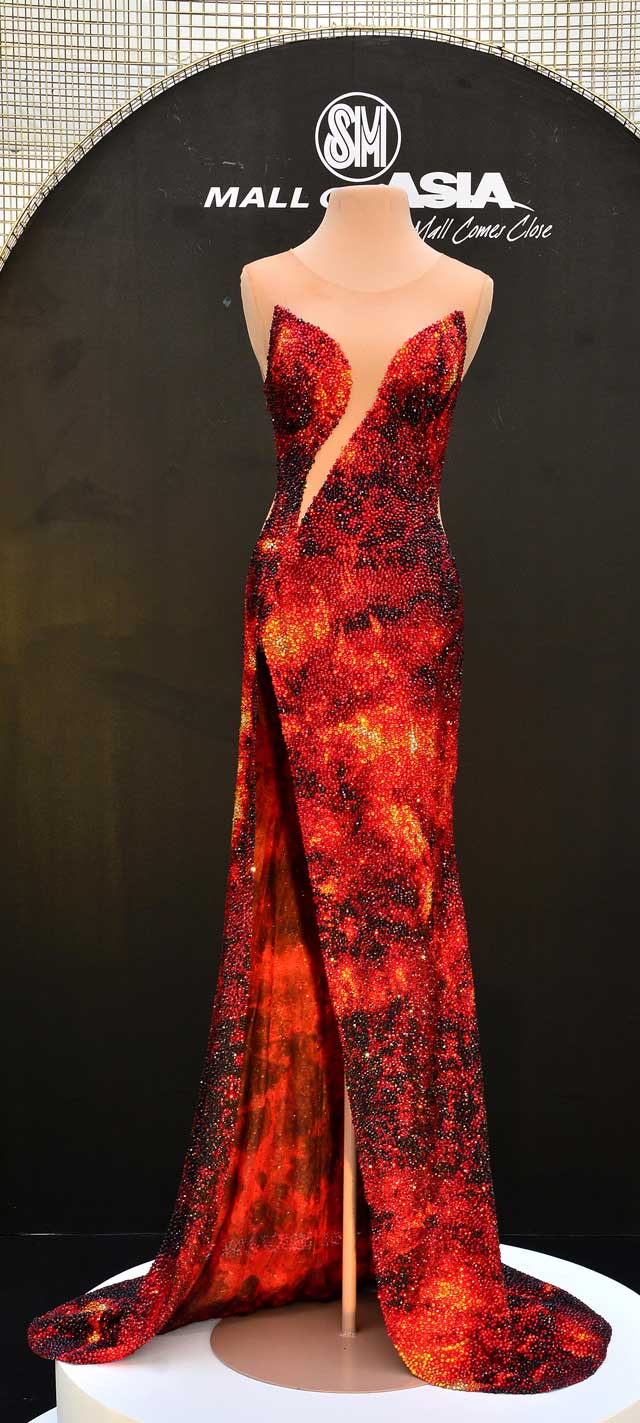 ADVERTISEMENT - CONTINUE READING BELOW
The Lava gown
"Cat even told me that I was more a perfectionist than her in this area. I made three prototypes to perfect the cutout so she would look slimmer and we made sure that in all angles, the dress would flatter her. We also considered the fact that her 'lava walk' needed a slit that high so it wouldn't restrict her movement. Plus, had we made the slit any lower, Cat will lose inches from her height. It was something that we learned to pay attention to after the Binibini pageant, where we had to make do with a lower slit for her Sinag gown."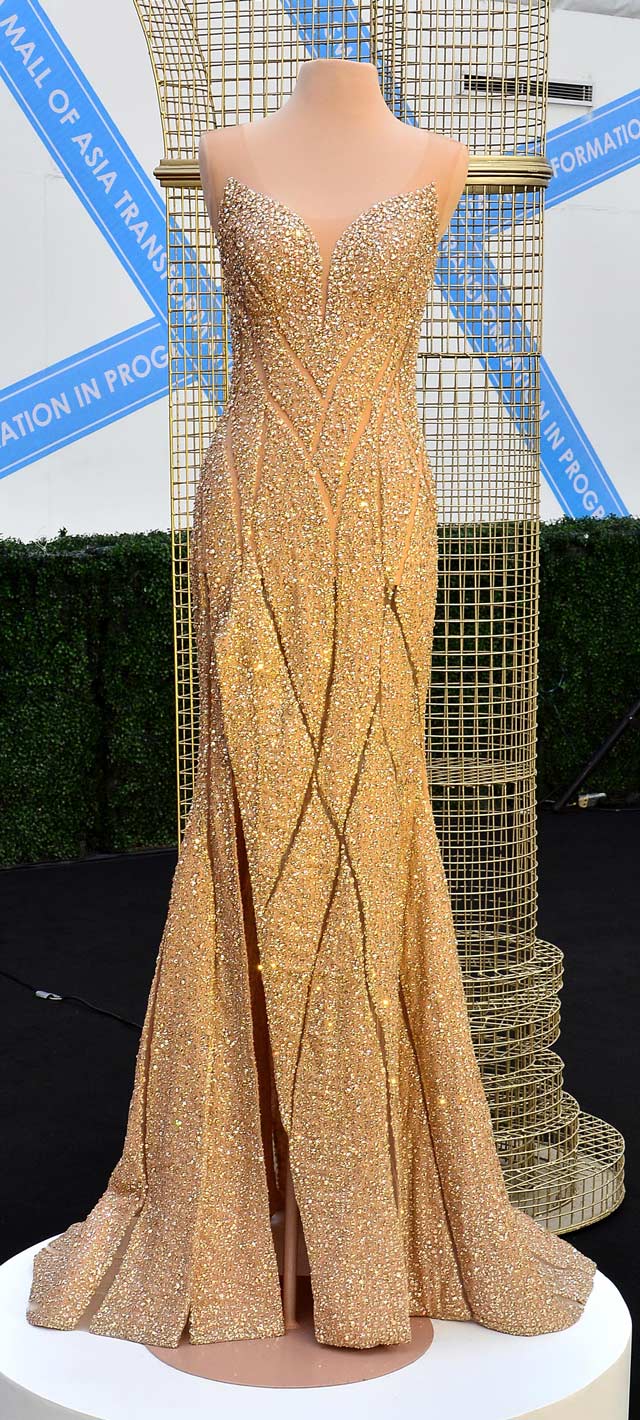 ADVERTISEMENT - CONTINUE READING BELOW
The Sinag gown
Let's talk about your brand. You also have an international clientele. How did that start?
"Before Miss Universe, I posted a gown I had made for a debutante. She requested a gray and pink gown and I posted it on social media. After a week, my followers grew from 10,000 to 90,000 until I reached over 200,000 followers... So from there, I got reposted on a lot of fashion IG [accounts] from all over the world and the gown gained popularity.
ADVERTISEMENT - CONTINUE READING BELOW
ADVERTISEMENT - CONTINUE READING BELOW
"There was this cake convention in London before and they asked me if they could replicate the gown and make it into a cake. I even went to London to see the actual cake."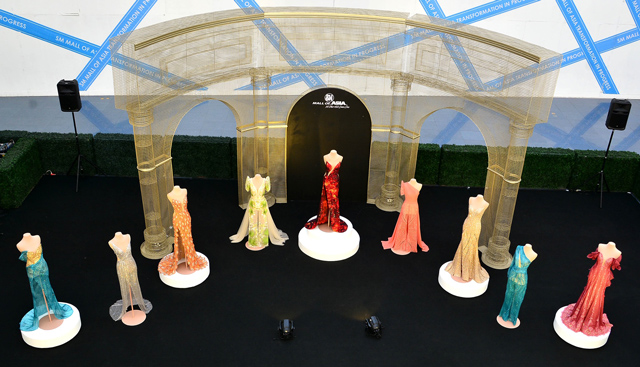 ADVERTISEMENT - CONTINUE READING BELOW
What three words would you like people to associate with you when they hear your name?
"Filipino, magical, detail-oriented."
Related Stories from Preview.ph
Hey, Preview readers! Follow us on Facebook, Instagram, YouTube, Tiktok, and Twitter to stay up to speed on all things trendy and creative. We'll curate the most stylish feed for you!