Manila Fashion Festival kicks off tonight and what better way to get us in the groove than look back at last year's collections. Case in point: these Preview girls clad in garments proudly made by Filipino designers. Check out below how Lauren Reid, Ida Anduyan, Kaila Estrada, Tricia Centenera, and more wore the pieces.
Lauren Reid in Cheetah Rivera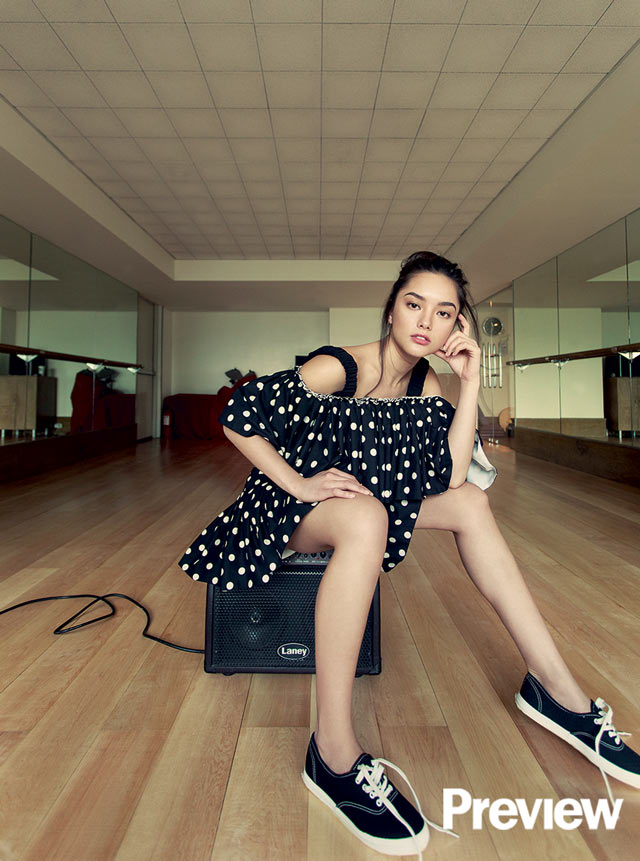 IMAGE Jack Alindahao for Preview
Cheetah Rivera Off-shoulder top, P7000; skirt, P2000, cel. no. 0939 923 8669; Primadonna Sneakers, P1000, SM Megamall
Inspired by the artwork of Basque painter Ignacio Zuloaga, Cheetah's S/S 2017 collection is replete with Hispanic references. "I want to dress modern women who aren't afraid to be sexy and sensual while still keeping an air of mystery about themselves," the designer reveals. Befitting the flamenco-dancing sitters the painter favored are dresses alluringly slung with chiffon over the shoulders to make them seem innocent, and tiny rosettes that make a rose-printed fabric three-dimensional. It's a beautiful marriage of feisty and demure, of delicate and daring.
Kaila Estrada and Sabina Gonzalez in Randy Ortiz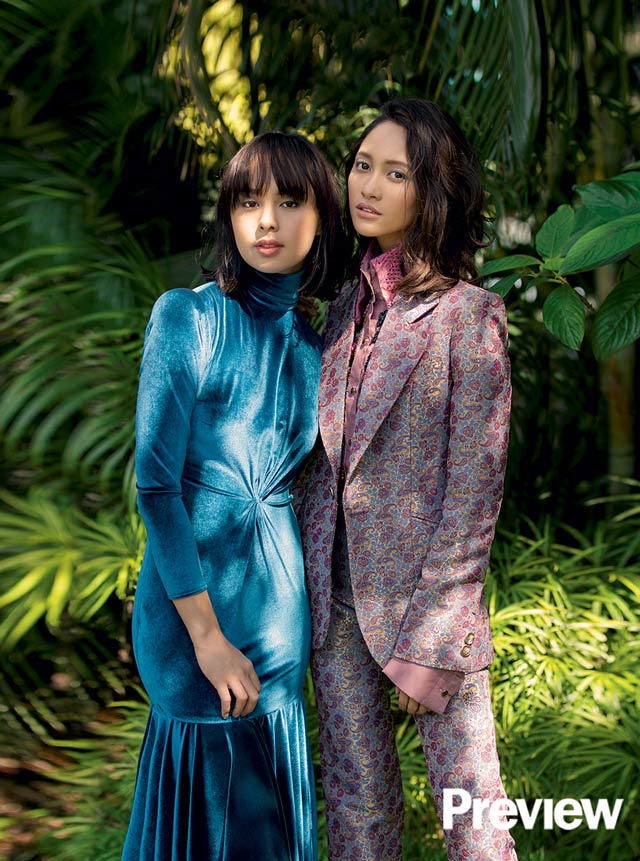 IMAGE Jack Alindahao for Preview
On Kaila: Randy Ortiz Velvet dress, P15,000, cel. no. 0917 812 6953
On Sabina: Randy Ortiz Shirt and brocade suit, P25,000/set, cel. no. 0917 812 6953
Randy claims that while "Asia will be the next mecca of fashion," we also have the tendency to lose our grip on heritage. With this sentiment, Randy stitches together oriental fabrics tailored in modern Western cuts and silhouettes. He manipulates the delicate piña and displays a masterful control of beads and embroidery, mixing them with articles from the West. But what could have been a boldly disjointed collection had been carefully edited to leave only grand reminders from both fountains of fashion.
Hannah Locsin and Yanna Cowper in Basic Movement by Esme Palaganas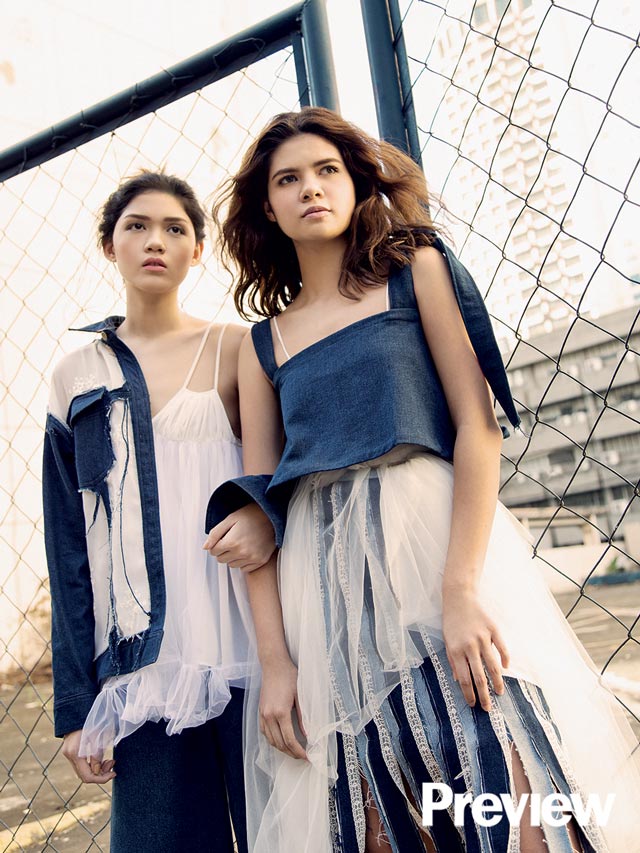 IMAGE Jack Alindahao for Preview
ADVERTISEMENT - CONTINUE READING BELOW
On Hannah: Basic Movement Denim and tulle jacket and denim pants, P8750/set; tulle halter top, P1700, cel. no. 0915 900 3463
On Yanna: Basic Movement Tulle top, P3300; denim apron top, P2500; denim skirt, P6500, cel. no. 0915 900 3463
Digging deeper into this season's obsession with effortless flair, Esme's latest collection, "En Fin de Compte," injects a raw take on basics as seen in deconstructed shirts, frayed denim and delicate tulle. "I wanted to mix unexpected elements with familiar fabrics, like embroidery on denim, but in very modern, casual silhouettes. I like mixing polar opposites because it always comes out as something new to the senses," says Esme. True enough, her latest offerings serve as a gentle reminder that there is beauty in imperfection.
Michelle Dee in Joey Samson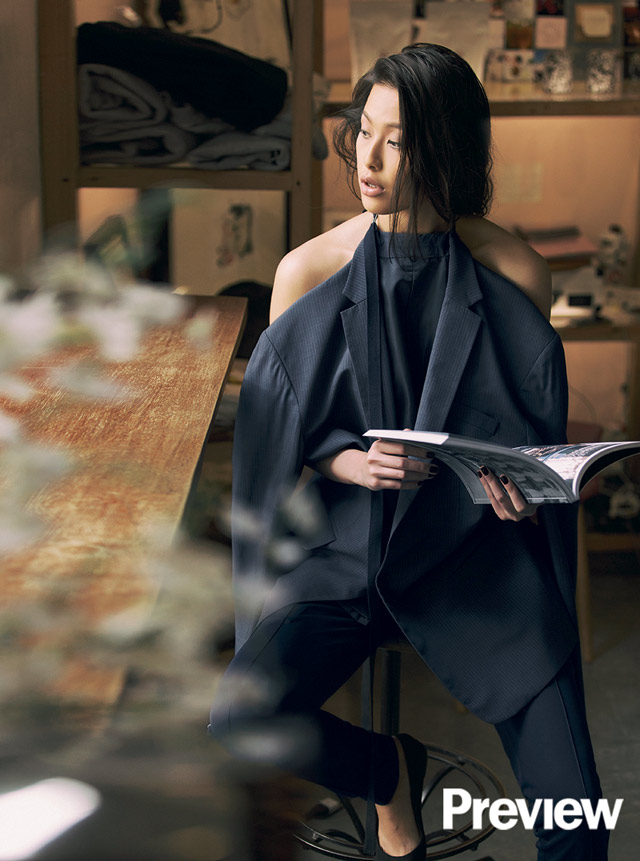 IMAGE Jack Alindahao for Preview
Joey Samson Oversized halter suit and track pants, prices available upon request, cel. no. 0918 959 2541
For Joey, nothing, even a crisp suit, is ever typical. A master of deconstructed and intelligent tailoring, Joey introduces us to his concept of "restyling made permanent." A suit jacket is worn like an apron, a pullover as a skirt with pockets, and a shirt collar twisted to create a halter neckline—but each piece is designed and sewn to be worn as is and not as an "alternative" styling option. Simple? Not quite. Ingenious? Very much so.
Jessica Yang in Harvic Dominguez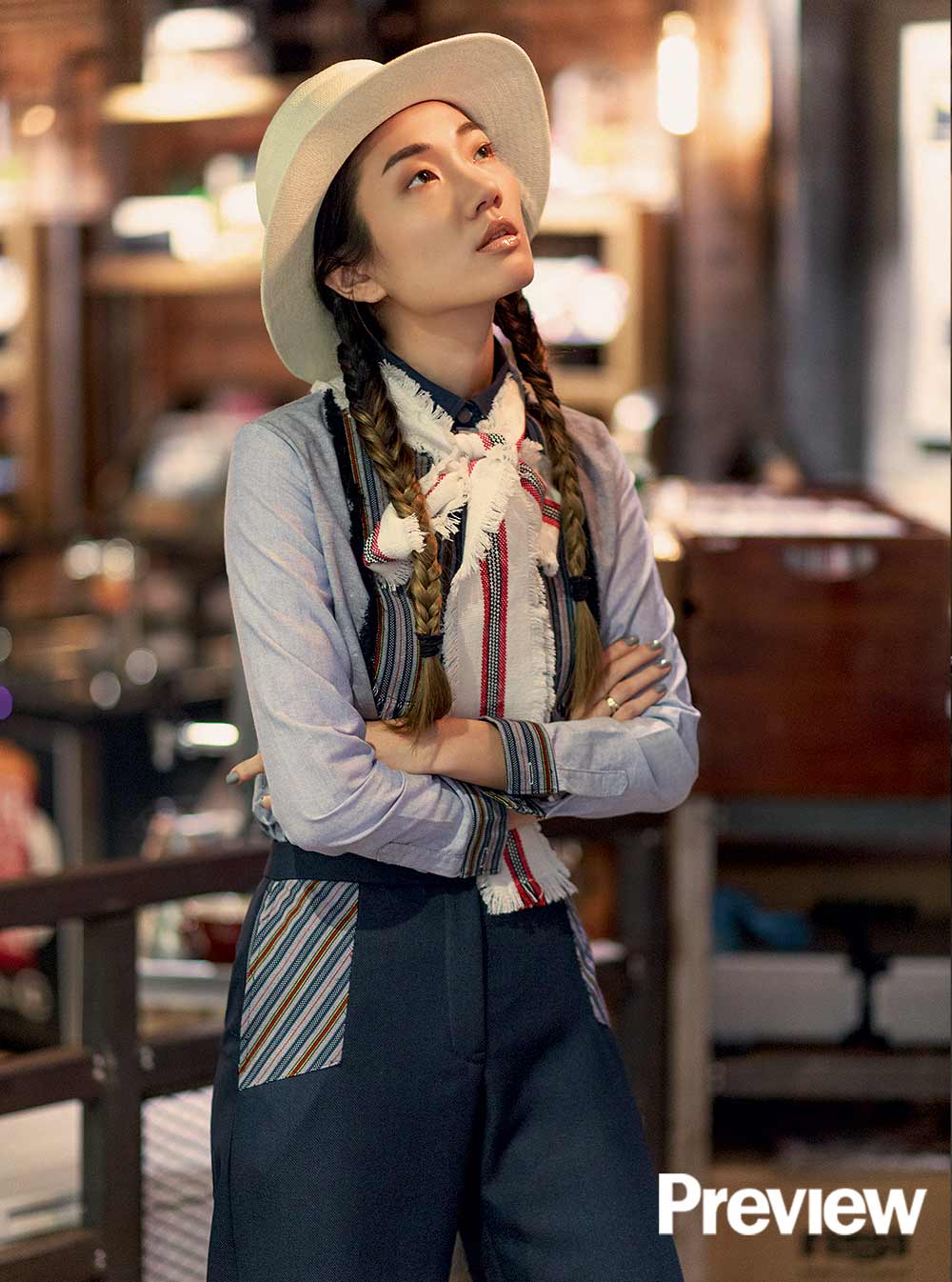 IMAGE Jack Alindahao for Preview
Harvic Dominguez Shirt, P3500; pants, P3500; scarf, P800; hat, P500, cel. no. 0917 628 7636
It's no surprise Harvic received a special citation at the National Commission for Culture and the Arts (NCCA) Ready-to-Wear Competition. His tailored pieces are a marriage of nostalgia and whimsy, delightfully made with Philippine textiles. "Ever since I started designing, I have been combining inabel (Cordilleran weaves) with other commercial fabrics," reveals Harvic, who cites the raw utilitarian garb of the locals in his hometown of Tadian in the Mountain Province as the root of his functional and stylish aesthetic. If this is the future of Filipiniana, then let's make wearing the national dress an everyday thing.
ADVERTISEMENT - CONTINUE READING BELOW
Ida Anduyan and Steffi Zeibert in Renan Pacson x Gnarly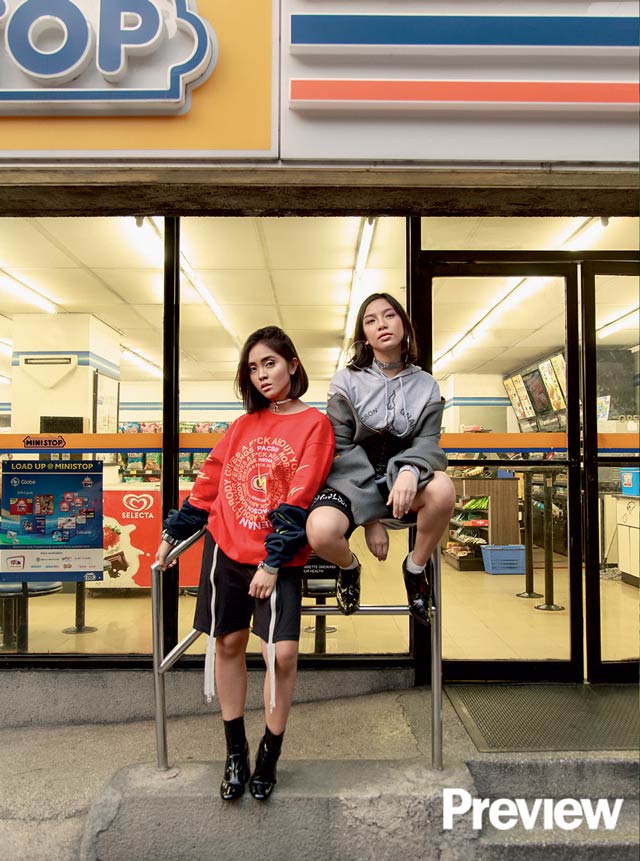 IMAGE Jack Alindahao for Preview
On Ida: Renan Pacson x GnarlySweater, P4400; shorts, P2500, cel. no. 0917 552 4334; Proudrace Boots, P12,000, cel. no. 0917 955 2423.
On Steffi: Renan Pacson x Gnarly Sweater, P4000; shorts, P2500; coat, P5500, cel. no. 0917 552 4334; Proudrace Boots, P12,000, cel. no. 0917 955 2423.
Let's get over the word "edgy" and instead stick to Renan's adjective of choice: "gnarly," which is tattooed all over the streetwear sweats in his Summer 2017 showing. Renan has always been a proponent of wearable grunge, but this season's profane-graffiti-scrawled pieces had us doing a quadruple take. These are pieces we'd wear for both shock value and optimum comfort (slit-sleeved pullovers, anyone? Hoodies that cover your face in swinging fringe, maybe?). All in all, it's statement-making and headed to the hood.
Tricia Centenera in Androgyne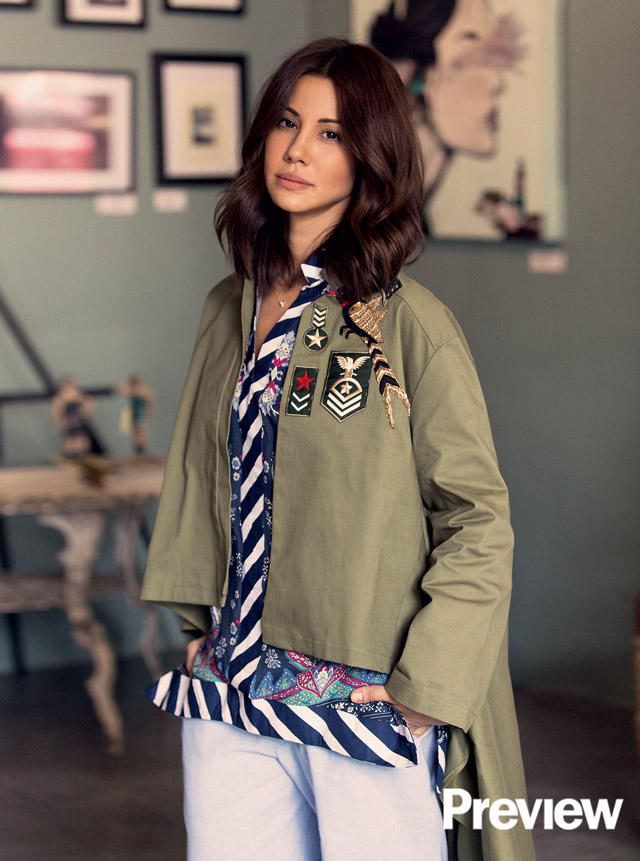 IMAGE Jack Alindahao for Preview
Androgyne Olive cape, P3290; printed shirt, P2290; culottes, P2680, cel. no. 0977 324 2286
"Tomorrow" is a shoutout for individuality. Androgyne designers Luis Espiritu and Seek the Uniq's Mikka Padua went against formulaic dressing and created genderless pieces that ride the breeze. "All we ever want is wearable fashion with a point of view," says Mikka about how they incorporated the olive and beige hues of S/S 2017 with prints and shapes from the heart of the East and West, and refined it all with a Filipino soul. It's this eye for the practical yet inexplicably unique that makes us look forward to the duo's vision.
Jodilly Pendre in Avel Bacudio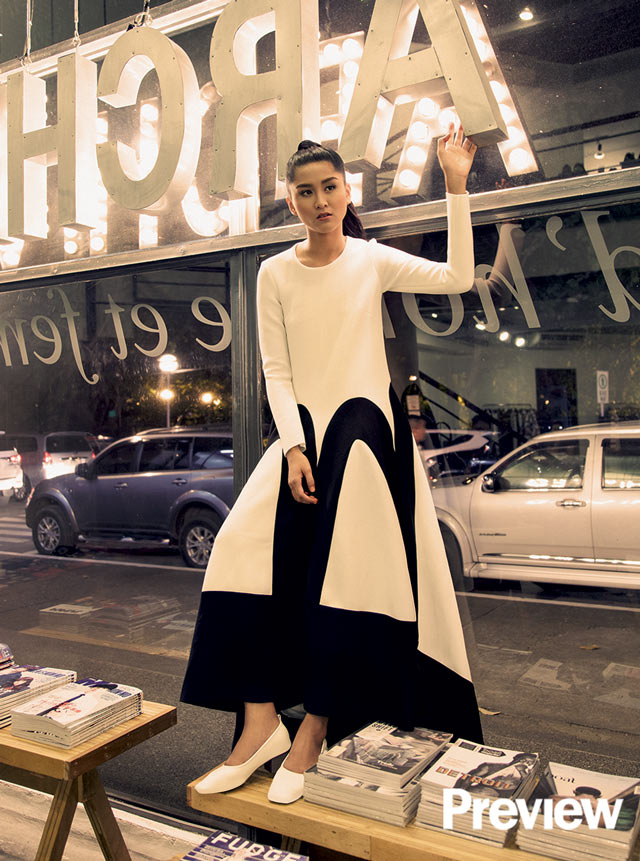 IMAGE Jack Alindahao for Preview
Avel Bacudio Dress, P20,000, cel. no. 0917 886 6968; Primadonna Shoes, P1400, SM Megamall
Avel's Spring 2017 collection experimented with monochrome and merged ladylike silhouettes with menswear flair. Think of a black sequined bustier over gray plaid trousers; and tailoring meeting athletics in a checked longline coat that sits casually on the shoulders of a neoprene hoodie. The Prince of Wales check has also made its reappearance in a big way on the international runways, but here at home, Avel is bringing houndstooth back right alongside it. True, the world isn't black and white, but Avel's making us rethink the norm.
ADVERTISEMENT - CONTINUE READING BELOW
Arci Muñoz and Lou Muñoz in Gabbie Sarenas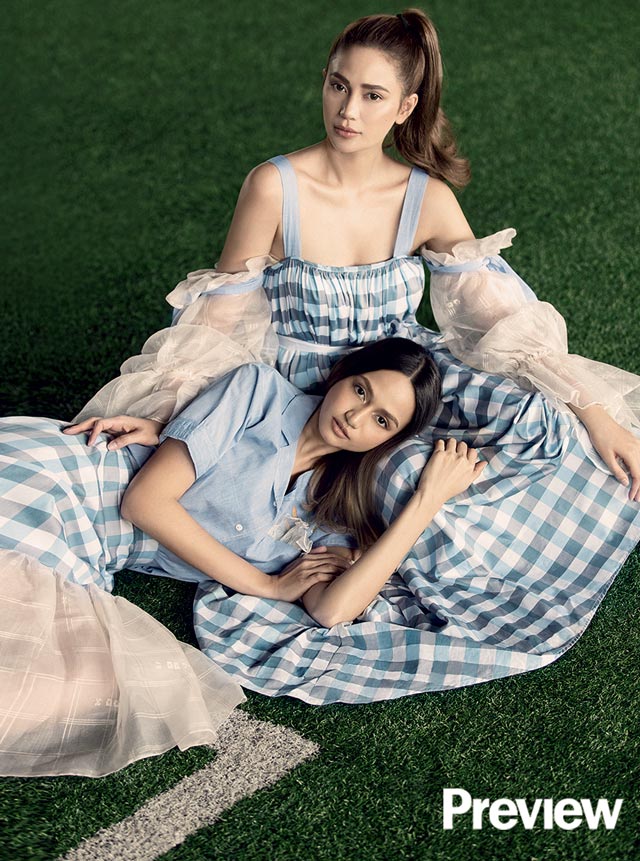 IMAGE Jack Alindahao for Preview
On Arci: Gabbie Sarenas Tent dress, P25,000, cel. no. 0917 300 4227.
ON LOU: Gabbie Sarenas Shirt, P5500; skirt, P13,000, cel. no. 0917 300 4227.
Featuring palay and carabao embroidery, Gabbie's "Pintuho" is an homage to Philippine farming. "Each season, we take inspiration from Philippine culture and advocate responsible fashion," she reveals about romancing heritage and championing local craftsmanship. With handmade silk jusi by artisans from Iloilo City, even a humble house dress becomes a runway-worthy source of cultural pride.
Wanda Chen in Brit Tripudio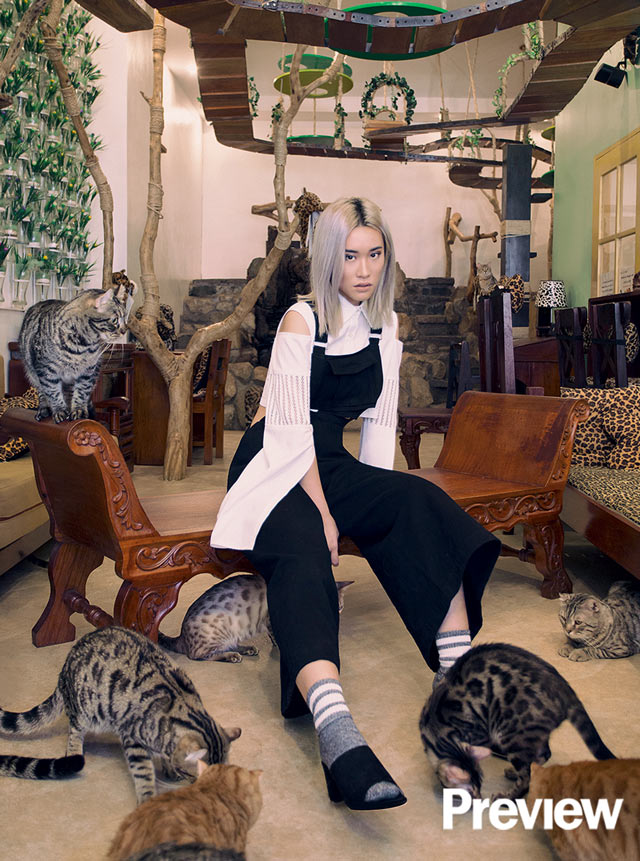 IMAGE Jack Alindahao for Preview
Brit Tripudio Off-shoulder top, P1950; dungarees, P2650, cel. no. 0999 406 2766. Primadonna Sandals, P1400, SM Megamall
"The entire collection is a fusion of ideas that stemmed from voguing," Brit explains. FYI,"voguing" is an underground LGBT subculture that features improvisational dance moves inspired by glam fashion poses. Brit's deconstructed aesthetic is reminiscent of a vogue performer's upbeat, hip-hop-dominated visual performance style. With slitted sleeves and deep V-necklines, "The Ball" shows onlookers Brit's reflection on the LGBT culture: diverse, uniquely sensual, and filled to the brim with character.