For a couple of years now, the Filipino team representing our country at the annual International Fashion Showcase (IFS) has been waving our banner loud and proud. Digging deep and producing pieces that are, to say the least, world class, Filipino talents continue to impress and surprise. And after PEFTA alum, Ken Samudio bagged the runner-up spot in the Best Designer category last year, batch 2016 had some pretty big shoes to fill. Nevertheless, Thian Rodriguez, Jared Servano, Micki Olaguer, and Maco Custodio gladly accepted the challenge. Working around the concept of Utopia, the team took London by storm.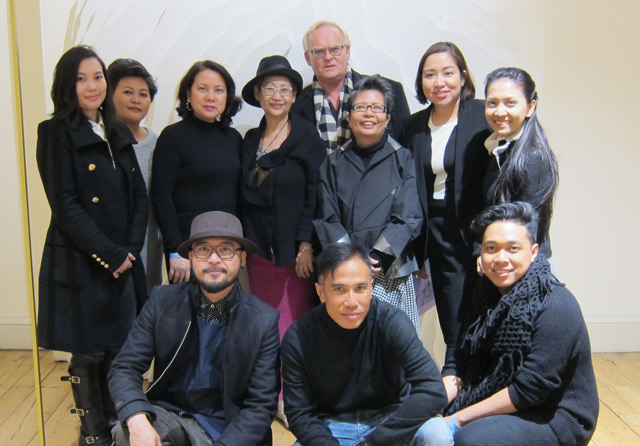 ADVERTISEMENT - CONTINUE READING BELOW
One particular collection that struck our attention would have to be shoe designer Maco Custodio's Homer. A shoe with a nose? We just had to know more. Style Bible caught up with the designer fresh from his trip and asked him to spill the deets on the experience and his quirky collection.
CONTINUE READING BELOW
Recommended Videos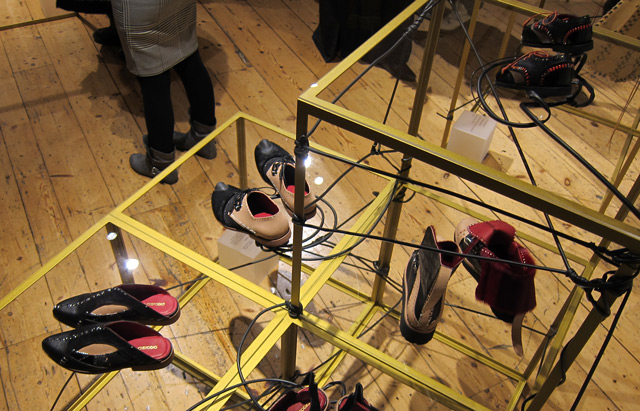 ADVERTISEMENT - CONTINUE READING BELOW
First of all we would like to congratulate you for being one of the Filipino representatives at the 2016 IFS. How are you doing?
"I just got back! It's been negative two degrees at York, UK when I left and it snowed! But now I'm back in [the Philippines'] 33-degree weather. Ang ineet."
Take us back to the time you found out you were chosen to be part of the International Fashion Showcase. How did that happen?
"This one is a little emotional to me, it happened one afternoon while I was having a conversation with my friend Leo and Joel about 'validation.' I've been in the fashion industry for some time and was beginning to feel that Manila was too small for me, that I needed a bigger stage. The same week I was selected by Chitra Buckley, the course director from London College of Fashion who was in the Philippines to select the representatives for IFS 2016. Just as we were discussing it, I got the validation I was looking for."
ADVERTISEMENT - CONTINUE READING BELOW
What was the theme for this year?
"This year it was a unified theme for all 23 countries, 'Utopia.'"
How was the experience?
"I am very honored to have been mentored by Tao Inc.'s Marian Roces and Judy Sibayan for this. It was the longest and shortest collection I've done in my career. The longest time I've stitched an upper for a pair and the shortest time I was given to develop and finish a five-piece collection."
ADVERTISEMENT - CONTINUE READING BELOW
Did you meet anyone there that you never thought you'd ever meet?
"I met Suzy Menkes who took a photo of my work. She was surprised to see the nose on the shoes, of course. I also had the chance to tell her what my collection was all about. I was super nervous because everyone was listening to me. It felt like my five minutes of fame, but I think meeting editors and guests made me realize that it's the story that puts value to the product and later on makes you appreciate your work more."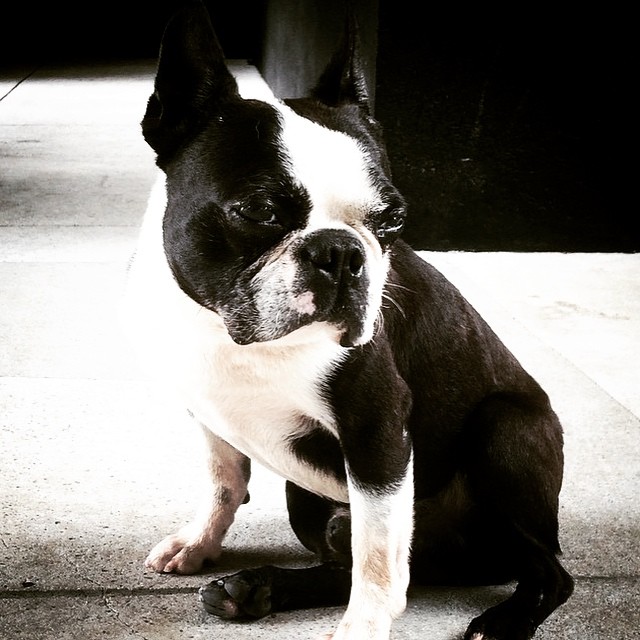 ADVERTISEMENT - CONTINUE READING BELOW
Meet Homer, the inspiration behind the whole collection.
From what we understand, Homer is your dog? Why did you choose him as your inspiration?
"YES! He's a Boston Terrier! The collection represents our 'utopia' moment together, a representation of him. I always say a strong collection is something that comes from your heart. Like Adele and Sam Smith! (Laughs) He passed away last June 16, 2015 and I thought of making the memories of my dog visually through the shoes. Specifically, memories of what he did with his nose, tail, paws, eyes, ears, and tongue."
All five pairs are incredible! Please discuss with us each pair.
Shoe #1 - Sniff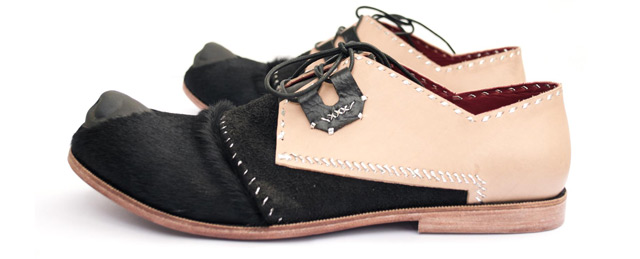 ADVERTISEMENT - CONTINUE READING BELOW
"The first shoe was inspired by his nose and the memory of him sniffing me when I'd get home no matter what the time."
Shoe # 2 - Look

"The second was inspired by the look he used to give me while eating. He would look at me longingly and wait for me to give him some of my food."
ADVERTISEMENT - CONTINUE READING BELOW
Shoe #3 - Joy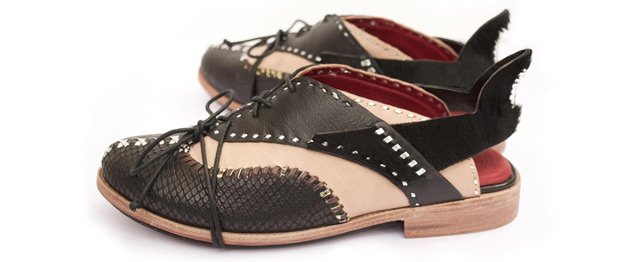 "The third shoe was inspired by his tail! The joy I would feel when his tail would wag endlessly because he was excited to go out to play."
Shoe #4 - Hear & Love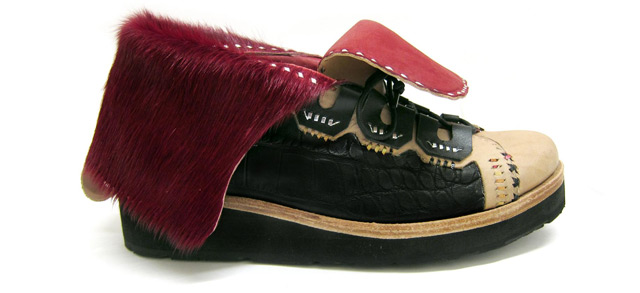 ADVERTISEMENT - CONTINUE READING BELOW
"The fourth shoe was inspired by his ears and the tongue—how he licked me while I was asleep as a way of showing his love."
Shoe #5 - Feel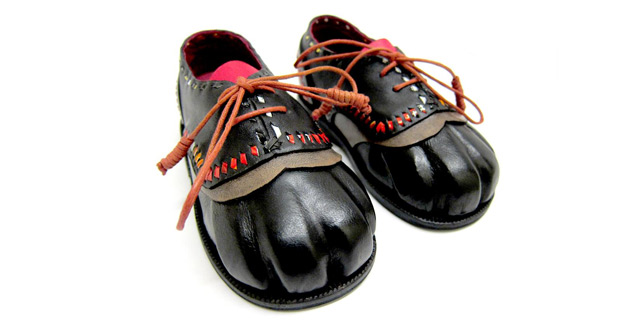 "The last shoe is a pair for babies, inspired by his paws. It reminds me of how his paws felt when he would beg for something, how he would also want me to feel his excitement."
ADVERTISEMENT - CONTINUE READING BELOW
Wow. That's a tremendous amount of detail in all five pieces. Could you share with how these were made?
"I made use of crisp packaging for the thread of my shoes—it was really hard!—because I wanted to play with the idea of creating something out of nothing. Anything can be turned into something if you just use your head to think, your heart to find inspiration, and your hands to make it all happen."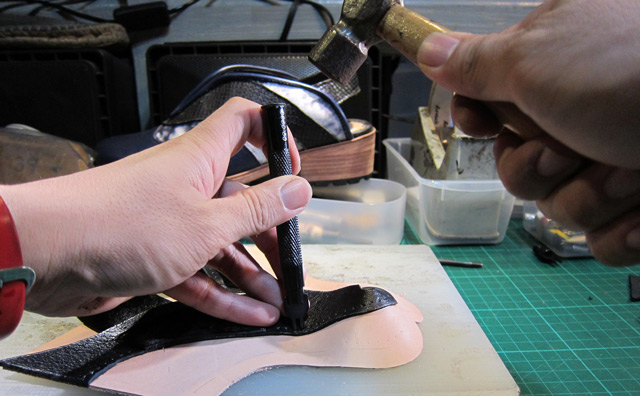 ADVERTISEMENT - CONTINUE READING BELOW
"Each of the folded, (exactly 2mm) crisp packaging is manually slid into the punched leather. Per component, it would take me around 30-60 minutes (times two to make a pair)."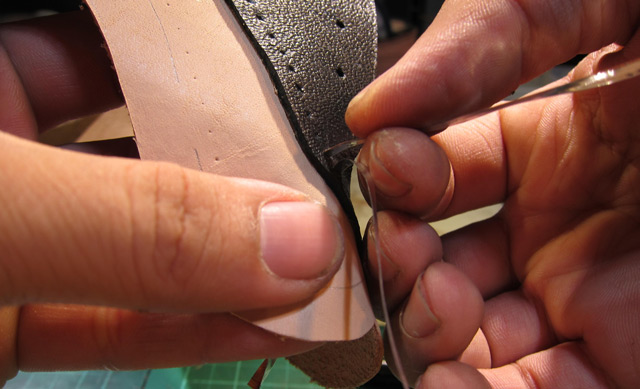 "This tool helps me get the foil from the other side. It's kinda like stitching skins! No needles were used so it ate a lot of time. If I accidentally did something wrong, I'd have to do the process all over again."
ADVERTISEMENT - CONTINUE READING BELOW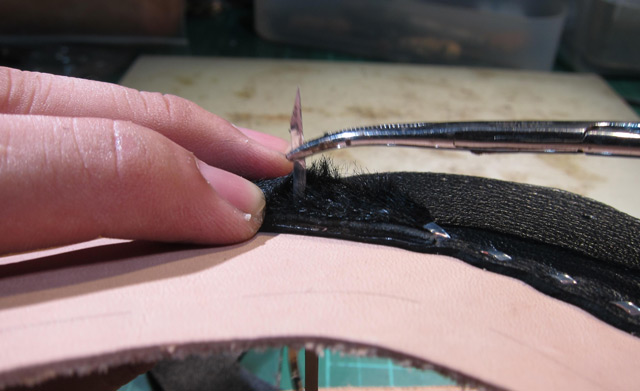 "This is the way I slide the foil in. The tip should be really pointed."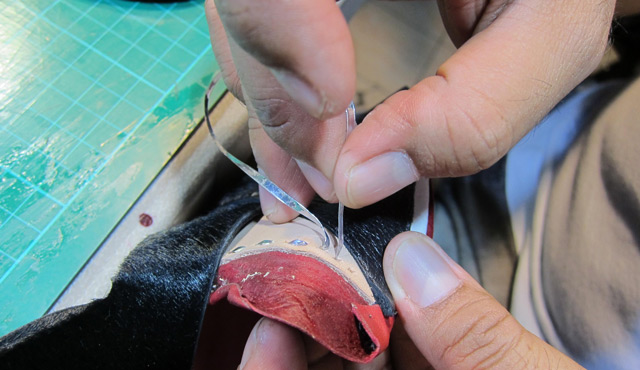 ADVERTISEMENT - CONTINUE READING BELOW
"The foil (crisp packing) is cut at exactly 4mm. Each millimeter counts!"
Will these be available for purchase here?
"Yes! I would like to do them again. But not the pairs that are still in London. I might reproduce them, but maybe individually."
What's next for Maco?
"I really don't know, a lot of promising things were offered in London. There's the promise of traveling to somewhere in Asia, an offer from a prestigious museum in London, even a store in Russia. I don't know yet, but I will do my best to get there since opportunities like this are rare. Everyday I ask myself: ARE YOU WORKING ON YOUR DREAMS TODAY? Yes! Yes! Yes!"
See more of Maco's work at http://www.maco-custodio.com/.
Related Stories from Preview.ph
Hey, Preview readers! Follow us on Facebook, Instagram, YouTube, Tiktok, and Twitter to stay up to speed on all things trendy and creative. We'll curate the most stylish feed for you!