A daughter's first introduction to style is through her mother. Our moms can build the foundation for our love of fashion. Even if we don't end up inheriting or completely emulating their sartorial tendencies, our mother's sense of dressing rubs off on us, their style advice likely living on forever in our minds.
For Lucy Torres-Gomez and daughter Juliana, fashion functions as a shared passion. For all their aesthetic differences—Lucy's style epitomizes classic lines and ladylike elegance while Juliana's channels casual street-chic—style has become an avenue for bonding, a space where even a mother, widely renowned for her elegance and timeless sense of style, can learn from her teenage daughter. It has become a conduit for posterity's sake, especially in the accessories they share, and the jewelry and timepieces Lucy will eventually hand down to Juliana.
As ambassadors for the Omega Constellation, an iconic watch known for its excellence of precision, outward craftsmanship, and slender Manhattan-inspired design that transcends and appeals to all generations, Lucy and Julianna are able to explore a sartorial convergence. We catch up with the mother-and-daughter duo at their shoot for Omega, and learn more about the role fashion and style has played in their relationship.
ADVERTISEMENT - CONTINUE READING BELOW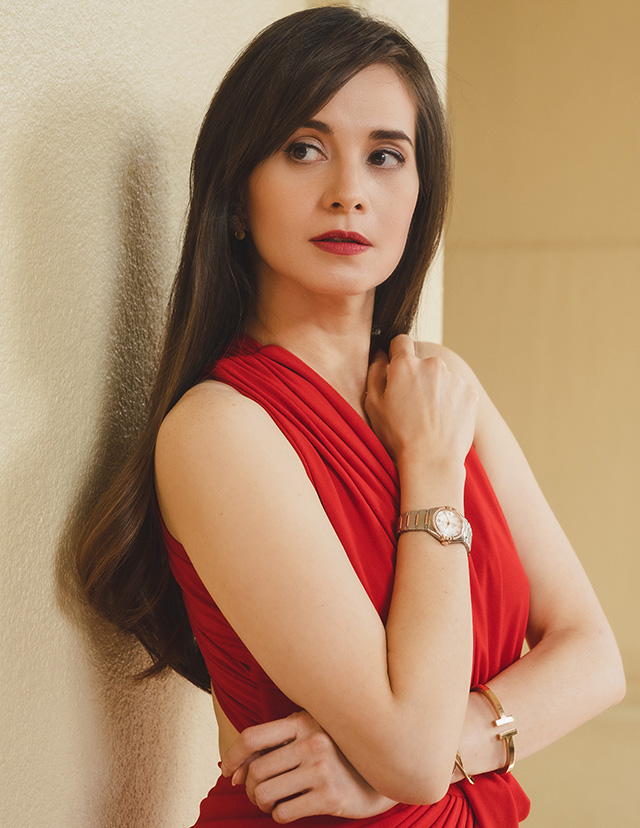 Lucy's love affair with Omega began in 1998, and since then, it's been a part of the love stories in her life, with her husband and even her mom.
How would you describe your own style?
Lucy: I like clean lines, good craftmanship, a good fit. Even in the province, when we had very little access to malls and magazines, I was really maarte, maybe because my mom and lola always wore dresses. I would wear clothes to make me feel good—even if I stayed in the room the whole day, I would wear pajamas that match. I would never wear things just because they were uso, because they were not me.
CONTINUE READING BELOW
Recommended Videos
Juliana: My style is pretty laidback.
How would you describe your daughter's/mom's style?
L: I like that she's very definite about how she dresses. She doesn't really like something because it's expensive. She likes what she likes. She likes a bit of an edge. There was a time, she was into punk.
J: I wanted to be a rockstar.
L: She liked all these skulls, which is totally opposite of what I had wanted.
J: My mom's style is simple but very chic. Her dresses are all very appropriate for any occasion. She just has the perfect dress for any occasion you can think of.
If you can change something about the way your mom/daughter dresses, what would it be?
L: I would want her to wear more dresses or more lace, but if she did wear more lace, she'd probably wear it with sneakers.
ADVERTISEMENT - CONTINUE READING BELOW
J: I wouldn't change a thing. She's perfect.
How did you dress up Juliana as a child?
L: My idea of a little girl in a dress was always sweet, like smock dresses. But when she was old enough to choose her own clothes, she was not the sugary sweet type.
J: She always gave me the freedom to dress myself.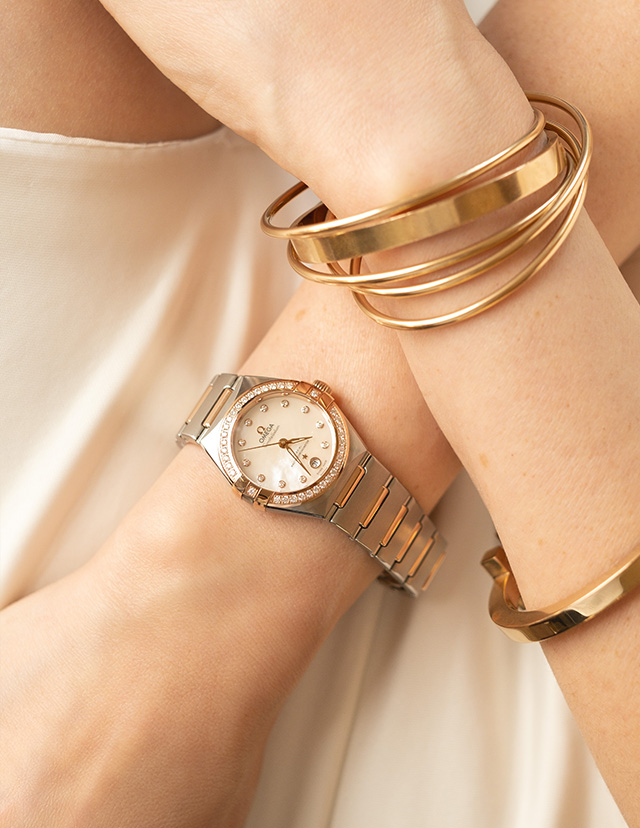 ADVERTISEMENT - CONTINUE READING BELOW
Constellation Manhattan watch in Sedna gold and stainless steel with diamonds, price unavailable, OMEGA, G/F 6750 Retail Arcade, Ayala Ave., Makati
When did you realize that Juliana was developing her own style?
L: Even when she was little, for example, I would buy her really nice gypsy skirts but, at home, she would wear two skirts together as a dress. She was around four or five. The time came when she didn't want flowers on her hair or a bandana, or beaded necklaces. And then her dad is very sporty, so when he would buy her clothes, it would be something like boots because they'd go to the motocross track.
Do you share clothes? Which pieces do you borrow the most from your mom/daughter?
L: Well, there are some things from her closet that I would wear, except for those na kinulangan lang sa tela kasi hindi na angkop sa edad ko.
ADVERTISEMENT - CONTINUE READING BELOW
J: She borrows clothes from me, but I can't really borrow from her because her clothes won't fit. We do share shoes.
L: It was from her that I learned how to wear sneakers. I was more into loafers, but when I surrendered to sneakers, there was no looking back.
Do you shop together?
J: We go online shopping together. We just sit on the bed and shop for shoes together.
L: It's nice to shop on Instagram because we can send each other direct messages, like on a brand that we both like and she'll see that it's on sale.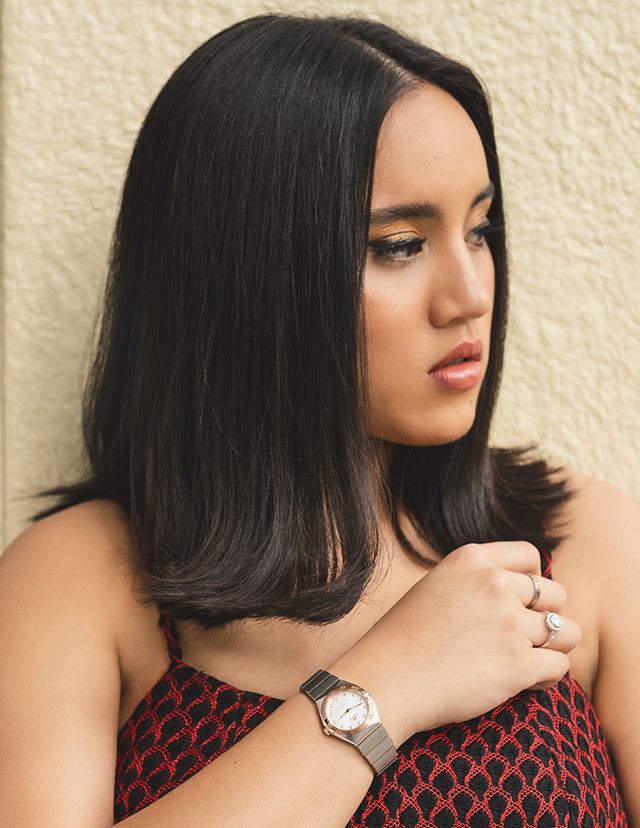 ADVERTISEMENT - CONTINUE READING BELOW
A young woman who isn't afraid to be true to her personal style, Juliana shares that what she loves most about Omega's watches are their elegance and simplicity.
How does Omega fit into your style?
L: It's been a love affair with Omega since 1998. The first Omega watch that I really liked was an Omega watch that my mom owned. My dad bought it for her and she passed it on to me. I still have it and I still wear it. And then when Richard and I got married, we went to an Omega event during our honeymoon in Switzerland so you can say I love Omega for sentimental reasons—it's very integral in our love story.
J: It goes with anything. The thing I love about Omega is it's so simple yet so elegant, and with Omega, everything is in the details. That's what makes it beautiful.
ADVERTISEMENT - CONTINUE READING BELOW
Whose style do you admire?
L: Well, one celebrity whose style I particularly admire is Victoria Beckham—yung simple lang, clean lines, walang sinisigaw na brand.
J: I really like Alexa Chung and Lily Rose Depp.
Does Juliana still come to you for advice when it comes to fashion?
L: Yes. When she likes something that's a bit pricey, she asks me, "Mom, is it worth it?" And I'd tell her that the real cost of any piece of clothing is the price divided by the number of times you wear it. So if it's pricey but you get to wear it many, many times over the years, then that's better than buying something that's cheap but fits wrong or doesn't do anything for your body.
J: All the time.
Juliana, what's the most important thing you've learned from your mom on style?
J: You don't have to show skin to be stylish.
ADVERTISEMENT - CONTINUE READING BELOW
Lucy, what's the best lesson you can impart to your daughter regarding fashion?
L: Simply said, it has to be quality over quantity. Don't waste your money on disposable fashion because it's nicer if you buy something that is pricey now but the cut and the quality is good. You only have so much closet space, so let it be a closet full of beautiful things, such that whatever you pull out will fit well and fall well and keep well.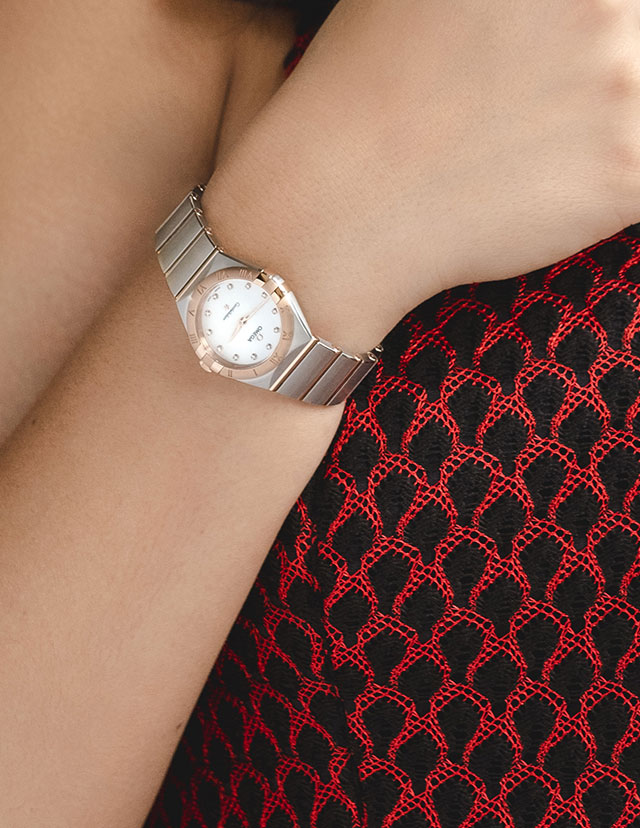 ADVERTISEMENT - CONTINUE READING BELOW
Constellation Manhattan watch in Sedna gold and stainless steel with diamonds, price unavailable, OMEGA, G/F 6750 Retail Arcade, Ayala Ave., Makati
Omega Constellation now offers 101 new models for women, including 29 mm models that feature an Omega Master Co-Axial movement certified at the Master Chronometer standard, which points to a level of precision and performance that is quite unrivalled within the industry. For more information and storefronts in the Philippines, check out the Omega website.
Related Stories from Preview.ph
Hey, Preview readers! Follow us on Facebook, Instagram, YouTube, Tiktok, and Twitter to stay up to speed on all things trendy and creative. We'll curate the most stylish feed for you!