With Halloween just around the corner, there is no better time to settle in with a scary flick, right? So as we contemplate on which thriller to watch, we get cozy with this horror movie junkie slash supermodel who considers the day of the dead as one of her favorite holidays—but only because she takes her costumes seriously.
Meet Lou Yanong, an Entrepreneurial Management student whose look has already been embraced by well-known designers like Jaz Cerezo, Cheetah Rivera, and more. She also has an enviable social media following and an impressive roster of editorials and campaigns under her belt.
Here, she shows us how to wear Halloween costumes inspired by horror classics the fashion girl way. From the hit series Stranger Things to Korean blockbuster, Train to Busan, this model, with her statuesque grace and flawless figure, will scare you in the most stylish way. She reveals more about herself while at it.
ADVERTISEMENT - CONTINUE READING BELOW
Tell our readers a little bit about yourself.
"Hi! My full name is Lourdes Grace Bundalian Yanong but people call me Lou or Lou-Lou. I'm 19 years old. I'm from Cavite but I currently live in Mandaluyong. I'm currently in my fourth year of college, taking up Entrepreneurial Management at Meridian International College. I'm a little behind because I shifted from Music Business Management. I'm the middle child among three girls, a Pisces, and I like escaping from reality—long car rides with the windows down, midnight walks, being unpredictable. Yes, horoscopes intrigue me, but I don't base everything on them! I like watching scary movies. Literally just watching because I have my ears covered the whole time!"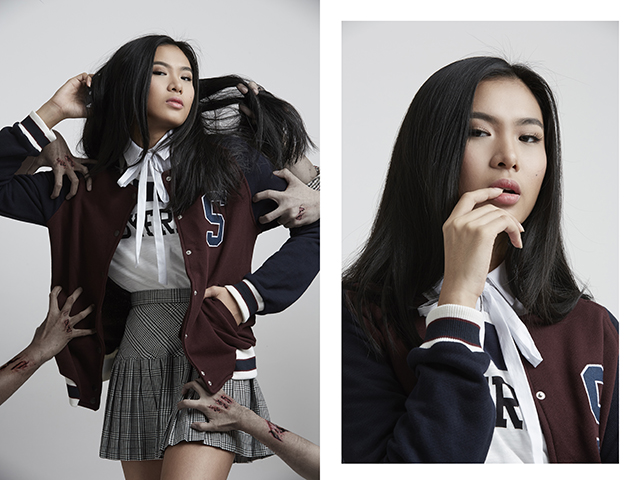 CONTINUE READING BELOW
Recommended Videos
IMAGE Erwin Canlas
Train To Busan
Pussy Bow Blouse P2595, Miss Selfridge; Raglan Shirt P755, Plaid Skirt P915, Forever 21; Letter Jacket P2,199, Sfera
How long have you been modeling and what inspired you to do it?
"I started modeling kids apparel when I was seven. I'd always say no when they'd ask me to do it. It was my older sister, Nikki, who wanted to model and my mother is really supportive. They managed to make me model somehow. The jobs I did were mostly for Barbie, even though I was told that I walked like a dude. My childhood consisted of pink, glitter, and mall shows, and mind you, I learned a lot.
"I stopped modeling when I turned 13 because little girls have to grow up eventually. I needed that anyway. I got to rest on weekends and focus on my studies. This time around back in 2012 (I was 15 then,) my younger sister Rafiela wanted to try out modeling for teen magazines, and of course, I got dragged with her, too. Somehow, she was able to get in touch with Patty Betita, who's one of the legends of the modeling industry, and she became my mentor. Ms. Patty noticed me and asked if I wanted to be a professional model. Weirdly enough, I missed modeling. I missed the waiting hours that I usually hated, I missed the annoying chaos backstage, and the thrill of quick changes. It was weird that the things that I hated were the ones I craved for. Plus, there's no harm in trying again, so I said yes. It wasn't the free stuff, the money, or the glamorous life that made me want to go back to modeling. What inspired me were my sisters, my ever-supportive family, and myself. I wanted to challenge myself and now I love the things that I thought I would never do."
ADVERTISEMENT - CONTINUE READING BELOW
IMAGE Erwin Canlas
Stranger Things
Topshop Bomber Jacket P4,195, Mom Jeans P2,995; Forever 21 Plaid Shirt P1,015, Backpack P1,045; Dorothy Perkins Sweater Top P1,395; H&M Necklace
What else keeps you busy aside from modeling?
"Aside from the fact that I'm still in school, I'm also into painting. I like colors and I like the stories behind every piece. If writers express through words, I express through painting. I'm not a pro but it's still something."
ADVERTISEMENT - CONTINUE READING BELOW
What scares you?
"I'm scared of dying, but not death exactly. I'm scared of running out of time. Right now, there are only two or three things that have been checked off my bucket list. I still have loads of things I want to do and experience firsthand. I haven't tested my limits yet. I don't want to die without experiencing what this world has to offer."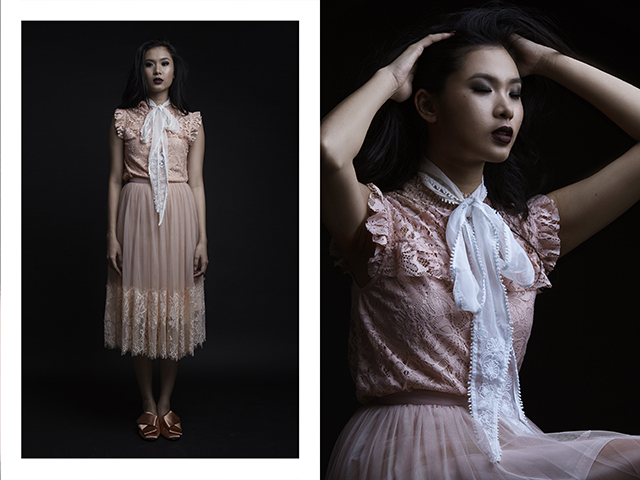 ADVERTISEMENT - CONTINUE READING BELOW
IMAGE Erwin Canlas
The Exorcist
Topshop Lace High Neck Blouse P1,795; Miss Selfridge Tulle Midi Skirt P5,195; H&M Flat Mules; Forever 21 Lace Scarf P565
Do you think fashion is scary?
"Fashion could be scary only if you allow it to be. So, no, fashion is everything but scary. Fashion could be an instrument for you to find yourself. Fashion doesn't have to be pretty nor does it need to conform to society—it is welcoming, it is something you can use to express yourself. Fashion is supposed to be walking into a room without the fear of being judged. Fashion is your friend."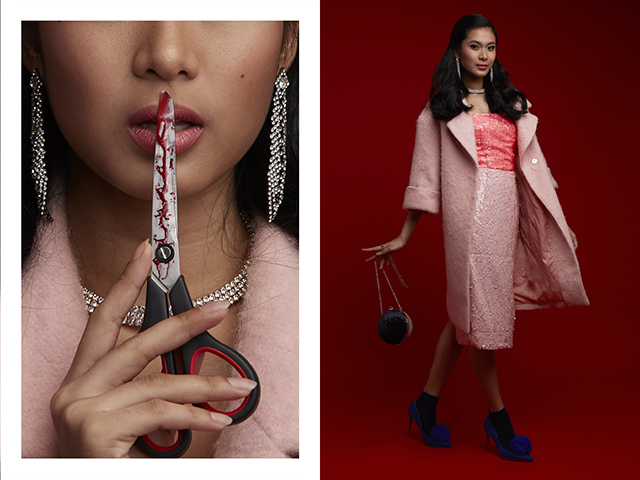 ADVERTISEMENT - CONTINUE READING BELOW
IMAGE Erwin Canlas
Scream Queens
Lasala Sequin Dress; H&M Wool Coat, Ball Clutch, Necklace, Earrings; SoFab! Heels
Is modeling cutthroat for you?
"Well, most models are competitive. That's about it. You just have to hang with the right ones. When you're 15 and working with people who have been doing it for years, you tend to be scared, insecure, and vulnerable. But all of this never really stopped me. I was taught at a very young age that if the opportunity is really for you, it will be yours. I got comfortable over the years in the industry. But there's still so much to learn, so much to do, and I can't wait to see what fashion has in store for me."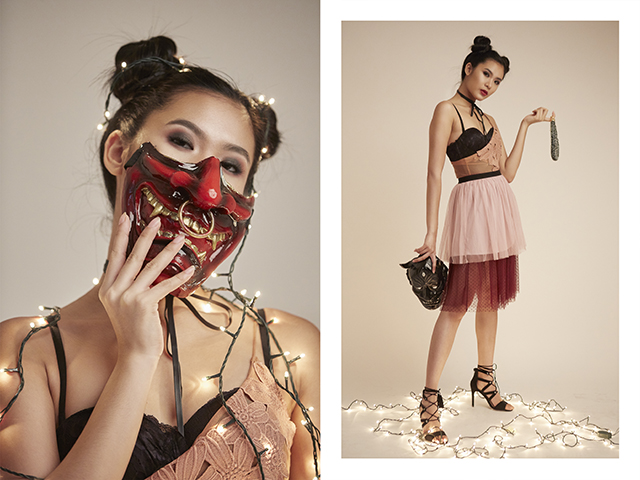 ADVERTISEMENT - CONTINUE READING BELOW
IMAGE Erwin Canlas
The Purge
Mix Supetran Bodysuit Lingerie; Topshop Leotard P1,995; Forever 21 Mauve Tulle Skirt P915, Burgundy Tulle Skirt P1,015, Lace Up Heels P1,700, Leather Choker P225; H&M Necklace; Herminio Tan Jr. Masks, (IG: @hermitism, FB: hermitismX)
Can you share some of your style tips?
"Don't be a follower, be the trendsetter. I tend to move a lot so comfort is EVERYTHING. Just make sure to incorporate your personality in everything you wear. You can show up looking like a rug, but be a fashionable rug."
ADVERTISEMENT - CONTINUE READING BELOW
IMAGE Erwin Canlas
The Conjuring
Brit Tripudio Cape; Miss Selfridge Crop Top P1,995, Slit Trousers P2,795
What's next for Lou Yanong?
"I'm exploring different fields of studies. I also plan to work abroad if given the chance. There are so many things I want to do! I'm a very unpredictable person, but one thing's for sure, I'm ready for whatever the world will throw at me."
Featuring Lou Yanong
Photography by Erwin Canlas
Produced and Art Direction by Gab Gutierrez
Styled by Celina Dayacap
Hair styling by Christine Dorothy Mamalio
Makeup by Aryan Ang
Related Stories from Preview.ph
Hey, Preview readers! Follow us on Facebook, Instagram, YouTube, Tiktok, and Twitter to stay up to speed on all things trendy and creative. We'll curate the most stylish feed for you!