The best and brightest stars lucky enough to make it to this year's prestigious Met Gala guest list have flocked to the Metropolitan Museums of the Arts for the annual fundraising event. While there's no denying that the red carpet alone is always a fashion show on its own, 2019's theme in particular might just eclipse all the others that came before it. This year's "Camp" theme directly calls for the bold, outrageous, and daring. That said, we couldn't help but ask our very own local designers how they would dress some of Hollywood's most stylish for the Met Gala in line with its eccentric motif.
Check out how our Filipino designers interpreted the theme below!
Rajo Laurel for Zendaya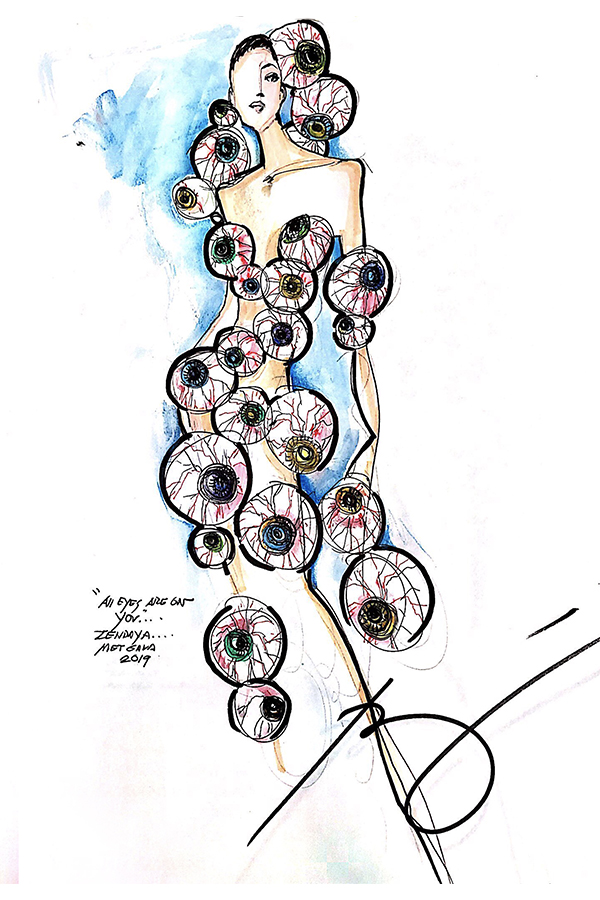 ADVERTISEMENT - CONTINUE READING BELOW
"I decided to go with two options for the project because I always prepare two ideas for all my clients whether they are fictional or not. The first idea is based on the fact that everyone will be fixated on the Met ball and I wanted to take a literal perspective on this. Creating a piece made from different sizes of globular eyes, which have beaded irises and run the gamut with all the various colors of the human eye. I thought that this would be over the top and really campy."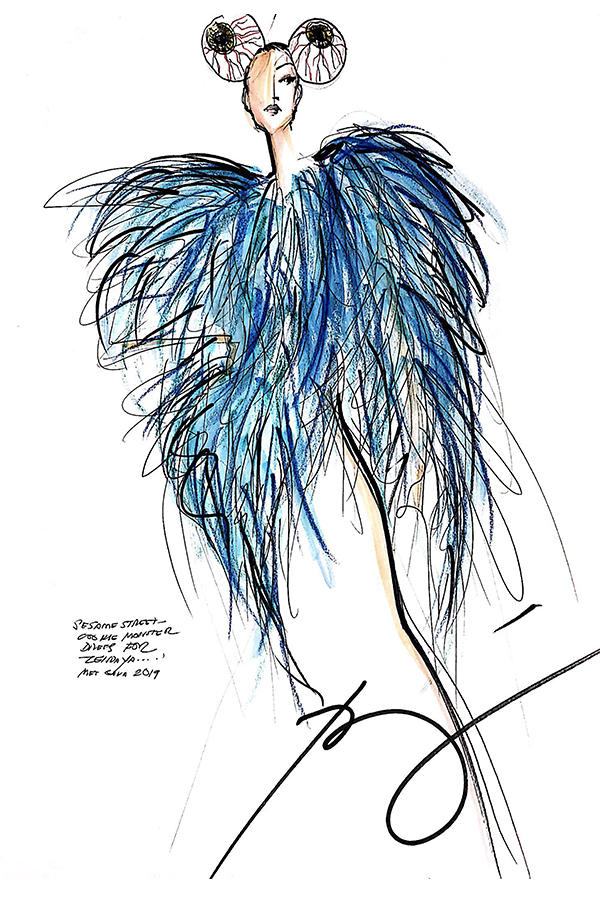 ADVERTISEMENT - CONTINUE READING BELOW
Recommended Videos
"The second idea was that of creating a real chic version of my favorite Sesame Street character, Cookie Monster. I decided to design this [with] a combination of feathers and faux fur. The blue voluminous piece would still show of Zendaya's legs and will have two bulging eyes for her head piece. I wanted to make CAMP fun and funny at the same time so this is what I came up with."
Ha.Mu for Rihanna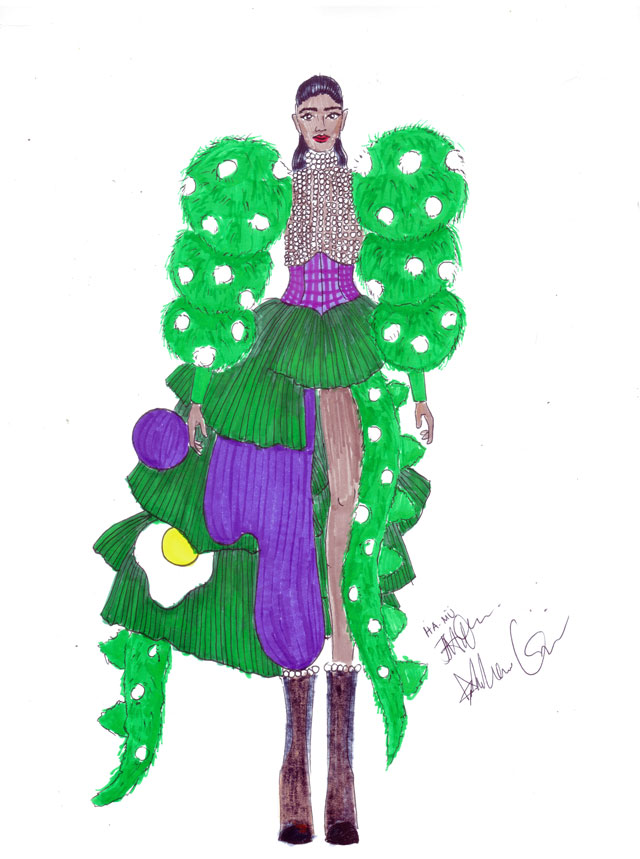 ADVERTISEMENT - CONTINUE READING BELOW
"For Rihanna's look, we decided to push the boundaries and experiment with another interesting silhouette since Rihanna is very well known for always following the Met theme closely. We chose colors that she has not worn before in the past Met Galas and incorporating it with pieces that we have already worked on to do this look. We chose emerald green and violet to represent her amazing ball of energy and creativity that she's embodied throughout the stand of time. The silhouette of the look represents our branding but in Rihanna's form since she always knows how to make a designer piece work for her without having to strip the essence of the actual design."
Cherry Veric for Beyonce
ADVERTISEMENT - CONTINUE READING BELOW
"A nude glass corset decked with rainbow LGBT crystals and sleeves that look like anthurium blooms cap the bodysuit made especially for Beyonce to amplify her iconic status. A shimmering cascade of hair extending all the way to the ground forms a golden cape fit for her interstellar presence."
Yong Davalos for Anne Hathaway
ADVERTISEMENT - CONTINUE READING BELOW
"Pink Expolosion. Nothing more campy than an entire hot pink ensemble topped with a pink wig!"
Renan Pacson for Rihanna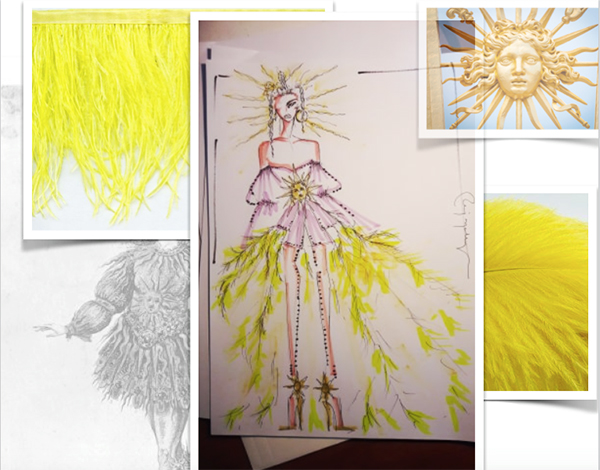 "For this year's Met Gala, I envision Rihanna channeling King Louis XIV, the sun king, who I think is the king of camp. I would dress her in an extravagantly deconstructed oversized man's shirt worn as a dress paired with the biggest and most voluminous pannier skirt made of three million neon ostrich feathers. To top off the 'camp' look, I'd have her in flamboyantly matching insignia belt, shoes, and headpiece. The 'Divine' in 'Pink Flamingos' makeup is optional."
ADVERTISEMENT - CONTINUE READING BELOW
Jaggy Glarino for Lady Gaga and Cara Delevingne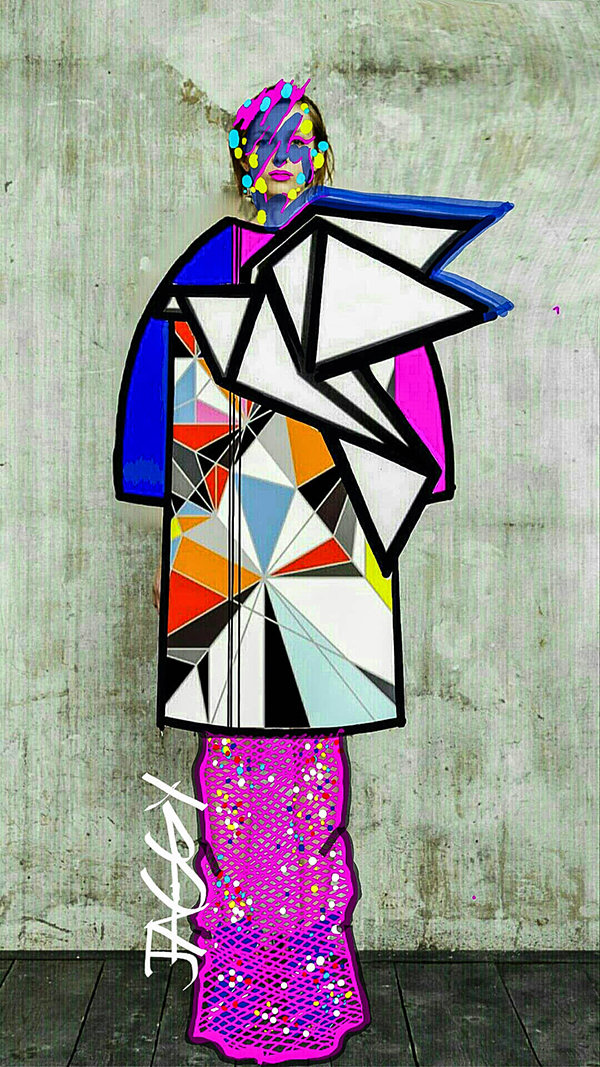 "The idea is to explore forms of 'abstraction', to scrutinize and to visually demonstrate the differences between the soft/fluid elements from the sharp lines. This is my take on 'campy' because, in a sense, the notion takes momentum from clashing elements, which result in an exaggerated/strong visual language."
ADVERTISEMENT - CONTINUE READING BELOW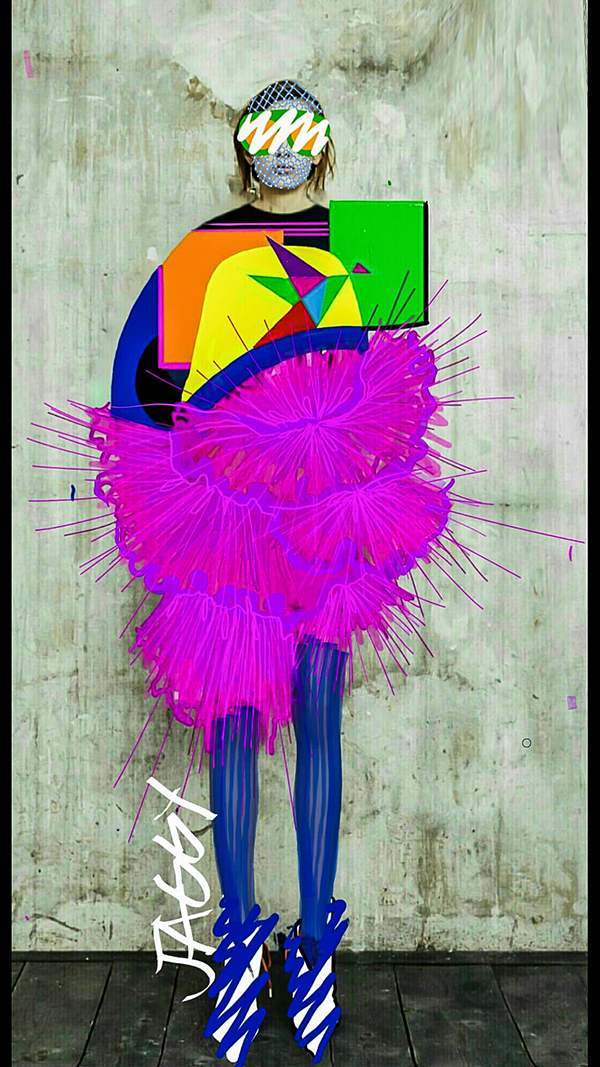 "Why Lady Gaga and/or Cara Delevingne? I always find both of these women to have very unapologetic and unique yet remarkable take on their personal style. They somehow always manage to [be triumphant at] wearing bold fashion and making it their own. We are talking [about] two very different but equally bold women with strong and secure fashion styles. Though again, these ideas may be challenging to wear, I am firm into thinking that these two could definitely breathe unique life into these designs."
ADVERTISEMENT - CONTINUE READING BELOW
Tony Evan for Jennifer Lopez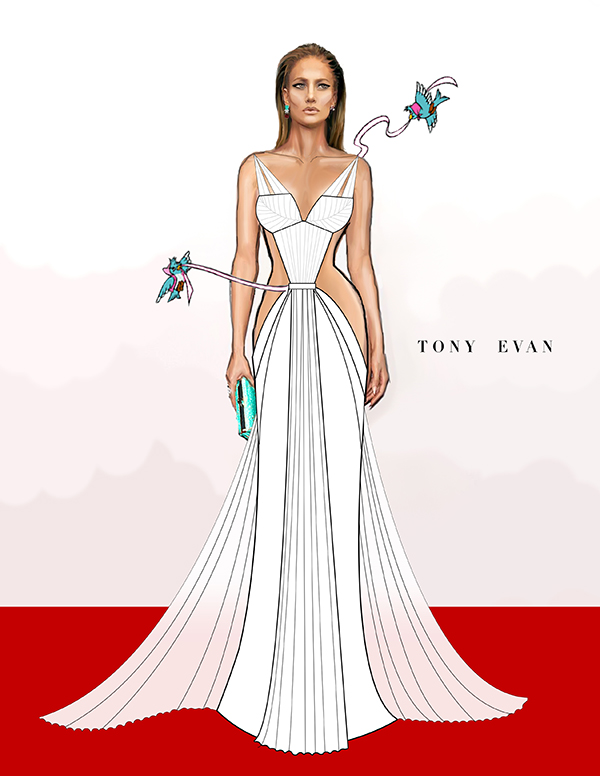 "Jennifer Lopez is a perfect example of a superstar who never lets her clothes wear her. Even though they can be ridiculously skimpy and overly provocative, she always manages to give off an air of nonchalance, as if a navel plunging dress that's one wrong move away from a full blown wardrobe malfunction is something she just normally happens to wear on a typical Tuesday.
ADVERTISEMENT - CONTINUE READING BELOW
"I designed something inspired by Cinderella. With birds attached as if assisting her with dressing. But I kept the style within her repertoire for daring cuts and nude illusion. Jennifer is a personality known for her humble beginnings and I will forever remember her as Marisa Ventura, her film role as a New York City maid who had a fairytale evening with a high-profile politician complete with an early 2000s style makeover montage to Diana Ross' I'm Coming Out.
"From what I understood, Camp fashion is something extraordinary... It defeats the purpose for camp fashion to be ostentatious with the intent of being ostentatious. It simply demands to be taken seriously, albeit eliciting curious glances."
John Herrera for Lady Gaga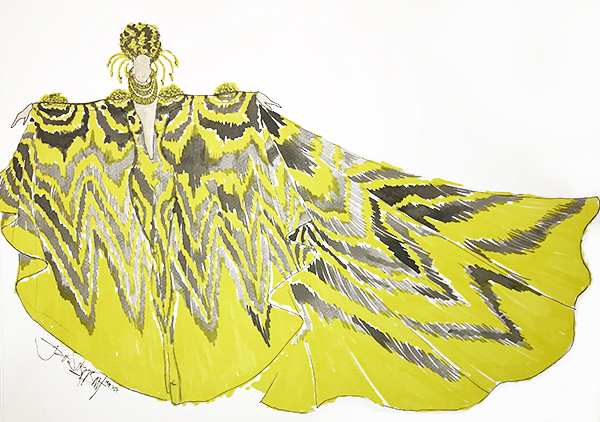 ADVERTISEMENT - CONTINUE READING BELOW
"Inspired by bioluminescent underwater creatures, digitally printed tiger fish pattern on organza, appliqués with sea foam and jelly fish pailletes and fringes from discarded plastic bottles. Camp is larger than life, over the top! Camp is bringing the taboo to the forefront of fashion. Commercialism and corporate greed have allowed single use plastic to pollute our waterways and oceans. Although fashion designers [don't] have the power to solve this, we can at least get the conversation going. And in our own ways, do our bit to recycle."
Jenni Contreras for Cara Delevigne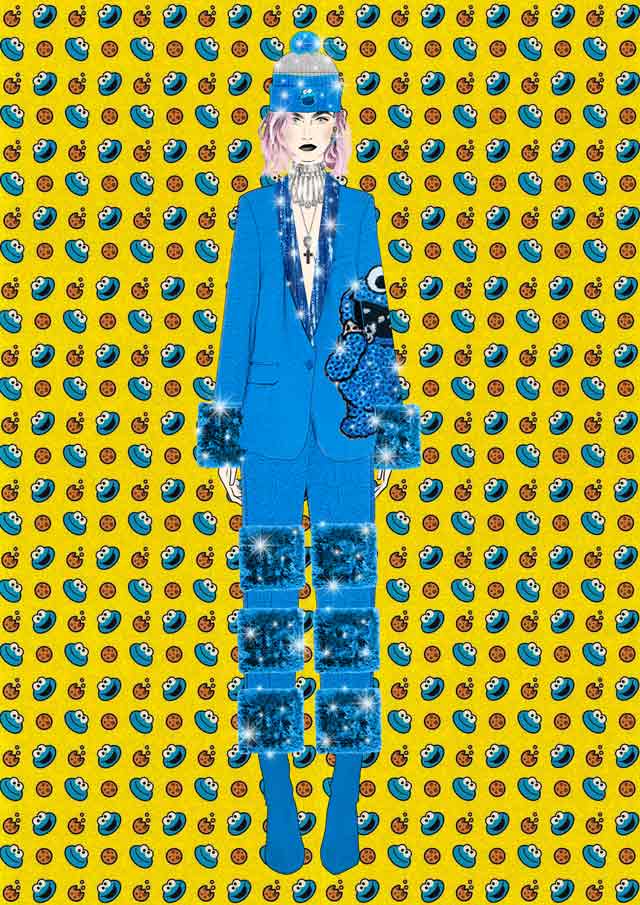 ADVERTISEMENT - CONTINUE READING BELOW
"For this year's Met Gala, I chose to dress Cara Delevingne cause A. She's a badass, and B. We both have psoriasis. When you say "Campy" it's almost always about poofy dresses and over the top layering and laces, and frills, and being the rebel designer that i am (haha joke) I went with a suit instead. But of course, it's not campy if it's not over the top and if doesn't lack taste, and what could be more distasteful than putting a blue fuzzy monster from your childhood on your clothes. So, for Cara, i designed a blue tweed suit with a sequined lapel, Sequin Cookie monster patch, and beaded fur trimmings on the sleeves and on the pants with a matching cookie monster beanie (ughhh the horror). I accessorised it with neck pieces and earrings from father campy himself, Alessandro Michele for Gucci. I also went with pink hair because i feel like it's a nice contrast from all the blue and silver."
ADVERTISEMENT - CONTINUE READING BELOW
Related Stories from Preview.ph
Hey, Preview readers! Follow us on Facebook, Instagram, YouTube, Tiktok, and Twitter to stay up to speed on all things trendy and creative. We'll curate the most stylish feed for you!