Taking photos on the beach is not all fun and games, especially if you're in a swimsuit. Any number of baffling questions could be whizzing through your mind at the very prospect: for example, how on earth are you supposed to pose? How do you avoid looking any bigger than you actually are? How do you hide problem areas? We're asking ourselves the very same thing, so you're welcome in advance! Below, we've gathered 10 Instagram girls ready to be your new fave seaside pose pegs. PSA: there's no shame in practising in front of the mirror!
MARTINE CAJUCOM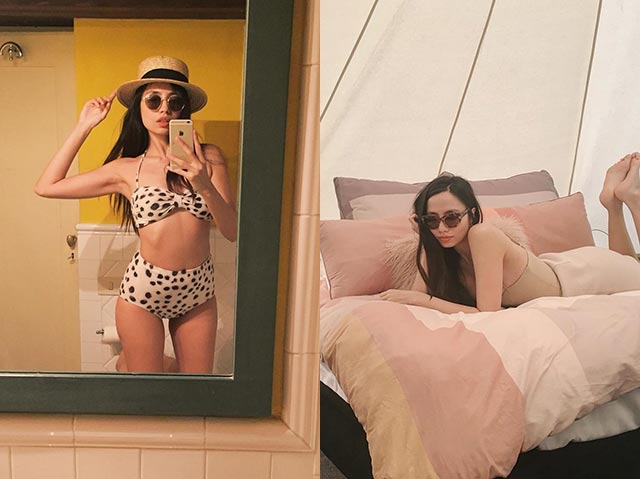 ADVERTISEMENT - CONTINUE READING BELOW
IMAGE INSTAGRAM/ilovemartine
Ah, the bikini mirror selfie. Martine's a certified master of the craft, so take a cue from her: make your puson area shrink by drawing your pelvis back a little—this trick also gives you a curvier silhouette! Really don't want to flaunt your frontside? Take a coquettish snap lying on your tummy (plus points for color-coordination).
JELINE CATT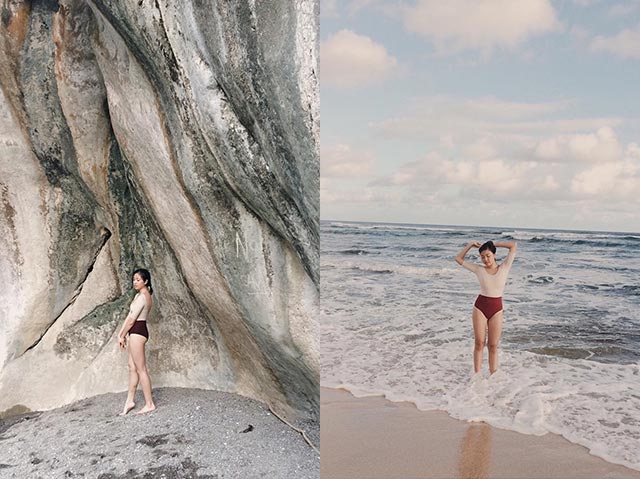 ADVERTISEMENT - CONTINUE READING BELOW
IMAGE INSTAGRAM/jelinecatt
Let us just put this out there: swimsuit repeating is totally fine! Even Jeline swears it. If you don't want your photos to look too similar to one another, make sure you pick distinctively different backgrounds, like a beautifully marbled rock formation versus a pink-tinged sunset beach.
KIANA VALENCIANO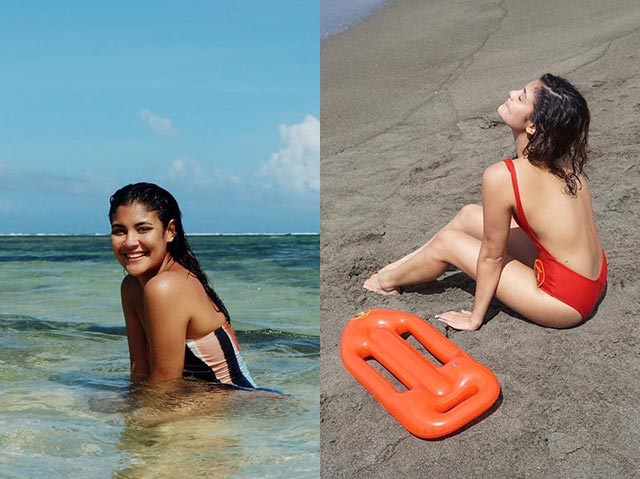 ADVERTISEMENT - CONTINUE READING BELOW
IMAGE INSTAGRAM/kianavee
If you're the type o' gal who actually swims on the beach, then Kiana is your perfect peg. She's a summer girl through and through; just scroll through her feed for a sunny dose of inspo! Get your hair wet and flash a winning smile right in the middle of the sea, or pull a Baywatch on the shore.
KIM JONES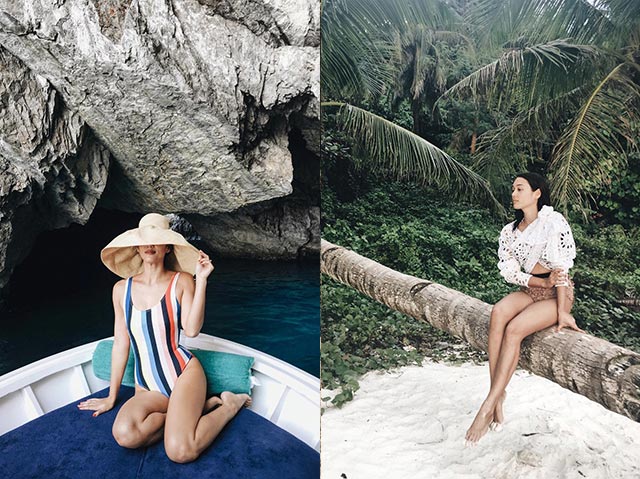 ADVERTISEMENT - CONTINUE READING BELOW
IMAGE INSTAGRAM/kimcamjones
Kim seriously owns the kind of swimsuits every fashion girl drools over, and she knows exactly how to flaunt them on the 'gram. Today's lesson teaches you how to look long even while seated! It's all about angles—throw your shoulders back and fold your legs to the side when sitting on your knees to lengthen your line. Don't forget to point your toes!
KIMI JUAN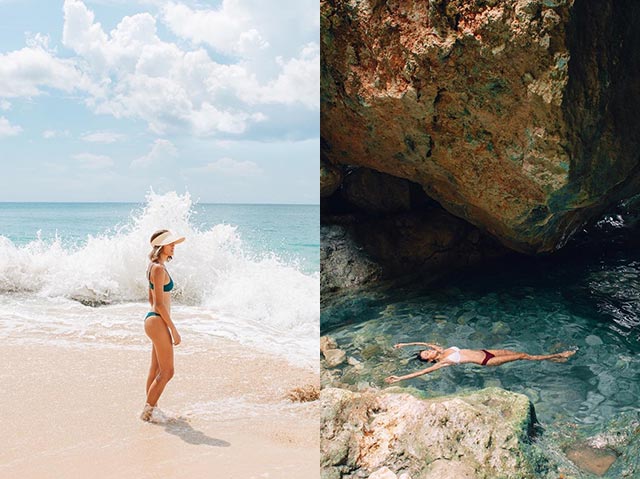 ADVERTISEMENT - CONTINUE READING BELOW
IMAGE INSTAGRAM/kimijuan
If we say so ourselves, Kimi is the queen of subtle, beautifully-photographed bikini snaps. Just look at these! Take the photo from a distance and let the scenery speak for itself—you and your beach bod are the bonus.
LAUREEN UY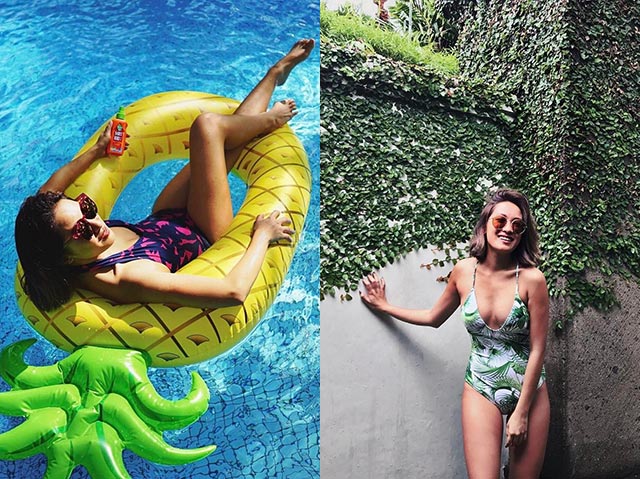 IMAGE INSTAGRAM/laureenmuy
Summer's about to hit full swing, and adorable floaties will be everywhere before you know it. Make the most of yours the way Laureen does—remember, a shot from above while looking over your shoulder makes your jawline look sharper and your face look smaller. Also, match your swimsuit to your backdrop: nothing pleases the eye more!
ADVERTISEMENT - CONTINUE READING BELOW
LIZ UY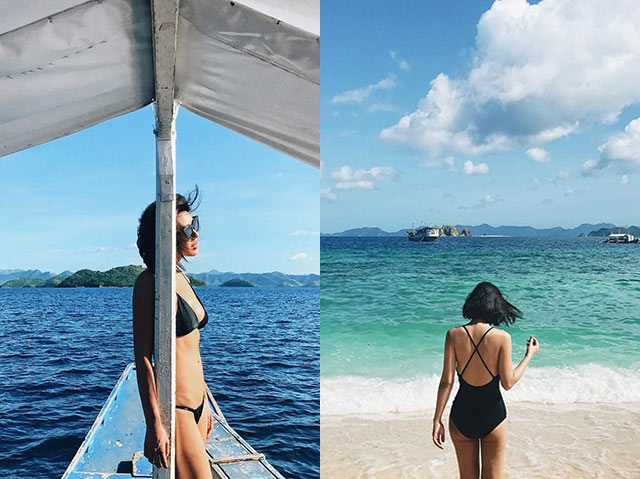 IMAGE INSTAGRAM/lizzzuy
Liz's beach snaps are understated yet sexy. In case you had no idea how to make a rickety bangka look like the season's unrivaled place to be, here's your solution. Show off eye-catching back details with a shot of you wading into the water, keeping your arms away from your sides so as not to hide your natural shape.
ADVERTISEMENT - CONTINUE READING BELOW
MARI JASMINE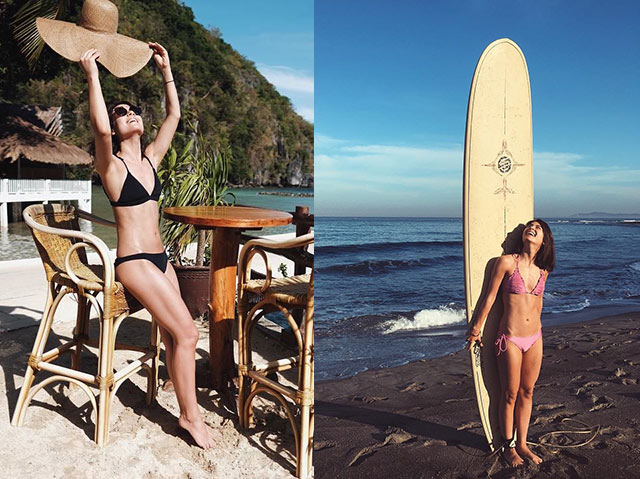 IMAGE INSTAGRAM/mari_jasmn
We love looking through Mari Jasmine's seaside photos because they're just so happy—and so you should be, you're lucky enough to be on vacay, girl! Use the "props" made available to you, like your fave straw sunhat or that surfboard you've been wrestling to stand on for the past hour. Don't forget to smile wide!
ADVERTISEMENT - CONTINUE READING BELOW
RENEE DE GUZMAN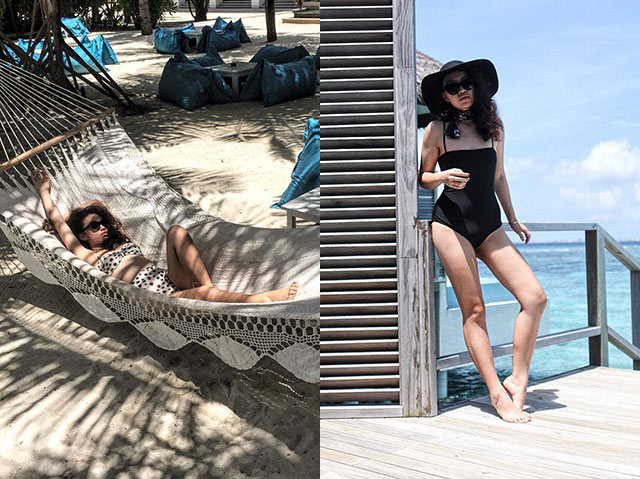 IMAGE INSTAGRAM/reneeedg
A shot lying down is great for looking lean (your bulges disappear), so make like Renee and swing onto the nearest hammock. Be sure the photo is strategically-taken, though: ideally from above and slightly angled so that you don't look oddly flat in the wrong places. Also, don't be afraid to lean on something—it's a subtle way to push your bum out and give you that hourglass figure. Tiptoe so your legs look extra toned!
ADVERTISEMENT - CONTINUE READING BELOW
EN ESTRADA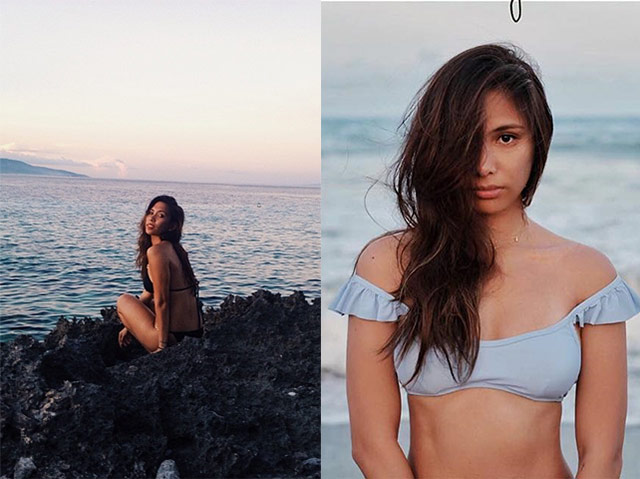 IMAGE INSTAGRAM/trasienne
When taking a photo from behind, pull your shoulders up slightly so that your back muscles are flexed. You'll look like you spent some sweet time in the gym. Want a shot highlighting a bikini detail you're in love with? En's gorgeously mooody, wind-whipped, beach-waved closeup would look great on your feed.
ADVERTISEMENT - CONTINUE READING BELOW
Hey, Preview readers! Follow us on Facebook, Instagram, YouTube, Tiktok, and Twitter to stay up to speed on all things trendy and creative. We'll curate the most stylish feed for you!