Sudden silence. The stage, pitch-black. A single spotlight. An elderly, hunchback woman, shuffles towards centerstage, holding her luggage of belongings, and falls on her haunches. An eerie sight.
It was at this point that the audience was completely confused. Was it a theatrical intermission number? Will the woman break out into song? Questions floated in the air, and there was nothing to do but to watch the white-haired lady on stage as she rummaged through her tampipi, a spacious bamboo chest that served as the luggage of Filipinos before the Spanish occupation.
It took a beautiful pair of sunglasses, which the Sisa-like character helped up to the light, to break the silent rapture that had enthralled the audience. Cue collective laughter, cue music, runway show.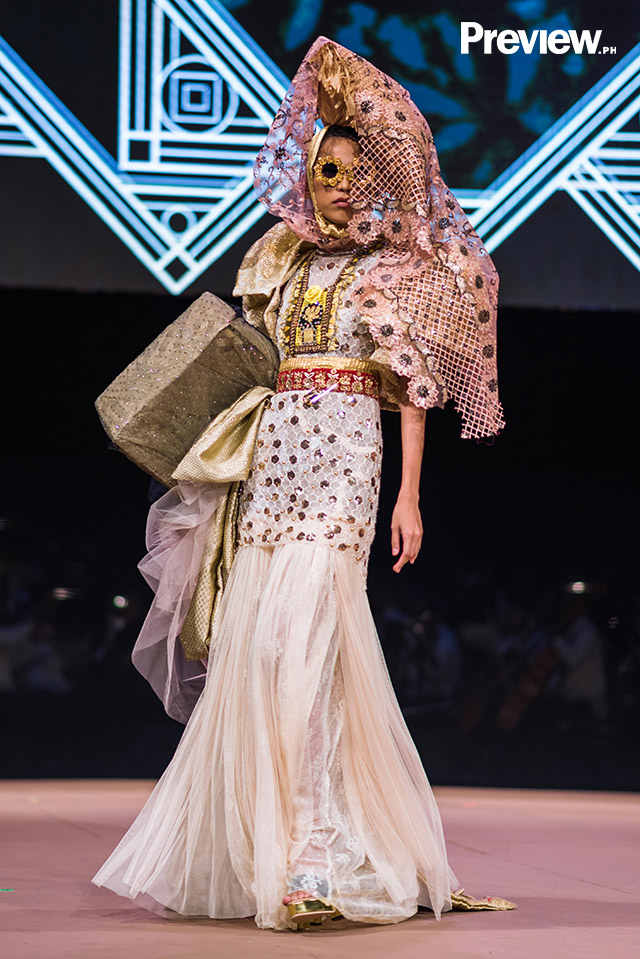 ADVERTISEMENT - CONTINUE READING BELOW
Soon enough, Lesley Mobo's name flashed on screen, and what ensued was a terribly glamorous lineup of models clad in couture terno creations. There was a sudden shift in the theater's energy due to the buzzing sounds, gasps, and excited whispers that the fashion crowd started making. Aside from the collection's strong visual impact (thanks to the extravagant layers, richly textured fabrics, and oversized proportions), it's safe to say that what made Lesley Mobo's ternos one for the books was the historical narrative it was trying to tell.
To learn more about Lesley's whimsical collection for TernoCon 2020, Preview caught up with the London-based Filipino designer himself:
What was the inspiration behind the collection?

Did you have a type of Filipina in mind or an idea you were toying with when you were conceptualizing?

"The collection started with an image of the pillow sellers from the 'Fashionable Filipinas' book dated 1910. And, I argued/discussed with Gino Gonzales (TernoCon Project Director) that I [interpreted] the image as women running away from their villages with their luggage on their heads—only to be told that they were actually selling pillows on their heads. So, I told Gino, why can't I start my collection from there?"

CONTINUE READING BELOW

Recommended Videos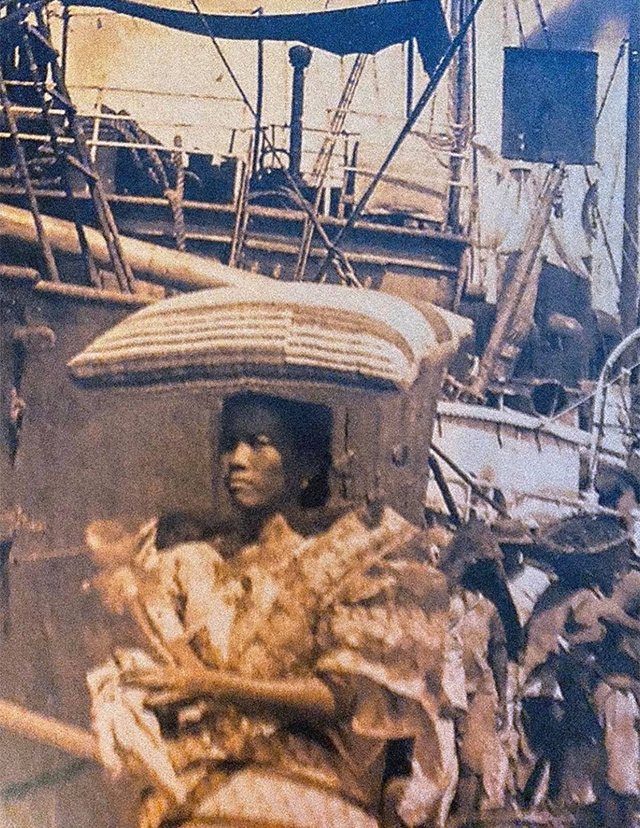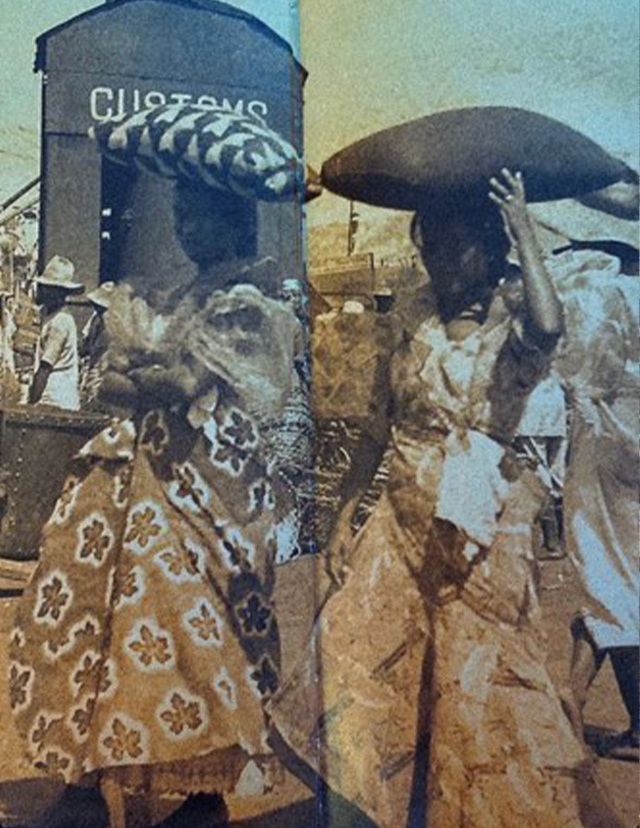 ADVERTISEMENT - CONTINUE READING BELOW
"I wanted to tell a story or show a metaphor of how Filipinos, based on history and [my] personal point of view, are always running away from their own homes and villages. I told Gino that I was once a storyteller designer whilst at Central Saint Martins, before I turned to conceptual fashion [and] then [became a] corporate/commercial designer."
"So, I said, the story is that we pinoys seem to be always running away from the Spaniards, Japanese, Americans... leaving our homes, our villages. Even with the modern pinoy, we all want to leave our homes and our country for a better life abroad."
"So, this is how the storyboard [goes]: Filipinos packing their belongings, running away from their homes and villages... with their tampipi and trying to find hope somewhere else."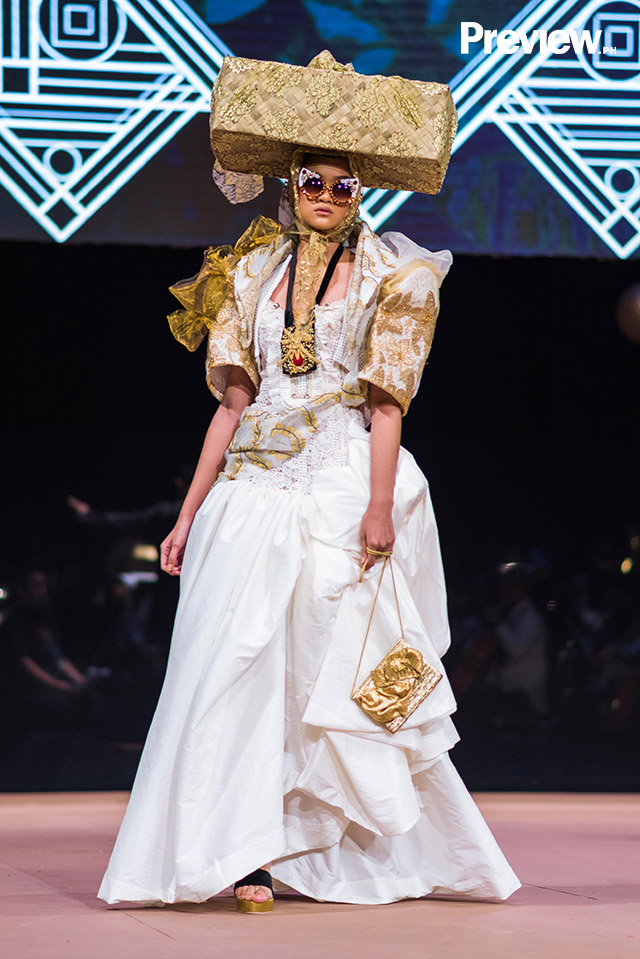 ADVERTISEMENT - CONTINUE READING BELOW
"We hope to tell a universal story of fear, happiness, journey, love found and lost... and trying to start all over again."
"We wanted it to be fun and funny [but] also sad and emotional. So, it was complemented by the brilliant musical arrangement of Ryan Cayabyab's "Pen Pen de Sarapen," which started out fun and became emotional towards the end as they abandon their own homes to find a better place."
"The sunglasses were supposedly about trying to look at things in a different perspective. It stands for resilience, hope, and looking at the future with a new perspective. So, from that, we also added to every dress with mythical stories to complete the look and storytelling."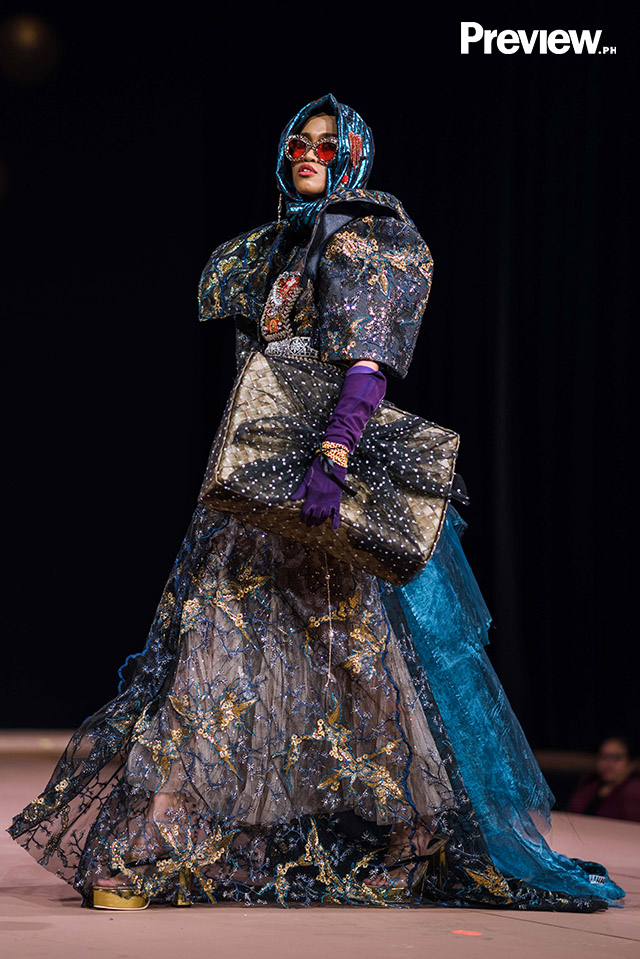 ADVERTISEMENT - CONTINUE READING BELOW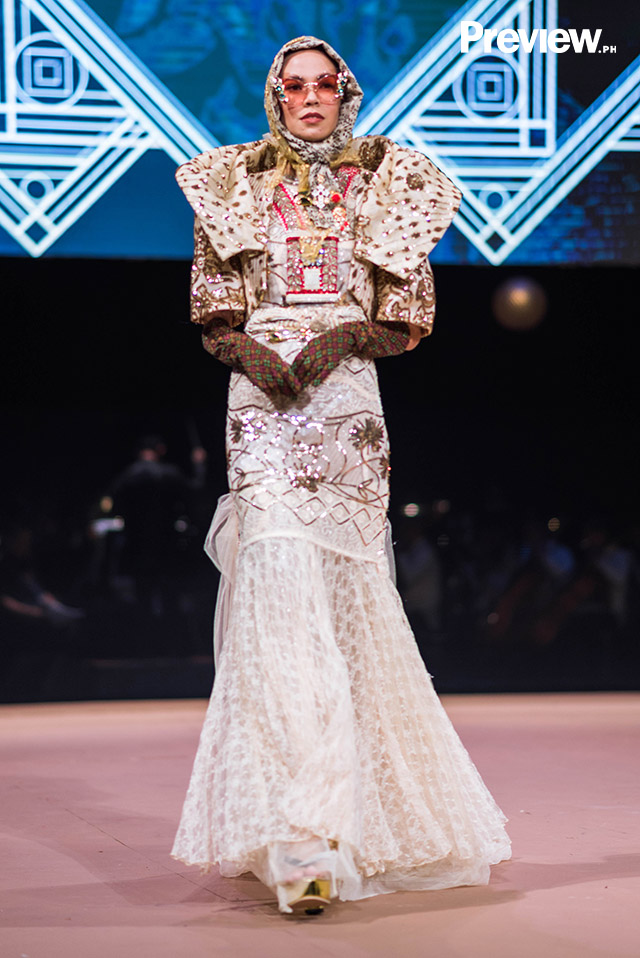 What was the construction process like? How long did it take to complete everything?
"The construction of the collection was based on that story we wanted to tell. Each dress included detailed embroidery and details that have something to do with Philippine myths and shamans, as most Filipinos that live in villages believe in all of these, especially from the region where I grew up. We still believe in anting-anting, kontra engkanto, and tikbalang. So, we added these elements to each dress as we constructed them. Most of the embroidery and beadwork [was done] both [by] machines and [by] hand. Some scapulars and anting-anting pieces [were] especially embroidered in London."
ADVERTISEMENT - CONTINUE READING BELOW
"To emulate the look, some pieces were hand ebroidered at Fotzrovia, London, by an embroidery company with British royal patronage since 1767. The embroidery house went on to work with couturiers such as Christian Dior, Norman Hartnell, and Hardy Amies on gowns for Queen Elizabeth, The Queen Mother, and the late Princess Diana. You cannot see [the details] from a distance because of the stylingl, but most of them are handsewn and embroidered."
ADVERTISEMENT - CONTINUE READING BELOW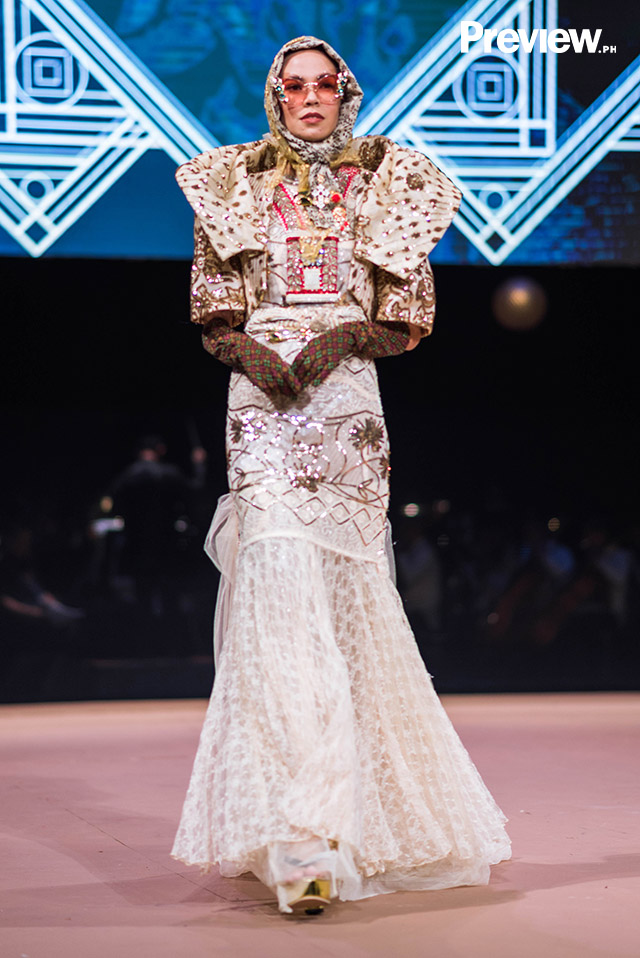 "Each piece of the dress consists of layers: a camisa with terno sleeves, a draped saya, tapis, panuelo. But, we played with the proportions of the panuelo, the camisa, the terno sleeves, and the saya."
"Visually, it was all historically right [with regards to the] components. [Although they] look like vintage ternos, if you look closely, the elements are either exaggerated or played [up] in proportions."
ADVERTISEMENT - CONTINUE READING BELOW
"I had to make classic ternos first on toiles before I went into playing with the proportions. As the golden rule [goes], you have to learn how to make the classic, the original first before you are allowed to play with it."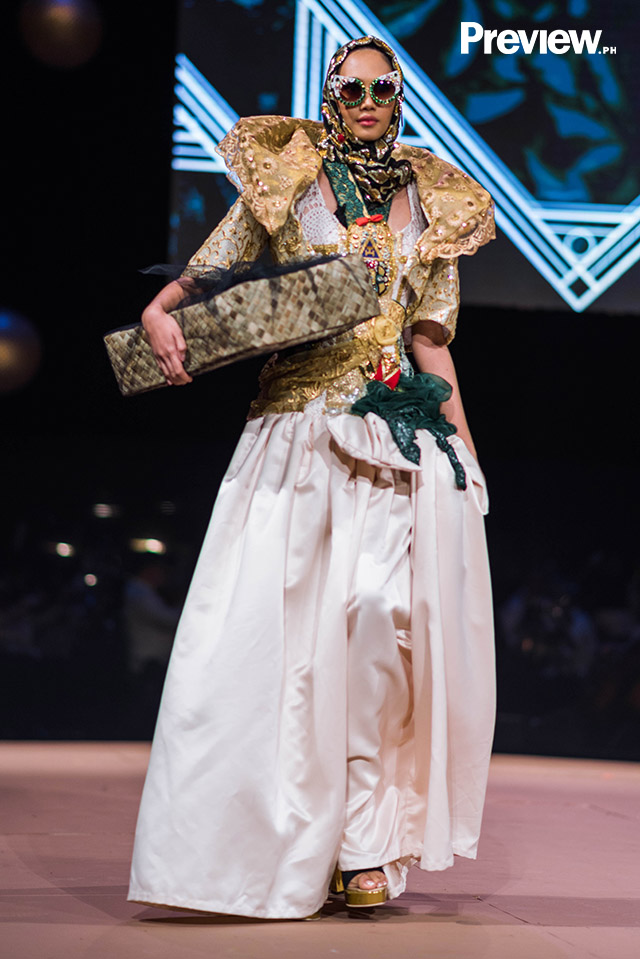 "I also spent so much time draping the sayas to emulate the fact that these women are supposedly running away from their villages. So, there's a lot of draped, disheveled, and tucked sayas. Because I had to fit in making this collection with my other [projects], I started working on it [last] November. It was quite a short time because of the Christmas season, so December is quite a dead month... which meant waiting for some parcels, embroideries, and fabrics to come in up 'til the 24th of December."
ADVERTISEMENT - CONTINUE READING BELOW
"The final finishing and some [items] were assembled in the Philippines two days before the show, with my assistants from the province working long hours till an hour before the show to finish the hand sewing and final touches."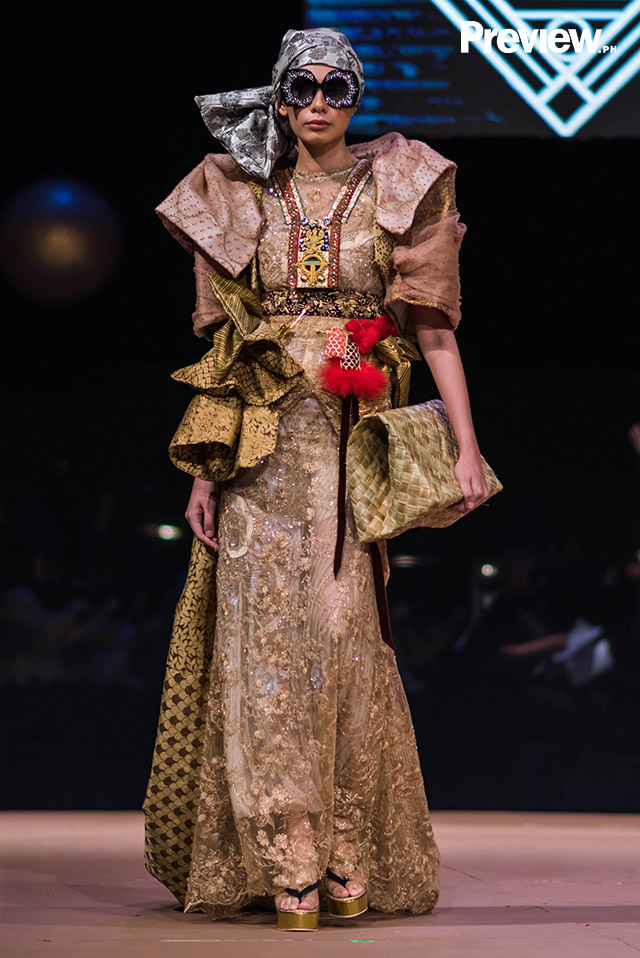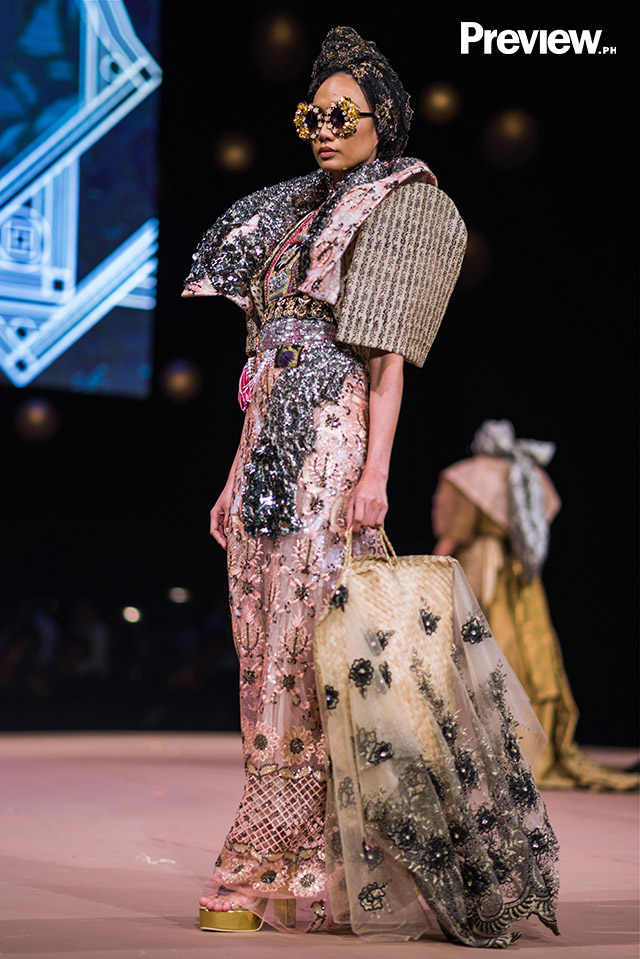 ADVERTISEMENT - CONTINUE READING BELOW
3. What were some special elements you incorporated?
"When it came to the embroideries, it was all traditional, especially the ones that were done in London. It was traditionally done in the same technique they use to do embroideries for a queen or for a couture house... some techniques are as old as 1767. But, it was so expensive that we had to mix it with some machine-embroidered fabrics to lower the cost."
"Also, the dresses are layered [with] beaded tulle overlaid with [more] beaded tulle."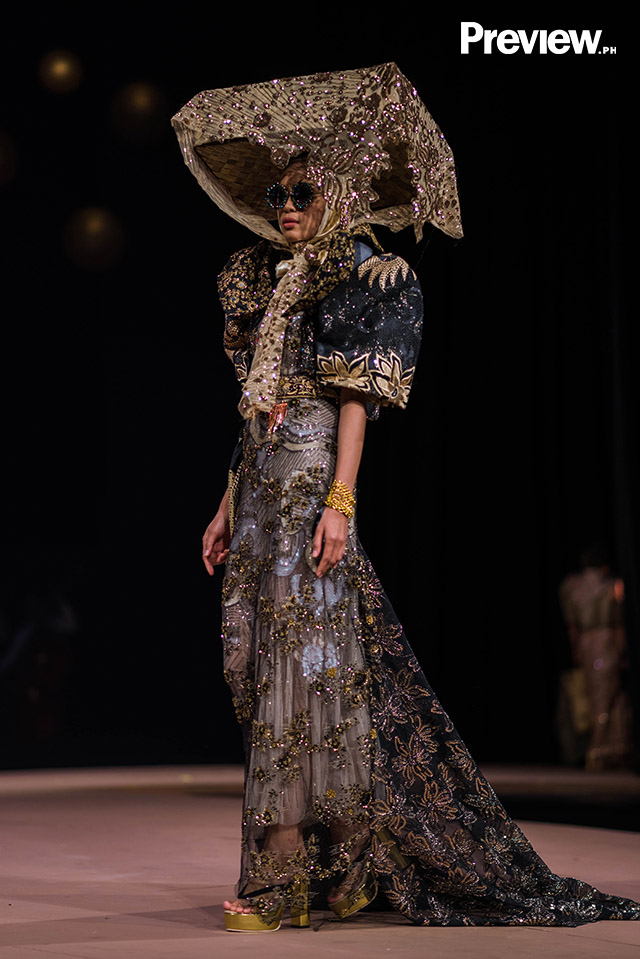 ADVERTISEMENT - CONTINUE READING BELOW
"Some traditions are also highlighted in just one terno (with two crafts). For example, pinokpok, silver metal working, and hand-printing 'woodblock' technique on fabric using leaves and flowers as dyes—and how it's being adapted, rethought, and remade for this TernoCon 2020 collection ('pinokpok-like' silver chips/pieces of metal on panuelo overlaid atop a woodblock hand-printed camisa and terno sleeves using ethnic patterns)."
"Doing it was really time-consuming. I felt I was a method actor/designer while doing the collection... I had to listen to classic Filipino music all the time and even try to even talk to my family and friends in Tagalog. LOL!"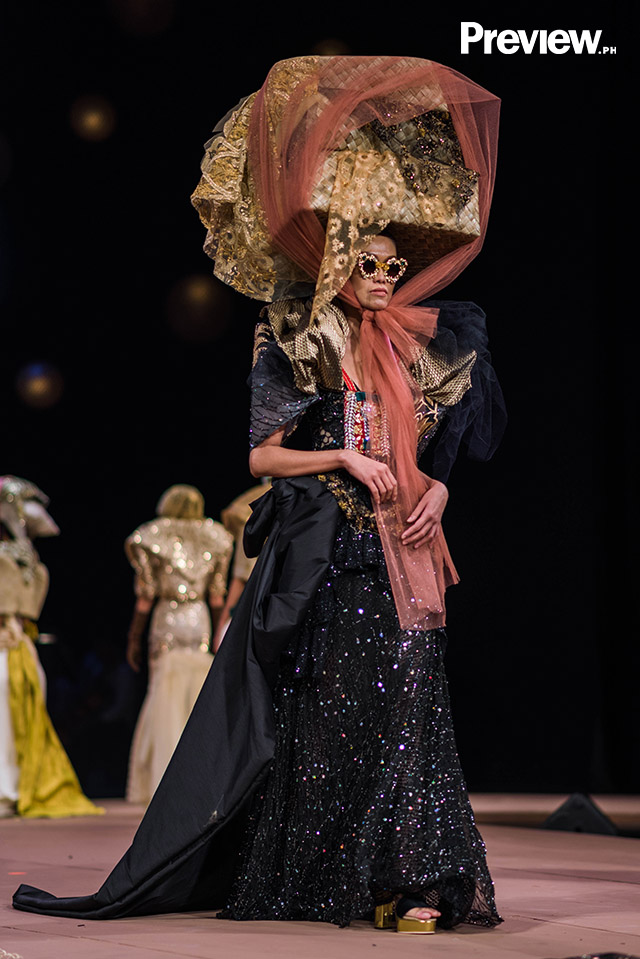 ADVERTISEMENT - CONTINUE READING BELOW
What did you think of the recently concluded TernoCon presentation and what it hopes to achieve?
"Based on my storytelling of the collection, when that old woman—the Sisa-like character—lifted the sunglasses and started looking at the sky with a smile, I think it's universal. No matter how hard life could be sometimes—struggles, life challenges, and the terrible things that have happened in our past (cultural, political, or personal)—we have to remind ourselves that it's not really the end. Pinoys are resilient people, and if we try hard to put those sunglasses on, to look at things in a different way, the things we look at become different, too. It's about having a new perspective. To be open to more ideas is always the key to the future."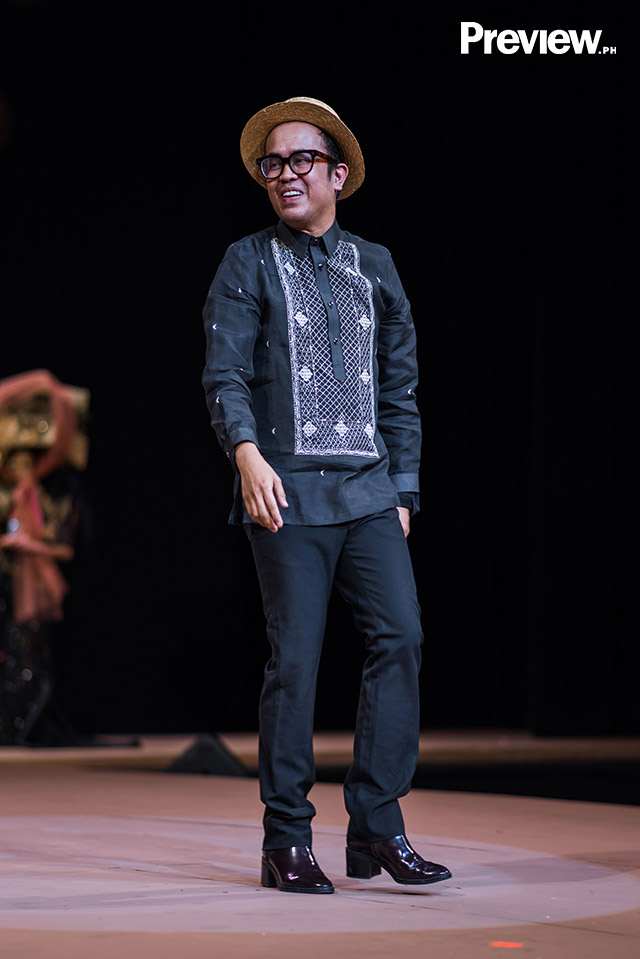 ADVERTISEMENT - CONTINUE READING BELOW
Lesley Mobo hails from Kalibo, Aklan. He graduated from Central Saint Martins with a bachelor's degree in fashion, and he later on pursued a master's degree as well. He is now based in the United Kingdom. His designer portfolio includes works for Uniqlo and Harrods, where he worked as an in-house designer for the brand Jasmine Di Milo.
Watch Lesley Mobo's TernoCon show below (timestamp: 1:00:05).
ADVERTISEMENT - CONTINUE READING BELOW
Related Stories from Preview.ph
Hey, Preview readers! Follow us on Facebook, Instagram, YouTube, Tiktok, and Twitter to stay up to speed on all things trendy and creative. We'll curate the most stylish feed for you!