Trilogy just reopened last week and we were given the privilege to meet with the brains behind one of the biggest women's street wear brand in the U.S.: Hellz Bellz. Would you believe she's actually full Filipina? Born in New Orleans and raised in San Diego, Lanie Alabanza-Barcena put up the brand when she was 24 years old, after working with retail companies for so long. Read on to know more about her design journey, her personal style, and her advice to budding designers wishing to put up their own street wear label in the future.
--
How did Hellz Bellz come about?
I started the brand in 2005. I was working at that time under Jay-Z for his brand called Rocawear. I was the Art Director for their women's line. Because it's such a corporate company, at some point I felt I didn't have that much creative control so I wanted to do something on the side just to keep my creative juices flowing and just to keep me active in designing things I'm interested in.
ADVERTISEMENT - CONTINUE READING BELOW
Since I grew up in a street wear culture, a lot of the brands that I gravitated to were like Stussy and Supreme but those are very male-driven brands. Stussy does have a women's line but they are still overly feminine for me so I'd always find myself wearing my husband's clothes or I would buy all of the men's tees and I'd wear [them]. I knew that there had to be are other girls like me that were not necessarily tomboys but wanted to dress a little bit more masculine but then still sexy at the same time. That's the reason why I created Hellz Bellz—to fill that void in the market and then also to simply create and design things for myself and for my friends.
CONTINUE READING BELOW
Recommended Videos
Prior to working for Jay-Z, what were your other jobs?
I've always been with retail ever since. I also worked for Triple 5 Soul, it's also a street wear brand. I also interned with Alphanumeric, where Bam used to work as well. (Ed's Note: Bam Barcena is the founder of another street wear label, GPPR)
ADVERTISEMENT - CONTINUE READING BELOW
Is that where you guys met?
Not exactly. In San Diego it's pretty much a small community so we have the same circle of friends. I met him through my older sister.
What did you take up in college?
First, I went to a university studying graphic design but I felt that it wasn't focused on what I wanted to do, which is more computer-generated artwork. It was more of lifestyle drawing, which I love to do too, but I can't imagine myself having a career drawing landscapes. I wanted to do more advertising so I left the university and went to an advertising arts college which later turned into an art institute.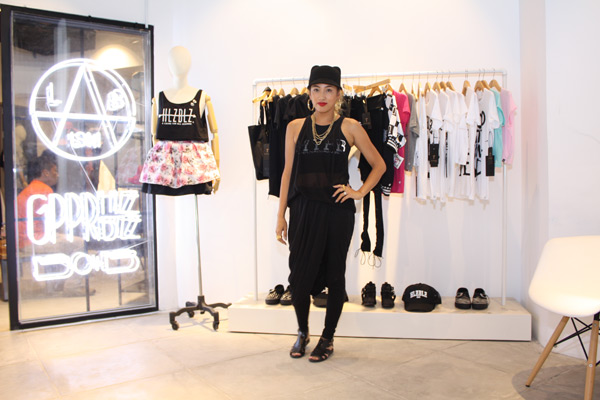 ADVERTISEMENT - CONTINUE READING BELOW
Was it hard building up the brand Hellz Bellz?
It was hard because there [weren't] that many women street wear brands. It was just me and maybe another one called Married to the Mob. And because there's only two of us, it was hard to create a movement. It's hard to represent for all women when there's only the two of us. But fast forward to now, almost eight years later, there's a lot more women's street wear brands and it's good to be able to say that I was at the forefront of the beginning stages of women's street wear.
What are you most excited about your expansion here in the Philippines?
I'm just excited about being a part of the early stages of the whole movement. A lot of people don't know that the people behind Crooks & Castles, Hellz Bellz, and Illest are actually Filipino-Americans, so its nice to come here and expose that and let the kids know that you can do it, too. It took a while for us and there's a lot of experience that went on with it but it's very possible. We just hope for it to be bigger than it is in the States.
ADVERTISEMENT - CONTINUE READING BELOW
What's your advice to other designers who'd like to follow your footsteps?
Bam mentions it all the time, like with Japanese culture they always take American culture and they flip it and make it better. So that would be amazing to have that happen here. I know there are so many creative people here in the Philippines but I feel that they underestimate their capability. I see their work and they're like "Do you like it?" And I'm like, "Oh my god you're amazing, are you serious?" And they're like, "Really, you think so?"
They have to remember that to get to the next level, they need to be very secure with themselves and let others know about their talent. No one else is going see it if they're not showing it off or taking pride in what they do.
Let's talk about your personal style. Who are your style stars?
ADVERTISEMENT - CONTINUE READING BELOW
I love Kate Lanphear, she used to be the editor of Harper's Bazaar and Elle. I love her, her style is amazing. As far as musicians, I love Rihanna. Her style is sexy but still very edgy and still very street. You can see how she's able to mix that whole tomboy but yet feminine look. That's kind of how I dress, actually.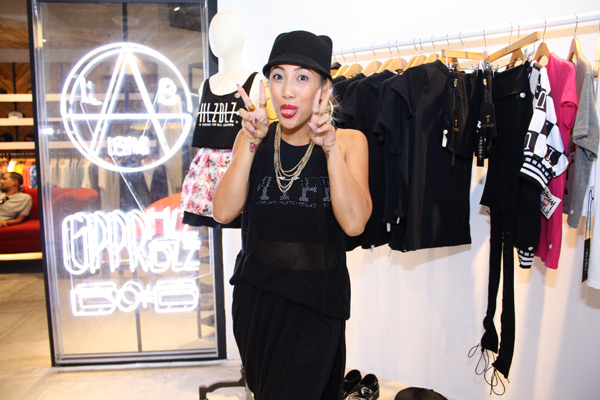 ADVERTISEMENT - CONTINUE READING BELOW
And perhaps a little bit of Gwen Stefani?
Yes! Everyone says that! I love Gwen Stefani. Growing up, ska music was my thing. I love how Gwen embraced that whole chicano look wearing men's Dickies, buckled belt, cropped top, and all that.
Tell us about your favorite items in your closet.
I like buying pieces that I know I can wear forever, so I have a pair of Dr. Marten's boots that I've had since I was a teenager. I still wear them now because they look so good when they're worn out and they have more history to them. I also have this motorcycle jacket that I've had forever. I swear if you Google me, I'm probably wearing that same jacket from now all the way back to 2004. (laughs)
Do you still shop?
No, not really. Most of the time I wear my brands. If it's not mine, it's probably vintage. I thrift shop a lot and I like reworking with vintage pieces to make it unique and my own.
ADVERTISEMENT - CONTINUE READING BELOW
What's your biggest fashion splurge?
If I do spend a lot of money on anything it's probably handbags. That's the beauty about purchasing expensive bags coz they last a lifetime. I love my Chanel Portobello, but my everyday bag is this Alexander Wang leopard-print leather bag.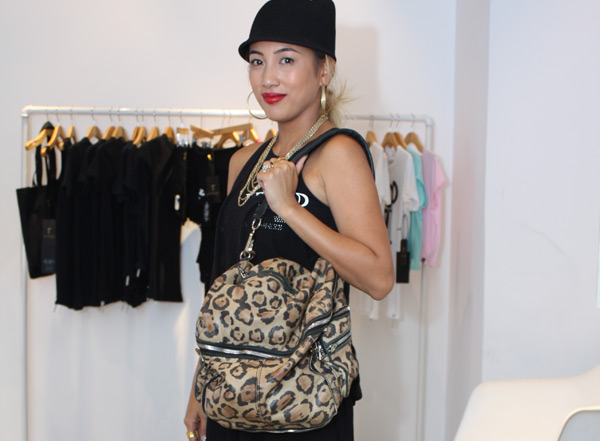 Is there a particular trend that you would never try?
ADVERTISEMENT - CONTINUE READING BELOW
UGGs. I hate UGGs. (laughs)
Walk us through your daily routine. Are you a morning person?
Oh, I'm not morning person. I go to bed at around three to four in the morning. We do a lot of our production overseas like in China and here in the Philippines so I'm doing a lot of work around that time so I go to bed late.
As far as my daily routine, I don't really have one, because every day is different. As a brand owner and as a designer I kind of take off hats and put another hat on. So one day will be dedicated to just designing, another day I'll be overseeing production, another day I'll be overseeing sales and marketing and then other times I'm consulting for other brands.
Where do you get your inspiration from?
Inspiration comes from everything. Because I'm always stuck in the office, I try to find inspiration through anything—it can be a conversation I had with somebody, it could be me people-watching and seeing somebody on the street and kind of visualizing how I can tweak their garments. It's mainly also from music. A lot of the verbage we have on our graphic tees come from lyrics from songs.
ADVERTISEMENT - CONTINUE READING BELOW
Name three of your fave artists.
I love The Clash, The Specials, and then of course Beyonce. She's like the queen.
Hellz Bellz is available at Trilogy stores in Glorietta 3, Shangri-la Plaza, Alabang Town Center, and Robinsons Place Manila.
Photography by Mark Buenaobra.
Click here to see the people who graced Trilogy's opening party in Glorietta.
Hey, Preview readers! Follow us on Facebook, Instagram, YouTube, Tiktok, and Twitter to stay up to speed on all things trendy and creative. We'll curate the most stylish feed for you!