Style blogger, photographer and fashion influencer Kim Jones adds shoe designer to her already impressive resume. International online brand Shoes of Prey handpicked Kim to be their latest collaborator for a new line of shoes. Inspired by the vibrance and the richness of Italy, Kim puts together a line aptly named La Dolce Vita, which translates to "the good life."
The collection features five suede pairs in red, white, black, and green. It comes with varying heel heights and styles so you're sure to find the perfect fit for you. What's more, you can even customize her designs to your own preferences and kind of lifestyle. As Kim puts it, "Being in control of what you wear is empowering— customization is the newest form of luxury." Find out more about it below.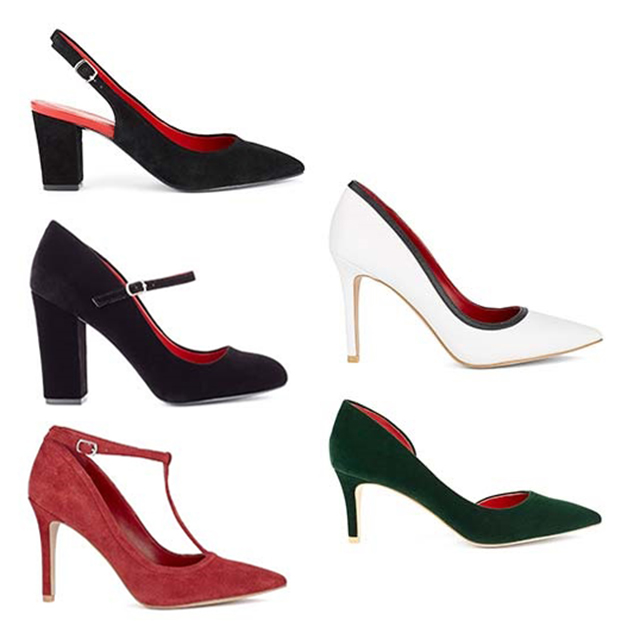 ADVERTISEMENT - CONTINUE READING BELOW
CONTINUE READING BELOW
Recommended Videos
IMAGE Shoesofprey.com
Hey Kim! Congratulations on your new shoe line! Can you tell us how this came about to be?
"Thank you so much! When it happened, I legitimately lost it. I mean, who doesn't dream about creating their own line of shoes?! I had a major freak out moment in Rome drinking an espresso when I received an email from the Shoes of Prey (SoP) team asking if this would be something I'd like to explore. I attempted to play it cool but I don't think I succeeded at all. I flew to LA to meet the team after I had secured my designs to see the sample shoes and proceeded to show all of these people I had never met before in the SoP offices that my name was on a shoe. I went a tad crazy."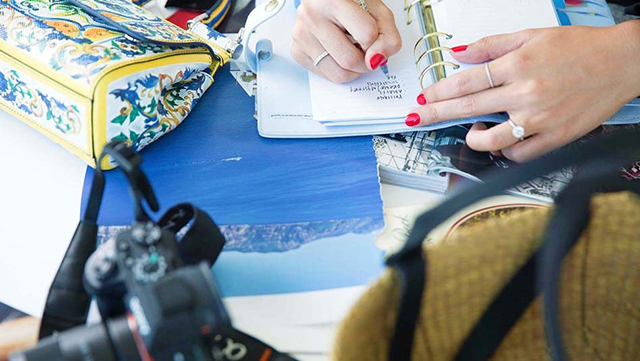 ADVERTISEMENT - CONTINUE READING BELOW
IMAGE Shoesofprey.com
What was your inspiration behind La Dolce Vita?
"I'd just come back from visiting Positano on the Amalfi Coast and was still on a travel high from the richness of the culture and the way a simple coffee in the morning could feel so luxurious there—not speaking in a manner of wealth but in the manner of this sense of youthful exuberance—no matter the age. For the collection I really wanted to inject a little bit of that into the designs."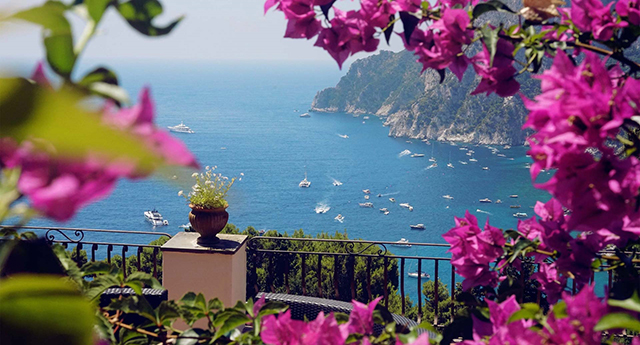 ADVERTISEMENT - CONTINUE READING BELOW
IMAGE Shoesofprey.com
IMAGE Shoesofprey.com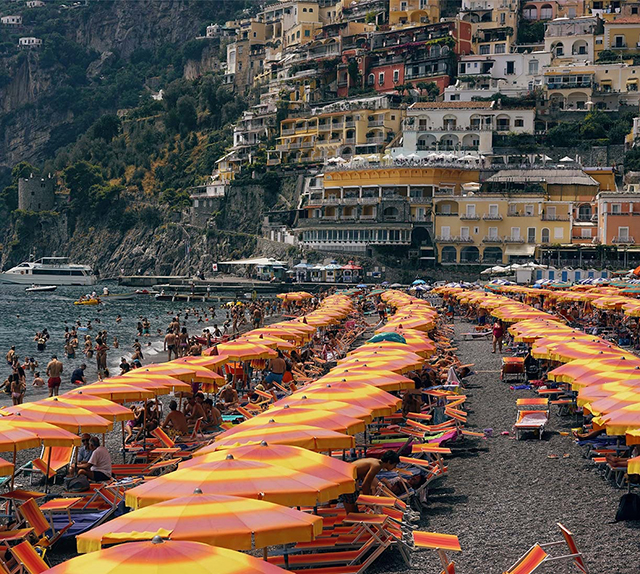 ADVERTISEMENT - CONTINUE READING BELOW
IMAGE Shoesofprey.com
Can you describe to us the experience of designing your own shoe collection? Take us through your creative process.
"Sometimes your travel experiences can only be truly appreciated by you, so I wanted to make sure that there were certain elements of my experience that could be turned into something tactile and identifiable that the people wearing my shoes could appreciate. I could tell my followers were taking their own inspiration from Italy on my social media so my translation of that was through including a textural aspect with rich leather, suede, and velvet with jewel tones. I was very particular about making sure there was a feeling of luxury, even down to the rich red leather insole. I'm so enamored by vintage pieces and the sense of history you get with them, and I wanted it to be present in my collection."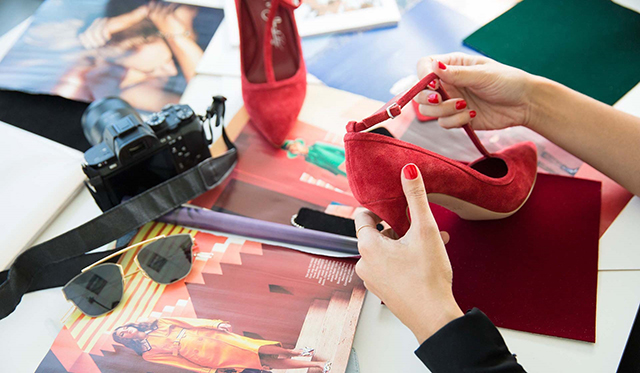 ADVERTISEMENT - CONTINUE READING BELOW
IMAGE Shoesofprey.com
Who did you have in mind to wear your shoe line?
"I really wanted to have at least one piece that every woman [would feel like] they could wear. I'm very much about creating narratives, whether it is through my travels, my imagery, or even my social media. I always want there to be intention in whatever I do and it was no different with my designs—my wish is that when people put them on they can feel where the inspiration came from and maybe they will even inspire women to embark on their own journeys. It was important to Shoes of Prey and to me that there be a variety of designs and heel heights in a cohesive collection—so I hope I've done that!"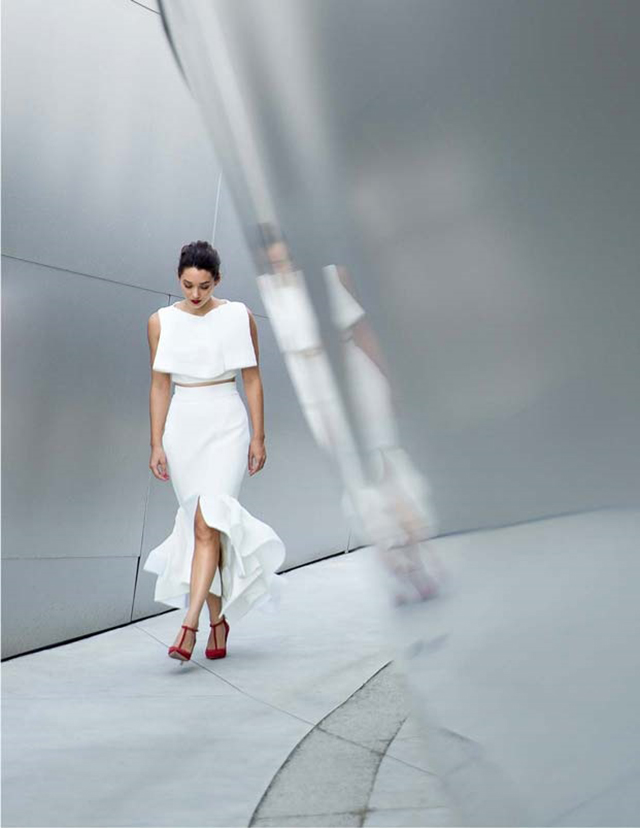 ADVERTISEMENT - CONTINUE READING BELOW
IMAGE Shoesofprey.com
You're a very stylish girl, but what made you decide to design a line of shoes instead of clothes or accessories?
"I love Shoes of Prey's model of customization and how strong they've built this community of women all over the world, all connected by inspiration, creativity and of course an intense love for shoes. Retail is something I definitely want to explore in the future and having this opportunity to take my first step into it through a design collaboration just felt right and was such an invaluable learning process."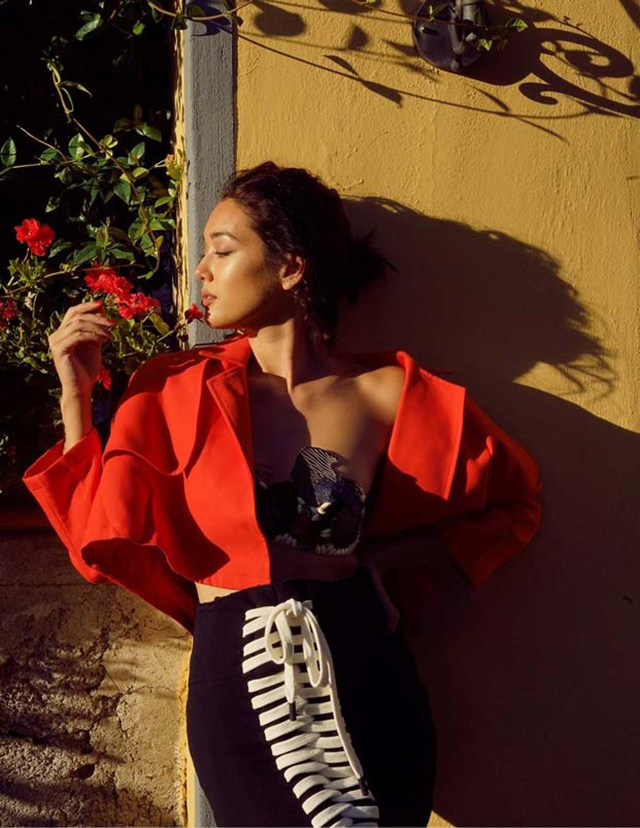 ADVERTISEMENT - CONTINUE READING BELOW
IMAGE Shoesofprey.com
Your photos on their website are breathtaking! Please tell us all about your photo shoot.
"I actually shot them myself (with the help of my extremely patient sister) while I was in Positano, before I knew about the collaboration! I had brought some Rajo Laurel and Basic Movement pieces along to shoot an editorial to promote the local designers' collections for my website, but it ended up just all falling into place with the inspiration of the shoe collection. These images were taken for the sole purpose of showcasing Italy and it felt right that I share those very real moments with my followers so I suggested we incorporate them into the campaign. We've even included a postcard I photographed and designed in with the shoes when we send them out to customers. Looking back, I received the email invitation while I was in Rome, after I had been so inspired by Positano, after I'd already shot an Italy editorial for my website–it's fair to say Italy left an indelible footprint on me. Pun intended."
ADVERTISEMENT - CONTINUE READING BELOW
Which brands do you wish to collaborate with in the future? Why?
"There are so many brands I admire from a business strategy standpoint. There are designers I admire because of their process and their stories. There are people I admire simply because of their creative genius. But then there are also people in economics and in politics, or entrepreneurs and authors that I so admire and would love to work with. I get inspired by so many different arenas and although I'm not quite sure what direction I'd want to go in term of the next collaboration I do know that I love the merging of inspiration, views and backgrounds in order to create. I would love to do a podcast with Malcolm Gladwell or interview Elon Musk. That would be a dream come true."
ADVERTISEMENT - CONTINUE READING BELOW
What's next for Kim Jones?
"I've recently returned from a solid six weeks of fashion week, shoots and collabs in six different cities, so what's next for me for the week is Netflix. After that I fly out to Singapore for a project and then London to shoot a campaign before Christmas. There are a few partnerships being released in November here locally and abroad so it's an exciting season–a pinch-me kind of season. After that, who knows? And I like it that way!
ADVERTISEMENT - CONTINUE READING BELOW
You can shop Kim's La Dolce Vita collection here.
Photos from Shoes of Prey and @shoesofprey on Instagram.
Main image from @kimcamjones on Instagram.
Related Stories from Preview.ph
Hey, Preview readers! Follow us on Facebook, Instagram, YouTube, Tiktok, and Twitter to stay up to speed on all things trendy and creative. We'll curate the most stylish feed for you!