It was a sunny January afternoon two years ago. I was nervous. It was my first time to have a dress made by a legit designer, and it's not just any other dress, it's my wedding gown. Meeting Kenneth Chua for the first time was surreal, not because I'm a fan, it's more of the fact that the person doing my dress actually makes clothes for A-list celebrities. "I hope he's nice," I remember telling my then fiancé, as I rang the doorbell and took a deep breath.
A few seconds later, the door opened, revealing a tall Chinese guy welcoming us with a lovely smile. He was a ray of sunshine, and I felt comfortable in an instant. "I'm so sorry for the mess, we're actually in the middle of packing because we're moving to Makati soon," he said. Surrounded with racks upon racks of beautiful gowns, scattered patterns on the floor, and swatches hanging on walls, his place was an artist's happy place—a beautiful, wonderful mess. After tidying up a corner, he motioned us over and we went straight to business.
ADVERTISEMENT - CONTINUE READING BELOW
"I just want something that floats through the wind; nothing too fancy and over the top," I said as I walked him through my pegs. He reached for his sketch pad and drew something in less than a minute. "I like it," I said. He smiled, and I saw the excitement in his eyes. In that moment, I felt he's the right one.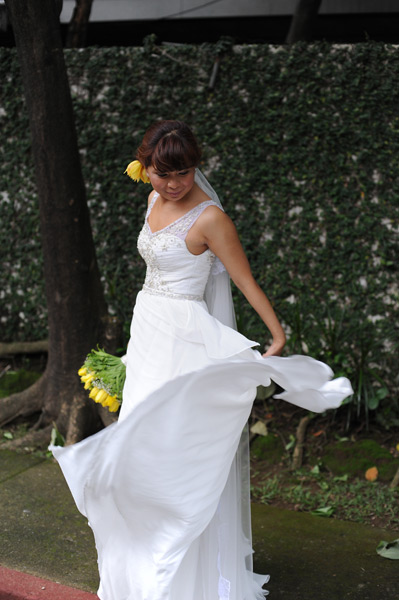 CONTINUE READING BELOW
Recommended Videos
To be honest, I know so little about Kenneth. It was Anna Canlas, Preview's former Beauty and Fashion Editor, who recommended him to me after I showed her my pegs. "He's really good, really pulido with beadwork so I'm sure you won't have a problem," she said. And she was right. My dress was pretty yet laid-back, just the way I like it.
If there's one thing that Kenneth is known for, it's his ability to create stage-worthy dresses in a jiffy. I remember looking through the costumes in his studio during my fittings, and he proudly tells me which celebrity owns it and the story behind the design. I always look forward to visiting him, not only because I get to see my gown, but also because I get to pick a young designer's brain and be inspired in the process.
Hearing the news about his untimely death brought shivers down my spine. My hands were trembling as I was writing the report last Tuesday—I never imagined I'd type the words "Kenneth Chua" and "murder" in the same sentence.
ADVERTISEMENT - CONTINUE READING BELOW
You don't deserve this, Kenneth. No one does. And I still can't believe you're gone.
But I will choose to forget how tragic your death was. I will choose to remember only the happy parts—you as the guy who made me look like a pretty cutesy bride on June 29 2012, the happiest day of my life. I will choose to remember those blissful moments—trying on my dress, twirling around your atelier, imagining myself dancing with the man of my dreams. I pray that you are now in your own happy place, smiling, and looking down on us with a satisfied heart knowing that all those years you devoted to making clothes were well worth it. You lived a life of purpose, Kenneth, and in the end, that's what really matters.
ADVERTISEMENT - CONTINUE READING BELOW
Click here to read our Designer Spotlight feature on Kenneth Chua back in 2010.
Click here to watch Kenneth's PEFTA 2010 video.
Hey, Preview readers! Follow us on Facebook, Instagram, YouTube, Tiktok, and Twitter to stay up to speed on all things trendy and creative. We'll curate the most stylish feed for you!