I spent a full work week dressing in outfits inspired by five leading ladies from the most popular Korean dramas I've watched, and here's how I fared. Spoiler: In the process, I discovered a surprising lot about my (somewhat impractical, obstinately flashy) personal style.
MONDAY: Cheon Song Yi from My Love from the Star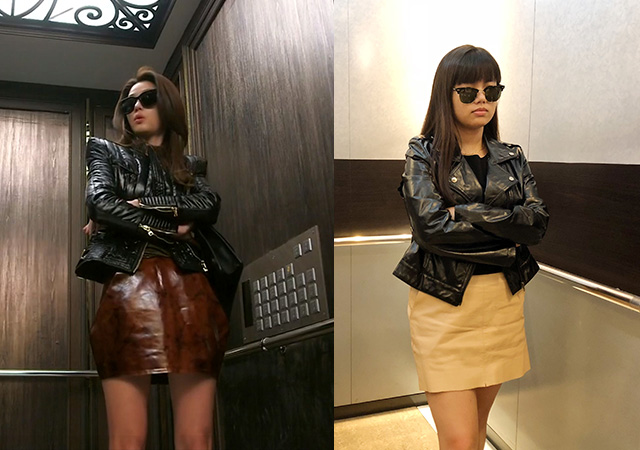 ADVERTISEMENT - CONTINUE READING BELOW
Presenting my golden excuse to finally bust out this black leather moto jacket I've had for ages. It's spent years hanging in my closet, age-muted gloss glaring down at me every time I fling the doors open ("I dare you to wear me, you wuss"). My mom thrifted it some time back and I just couldn't seem to pull it off sans feeling like a counterfeit #badgal, but I digress—the mere prospect of recreating this iconic, hilarious elevator scene was reason enough to pluck the courage.
My Love From The Star was actually the first K-drama I ever finished, and I very clearly remember deciding to pursue it after laying eyes on stoic 400-year-old alien Do Min Joon (Kim Soo Hyun), who took a full 24 seconds to walk in glorious slo-mo towards the camera during episode one's opening. Sold. Attitude courtesy of Cheon Song Yi (a snobby top actress played by actual, real-life top actress Jun Ji Hyun).
CONTINUE READING BELOW
Recommended Videos
TUESDAY: Choi Ae Ra from Fight For My Way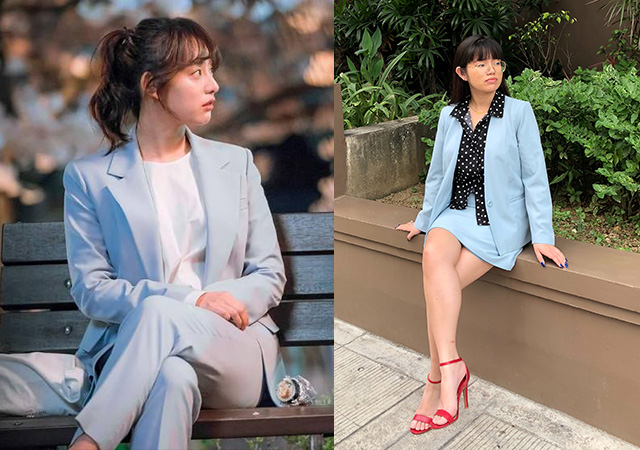 Truth is, I know I could have gone literal and simply copied Ae Ra's outfit piece by piece—I've not once experienced a shortage of plain white tees, after all—but where's the fun in that? I figured a polka-dot bowler shirt might be a subtle route to spinning the look more...me, seeing as a) I'm rarely ever in petal pastels; and b) print clashing is my natural habitat.
ADVERTISEMENT - CONTINUE READING BELOW
On an uncharacteristically serious note, I identify with concierge clerk slash aspiring news anchor Choi Ae Ra (Kim Ji Won) in a big way: She's in a precarious spot figuring out how to chase her dreams and I'm right there with her. Call it a quarter life crisis. Cue the sweeping entrance of my Ko Dong Man (Park Seo Jun) anytime now.
WEDNESDAY: Ji Eun Tak from Goblin: The Lonely and Great God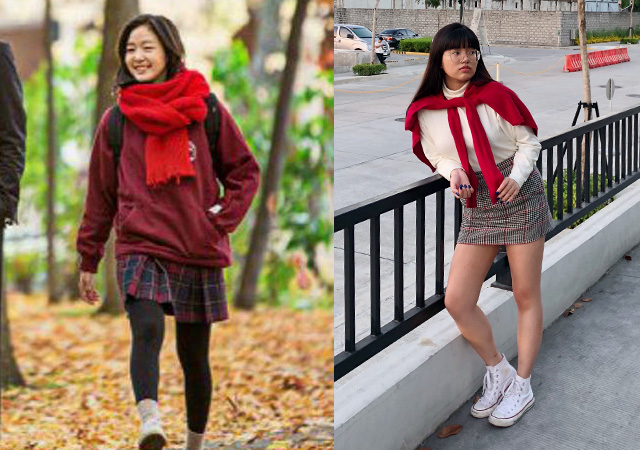 ADVERTISEMENT - CONTINUE READING BELOW
I spent the entire day convinced that my legs magically turned into a pair of cotton swabs—tell me that I don't look like a flamingo with Q-tips for stems in these white high-top Converse kicks I swiped from my little sister. I'm overreacting, probably. Unaccustomed as I am to the sight of me in sneakers, you can bet my officemates had a grand ol' time ogling my discomfort. Actually, save for the lace-ups, this is an outfit you might catch me in on a regular day: turtleneck, mini skirt, unneccessary outerwear (yes, that's a scarlet sweater looped around my shoulders and not Ji Eun Tak's signature knit scarf, for obvious tropical-dweller reasons).
Eun Tak (Kim Go Eun) is supposed to be a cute lil ghost-seeing high school girl, and I honestly felt a tad odd prancing around in this uniform-inspired lewk. Still, my takeaway is that I may consider committing to the whole preppy cardigan thing from now on. Thanks for the inspo, goblin's bride!
ADVERTISEMENT - CONTINUE READING BELOW
P.S. In the interest of truly channeling the authentic teenage dream, I had pizza for dinner that night.
THURSDAY: Dr. Kang Mo Yeon from Descendants of the Sun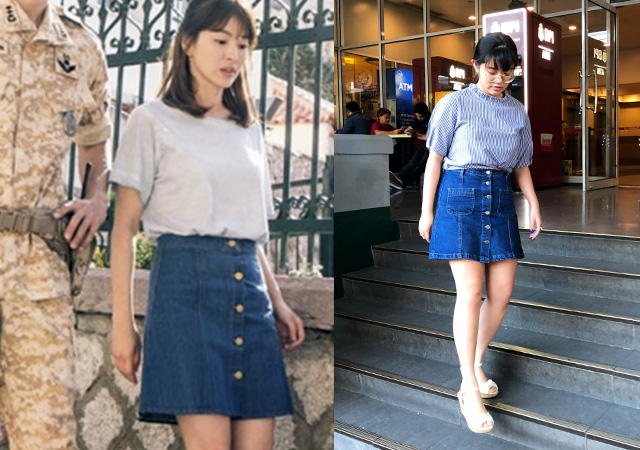 The last time I put on a pair of cork-heeled wedges doesn't exist. That aside, I actually came into the office wearing a different shirt, then belatedly realized after glancing at the above peg again that it was way too printed for the good doctor's simple taste. Kang Mo Yeon (the formidably beautiful Song Hye Kyo) is quite a force to be reckoned with, but in contrast, her wardrobe is surprisingly softer than it is utilitarian (she's a military surgeon, mind you, and that can't be an easy job). So out of the overly floral top, I changed into this dainty, striped, balloon-sleeved number that happened to be casually hangin' out on the clothes rack we keep at Preview HQ. If it's down to being prepared, we're ready to rival Mo Yeon's merry medical team.
ADVERTISEMENT - CONTINUE READING BELOW
Anyway, beneath her standard white coat and apart from the usual operating room scrubs, she's seen on the field in lots of khaki shorts and billowy, milky-hued button-downs—neither of which I own much of, hence my settling on this demure denim-tinged fit. I haven't touched this skirt in eons (it was one of my staples back when I was bright-eyed and bushy-tailed new to Preview four years ago) and it hugs a bit tighter...but it still fits and that should be enough for me. I'm considering a soldier's diet. Suggestions from swoon-inducing army captain Yoo Si Jin (Song Joong Ki) are welcome.
FRIDAY: Kim Bok Joo from Weightlifting Fairy Kim Bok Joo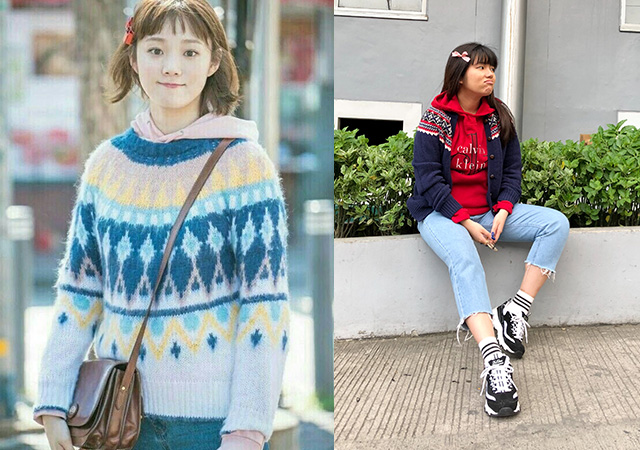 ADVERTISEMENT - CONTINUE READING BELOW
Can you tell that I am deeply uncomfortable? SO LUMPY AND FRUMPY! I keep thinking that on someone else this outfit might actually be really, really cool, but on me it's just...dowdy. It looked a lot better in my head—maybe it's the too-thick hoodie layered under a too-thick Fair Isle sweater that made for an overall unflattering look. I didn't calculate that right. Also, because of this fit, I've realized that I unconsciously always cinch my waist in one way or another, never going for shift or trapeze shapes unless I'm showing a lot of leg (the best trick to balancing out a loose silhouette, in my opinion). For example: If I'm wearing jeans, my top will be tucked in and/or belted, unlike Kim Bok Joo (Lee Sung Kyung) in the above photo, who leaves her knit to fall freely over her pants. I didn't know I had an innate slimming technique 'til I typed this down. All of that, plus the fact that I'm not only in sneakers, but sneakers of the currently trendy, chunky variety! Wow! A true fish out of water moment I ain't keen on repeating...
ADVERTISEMENT - CONTINUE READING BELOW
Conclusion
I'm happy to report that after the week was through I immediately began a whirlwind, still-ongoing love affair with my old leather motorcycle jacket, vowing to concoct more OOTDs to style it into. Who would've thought? The thrill of donning something you initially dubbed wasn't you enough is an incomparably exciting challenge. Anticipate a manual on how I'm weaving it into my closet of wildly printed silk shirts and suit trousers.
I dare you to take on the same mission—dressing like someone else can lead you to revelations about yourself, and might even help you unearth pieces you haven't thought about in years. Now put on some K-drama BGMs to set the mood (that's how I began each morning, by the way) and start digging. Theatrical running in the pouring rain not required.
Related Stories from Preview.ph
Hey, Preview readers! Follow us on Facebook, Instagram, YouTube, Tiktok, and Twitter to stay up to speed on all things trendy and creative. We'll curate the most stylish feed for you!