He could have been a doctor; but instead, Joey Samson chose a career at the opposite end of the spectrum. There are no regrets, though. This year marks his 10th in the industry, a milestone that could have only been reached through passion, perseverance, and determination.
Joey has been known for his structured and androgynous silhouettes, and is considered to be one of the best in those departments. Through the years, he has remained low-key—a non-conformist designer who puts a premium on distinct, innovative design aesthetic—yet his creations manage to make fashion-watchers sit up and take notice.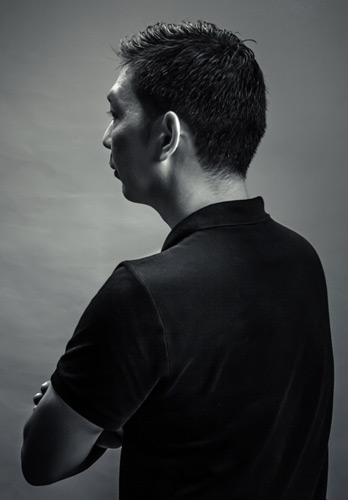 ADVERTISEMENT - CONTINUE READING BELOW
To celebrate his 10 remarkable years, an audio-visual exhibit and design event, Joey Samson X, has been set up featuring the designer's journey into his illustrious career. Joey's friends in the industry are paying him tribute through a series of interactive installations including short films, videos, paintings, digital art, performance art, and a fashion show. Joey Samson X commences today—and is open to the public—until September 6, 2013 at The Picasso Boutique Serviced Residences.
CONTINUE READING BELOW
Recommended Videos
Style Bible salutes Joey Samson by turning our own Designer Spotlight on him. Read on to get to know him more and click on the photo gallery to view his retrospective collection.
DO YOU STILL REMEMBER THE VERY FIRST PIECE OF CLOTHING YOU'VE CREATED? WHEN WAS THIS AND WAS WHAT IT?
[I just remember] I was still in Pre-Med school and the only ones who trusted me to design were a few of my close friends and a couple of professors. I made mostly party dresses and dresses for special occasions for them.
ADVERTISEMENT - CONTINUE READING BELOW
WHICH ASPECT OF THE DESIGN PROCESS DO YOU FIND MOST FULFILLING?
I enjoy the entire design process, from the best part to the hardest part. I always try to challenge the limits of what is possible so it's very important to stay curious. The best part is envisioning then putting it down on paper. The hardest part is making it real and executing it as faithfully to how you envisioned it but it is also important to keep an open mind.
WHAT'S YOUR FAVORITE SILHOUETTE ON A WOMAN?
Anything that does not conform to a specific body type. Shapeless. As long as it's the woman who carries the silhouette and not the other way around
WHO ELSE DO YOU DREAM OF DRESSING UP?
Tilda Swinton, Ryan Gosling, Joseph Gordon-Levitt
WHAT DOES THIS 10TH ANNIVERSARY MEAN TO YOU?
Being able to make it this far for me is an achievement, considering the volatile industry that we are in.
ADVERTISEMENT - CONTINUE READING BELOW
WHAT HAS CHANGED EVER SINCE YOU STARTED AS A DESIGNER?
I try not to dwell so much on how far I've gone or how much I've accomplished. For me, what is important is to keep on going no matter the odds and to stay focused.
WHAT ELSE DO YOU WANT TO HAPPEN IN THE NEXT 10 YEARS?
I don't plan too far ahead because more often it gets frustrating and disappointing if things do not turn out the way I expect them. Whatever piece of good fortune that comes my way, I consider it as a blessing or a bonus.
WHAT HAS BEEN YOUR BIGGEST CHALLENGE AS A DESIGNER IN THE LAST 10 YEARS?
Scarcity of supplies and materials. There are times that we need to source out our materials abroad and this entails extra cost. But I try to make the most out of whatever challenge that comes my way by exhausting the possibilities of what's available.
ADVERTISEMENT - CONTINUE READING BELOW
WHAT DO YOU THINK IS THE MOST IMPORTANT LESSON YOU'VE LEARNED?
To always keep an open mind
DO YOU THINK MODERN TIMES HAVE AFFECTED THE WAY YOU DESIGN YOUR CLOTHES?
Yes, today's generation is very influential. They might not dictate trends but their opinions affect how these trends will be picked up. In this age of selfies, the most googled or having the most hits can sometimes become benchmarks of the latest craze.
WHAT HAS BEEN YOUR MOST MEMORABLE SHOW, SO FAR?
Each collection is a different experience.
DESCRIBE YOUR 10TH ANNIVERSARY COLLECTION.
The 10th anniversary collection is called Detour, a deviation from my usual collections—color, fabric, texture. I used colors ranging from Ivory to Beige and Camel and all the other shades in between plus Gunmetal, Navy, and Magenta. [I used] materials such as knit pique, jersey spandex, cotton and tulle. This deviation helped me come up with pieces in a lighter, softer manner, giving the collection a new energy [and] making it more fun and adventurous. I used the idea of hybrid or crossover which is evident in most pieces by way of insertions de- paneling, fabric collage, and decontextualizing suit construction.
ADVERTISEMENT - CONTINUE READING BELOW
WHAT WAS THE INSPIRATION BEHIND YOUR COLLECTION?
[The collection] was inspired by the palette of two of my favorite artists, Gino Tioseco and Allan Balisi.
CAN YOU NAME THE THREE MOST IMPORTANT PERSONS WHO HAVE INSPIRED YOU AND HELPED YOU GET TO WHERE YOU ARE? DESCRIBE YOUR RELATIONSHIP WITH EACH.
My parents and how they managed to always look appropriately dressed has influenced me to delve into fashion. All the people in the industry who helped me kick start my career and who continue to trust and support me. My steady stream of clients who continue to be with me on my journey.
WHAT IS THE BEST THING ABOUT THE PHILIPPINE FASHION INDUSTRY? WHAT ELSE DOES IT NEED RIGHT NOW?
Philippine fashion continues to thrive and improve. Creative people are becoming younger and talented because their exposure is more diverse. What we really need is support in all forms from all sectors. There's a need for us to have our own design language.
ADVERTISEMENT - CONTINUE READING BELOW
Click on the photo gallery to view his retrospective collection.