"One thing I always ask first-time clients is, 'Are you familiar with my body of work?'" It's a simple question and one most fashion designers probably ask, but it's a question that, especially in Joey Samson's case, merits a thoughtful answer.
Because if you are truly familiar with Joey Samson's work, you should know that if you go to him, you won't be getting the standard fare of embellished cocktail dresses and satin-and-lace pretty, pretty gowns. "Subconsciously, I've always leaned toward things that are not so mainstream," he explains. "It's never conscious. It's what naturally comes out."
It's something that has been inherent to the 42-year-old designer since his early days as a student of Slim's Fashion and Arts School. It was around 1992 when Joey, then a B.S. Biology graduate from De La Salle University in Cavite, decided to go to fashion school despite his parents' objections. "I didn't go to fashion school immediately after graduation [in 1991] because my parents didn't want me to go into fashion design," he recalls. "But they eventually said yes, but only because they probably thought I was just going through a phase, or I just wanted to rest before going to medical school."
ADVERTISEMENT - CONTINUE READING BELOW
IMAGE Mark Nicdao for Preview
He enrolled in a six-month course on basic fashion design and sewing/pattern making. "But the schedule was so erratic, so what was supposed to be a six-month course became a year long," Joey laughs. His batchmates included Michael Cinco and Alex Pigao. This was also the time when the local fashion industry, particularly the Fashion and Design Council of the Philippines (FDCP), had just started actively sending representatives to the Paris Young Designers Competition. "The FDCP members—Inno [Sotto], Lulu [Tan-Gan], Cesar [Gaupo], and Mike [dela Rosa]—were the ones going to schools, giving talks," Joey narrates. "I vividly remember that day they gave a talk in our school, encouraging us to join. This was just a few months after I started studying in Slim's."
CONTINUE READING BELOW
Recommended Videos
Joey's teacher encouraged him to join as well and said, "To be honest, I like that what you do is not what others are doing. I think you should join the competition. I wouldn't be recommending you if mapapahiya lang ako." Joey, however, didn't think he was ready. His only formal training at that point was whatever he'd learned so far from his months in Slim's. He wasn't getting training elsewhere, unlike other classmates like Michael Cinco, who was working part-time in a uniform production company and also designing gowns on the side. But Joey's teacher was adamant, even going so far as helping Joey with his sketches. "I'd make a crude drawing, and she'd fix it," he recounts.
The Paris competition had annual themes; that year, it was travel. There were nautical-inspired interpretations; others designed outfits similar to a flight attendant's uniform. Joey, meanwhile, designed an outfit with detailing suggestive of a traffic stoplight. He designed another outfit using the checkered flag (from car races) for the pattern; another outfit had an airplane-shaped hat.
ADVERTISEMENT - CONTINUE READING BELOW
Joey was among five students picked to present to a panel; only one would eventually join the first round: the local competition. The day of the presentation, Joey had no class, and his teacher phoned him at his Cavite home to ask him to go to the Manila Hotel to present. "I was around 20 years old that time, living in Cavite, and didn't really know yet how to commute and go around," Joey shares. "I also didn't know how to make paalam. Since my parents weren't really that supportive of my fashion course, I knew they wouldn't really understand and let me go. I tried to find a way but my parents really refused. Eventually, I just apologized to my teacher and said that I couldn't go."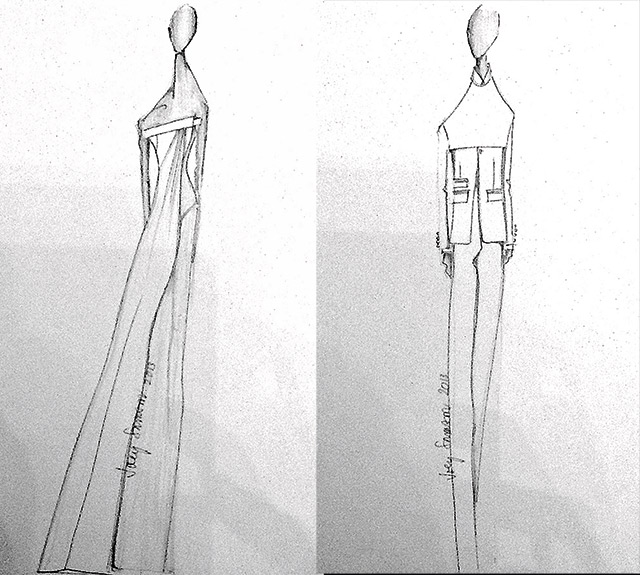 ADVERTISEMENT - CONTINUE READING BELOW
IMAGE Preview Archives
"In an attempt to create a contemporary design language, I used the idea of hybrid or crossover, which is evident in most of the pieces by way of sheer insertions or panels, fabric collage, and 'decontextualizing' suit construction, providing a platform for my own design language."
When Joey returned to class, his teacher approached him. "She said..." Joey pauses, his voice breaking. "Sorry, I get really emotional whenever I remember this..." He tries to compose himself, but his eyes are welling up with tears. "My teacher said, 'I got a call from Inno Sotto and he said, 'Who's this Joey Samson who didn't show up at the presentation? Can you please tell him to come to my atelier because I want to talk to him.'"
"Hindi pa 'ko designer, Inno Sotto na siya," Joey continues. "I really look up to him. So that phone call really meant a lot and I knew that 'di ko na 'to pwede palagpasin." Joey asked the help of a friend to bring him to Inno's Syquia studio. "I was asked to bring as many sketches as I can."
ADVERTISEMENT - CONTINUE READING BELOW
Seeing his fashion hero up close, sharing a very intimate moment and space with him (there were just two of them in the room), was all too much for Joey. He wanted to faint right then and there. "We were seated side by side," he remembers. "He had this pile of drawing paper, and drawing lang siya nang drawing. Nakatulala lang ako." At one point, like an eager fan, he wanted to ask for Inno's sketches and keep them as souvenirs.
"It was one of the most fulfilling, most memorable moments of my life," he now smiles. "I got lectured about the ins and outs of the industry—no matter how brief the time was—by the Inno Sotto. And I still remember everything he said that day."
Inno then said to his young fan, "I don't want you to think that you're great, but we see a promise. And anyway, that's what we're here for—to find great designers who will be the future of the industry." Inno explained that he had talked to the panel and they were strongly considering allowing Joey to present again, but then they also didn't want to be unfair to the other students. There were no guarantees, Inno said. Joey would later on find out that the panel decided not to give him another chance to present. "But at the time, it didn't matter. Feeling ko daig ko pa 'yung nanalo. I was able to sit down and talk to Inno!"
ADVERTISEMENT - CONTINUE READING BELOW
This was in 1992. Eight years later, Joey rejoined the same Young Designers Competition and his design was chosen as one of the five entries for the Paris competition. "That made me realize that if it's really meant for you, it will be given to you... at the right time."
Laying the Groundwork
In the latter part of his schooling, Joey worked as an apprentice for a small design shop in Manila. Upon graduating from Slim's, Joey started working for senior designers. His school referred him to Ben Farrales; he was told that he would work as an illustrator for the esteemed designer. But only after two to three days on the job, Mang Ben, as he is fondly called in the industry, said to him, "Joey, it's not that I don't like you, but I think that with the kind of work that you do, you'd be better off with another designer friend, Danilo Franco. At least with him, you will learn more than just sketching."
ADVERTISEMENT - CONTINUE READING BELOW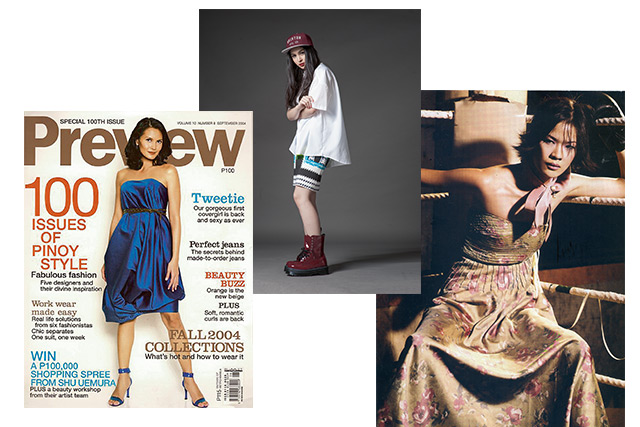 IMAGE Preview Archives
A long-time go-to designer of the magazine and its editors, Joey Samson shows the breadth of his sartorial expertise on the pages of Preview: Top model Tweetie de Leon-Gonzalez in a belted blue satin frock for the September 2004 cover; Julia Barretto wears a Joey Samson button-down in the June 2013 cover story; Model Jo Ann Bitagcol models a floral-print dress in a 2002 fashion editorial.
ADVERTISEMENT - CONTINUE READING BELOW
So off he went to Danilo's studio to work as his personal assistant: He was to take calls, fix schedules, and do all the office administrative work. "You know, with this kind of work, you have to be open-minded," Joey explains. "So I took the initiative: When I wasn't doing my assistant duties, I would approach the sewers and ask them about technical stuff. I mean, I had my background from Slim's, but the hands-on learning here was of course more mabusisi."
"We were very busy at the time," he continues. "This was the height of Danilo's partnership with Vilma Santos, so we were really working round-the-clock, producing a lot of outfits for her show and appearances. It was tiring but very fulfilling."
In the last few years of his work with Danilo, Joey had also started his own small shop in Cavite, with just one sewer and finisher. Joey was also still working for Danilo when he joined the 2000 Young Designers Competition. He was one of the finalists, but the organizer could only pay for the Paris airfare and accommodations of the grand prize winner (at the time, Ignacio Loyola). Danilo and his friends threw in their full support and helped raise funds for Joey's Paris trip.
ADVERTISEMENT - CONTINUE READING BELOW
Upon returning from Paris, Joey still worked with Danilo, but pretty soon, he was besieged with work from personal clients. There were also requests for shoots and shows following his Paris stint. Joey found himself having to skip work or showing up late. "Although Danilo always said it was okay, I still got dyahe and eventually told him that I would need to take a break... but then I never got to go back anymore," he says. "I had to spread my wings, in a manner of speaking, but I always credit Danilo for a lot of things that I know. The work I did for him was great training and I enjoyed everything about it."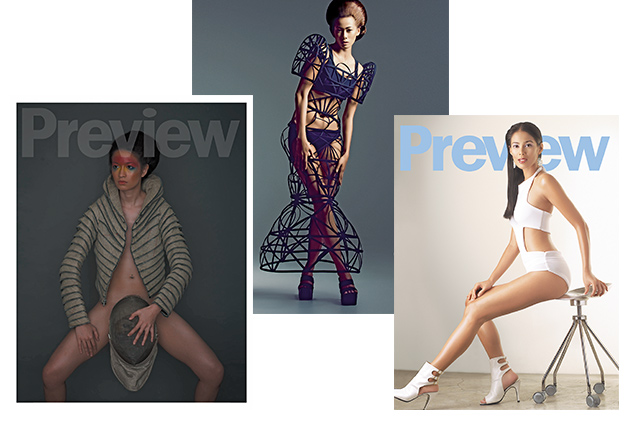 ADVERTISEMENT - CONTINUE READING BELOW
IMAGE Preview Archives
(Left) This jacket is one of Joey's most remarkable pieces. The image, shot by Juan Caguicla, was used as cover for the coffee-table book Preview Art. (Center) Joey's famous cage terno in June 2010. He designed it for a fashion show in 2009 and to this day, he still gets requests for it. "I make sure that the detailing is different for every order, just to make it special for that client even after the many times I've done it for others. I believe that you go to a designer to have something special made—that's what you pay for." (Right) Angel Aquino in a Joey Samson cutout swimsuit—his first cover for Preview in March 2002.
Joey went on his own, but he still continued seeking higher learning. In 2003, he took classes under Jojie Lloren, who had then just gotten back from school in Paris, and as an act of goodwill for his fellow designers, decided to share what he had learned there. "It was his way of giving back," Joey believes, "and he only charged us a minimal fee for the classes." Designers Rosanna Ocampo, Tina Daniac and Ivarluski Aseron were among those who also took Jojie's classes.
ADVERTISEMENT - CONTINUE READING BELOW
Is this how his friendship with Ivar started, I ask. "No, we really got to know each other at YDG," Joey clarifies.
Young Designers Guild (YDG) is a by-invitation-only organization; Joey joined in 2003 but he was actually first invited to join the guild much earlier. "But I was rejected on my first application," Joey laughs. "I got re-invited after the Paris competition because of the entry I sent... They said my entry in the Paris show was so different from what I showed them the first time."
"In my defense," he continues, smiling, "my portfolio before Paris was focused on the work I did for clients, for Danilo, etc. For Paris, I was able to make laro."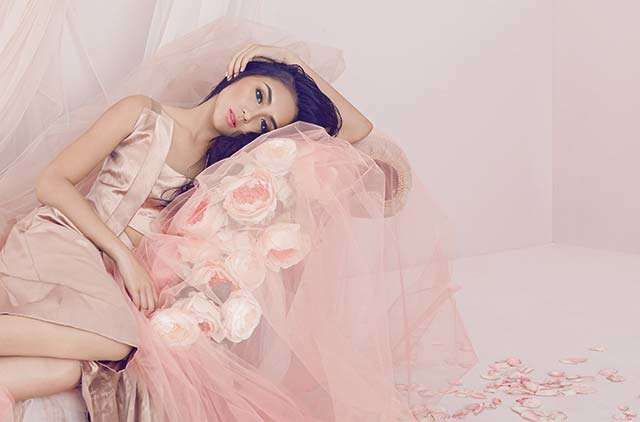 ADVERTISEMENT - CONTINUE READING BELOW
IMAGE Paolo Pineda for Preview
Kathryn Bernado in Joey Samson for the Preview August 2013 cover story
Taking Off
By 2003, things were already really starting to take off for Joey. To keep up, in 2004, Joey decided to get a place in Prince Plaza near Greenbelt 1, originally to serve only as a halfway house (he was then still based in Cavite) and a venue for client fittings. "Because before Prince," Joey giggles, "I would do fittings in the restrooms of Starbucks or Seattle's Best in Greenbelt!"
But then his client list—from Celine Lopez to "bagets from Ateneo" ("I remember I even did the prom dress of [Former Preview.ph Editor in Chief] Anna Canlas")—just continued to grow and Joey had to hire a Manila-based sewer, especially for rush projects. "I was doing shows, shoots, product launches..." Joey recalls. "I started sleeping in the condo and went home to Cavite only when I could. It reached a point na natutulog na ako sa tabi ng tela."
ADVERTISEMENT - CONTINUE READING BELOW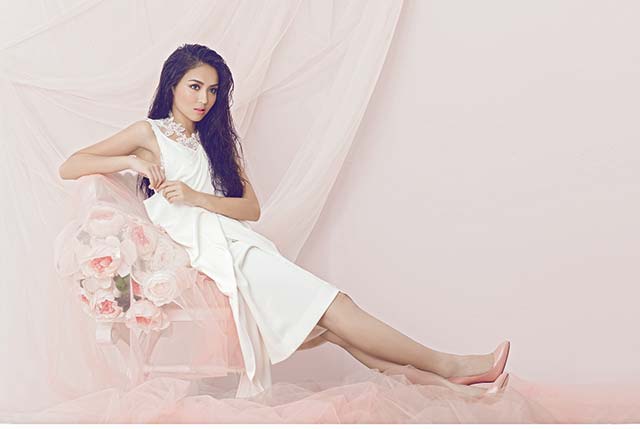 IMAGE Paolo Pineda for Preview
Kathryn Bernado in Joey Samson for the Preview August 2013 cover story
In 2007, he got a bigger place in Palm Village in Makati, where he continues to serve his clients. He goes home to Cavite every now and then, but his business is permanently based in Manila. Joey supervises a whole technical team of sewers, finishers, beaders and the like all on his own. "I don't have an assistant," he says sheepishly. "Sometimes I feel maybe I'm being unfair to those who are applying for the position and want to learn from me. Sorry, but I just really prefer doing things on my own." Perhaps it's also due to his seven-year stint with Danilo and how that trained him to attend to all matters of the business—from managing clients and fixing schedules to supervising production? "Yes," Joey agrees, "and now that I am running my own staff and business, it's even harder. But I'm still enjoying it. If I didn't enjoy doing this kind of work then, I wouldn't enjoy it now."
ADVERTISEMENT - CONTINUE READING BELOW
To this day, Joey remembers his very first "real" client: a good friend since grade school who got married in 1998 and asked Joey to design for the whole bridal party—from the bride and groom to the whole entourage, down to the couple's family members. "I remember asking him, 'You honestly believe I can do all this?'" Joey recounts. "And my friend said, 'I've known since we were young that this was something you'd end up doing. I was thinking you were just afraid to follow what you really wanted... or fooling yourself that you wanted to be a doctor."
Of Longevity and Integrity
These days, Joey is busy attending to his loyal clientele. "I'm thankful that I have a steady stream of clients," he smiles. "It's probably not as big or as varied as other designers', but I'm very happy with the group of people who trusts me for any requirement."
ADVERTISEMENT - CONTINUE READING BELOW
His loyal clients all attest to Joey's professional work ethic, commitment to detail, and uncompromising standards. "I think Joey has a very poetic way of designing, which really appeals to me," Isha Andaya-Valles, Preview Editor in Chief (one of the first magazine editors to work with Joey) points out. "Whether the piece is structured or soft, there's always a hint of romance and mystery to the garment. The process we go through when he makes a piece for me is like writing or telling a story, from the moment he tells me about the character or era of inspiration to the point where he describes detail."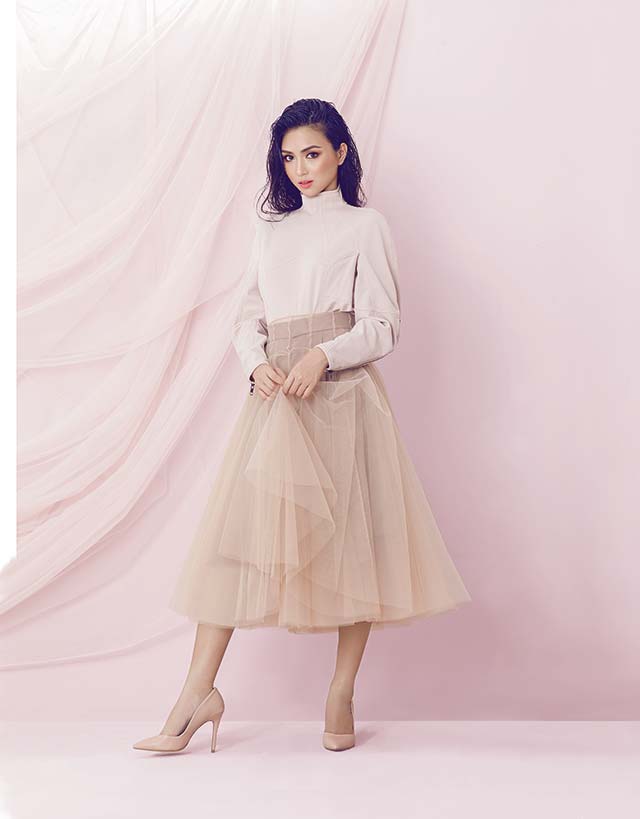 ADVERTISEMENT - CONTINUE READING BELOW
IMAGE Paolo Pineda for Preview
Kathryn Bernado in Joey Samson for the Preview August 2013 cover story
"Joey never fails and he's consistent," another loyal client, Kai Lim, one of the owners of Cura V and two-time Preview Best Dressed nominee, notes. "He understands my style completely. He pushes the envelope when it comes to design but it's always wearable."
Joey has also done collaborations with retail brands, with Regatta in the early 2000s and with Human, for which he's designed a total of five capsule collections. "I'm happy that after 10 years, I can still keep up," he adds. "Luck was definitely a factor, but I have to give it to people who supported me and continue to support me." Through all his success, Joey has remained humble and unassuming. "His quiet demeanor says so much about him," Kai adds. "He lets his work and his craft shine while the persona takes a back seat. He's a true artist."
ADVERTISEMENT - CONTINUE READING BELOW
For inspiration, Joey likes revisiting things: a best-loved book (The Little Prince); his favorite films (Cinema Paradiso, Great Expectations), places and things. Joey likes taking photos and keeps a visual diary/repository. "If it's something that appeals to my senses, I know I can put it to good use," he says. "But the best way to look for inspiration is to not look for it. It comes when it comes."
"Your ideas, your aesthetic, it's something that should come organically," he explains. "'Yung hindi pilit, hindi contrived, hindi kinopya; it's not referencing other things. Lalabas at lalabas siya if it's really there." It's sound advice from a designer who's proven his longevity and integrity in a sometimes fickle-minded industry.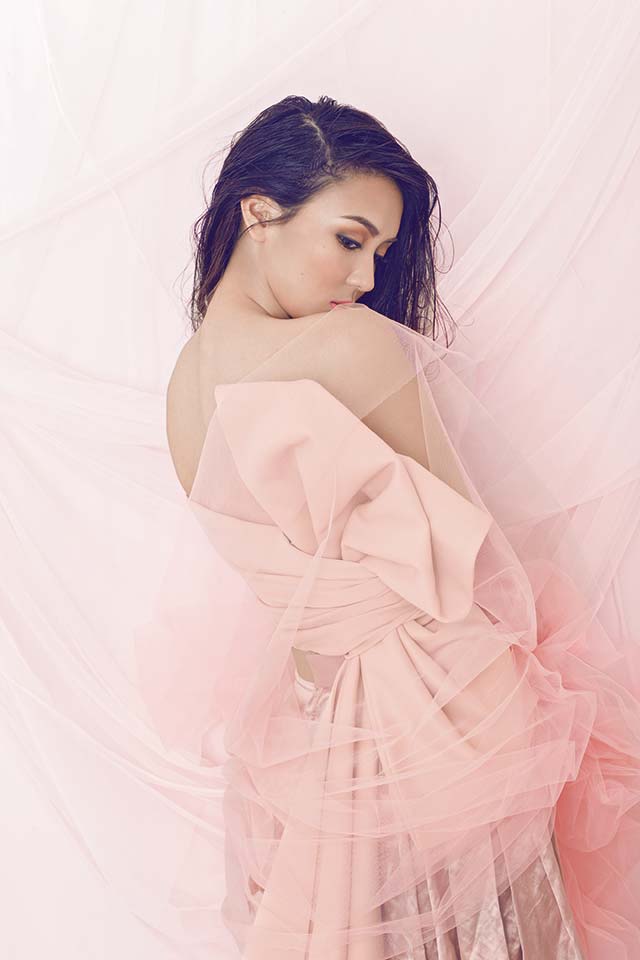 ADVERTISEMENT - CONTINUE READING BELOW
IMAGE Paolo Pineda for Preview
Kathryn Bernado in Joey Samson for the Preview August 2013 cover story
Is it the same journey for every designer? Joey turns serious. "Some people think this business is all glamour, all about hobnobbing and being out there. It's not. It's a huge responsibility. You owe it to the people who trust and support you to give them more than 100 percent of what they pay you. To quote Longfellow, 'Learn to labor and to wait.' You can't say that because of one design, one shoot, 'I'm made.' Don't focus so much on the buzz you're getting; don't get hung up on the fame."
"It's very important that you love what you are doing, that it never feels like work," Joey adds. "Money is an integral part, of course, but if that's your main driving force, you're not going to be happy. Me and my work... it's still and always will be a work in progress."
ADVERTISEMENT - CONTINUE READING BELOW
For Joey, part of that continued work is trying to keep a perfect balance between his personal aesthetic and the demands of a client. To this day, he gets amazed reactions when people learn that he also designs formal gowns. Conversely, he has clients who've asked him to design gowns but are not aware that he also creates suits—and creates them impeccably, in fact. "People always associate Joey with androgyny, but he does really lovely, nostalgic pieces, too," Isha notes. "Complete awareness of what I am capable of doing is still not there," Joey acknowledges. It's a fact that surprises those who have followed Joey's career and know his talent very well.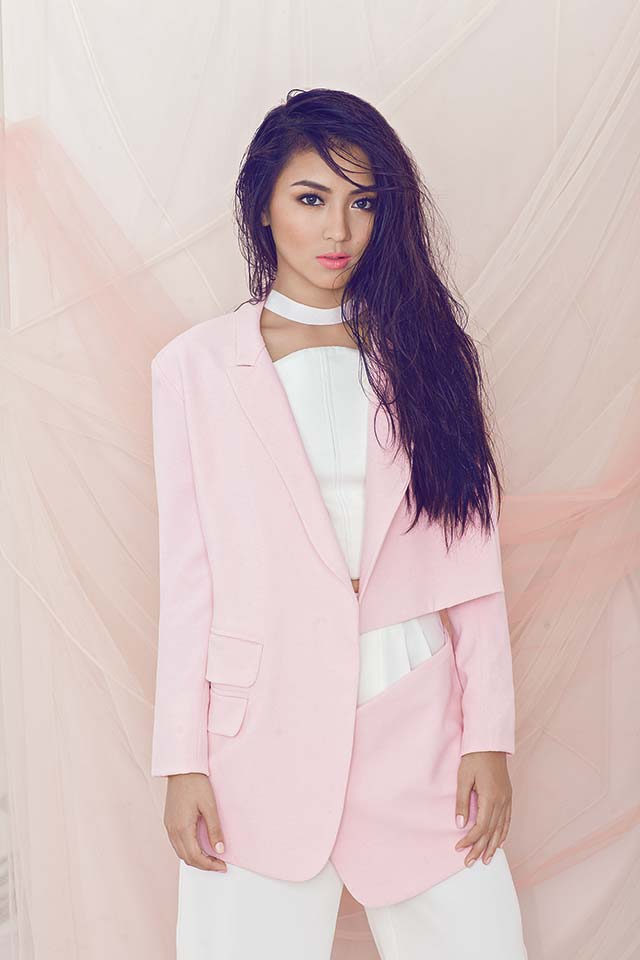 ADVERTISEMENT - CONTINUE READING BELOW
IMAGE Paolo Pineda for Preview
Kathryn Bernado in Joey Samson for the Preview August 2013 cover story
He admits that to survive in this industry, it's sometimes tempting to just join the bandwagon. He sighs, "But if I will do what the other people are doing, then how does that make me different? I always strive for a happy compromise with my clients, but at the end of the day, you have to stay true to what you believe in."
"I'm going to go ahead and speak on behalf of Ivar," Joey continues in his soft tone. "I think it was Celine Lopez who said in her [Philippine Star] column that Ivar and I were able to make a mark because we chose to take the road less traveled. Sometimes fashion designing becomes formulaic, and I guess we took a bolder step. But like I've said, it was never a conscious decision."
ADVERTISEMENT - CONTINUE READING BELOW
Joey smiles and shrugs. "It's just who I am, and fortunately, there were people who were also bold enough to be with me on my journey."
This article was originally published in Preview August 2013.
Related Stories from Preview.ph
Hey, Preview readers! Follow us on Facebook, Instagram, YouTube, Tiktok, and Twitter to stay up to speed on all things trendy and creative. We'll curate the most stylish feed for you!