Above: "Manny Pacquiao's wife Jinkee Pacquiao smiles during a post-fight news conference after Manny Pacquiao defeated Shane Mosley by unanimous decision to retain his WBO welterweight title at the MGM Grand Garden Arena May 7, 2011 in Las Vegas, Nevada" (from Zimbio.com).
---
Last Sunday, Manny Pacquiao had Filipinos up and about to cheer him on for his fight with Shane Mosley. The men were naturally all agog and had their eyes set on nothing but the two pugilists battling it out in the ring, but the women were a different story entirely—they had their eyes on Jinkee Pacquiao, whose visage periodically graced the screen. Can we just say how good she looks nowadays?!
But aside from her face, what had our attention were here stunning earrings, and it seems like we weren't the only ones who noticed them, as Twitter went abuzz with similar exclamations. Leading the pack was Jul B. Dizon jeweler Candy Dizon (@candifier), who estimated that Jinkee's white and canary yellow danglers (the yellow echoed the hue of Pacquiao's gloves—the yellow symbolizes the fight against poverty; many supporters also wore yellow that day) cost PhP7,000,000!
ADVERTISEMENT - CONTINUE READING BELOW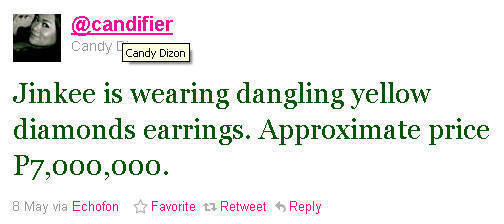 CONTINUE READING BELOW
Recommended Videos
Being a jeweler, Candy definitely knows the prices of her stones. She followed her accessory approximation tweet with another: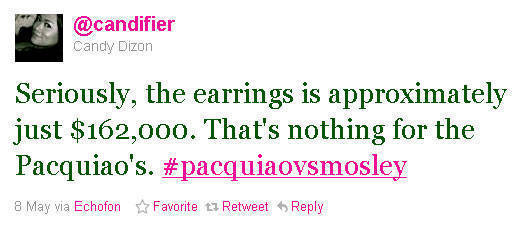 ADVERTISEMENT - CONTINUE READING BELOW
She says further that the pair can easily cost more depending on the brand. But what with Pacquiao easily bagging serious sums of money by defending his titles and defeating his competitors, we're pretty sure he's not strapped when it comes to steadily pampering his wife. After all, what's a seven-figure price tag on two pretty baubles for the "Fighting Congressman" to give as tokens to an adoring, pretty wife?
[Jinkee Pacquiao photo courtesy of Zimbio.com.]